(Family Features) Dining out in the fresh air always seems to turn even a simple meal into an event. You can turn your next dinner party into a memorable event with these simple and delicious recipes.
- Rosemary Almond Crackers make a terrific appetizer served alongside cheese or a savory dip.
- Spiced Almonds can be served in a martini glass for a stylish addition to any party.
- Almond Crusted Shrimp are deceptively easy - and distinctly delicious.
- Banana Almond Kahlúa Frappés are a cool and creamy way to finish off the evening.
California Almonds aren't just delicious, crunchy, and ideal for any snack or mealtime, they're also a nutritious solution that adds a burst of flavor and texture to any recipe.
For more entertaining tips and recipes, visit AlmondBoard.com.
Nutrition Made Easy - and Delicious
California Almonds are an excellent source of Vitamin E (35% DV), magnesium (20% DV), manganese (.648 mg), fiber (3.5 g), protein (6 g), copper (0.3 mg), phosphorus (137 mg), and riboflavin (0.3 mg). Plus, a one-ounce serving has 13 grams of good unsaturated fats, just 1 gram of saturated fat, and is always cholesterol- and gluten-free.
Here are some more ideas for making your next gathering a little more special - and a little more nutritious.
- Craving something sweet? Try adding toasted sliced almonds and crumbled biscotti to your favorite gelato.
- In a nonstick skillet over medium-low heat, toss whole natural or slivered almonds in a small amount of vegetable oil until golden. Add your choice of dried herbs and then sprinkle over salads, vegetables, or pasta for the perfect accent. And - if you don't have time to make your own, grab your favorite flavored almonds from your local grocer.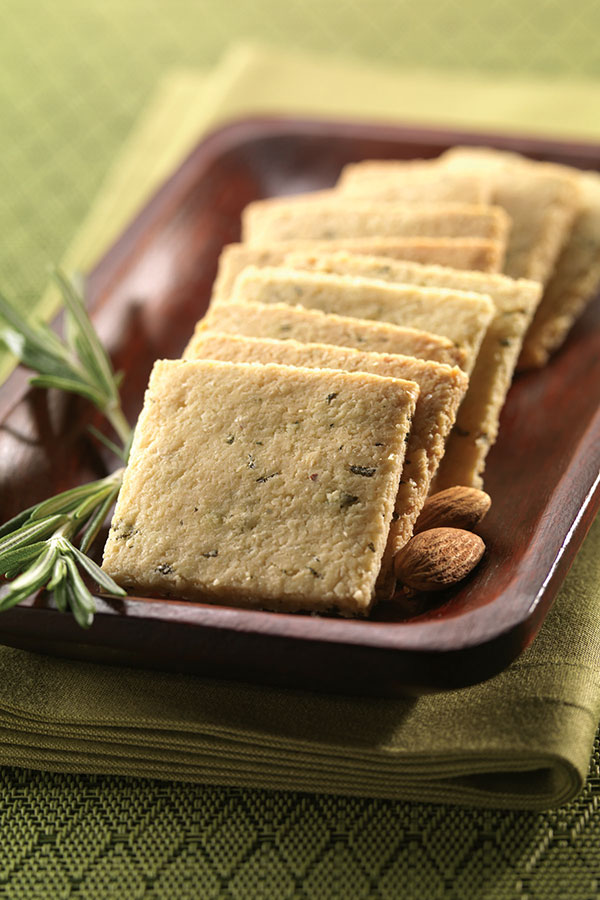 Rosemary Almond Crackers
Created by Elana Amsterdam author of "The Gluten-Free Almond Flour Cookbook"
Makes 24 crackers
1 3/4 cups blanched almond flour
1/2 teaspoon sea salt
2 tablespoons finely chopped fresh rosemary
1 tablespoon extra virgin olive oil
1 egg
In large bowl, combine almond flour, salt and rosemary. In medium bowl, whisk together olive oil and egg. Stir wet ingredients into almond flour mixture until thoroughly combined.
Roll dough into a ball and press between 2 sheets of parchment paper to 1/8-inch thickness. Remove top piece of parchment paper.
Transfer the bottom piece with rolled out dough onto baking sheet. Cut dough into 2-inch squares with a knife or pizza cutter.
Bake at 350°F for 12 to 15 minutes, until lightly golden. Let crackers cool on baking sheet for 30 minutes, then serve.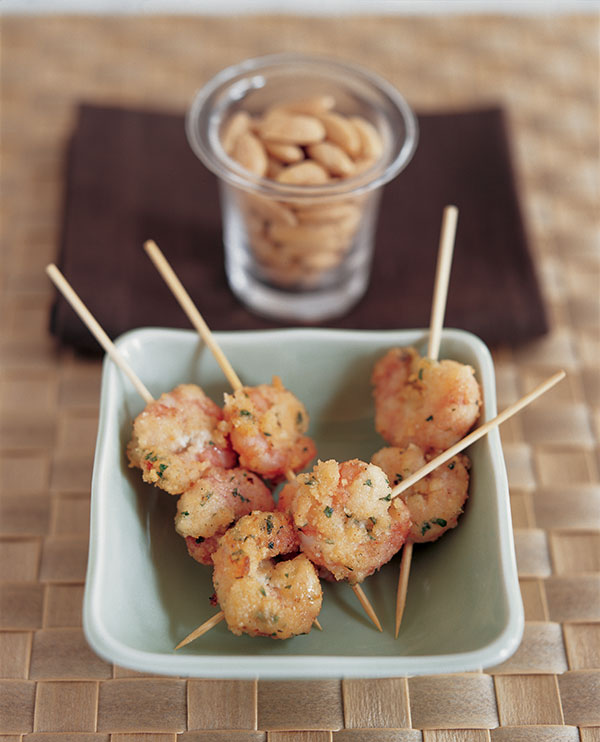 Almond Crusted Shrimp
Created by Almond Board of California
Makes 4 servings
1/2 cup ground almonds
3 tablespoons all-purpose flour
1 teaspoons minced fresh parsley, or 1/2 teaspoon dried
1/2 teaspoon seafood seasoning
1/4 teaspoon salt
1/4 teaspoon black pepper
1 pound (61- to 70-count) shrimp, with tails and veins removed
1 egg white
2 tablespoons almond or corn oil, divided
1 lemon, cut into wedges
Stir together almonds, flour, parsley, seafood seasoning, salt and pepper.
Dip each shrimp in egg white, then in almond mixture; lay on a baking sheet or platter until ready to cook. Heat 1 tablespoon oil in a large skillet; grill shrimp in batches on medium heat, cooking 3 to 4 minutes, turning once, until pink and golden. Use remaining 1 tablespoon oil as necessary.
Serve shrimp immediately, accompanied by lemon wedges.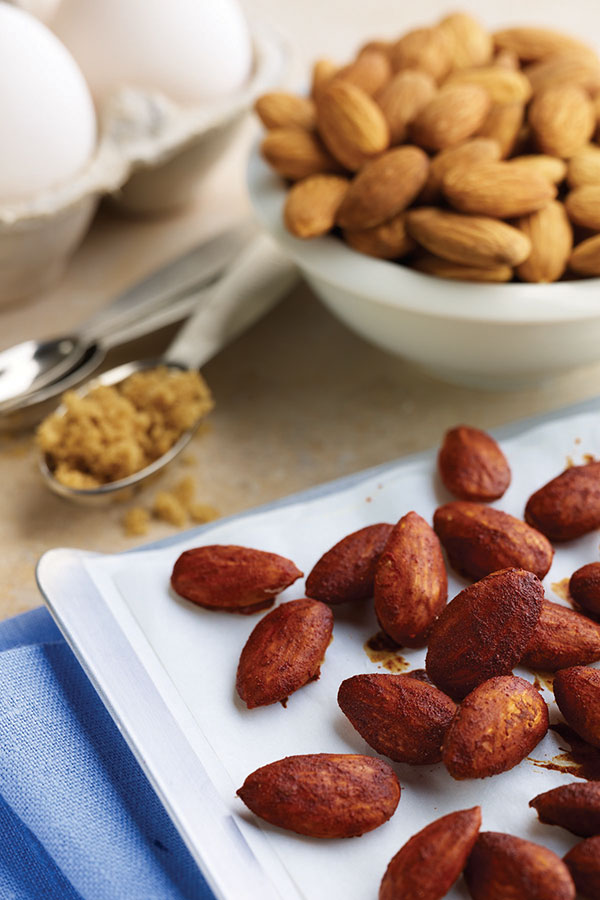 Spiced Almonds
Created by Ellie Krieger author of "So Easy: Luscious Healthy Recipes for Every Meal of the Week"
Makes 8 servings
1 large egg white
2 teaspoons sweet paprika
2 teaspoons dark brown sugar
3/4 teaspoon salt
1/2 teaspoon Worcestershire sauce
1/4 teaspoon cayenne pepper
2 cups natural almonds
Preheat the oven to 350°F. Line a baking sheet with parchment paper.
In large bowl whisk together egg white, paprika, sugar, salt, Worcestershire sauce, and cayenne pepper until well combined. Add almonds and toss until evenly coated.
Transfer almonds to parchment lined baking tray; spread out to form a single layer. Bake for 20 minutes, until the coating is crisp. Almonds will continue to crisp as they cool. Allow to cool completely then break up any nuts that are stuck together. Nuts will keep up to 5 days in an airtight container.
Banana Almond Kahlúa Frappé
Created by Almond Board of California
Makes 4 servings
1 cup crushed ice or 1 1/2 cups ice cubes
2 medium bananas, cut into chunks
4 ounces almond milk
2 ounces Kahlúa or other coffee liqueur
1/2 ounce Irish cream liqueur
4 whole natural or blanched almonds
Combine ice, bananas, almond milk and liqueurs in a blender; blend until smooth. Divide among 4 old-fashioned glasses and garnish each with an almond; serve immediately.
Source: California Almond Board