(Family Features) From office potlucks and cocktail parties to family dinners and beyond, the mealtime celebrations during the holidays are endless. Whether you're serving as a host or bringing your signature dish to a get-together, these tips can help you own the holiday season without breaking a sweat:
Stick with fewer, easy-to-find, high-quality ingredients.
Look for products that help you cut down on time but don't skimp on flavor, like Smithfield Marinated Fresh Pork, which is pre-seasoned and comes in a variety of cuts and flavors.
Sprinkle and decorate finished dishes with fresh, seasonal herbs for a festive touch.
To help get you inspired in the kitchen, try this recipe for Fresh Pork and Kalamata Flatbreads for a savory appetizer made with less than 10 ingredients, or Fresh Pork with Sweet Balsamic-Red Wine Reduction for a decadent main course you can have ready in just 30 minutes.
For more quick and easy holiday recipe ideas, visit SmithfieldRealFlavorRealFast.com.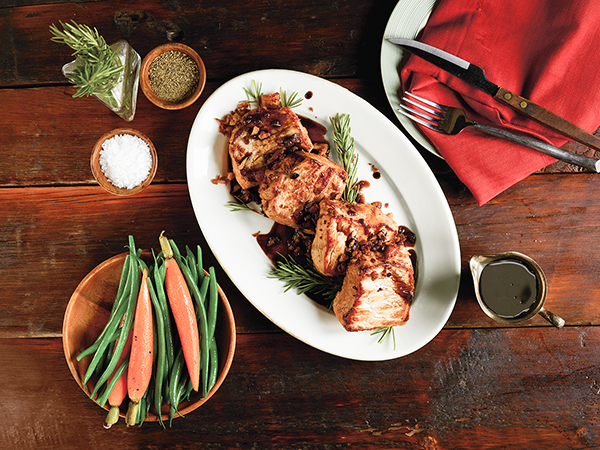 Fresh Pork with Sweet Balsamic-Red Wine Reduction
Prep time: 5 minutes
Cook time: 25 minutes
Servings: 4
1 Smithfield Applewood Smoked Bacon Marinated Fresh Pork Loin Filet
1 tablespoon olive oil, divided
1/3 cup dry red wine
3 tablespoons balsamic vinegar
2 tablespoons sugar
1 teaspoon chopped fresh rosemary
Cut pork loin filet into 3/4-to-1-inch thick chops.
In large, nonstick skillet over medium heat, heat 1/2 tablespoon olive oil.
Cook half the pork chops 4-5 minutes on each side until internal temperature reaches 150° F. Remove pork chops from skillet and place on rimmed serving platter; cover to keep warm. Repeat with remaining olive oil and pork chops.
In same skillet, combine wine, vinegar and sugar. Bring to boil over medium-high heat; cook 3-5 minutes until slightly thickened, or until liquid is reduced to 1/4 cup.
Serve pork chops drizzled with wine reduction and sprinkled with rosemary.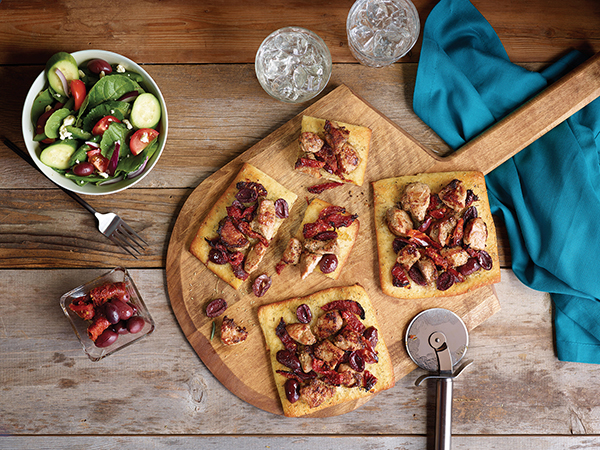 Fresh Pork and Kalamata Flatbreads
Prep time: 5 minutes
Cook time: 35 minutes
Servings: 6
1 Smithfield Roasted Garlic & Cracked Black Pepper Marinated Fresh Pork Tenderloin
1 tablespoon extra-virgin olive oil
1 can (13.8 ounces) refrigerated pizza crust dough
3/4 cup sliced sun-dried tomatoes in olive oil
1/2 cup sliced Kalamata olives, drained
1 teaspoon crushed dried rosemary
Cut pork tenderloin into 3/4-inch cubes.
Heat oven to 400° F. In large skillet over medium-high heat, heat olive oil. Stir-fry pork 8-10 minutes, or until well browned.
Unroll pizza dough and press onto greased sheet pan, about 18-by-13 inches; cut into six rectangles.
Drain tomatoes, reserving oil. Brush tops of flatbreads with sun-dried tomato oil, reserving about 1 tablespoon. Top with pork, drained tomatoes, olives and rosemary, pressing into dough lightly with fingertips.
Bake 18-21 minutes until edges are golden brown.
Remove from oven. Drizzle remaining sun-dried tomato olive oil evenly over flatbreads; let stand on baking sheet 2 minutes before serving.
Source: Smithfield
(Family Features) When it comes to entertaining, it's not always about three-course meals or hours upon hours of preparation. Sometimes, the best hosts look toward simple snacks and small plates to please guests with an array of palates.
Herbs, onions, artichokes and olives create a medley of flavors atop this savory flatbread that makes it easy to give guests a fresh bite without spending too much time in the kitchen. Or you can enjoy a berry and beet chutney as a topping for crostini that is spread with goat or cream cheese, or topped with a thin slice of Gouda or a runny slice of Brie. It's also a welcome addition to an open-face sandwich.
The secret is using convenient ingredients like Aunt Nellie's Harvard Beets and Holland-Style Onions that contribute great flavors to recipes and also help streamline preparation as guests settle in for an evening of fun and relaxation.
Explore more ideas to make your entertaining skills shine at AuntNellies.com.
Herbed Mediterranean Flatbread
Prep time: 15 minutes
Cook time: 10-12 minutes
Servings: 4
1 jar (16 ounces) Aunt Nellie's Holland-Style Onions
1 jar (7 1/2 ounces) quartered, marinated artichoke hearts
1/4 cup finely chopped red bell pepper
1/4 cup chopped fresh parsley
2 tablespoons chopped or sliced Kalamata olives
1/4 teaspoon crushed red pepper flakes
coarsely ground black pepper
2 tablespoons shredded Parmesan cheese, divided
2 teaspoons olive oil
1/2 teaspoon dried thyme leaves, crushed
1 clove garlic, minced
2 whole-grain round or square flatbreads (about 6-7 inches diameter)
fresh basil (optional)
Heat oven to 400° F. Drain onions. Pat dry. Discard liquid. Drain artichokes well. Discard liquid.
Press onions with spatula to crush lightly. Pat dry again. Place in large bowl. Coarsely chop artichokes. Add to bowl with onions. Stir in bell pepper, parsley, olives, red pepper flakes, black pepper and 1 tablespoon Parmesan cheese; set aside.
In small bowl, stir together olive oil, thyme and garlic. Brush over one side of flatbreads. Place on baking sheet; bake 2 minutes. Remove from oven.
Top each flatbread with onion mixture. Sprinkle with remaining Parmesan cheese. Return to oven. Bake 8-10 minutes, or until heated through and flatbread is crisp.
Cut each flatbread in half. Sprinkle with fresh basil, if desired.
Beet and Berry Chutney
Prep time: 20 minutes
Servings: 10
1/2 cup orange marmalade
1 jar (15 1/2 ounces) Aunt Nellie's Harvard Beets, not drained
1/4-1/2 teaspoon crushed red pepper flakes
1 tablespoon finely chopped candied ginger (optional)
1 1/2 cups berries (fresh or frozen unsweetened cranberries, blueberries, raspberries or strawberries, cut in half or quartered, if large)
In medium saucepan over medium heat, stir marmalade until melted. Stir in beets and red pepper. Cook 3-5 minutes until liquid is reduced by about half, stirring frequently. Add ginger, if desired.
If using only cranberries, add to pan with beet mixture and cook until they just begin to pop. If also using other berries, add to beet-cranberry mixture; stir and heat through. If using only blueberries, raspberries or strawberries, add to beet mixture after reducing liquid. Stir and heat through.
Remove pan from heat; cool to room temperature before serving.
Note: Chutney can also be served chilled. Store, covered, in a refrigerator up to 1 week.
Source: Aunt Nellie's