(Family Features) If you and your loved ones yearn for new, stimulating experiences to feel connected to the outdoors, look no further than enjoying mealtime al fresco. Inspired by the Mediterranean tradition of "eating in the open air," al fresco dining offers passionate home cooks a fresh way to enjoy their favorite recipes outside with friends and family.
Consider these two tried-and-true al fresco tips from television personality and culinary icon Rachael Ray the next time you enjoy dinner on the deck or lunch on the patio.
Gather the right tools: On those buggy days and nights during the warm season when you're dining al fresco, grab a food mesh tent. Not only will it protect your food, but it also looks good and goes with a variety of table settings.
Plan the decor: When hosting friends and family, up your floral game by reaching into the garden and adding some fresh herbs – it's aesthetically pleasing and smells delicious.
Ideal al fresco meals typically take advantage of in-season produce, offer easy preparation so you can focus on entertaining and are simple enough to eat outdoors. Skip complicated cooking steps and turn to a delicious option like Yellowfin Tuna and Artichoke Pasta, which can be served as an appetizer, side dish or on its own as a light main course.
This dish practically calls for ingredients like Genova Yellowfin Tuna in Olive Oil, which features cuts of wild-caught tuna, hand-filleted in just the right amount of olive oil. Savory, rich and flavorful with a perfect texture, the tuna elevates the dish with a uniquely rich and savory flavor stemming from Mediterranean inspiration.
To find more al fresco dining inspiration and recipe ideas, visit GenovaSeafood.com.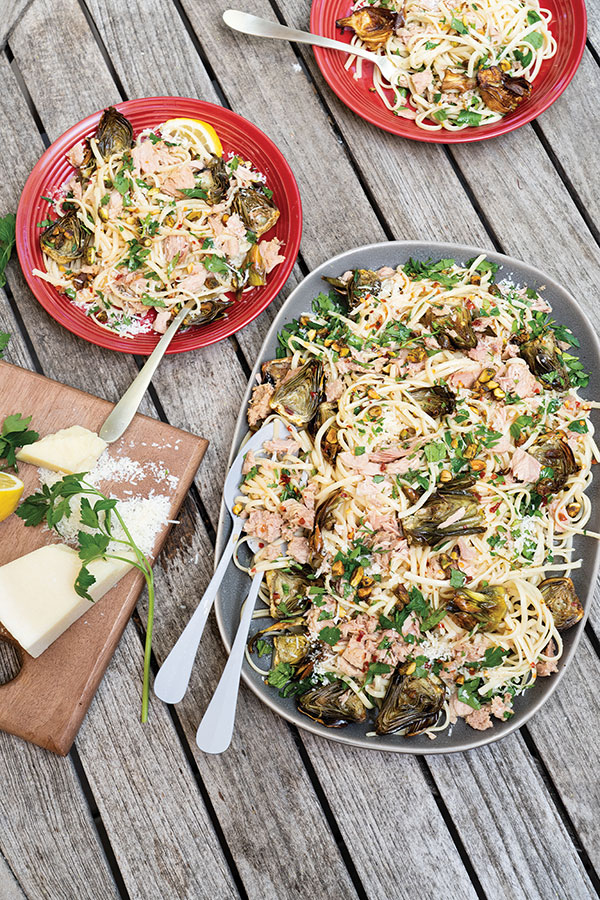 Yellowfin Tuna and Artichoke Pasta
Recipe courtesy of Rachael Ray on behalf of Genova Tuna
Prep time: 15 minutes
Cook time: 40 minutes with fresh artichokes (25 minutes with canned)
Servings: 4
Artichokes:
Cold water
12 small, fresh artichokes or 2 cans artichoke hearts in water
2 lemons
3 tablespoons extra-virgin olive oil
salt, to taste
pepper or red pepper, to taste
Pasta:
Water
2 cans (5 ounces each) Genova Yellowfin Tuna in Olive Oil
2 tablespoons extra-virgin olive oil
4 tablespoons butter, cut into tabs
4 cloves garlic, chopped
1 teaspoon crushed red pepper (optional)
salt, to taste
1/2 cup white wine, chicken stock or vegetable stock
1 pound spaghetti or linguine
1 lemon, juice only
1 cup grated Pecorino Romano cheese
1/4 cup chopped fresh Italian parsley, divided
1 small handful fresh mint, chopped, divided
1/4 cup toasted pistachios or pine nuts, chopped
To make artichokes: Preheat oven to 425 F.
Fill bowl with cold water and juice of one lemon.
If using fresh artichokes, trim tops of artichokes and tougher outer leaves. Using vegetable peeler or small paring knife, trim stems. Once prepped, cut fresh artichokes in half. If using canned artichokes, drain well and quarter lengthwise.
Place artichokes in lemon water.
Let soak 2-3 minutes, drain and pat dry with kitchen towel.
In casserole or baking dish, arrange artichokes and add juice of remaining lemon, quarter lemon and add lemon wedges to dish.
Add olive oil and salt and pepper, to taste.
Roast 25-30 minutes, or until tender.
To make pasta: Bring large pot of water to boil.
While water is coming to boil, place large skillet over medium heat and add olive oil and butter. Add garlic; red pepper, if desired; and salt, to taste, and swirl 1 minute. Add white wine or stock and let reduce by half.
When water comes to boil, salt water, add pasta and cook 1 minute less than directions. Reserve 1/2 cup pasta water before draining.
Add artichokes to large skillet with tuna with its oil and gently break up with back of wooden spoon or paddle.
Add lemon juice and reserved pasta water to skillet along with drained pasta, cheese and half the parsley, mint and pistachios. Toss to combine, top with remaining parsley, mint and pistachios and serve.
Source:
Hearty meals to bring the family together
(Family Features) Gathering the family around the table with delicious, traditional meals is the ultimate combination for many home chefs like Catherine Lowe, winner of the 17th season of ABC's "The Bachelor."
Lowe, who partnered as a celebrity spokesperson with Bertolli to create this Roasted Garlic Marinara Braised Chicken with Linguine recipe, enjoys adding authenticity to the table with recipes that provide homemade taste and layers of flavor.
"I pride myself on my strong Italian roots," Lowe said. "My dad taught me how to cook at a young age, and growing up, it was an event to make and enjoy dinner with his side of the family. It's important for me to remember and celebrate that heritage."
Full of hearty vegetables you can see and taste, and inspired by the simple goodness of Tuscan cooking, Bertolli Rustic Cut Pasta sauces help bring homemade flavor to your table. Offered in four varieties – Marinara with Traditional Vegetables, Spicy Marinara with Traditional Vegetables, Roasted Garlic Marinara with Garden Vegetables and Sweet Peppers with Portobello Mushrooms – it's Lowe's secret ingredient to helping make family meals more enjoyable.
Find more family-friendly recipes to bring everyone together at bertolli.com.
Roasted Garlic Marinara Braised Chicken with Linguine
Recipe courtesy of Sean and Catherine Lowe
Prep time: 10 minutes
Cook time: 60 minutes
Servings: 4-6
23 ounces Bertolli Rustic Cut Roasted Garlic Marinara Sauce
6-8 bone-in, skin-on chicken thighs
2 teaspoons kosher salt
1/2 teaspoon freshly ground black pepper
1 tablespoon extra-virgin olive oil
1 pound whole-wheat linguine
8 ounces sliced cremini mushrooms
1/2 cup small diced onion
1/4 cup white wine (optional)
3 ounces baby kale
Parmesan cheese
Heat oven to 350° F.
In 3-quart Dutch oven over medium heat, heat sauce. Season chicken on both sides with salt and pepper.
In large skillet over medium-high heat, heat olive oil. Add chicken, skin-side down, and cook 3-5 minutes, or until skin is crisp and deep golden-brown. Turn chicken over and cook 3-5 minutes until golden-brown on second side.
Remove chicken from skillet, leaving fat in pan. Set aside skillet to be used later.
Add chicken to sauce in Dutch oven in single layer, skin-side up, with skin just above surface of sauce. Cover and bake 40 minutes. Begin to boil water for pasta.
Remove cover from Dutch oven and cook in oven 10 minutes.
Cook pasta al dente according to package instructions. Drain.
Heat reserved skillet and fat over medium-high heat; add cremini mushrooms and onions; saute until lightly browned. Deglaze with white wine, if desired, and cook until dry. Add kale to mushrooms and toss gently to wilt.
Remove Dutch oven from oven and gently transfer chicken to large plate. Add pasta to sauce in Dutch oven and stir gently to coat.
Place portion of pasta in pasta bowl and make well in middle. Spoon mushroom-kale mixture into center of well and top with one piece of chicken.
Shave Parmesan cheese over dish to finish.
Spoon polenta into serving dish and make a well in middle. Place mushroom-kale mixture in well. Top with marinara sauce and one piece of chicken.
Substitution: Portobello, shiitake or button mushrooms may be used in place of cremini mushrooms.
Tip: Serve with creamy polenta instead of pasta. In saucepan, combine 2 cups chicken stock, 2 cups milk, 2 tablespoons butter and 1 teaspoon kosher salt. Bring to boil and whisk in 1 cup instant polenta and cook, while stirring, 5 minutes. Add 1/4 cup grated Parmesan cheese and whisk to combine.
Grilled Mediterranean Stuffed Peppers
Prep time: 20 minutes
Cook time: 20 minutes
Servings: 6
2 tablespoons olive oil, divided
1 1/2 cups (10 ounces) uncooked orzo pasta
1 can (14 1/2 ounces) vegetable broth
1 jar (23 ounces) Bertolli Rustic Cut Spicy Marinara with Traditional Vegetables Sauce, divided
6 ounces crumbled feta cheese
1/2 cup (2 ounces) coarsely chopped smoked almonds
1/2 cup chopped fresh mint, divided
6 large red, yellow or orange bell peppers, top 1/2 inch removed and seeded
Heat grill to high.
In medium skillet on medium-high heat, heat 1 tablespoon oil. Add pasta; cook and stir 2-3 minutes, or until light golden brown. Stir in broth and 1 cup sauce; bring to boil.
Reduce heat to low; cover. Cook 4 minutes, or until pasta is al dente, stirring occasionally. Remove from heat; cool slightly.
Stir in cheese, almonds and 1/4 cup mint. Brush outsides of peppers with remaining oil. Grill 4-6 minutes, or until crisp tender and lightly marked on all sides, turning frequently; cool slightly.
Place peppers in center of 12-by-12-inch square of heavy duty foil. Bring sides of foil up and shape foil around each pepper, leaving tops open. Shape foil into stable base to secure peppers firmly. Keep upright while grilling.
Fill each pepper with 1 tablespoon sauce and about 3/4 cup orzo mixture. Grill peppers 8-10 minutes, or until filling is heated through. Remove from foil. Warm remaining sauce. Sprinkle with remaining mint before serving with warmed sauce.
To prepare peppers: Heat oven to 400° F. Prepare orzo mixture as directed but do not grill peppers. Fill raw peppers with orzo mixture and place on foil squares. Bring sides of foil up and seal tops to fully enclose each pepper.
Arrange on rimmed baking sheet and bake 20-25 minutes, or until peppers are soft and filling is heated through.
Three-Cheese Farmstand Cups
Prep time: 20 minutes
Cook time: 15 minutes
Servings: 6
2 cups cooked mini penne pasta
1 cup small broccoli florets, cut into 1/2-inch pieces
nonstick cooking spray
1/4 cup mascarpone cheese
3 eggs, beaten
1/2 cup grated Parmesan cheese
1 jar (23 ounces) Bertolli Rustic Cut Sweet Peppers and Portobello Mushroom Sauce, divided
1 1/2 cups shredded mozzarella cheese, divided
1/4 cup chopped fresh basil
Heat oven to 375° F. Divide penne pasta and broccoli evenly between 12 standard muffin cups sprayed with cooking spray. Whisk in mascarpone until smooth; gradually whisk in eggs.
Stir in Parmesan, 2 cups sauce and 1/2 cup mozzarella cheese. Spoon 1/4 cup egg mixture over pasta and broccoli in each cup; with spoon press filling down gently. Bake 18-20 minutes, or until set.
Sprinkle tops with remaining mozzarella cheese halfway through bake time. Let stand 3 minutes before unmolding. Warm remaining sauce and serve over top of cups with basil.
Source: Bertolli