(Family Features) Mealtime traditions are common among many families, from taco Tuesdays to weekend favorites. You can add a special touch to one of the most popular traditions – taco night – with a plant-based twist.
With a nutty, smoky and truly meaty taste and texture, pecans offer a perfect plant-based protein to incorporate in favorite dishes like tacos. However, great taste is just the beginning – pecans pack a nutritious punch with a unique mix of health-promoting nutrients while shining in a wide range of flavor profiles.
To help make your next taco night all the rage among loved ones, the American Pecan Promotion Board recommends serving up authentic vegan taco recipes using pecans in place of meat in dishes like Smoky Chipotle Pecan Burrito Bowls and Vegan Pecan Al Pastor Tacos. Their texture makes them uniquely suited as a meat alternative that doesn't sacrifice flavor so it can taste like the original and leave your family clamoring to keep taco night on the weekly menu.
Learn more and discover delicious plant-based recipes at eatpecans.com.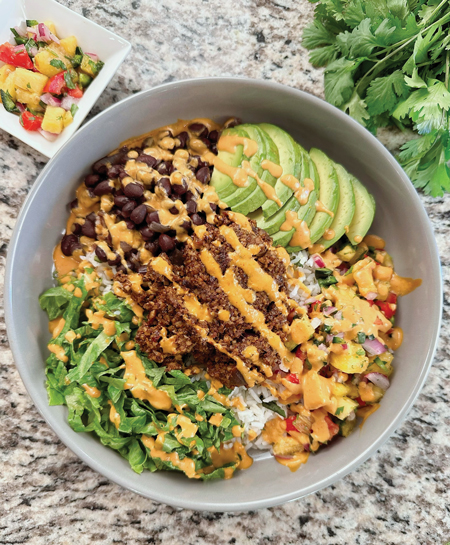 Smoky Chipotle Pecan Burrito Bowls
Recipe courtesy of Dominique Williamson on behalf of the American Pecan Promotion Board
Prep time: 40 minutes
Cook time: 15 minutes
Servings: 2-3
Pecan "Meat:"
2 1⁄2 cups water
1 cup pecans
1⁄2 cup portobello mushrooms
2 tablespoons taco seasoning
2 tablespoons tamari sauce or soy sauce
2 cloves garlic, minced
1 tablespoon liquid smoke
1 tablespoon vegan Worcestershire sauce
1 tablespoon chipotle in adobo sauce
Pineapple Salsa:
1 pineapple, diced
2 Roma tomatoes, diced
1-2 jalapenos, diced
1 cup cilantro, finely chopped
1 red onion, diced
1⁄4 cup lime juice
salt, to taste
Chipotle Crema:
2 chipotle peppers in adobo sauce
1 cup vegan mayo
3 cloves garlic, minced
2 teaspoons vinegar
2 tablespoons plant-based milk
1 teaspoon agave
1⁄2 teaspoon salt
To make pecan "meat:" In bowl of boiling water, soak pecans, covered, at least 30 minutes, or overnight in room temperature water for softer texture.
Drain pecans and place in food processor with mushrooms. Pulse mixture to texture resembling meat crumbles. Avoid over-pulsing.
In pan over medium heat, add pecan mixture, taco seasoning, tamari sauce, minced garlic, liquid smoke and vegan Worcestershire sauce. Cook 7-10 minutes then add chipotle in adobo. Cook 3 minutes.
To make pineapple salsa: Combine pineapple, tomatoes, jalapenos, cilantro, red onion, lime juice and salt, to taste.
To make chipotle crema: Combine chipotle peppers, vegan mayo, garlic, vinegar, milk, agave and salt.
To assemble bowls, place pecan mixture in bowl followed by pineapple salsa and chipotle crema.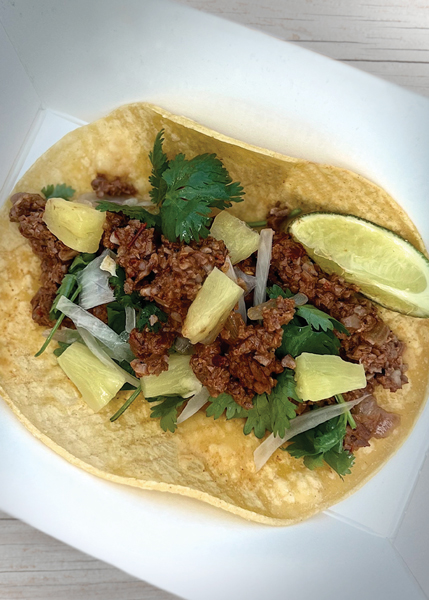 Vegan Pecan Al Pastor Tacos
Recipe courtesy of the American Pecan Promotion Board
Prep time: 35 minutes
Cook time: 10 minutes
Servings: 4-6
Water
2 pounds chopped pecans
1 cup onion
8 cloves garlic, minced
8 dried guajillo peppers
2 tablespoons oil
salt, to taste
pepper, to taste
7 ounces (1 can) chipotle peppers in adobo
Toppings and Garnishes:
flour or corn tortillas (6 inches each)
cilantro
diced onion
lime
pineapple
In bowl of boiling water, soak pecans, covered, at least 30 minutes, or overnight in room temperature water for softer texture.
Drain pecans. In food processor, pulse pecans to meat-like crumbles. Do not overprocess to pecan butter.
Finely chop onions, garlic and guajillo peppers.
In skillet over medium-high heat, heat oil and saute onions until transparent, 2-3 minutes. Add garlic and cook 1 minute. Sprinkle with salt and pepper, to taste, and stir to combine.
Add chipotle peppers in adobo and cook 1 minute. Add crumbled pecans and stir well to combine.
Remove from heat and serve on tortillas.
Serve with cilantro, onion, lime and pineapple.
Source: American Pecan Promotion Board
(Family Features) Summer means it's time to heat up the grill. If you're looking to add some sizzle to your summer grilling menu, shake things up all summer long with the convenience and versatility of fresh pork. From tender ribs to juicy pork loins, chops, roasts and more, the possibilities are endless.

With mouthwatering flavor and no artificial ingredients, Farmer John California Natural Fresh Pork offers a wide variety of convenient, versatile fresh pork cuts that can take your cookout to the next level. Try out these recipes for Triple Threat Burgers or Chipotle Glazed Spare Ribs, which are sure to be crowd-pleasers at your next barbecue.
Find more grilling tips and recipe inspiration at farmerjohn.com.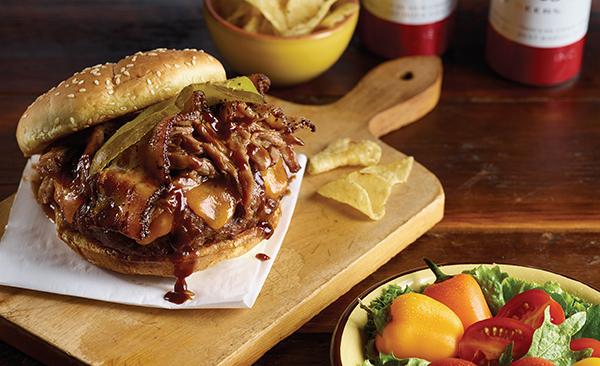 Triple Threat Burger
Prep time: 30 minutes
Cook time: 8 1/2 hours
Servings: 6
Pulled Pork:
1 Farmer John Boneless Fresh Pork Shoulder Roast
1/4 cup barbecue seasoning blend
3/4 cup pale lager beer
1 1/2 teaspoons liquid hickory smoke
Triple Threat Sauce:
1 jar (12 ounces) seedless raspberry jam
1 cup barbecue sauce
3/4 cup pale lager beer
1 teaspoon dry mustard
1/4 teaspoon chipotle powder
Burgers:
1 pound Farmer John Ground Pork
1 pound 80 percent lean ground beef
1/4 cup pale lager beer
2 tablespoons barbecue seasoning blend
6 slices cheddar cheese
6 sandwich buns, toasted
6 slices Farmer John Bacon, cooked crisp
6 dill pickle planks
To make pulled pork: Rub pork roast with seasoning and place in 4-5-quart slow cooker. Pour beer and liquid smoke around sides. Cover and cook 8-10 hours on low or 4-5 hours on high.
Remove roast from slow cooker with tongs and place in large container. Using tongs or two forks, shred pork and set aside 2 cups. Cover and refrigerate.
To make sauce: In medium saucepan, combine raspberry jam, barbecue sauce, beer, mustard and chipotle powder; bring to boil over medium-high heat; boil 5 minutes, stirring constantly. Reduce heat and simmer 15 minutes. Stir 1/2 cup sauce into reserved pulled pork.
To make burgers: Heat charcoal or gas grill to medium. Combine ground pork, ground beef, beer and seasoning; form into six (1-inch thick) burger patties. Grill 5 minutes per side until internal temperature reaches 160° F. Top each burger with slice of cheese; let melt.
Place burgers on bottom buns; spoon about 1/3 cup pulled pork with barbecue sauce onto each burger. Top each with one slice bacon and one pickle plank then close with top bun.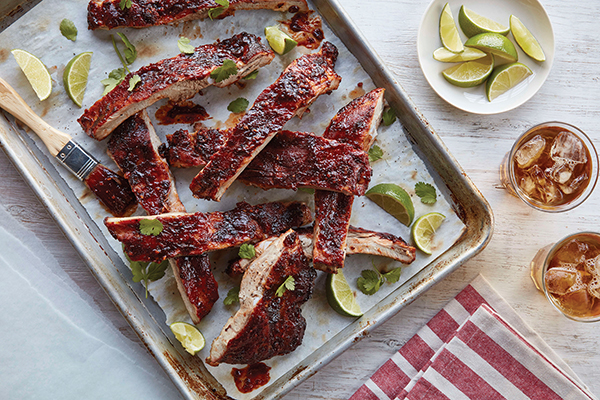 Chipotle Glazed Spare Ribs
Prep time: 25 minutes
Cook time: 1 hour, 40 minutes
Servings: 6
2 racks Farmer John Pork Spareribs, membranes removed
4 tablespoons salt
4 tablespoons pepper
6 cloves chopped garlic
1 cup honey
brown sugar
1/2 can (7 ounces) chipotle chilies in adobo sauce
1/2 cup barbecue sauce
2 limes, zest and juice only, plus additional lime juice
1/2 cup cilantro, chopped
Heat oven to 325° F. Season ribs with salt and pepper. Place on rimmed baking sheet and cover tightly with foil. Bake 1 1/2 hours until ribs reach internal temperature of 195° F. Let cool.
While ribs bake, blend garlic, honey, brown sugar, chipotle chilies, barbecue sauce and lime zest and juice. Blend until smooth. Set aside.
Heat charcoal or gas grill to medium-high. Place ribs on grill and baste with sauce mixture, turning frequently until well-coated with sauce and charred, about 10 minutes. Transfer to cutting board and let rest. Serve with remaining sauce mixture, additional lime juice and chopped cilantro.
Source: Farmer John