(Family Features) The holiday season is meant for spending quality time with friends and family, not stressing out over hosting. With some simple tips, you can cut down on hectic preparations while creating a memorable holiday full of food and fun guests can savor.
Consider these suggestions from the entertaining experts at Real California Milk:
Plan Ahead
Heading into your seasonal soiree with a plan in place can help avoid snafus. Make a shopping list of ingredients and decorations. Then put together a schedule a few days prior to the event to cover last-minute preparations.
Elevate Holiday Classics
Elevating classic appetizers is a simple way to savor the season. A trend on the rise, the Grazing Table starts with the table as the canvas, adds elements of the traditional cheese board then takes it to the next level with an arrangement of appetizers or brunch dishes and seasonal decor. Another way to lift your holiday spread is using high-quality, authentic ingredients like Real California Milk cheeses, made with milk from California dairy farm families, which are key ingredients in this Sweet Citrus and Spice Cheese Board.
Prepare Dishes and Decorations in Advance
Preparing for guests can be one of the most time-consuming aspects of hosting. Decorating at least a day ahead and setting the table the night before, for example, can help minimize stress. Welcome guests with holiday cheer and trendy decor like a virtual yule log made of melting cheese, complete with holiday music.
For more holiday inspiration and recipes like antipasto skewers and yogurt-pesto dip, queso fundido and cheese logs and bundts, visit realcaliforniamilk.com/recipes.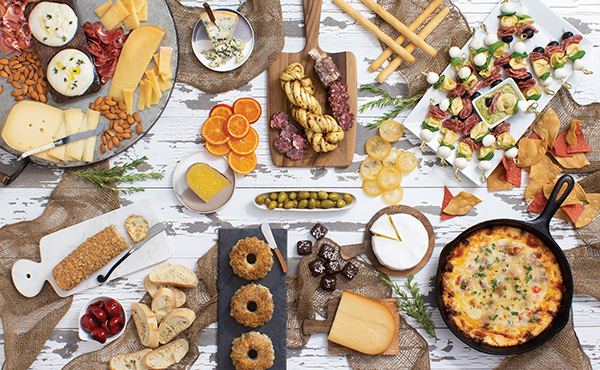 Grazing Table
Toma cheese, sliced
natural almonds
prosciutto
salami
Real California aged cheddar, sliced
Real California burrata cheese
olive oil
herbs
blue cheese
Real California braided marinated string cheese
dry salami, sliced
premade antipasto skewers
yogurt pesto dipping sauce
Real California aged Gouda
brie cheese
Real California cheese log
Real California cheese bundts
dry jack cheese
sweet red piquante peppers
green California olives
premade Real California queso fundido
breadsticks
tortilla chips
dark chocolate sea salt caramels
dried citrus, such as oranges and lemons
artisan bread, sliced
On large board, plate or tray, arrange sliced toma cheese, almonds, prosciutto, salami and aged cheddar. In center, place burrata cheese and top with olive oil and herbs.
On separate small plate, place blue cheese; crumble.
On medium board, arrange braided string cheese and dry salami slices.
On serving platter, arrange antipasto skewers around bowl of yogurt pesto dipping sauce.
On separate small cheese board, place Gouda, brie cheese and cheese log.
On slate, arrange cheese bundts. On separate plate, place dry jack cheese.
In separate bowls, place piquante peppers and green olives.
Arrange boards, plates, bowls and skillet of queso fundido on table, as desired.
Fill blank spaces on table with breadsticks, tortilla chips, dark chocolate sea salt caramels, dried oranges, dried lemons and bread slices. Add floral arrangements and holiday decor for finishing touches. Complete table with cheese knives and spreaders.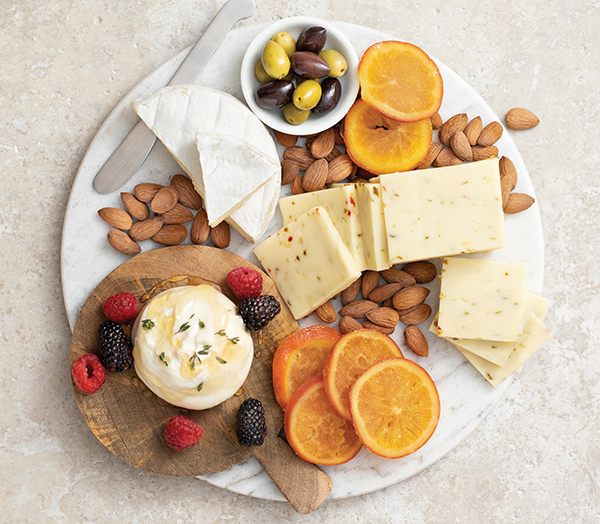 Sweet Citrus and Spice Cheese Board
Real California brie cheese
black olives
green olives
dried oranges, sliced
Real California pepper jack cheese sliced
almonds
raspberries
blackberries
Real California burrata cheese
honey, for garnish
fresh herbs, for garnish
To assemble cheese board: On large board, plate or tray, arrange brie cheese, olives, dried orange slices, sliced pepper jack cheese and almonds.
On smaller board, arrange raspberries and blackberries around burrata cheese placed in center of board. Garnish cheese with honey and fresh herbs. Place smaller board into empty space on larger board.
Source:
Try these authentic and traditional recipes to celebrate Hispanic heritage with flavor
(Family Features) From secret recipes handed down for years, to the everyday café con leche, milk has always been a part of traditional Latin American food. Hispanic Heritage Month, which lasts through mid-October, is a perfect opportunity for families to embrace and celebrate the culture, impact and contributions of generations of Hispanic Americans.
Food is deeply rooted in Hispanic culture, and real dairy milk is a key ingredient in many popular dishes. Milk brings flavor to traditional foods and provides a simple way to get families essential nutrients they need.
Try these six traditional recipes to enjoy during this festive time with the flavors of Hispanic culture with milk. Visit MilkLife.com for additional recipe inspiration and tips from experts.
An excellent appetizer or side dish, authentic Mexican Queso Fundido with Chorizo is a staple for your celebration as a delicious, crowd-pleasing snack. Serve with corn tortillas and it will be the star of your next fiesta!
These traditional Mexican sweet breads get their name from their round shape and unique, striped "shell-like" topping. Topped with layers of vanilla and chocolate, these rolls have just the right amount of sweetness to enjoy during breakfast paired with an 8-ounce glass of milk or café con leche.
Chef Lorena Garcia offers her take on this easy and versatile Venezuelan specialty. Made with nutrient-rich milk and shredded cheese, you can serve these alone, filled with your favorite veggies or topped with an egg for more protein at breakfast, lunch or dinner.
Inspired by one of the most popular desserts in Latin American culture, this rice pudding gets kicked up a notch, flavored with strong Cuban espresso and topped with a bitter chocolate cream. This comforting and simple dessert is guaranteed to satisfy any sweet tooth.
Spice up your family dinner with this recipe for flavorful pork cooked in milk. The delicious aromatics of white wine, garlic, orange peel and the sweetness of the milk make for a vibrant and tender dish that is sure to excite your taste buds.
From food blogger and Youtuber Lily Ramírez comes a delicious Venezuelan dessert for all fans of coconut! These quick and easy treats combine sweetened coconut and milk to create bite-sized coconut balls with flavors you simply cannot beat.
Source: MilkPEP