(Family Features) When it comes to staying healthy, there is a natural emphasis on physical fitness. However, it's important to know that nurturing and maintaining brain health is also important for leading a fulfilling life.
The brain is the command center of the human body and as such, influences every aspect of life. Maintaining brain health requires providing it with nourishment, rest and healthy stimulation.
Consuming healthy, whole foods, including vegetables and fruits, such as grapes, can help establish a strong foundation for brain health. For example, grapes may help protect against metabolic decline in the brain associated with natural aging; in a human study of elderly subjects with mild cognitive decline, UCLA researchers found consuming 2 1/4 cups of grapes every day preserved healthy metabolic activity in regions of the brain associated with early-stage Alzheimer's disease, where metabolic decline takes hold.
Adding grapes to your favorite healthy recipes, or enjoying them as a simple snack, helps support a healthy brain. Consider these additional ways to promote positive brain health from the experts at the Mayo Clinic.
Sleep Well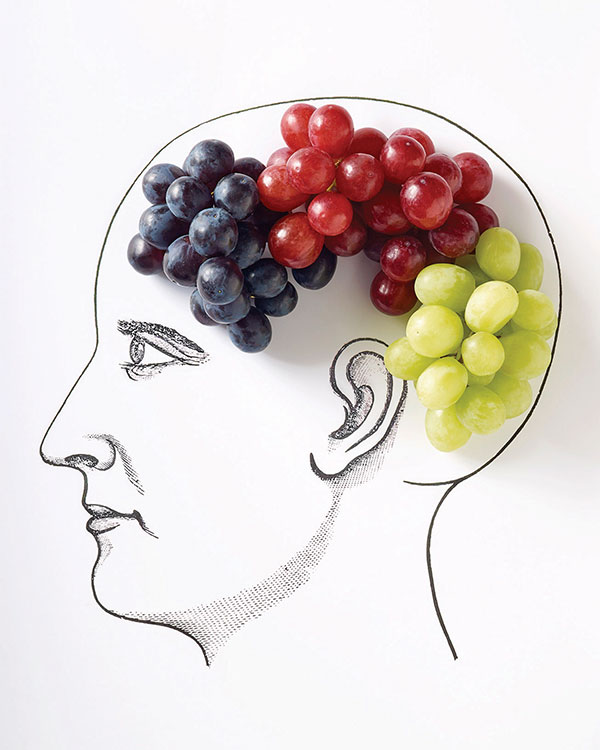 Health experts recommend aiming for at least seven hours of sleep per night. As noted by the Mayo Clinic, adequate sleep may help boost overall memory and brain health by giving the brain time to effectively consolidate memories.
Follow a Healthy Diet
Eating nutritiously benefits the body in many ways, including playing a role in brain health. Healthy eating plans like the Mediterranean diet, which emphasizes plant-based foods, whole grains, fish, healthy fats, fruits and vegetables, are thought by experts to be especially beneficial. Recipes like Warm-Spiced Chickpeas and Couscous with Grapes and Arugula deliver an array of ingredients to support brain health in delicious ways. This recipe is also heart smart because what is good for the heart is also good for the brain.
Stay Social
Keep in touch with family and friends. According to health experts, including the Mayo Clinic, staying connected and interacting socially can help defend against depression and stress, which may contribute to memory loss.
Exercise Regularly
Staying physically active provides well-known benefits for the body, and exercising can also benefit the brain by increasing blood flow to it. Once your workout is over, turn to a post-workout snack like Grapes from California for an energy boost and natural hydration.
Keep Your Mind Active
Like muscles throughout your body, the brain should be used continuously to strengthen it. With nearly endless ways to stimulate the mind, there's something for everyone to keep their brains in shape from crossword or jigsaw puzzles to reading, learning a new language, playing cards or conquering sudoku.
To find more information about the connection between grapes and health, or discover nutritious recipes, visit GrapesfromCalifornia.com.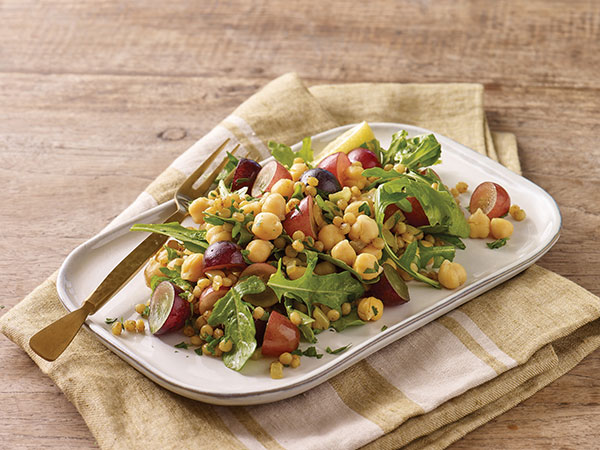 Warm-Spiced Chickpeas and Couscous with Grapes and Arugula
Prep time: 10 minutes
Cook time: 20 minutes
Servings: 4
2 tablespoons extra-virgin olive oil
1 small onion, chopped
1 1/2 teaspoons ground cumin
1/2 teaspoon kosher salt, plus additional, to taste, divided
1/8 teaspoon ground allspice
1 cup Israeli pearl couscous
3/4 teaspoon ground turmeric
1 1/2 cups water
1 can (15 ounces) no-salt-added chickpeas (garbanzo beans), drained
1 cup red Grapes from California, halved
2 tablespoons chopped fresh cilantro or parsley
freshly ground black pepper, to taste
4 cups lightly packed baby arugula
lemon wedges
In large saucepan over medium heat, heat oil. Add onion, cumin, 1/2 teaspoon salt and allspice; cook, stirring, until onion is softened, about 3 minutes. Add couscous and stir 1 minute to toast lightly. Add turmeric and water; bring to boil. Reduce heat, cover and simmer until couscous is tender, about 15 minutes.
Stir chickpeas, grapes and cilantro into couscous then season with salt and pepper, to taste. Transfer couscous-grape mixture to large bowl, add arugula and toss well. Serve warm or at room temperature with lemon wedges.
Nutritional information per serving: 370 calories; 12 g protein; 61 g carbohydrates; 9 g fat (17% calories from fat); 1 g saturated fat (2% calories from saturated fat); 0 mg cholesterol; 160 mg sodium; 8 g fiber.
(Family Features) The elegance of the holidays starts at the table with meals, desserts and drinks shared among loved ones. This year, let grapes add easy elegance to seasonal recipes as a signature ingredient perfect for special occasions.
As a highly versatile addition to appetizers, snacks, main courses, sides and desserts, grapes are an essential ingredient to keep on hand. Thanks to their delicate sweetness and juicy texture, Grapes from California can be the star at the center of the meal in unique and tasty Braised Pork Chops with Spiced Honey and Grapes served with Spiked Grape Cider for a cozy adult beverage.
Finish the celebration by sharing Grape Basque-Style Cheesecake, where delicious, fresh grape juice is used in the cheesecake batter to lend natural sweetness and enhance flavor. Decorate the top with fresh, juicy grapes for a final festive touch.

Find more sweet ideas to celebrate the holidays at GrapesfromCalifornia.com.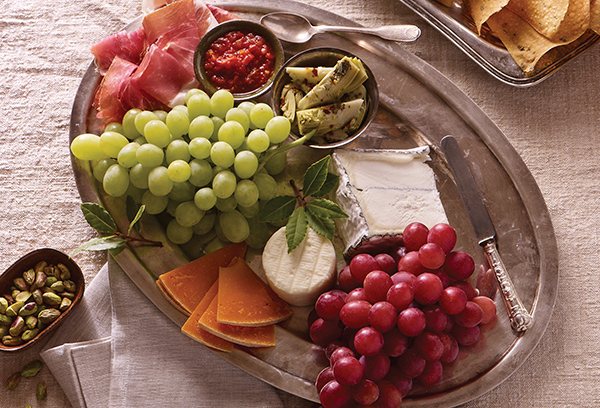 A Sweet Party Starter
Set the stage for a delicious get-together by serving an easy, attractive appetizer like this Grape Party Tray with fresh grapes, prosciutto, cheeses, pistachios and more holiday favorites. Grapes are easy to include as they offer variety – different colors, shapes, sizes and textures – which makes them an ideal healthy snack or ingredient in tasty recipes.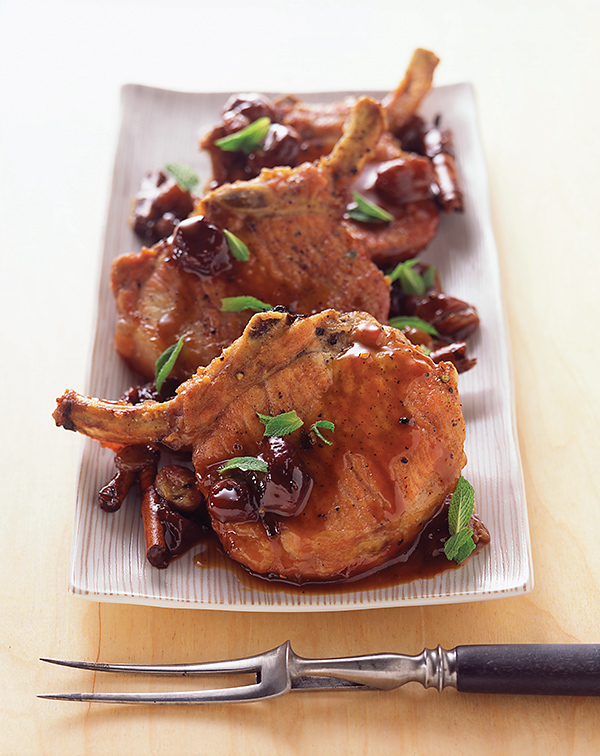 Braised Pork Chops with Spiced Honey and Grapes
Servings: 4
4 thick pork chops (about 3 pounds)
4 tablespoons flour
2 tablespoons butter or margarine, melted
1 1/2 cups whole red or black Grapes from California
1/3 cup honey
2 small cinnamon sticks, broken
3-5 whole cloves
1/2 teaspoon dried ground ginger
1/2 teaspoon salt
1/4 teaspoon black pepper
1 tablespoon chopped fresh mint (optional)
Preheat oven to 325 F.
Heat heavy, lidded saute pan or casserole dish over medium-high heat. Dust pork chops with flour and brown slowly in melted butter. Do not let flour burn.
Remove pan from heat and add grapes, honey, cinnamon, cloves, ginger, salt and pepper. Cover and place in oven. Braise slowly 50-60 minutes, or until pork is tender. Remove pork from pan and keep warm. Skim pan sauce of excess fat. Arrange pork chops on serving platter, spoon with sauce and sprinkle with chopped mint, if desired.
Nutritional information per serving: 569 calories; 54 g protein; 41 g carbohydrates; 21 g fat (33% calories from fat); 9 g saturated fat (14% calories from saturated fat); 33% calories from fat; 165 mg cholesterol; 407 mg sodium; 1.6 g fiber.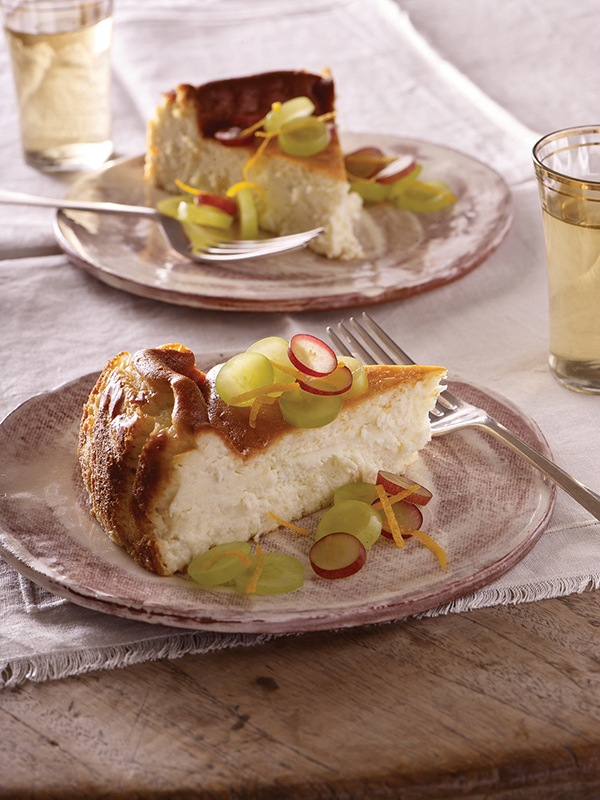 Grape Basque-Style Cheesecake
Prep time: 15 minutes, plus cooling and chilling
Bake time: 40 minutes
Servings: 12
2 cups green Grapes from California, divided
1/4 cup, plus 2/3 cup, granulated sugar, divided
2 1/2 tablespoons cornstarch
2 large pinches kosher salt
21 ounces cream cheese, at room temperature
1 cup cold heavy cream
4 large eggs, at room temperature
2 tablespoons orange-flavored liqueur (optional)
Heat oven to 425 F with rack in center. Use 12-by-16-inch sheet of parchment paper to line 9-inch springform pan in center. Press paper into bottom edge of pan and flatten creases around sides. Place pan on shallow baking sheet.
In mini blender or food processor, blend 1 cup grapes, 1/4 cup sugar, cornstarch and salt on high until smooth, about 1 minute.
In bowl of electric mixer fitted with paddle, beat cream cheese and remaining sugar until fluffy, 1-2 minutes. With mixer on medium speed, gradually pour in heavy cream; scrape down and beat on high speed until mixture resembles soft whipped cream, about 1 minute. Beat in eggs, one at a time, scraping down between additions. At medium speed, gradually add grape puree mixture; scrape and mix until well blended, 1 minute.
Pour batter into prepared pan, transfer to oven and bake 38-40 minutes until cake is puffed and top is caramel brown. Cracks will appear around edges and cake will be wobbly when touched gently with finger. Set cake pan on baking sheet on rack to cool. Cake will sink to half its height. Cool to room temperature, 1-2 hours, then refrigerate uncovered. Do not unmold cake from pan until well chilled, at least 5 hours or overnight.
Slice remaining grapes in halves or rounds. In small bowl, combine grapes with orange liqueur, if desired, and set aside.
When ready to serve, remove side of pan. Carefully pull creased parchment away from side of cheesecake then transfer to serving platter by peeling parchment away from bottom of cake and underneath pan while gently tugging cake toward platter and off parchment.
Garnish top of cheesecake with grape-liqueur mixture, if desired, or fresh grapes. Cut cake into wedges with thin, sharp knife.
Note: Cheesecake can be made up to 2 days ahead. Once cake is well chilled, cover pan with plastic wrap until ready to serve
Nutritional information per serving: 350 calories; 6 g protein; 25 g carbohydrates; 26 g fat (67% calories from fat); 15 g saturated fat (39% calories from saturated fat); 135 mg cholesterol; 200 mg sodium; 0 g fiber.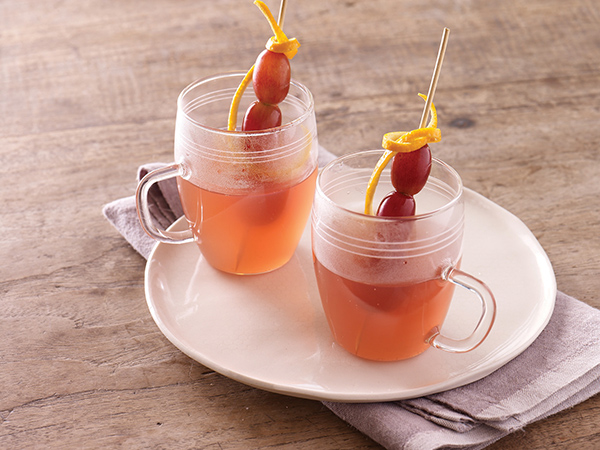 Hot Spiked Grape Cider
Prep time: 20 minutes
Cook time: about 1 hour
Servings: 4
5 cups red Grapes from California, plus additional for garnish, divided
3 cups water
1 tablespoon honey
1 cinnamon stick
2 star anise (optional)
1 large navel orange
6 ounces amber rum
In large saucepan, combine 5 cups grapes with water, honey, cinnamon and star anise, if desired. Bring mixture to boil over medium-high heat, reduce heat to medium-low, cover and simmer until grapes are tender, 50-60 minutes. Let cool 15 minutes.
Lay medium mesh strainer over bowl and pour grape mixture through. Gently press on solids to remove juice from fruit for about 2 cups grape cider.
With peeler, peel off large strip orange zest and add to warm juice. Let cool, cover and refrigerate.
When ready to serve, gently warm cider over medium heat. Pour 1/2 cup cider into each cup. Add 1 1/2 ounces rum and garnish with twist of orange and small skewer of grapes.
Nutritional information per serving: 170 calories; 0 g protein; 18 g carbohydrates; 0 g fat (0% calories from fat); 0 g saturated fat (0% calories from saturated fat); 0 mg cholesterol; 5 mg sodium; 0 g fiber.
Source: California Table Grape Commission