(Family Features) From office potlucks and cocktail parties to family dinners and beyond, the mealtime celebrations during the holidays are endless. Whether you're serving as a host or bringing your signature dish to a get-together, these tips can help you own the holiday season without breaking a sweat:
Stick with fewer, easy-to-find, high-quality ingredients.
Look for products that help you cut down on time but don't skimp on flavor, like Smithfield Marinated Fresh Pork, which is pre-seasoned and comes in a variety of cuts and flavors.
Sprinkle and decorate finished dishes with fresh, seasonal herbs for a festive touch.
To help get you inspired in the kitchen, try this recipe for Fresh Pork and Kalamata Flatbreads for a savory appetizer made with less than 10 ingredients, or Fresh Pork with Sweet Balsamic-Red Wine Reduction for a decadent main course you can have ready in just 30 minutes.
For more quick and easy holiday recipe ideas, visit SmithfieldRealFlavorRealFast.com.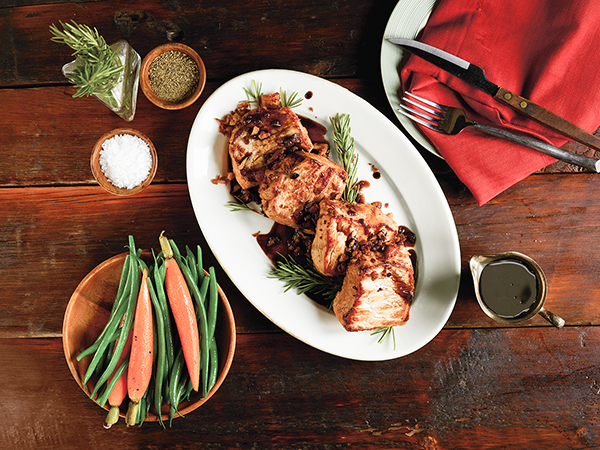 Fresh Pork with Sweet Balsamic-Red Wine Reduction
Prep time: 5 minutes
Cook time: 25 minutes
Servings: 4
1 Smithfield Applewood Smoked Bacon Marinated Fresh Pork Loin Filet
1 tablespoon olive oil, divided
1/3 cup dry red wine
3 tablespoons balsamic vinegar
2 tablespoons sugar
1 teaspoon chopped fresh rosemary
Cut pork loin filet into 3/4-to-1-inch thick chops.
In large, nonstick skillet over medium heat, heat 1/2 tablespoon olive oil.
Cook half the pork chops 4-5 minutes on each side until internal temperature reaches 150° F. Remove pork chops from skillet and place on rimmed serving platter; cover to keep warm. Repeat with remaining olive oil and pork chops.
In same skillet, combine wine, vinegar and sugar. Bring to boil over medium-high heat; cook 3-5 minutes until slightly thickened, or until liquid is reduced to 1/4 cup.
Serve pork chops drizzled with wine reduction and sprinkled with rosemary.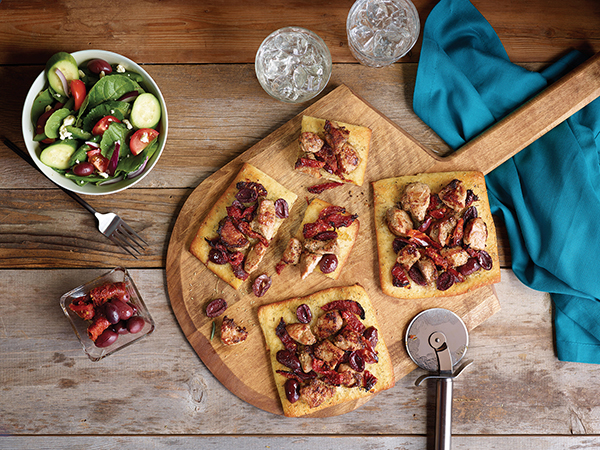 Fresh Pork and Kalamata Flatbreads
Prep time: 5 minutes
Cook time: 35 minutes
Servings: 6
1 Smithfield Roasted Garlic & Cracked Black Pepper Marinated Fresh Pork Tenderloin
1 tablespoon extra-virgin olive oil
1 can (13.8 ounces) refrigerated pizza crust dough
3/4 cup sliced sun-dried tomatoes in olive oil
1/2 cup sliced Kalamata olives, drained
1 teaspoon crushed dried rosemary
Cut pork tenderloin into 3/4-inch cubes.
Heat oven to 400° F. In large skillet over medium-high heat, heat olive oil. Stir-fry pork 8-10 minutes, or until well browned.
Unroll pizza dough and press onto greased sheet pan, about 18-by-13 inches; cut into six rectangles.
Drain tomatoes, reserving oil. Brush tops of flatbreads with sun-dried tomato oil, reserving about 1 tablespoon. Top with pork, drained tomatoes, olives and rosemary, pressing into dough lightly with fingertips.
Bake 18-21 minutes until edges are golden brown.
Remove from oven. Drizzle remaining sun-dried tomato olive oil evenly over flatbreads; let stand on baking sheet 2 minutes before serving.
Source: Smithfield