(Family Features) With hectic day-to-day schedules and varying dietary needs, many families face the dreaded daily question: "What sounds good for dinner?" In contrast, millions struggle to put food on the table each night, impacting about 1 in 8 children, according to Feeding America.
You can help support those in need through Safeway and Albertsons' "Fight Hunger, Serve Hope" cause program – an initiative to fight hunger in local communities during summer months when households with school-aged children face higher rates of food insecurity. The company's private label will donate one meal for every O Organics® product purchased, up to $7 million and the equivalent of 28 million meals. Donations will be made to Nourishing Neighbors, a program of Albertsons Companies Foundation, to fund grants dedicated to providing healthy meals for at-risk youth throughout the summer.
"While summertime sparks excitement for countless students, it also marks the unfortunate reality that millions of children face when they lose access to school cafeteria lunches and breakfasts they depend on throughout the school year," said Jennifer Saenz, EVP and chief merchandising officer at Albertsons Companies. "As a company, we are committed to making a difference in the lives of children in need. For the first time, we are making it easier than ever for our customers to support this mission by connecting each purchase of our O Organics brand to hunger relief efforts in the communities we serve."
Following the campaign period, families looking to help in their communities can give back in a variety of ways.
Donate Canned Goods
Once school is in session, many classrooms participate in canned food drives for a variety of causes while serving a dual purpose: feeding those in need and teaching children the importance of giving back. Sending your students to school with canned goods can show them the value of helping others and instill a sense of responsibility.
Volunteer at a Food Pantry
Sharing valuable resources like canned goods helps make a difference in communities, but local food pantries also need willing volunteers to sort and distribute food, among other duties. It can provide a unique sense of perspective as you meet other volunteers, improve the lives of people in your community and gain new skills.
Promote the Power of Family Meals
Whether it's breakfast, lunch, dinner or all three, sharing a meal with neighbors can be a powerful moment. It provides an opportunity to connect while enjoying easy-to-make recipes like Ribeye Steak, Grape Tomato and Mushroom Kebabs; Grilled Chicken Salad with Goat Cheese, Fresh Raspberries and Pecans; and Mixed Berry-Lime Smoothie Bowl with Banana and Granola.
Find more meal ideas by visiting Safeway.com and Albertsons.com.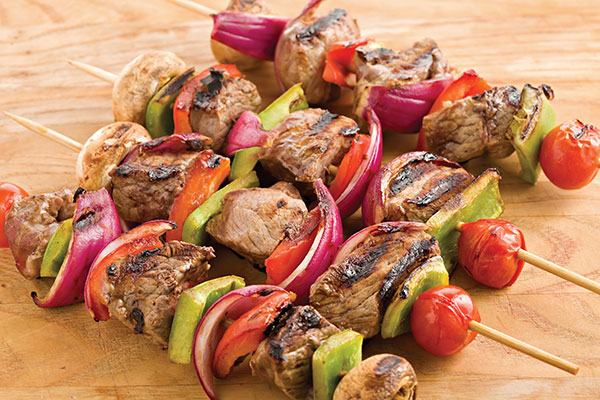 Ribeye Steak, Grape Tomato and Mushroom Kebabs
Recipe courtesy of Safeway and Albertsons
Total time: 30 minutes
2 cloves garlic
1/2 small bunch Italian (flat-leaf) parsley
1/4 cup O Organics extra-virgin olive oil
1/8 cup red wine vinegar
2 teaspoons O Organics Dijon mustard
1/2 teaspoon salt
1/2 teaspoon black pepper
3/4 pound O Organics ribeye steak
1/2 pint O Organics grape tomatoes
1/4 pound O Organics white mushrooms
green pepper, sliced (optional)
1/2 medium red onion
6 skewers
Peel and mince garlic. Wash and dry parsley. Shave leaves off stems; discard stems and mince leaves.
In large bowl, whisk minced garlic, half the minced parsley (reserve remainder for garnish), olive oil, vinegar, Dijon mustard, salt and pepper.
Cut steak into cubes; transfer to marinade bowl and toss to coat.
Wash tomatoes, mushrooms and green pepper. Halve mushrooms. Add tomatoes, mushrooms and green pepper to marinade. Peel onion and cut into chunks; add to marinade. Toss beef and vegetables until well coated.
Heat grill pan, outdoor grill or skillet to medium-high heat.
Thread steak and vegetables onto six skewers.
Cook kebabs in batches until steak is browned and vegetables are tender, 3-5 minutes per side. Transfer to plate and repeat with remaining kebabs.
To serve, plate kebabs and sprinkle with remaining minced parsley.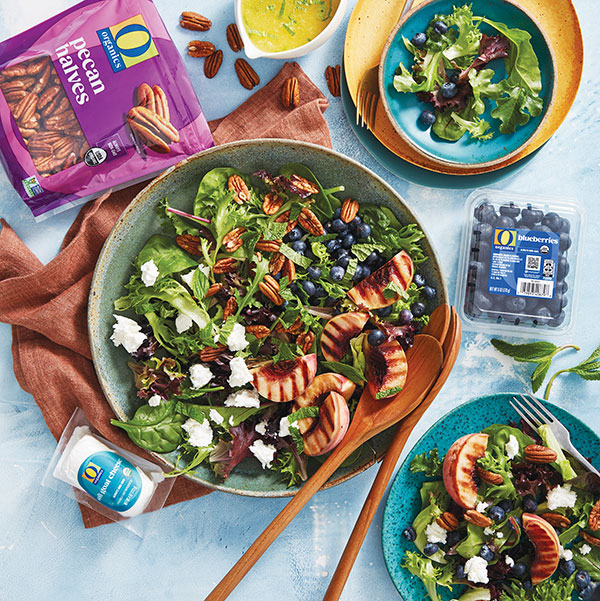 Grilled Chicken Salad with Goat Cheese, Fresh Blueberries and Pecans
Recipe courtesy of Safeway and Albertsons
Total time: 20 minutes
3/4 pound boneless, skinless O Organics chicken breasts
1/4 teaspoon salt
1/8 teaspoon black pepper
2 teaspoons O Organics extra-virgin olive oil
1 package (5 ounces) O Organics spring mix
1 package (6 ounces) O Organics blueberries (or desired berry)
1/4 cup O Organics pecan halves
3 tablespoons O Organics olive oil
1 tablespoon O Organics balsamic vinegar
1/2 log (4 ounces) O Organics goat cheese
Pat chicken dry with paper towels and place on cutting board. Cut chicken in half horizontally to form thin cutlets. Season with salt and pepper on both sides.
Preheat grill pan, outdoor grill or skillet to medium-high heat.
Once pan is hot, coat with oil. Add chicken to pan and grill, turning once, until cooked through, 3-4 minutes per side.
Wash and dry spring mix. Place in medium bowl.
Wash and dry blueberries. Add to bowl with mixed greens. Using clean cutting board, roughly chop pecans. Add to bowl.
Transfer cooked chicken to cutting board and cut into thin strips.
In bowl, mix olive oil and balsamic vinegar to create dressing.
Add chicken and dressing to salad bowl; toss to combine.
To serve, divide salad between plates or bowls and crumble goat cheese over top.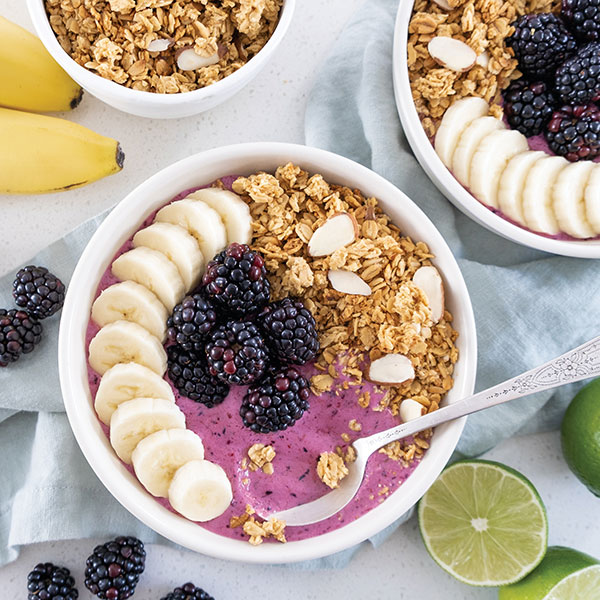 Mixed Berry-Lime Smoothie Bowl with Banana and Granola
Recipe courtesy of Safeway and Albertsons
Total time: 10 minutes
Yield: 3 cups
1 banana
1/2 package (6 ounces) O Organics blackberries
1/2 lime
2 cups O Organics frozen mixed berries
1 cup plain O Organics Greek yogurt
4 fluid ounces O Organics whole milk
1/8 cup O Organics honey
1/4 teaspoon ground cinnamon
2/3 cup O Organics granola of choice
Wash and dry banana and blackberries.
Peel and thinly slice banana; set aside.
Zest and juice lime into blender. Add frozen mixed berries, yogurt, milk, honey and cinnamon. Blend on high speed until smooth, 1-2 minutes.
To serve, divide smoothie between bowls and top with banana, blackberries and granola.
Photo courtesy of Getty Images (kebabs)
Source: Albertsons
Source: Safeway
(Family Features) Explore new flavors and cuisines and take a tasty trip around the world with pork - all from the comfort of your own home. Pork's versatility and savory taste make it the perfect pairing with global ingredients and dishes, giving you a passport to delicious mealtimes you will want to share with family and friends.
Need some inspiration? Create a Pork Bucket List and fill it with ideas for global-tasting meals with pork. Try:
Making your own marinade using a new ingredient from a far-off place, like chiles.
Visiting a new ethnic restaurant that serves dishes like dim sum or Korean barbecue and then find recipes at PorkBeinspired.com to replicate your favorites at home.
Discovering pork dishes from all seven continents, starting with Asia and these Thai Ribeye Pork Chops.
For Thai Ribeye Pork Chops, mix up a slightly tangy Asian-inspired marinade before grilling. And remember, for juicy, tender results that you, your family and friends will love, grill your pork chops to an internal temperature between 145°F (medium rare) and 160°F (medium), followed by a three-minute rest.
Serve these chops on top of a bed of noodles for a Thai pork noodle bowl, or alongside an herb salad of fresh basil, mint, scallions and cilantro for a meal packed with a world of flavor.
Keep your grilling and cooking fresh and exciting with more global recipes. Visit www.PorkBeinspired.com and www.Pinterest.com/PorkBeinspired for recipes, ideas, tips and more.
Thai Ribeye Pork Chops
Ingredients
1/4 cup soy sauce
1/4 cup cilantro, chopped OR 1 tablespoon dried cilantro
3 cloves garlic, crushed (about 3 tablespoons)
3 tablespoons brown sugar
1 tablespoon vegetable oil
1 lime, juiced
4 boneless ribeye pork chops, about 3/4- to 1-inch thick
Preparation
Whisk together soy sauce, cilantro, garlic, brown sugar, vegetable oil and lime juice in bowl.
In large baking dish, arrange ribeye pork chops in even layer. Pour marinade over pork chops, reserving about 1/4 cup of marinade in refrigerator for later use.
Marinate pork chops for 20-30 minutes.
Heat indoor grill pan or outdoor grill to medium-high heat. Remove pork chops from marinade, discarding excess marinade. Place pork chops on hot grill for 4 minutes on each side, flipping once until internal temperature of pork measures between 145°F (medium rare) and 160°F (medium) on meat thermometer.
Transfer grilled pork chops to cutting board and let rest for 3 minutes before slicing against grain.
Pour reserved marinade over sliced pork before serving.
Serves
4 servings
SOURCE: National Pork Board