(Family Features) For Mexican food lovers everywhere, Cinco de Mayo provides the perfect excuse to host a fiesta. This year, try spicing up your party menu with Mexican-inspired bold flavors and fresh ingredients using these tips and recipe. With a little planning and some key fresh ingredients, you can host a fiesta everyone will enjoy.
Cinco de Mayo Menu Planning
Here are a few authentic dips and dishes to liven any party spread:
Green, Green Guacamole - This flavorful dip embodies the festive flavors of the holiday. To make fresh guacamole, add green onions, cilantro and Tabasco green jalapeño pepper sauce to ripe, mashed avocados.
Mexican Caviar - Not your average salsa dip, this hearty and zesty recipe combines black beans, corn, avocado, tomatoes and cilantro for a muy bueno party starter that is sure to please.
Spicy Taquitos - Packed with genuine flavor, these savory appetizers can be served all year long. A satisfying blend of chicken, red beans and shredded cheese is rolled into buttery phyllo dough and baked until golden and crispy.
To add more authentic flavor to your table, be sure to serve Fiery Fiesta Empanadas. With a soft cornmeal crust, ground beef, cheese and olive filling, this dish boasts bold notes of cumin, garlic, and mild Tabasco green jalapeño pepper sauce - making these empanadas a sure-fire way to spice up your menu.
For more sizzling, south-of-the-border recipes, visit www.tabasco.com.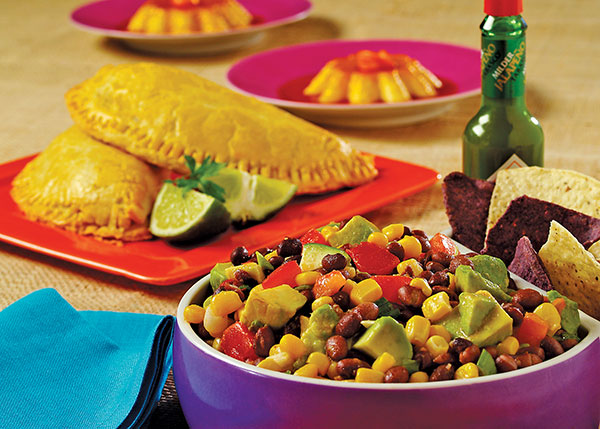 Fiery Fiesta Empanadas
Makes 4 empanadas
Cornmeal Crust
2 cups all-purpose flour
1 cup yellow cornmeal
1/2 teaspoon salt
1 cup (2 sticks) butter or margarine, cut into 1-inch pieces
6 tablespoons water
Filling
1 pound ground beef
1 clove garlic, crushed
3 scallions, chopped
1/4 cup taco sauce
1/4 cup pitted ripe olives, chopped
4 teaspoons Tabasco green jalapeño pepper sauce, divided
1/2 teaspoon dried oregano leaves
1/2 teaspoon ground cumin
1/2 teaspoon salt
1 cup shredded Cheddar or Monterey Jack cheese
1 large egg, beaten
Combine flour, cornmeal and salt in medium bowl. Cut in butter until mixture is crumbly. Sprinkle in water, 1 tablespoon at a time, until dough sticks together.
On lightly floured surface with lightly floured rolling pin, roll out half of dough until 1/4-inch thick. Cut dough into two 7-inch rounds. Repeat with remaining dough and scraps. Cover; set aside.
Cook ground beef and garlic in 12-inch skillet over medium-high heat until beef is browned on all sides, stirring occasionally to break up beef.
Stir in scallions, taco sauce, olives, 3 teaspoons green jalapeño pepper sauce, oregano, cumin and salt until well blended. Stir in cheese.
Preheat oven to 375ºF. Grease large cookie sheet. Spoon about 1/2-cup filling on 1/2 of each round, leaving a 1/2-inch border.
Stir together egg and remaining teaspoon green jalapeño pepper sauce.
Brush border with egg mixture.
Fold dough over filling, pressing out air. Crimp edges with fork or fingers to seal.
Place on baking sheet. Bake 25 minutes or until golden.
Source: Tabasco