(Family Features) If healthier eating holds a prominent spot on your list of goals, you may feel it's necessary to eliminate some of your sweetest favorites. However, committing to a nutritionally friendly way of life doesn't have to leave desserts by the wayside.
Instead, rethinking nighttime treats with better-for-you ingredients like California Prunes as a quick substitution can make healthier eating easy. As a versatile ingredient that can replace added sugar, fats and eggs in all kinds of recipes, prunes can also add nutrients important for bone and gut health.
Plus, the copper in prunes inhibits bone breakdown, while boron plays a role in calcium metabolism and polyphenols can help decrease bone breakdown through their antioxidant power. As a fruit that's high in vitamin K, which helps improve calcium balance and promotes bone mineralization, prunes are also a "good gut food," meaning a single serving (roughly 4-6 prunes) can help support a healthy microbiome.
They're easy to use in recipes that can become favorites in your household such as these Chocolate Energy Balls. Enjoyed as an easy, on-the-go snack, they're a perfect way to refuel for an adventure, recharge after a workout or to simply savor as a healthy snack.
Chocolate lovers rejoice: This rich, delicious, gluten-free, grain-free Chocolate Covered Prune Fudge Cake is naturally sweetened using prunes instead of added sugar. If brownies are more your style, prunes can also take the place of eggs in these Vegan Brownies for a family-friendly treat that won't wreck your eating plan.
To find more better-for-you desserts, visit californiaprunes.org.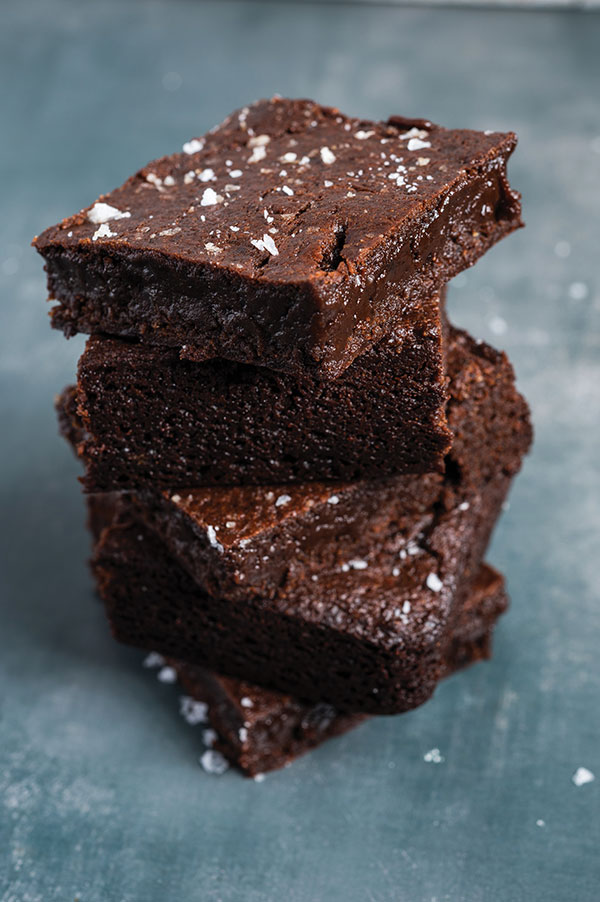 Vegan Brownies
Prep time: 10 minutes
Cook time: 25 minutes
Servings: 9
Prune Puree:
16 ounces pitted California prunes
1/2 cup hot water
Brownies:
nonstick cooking spray
6 ounces unsweetened chocolate
1/2 cup California extra-virgin olive oil
2 cups light brown sugar
10 ounces California prune puree
1 1/2 cups all-purpose flour
1 tablespoon baking powder
1/4 cup cocoa powder
2 teaspoons vanilla extract
flaky sea salt, for garnish
To make prune puree: In blender, combine prunes and water. Pulse to combine then blend until smooth, pourable consistency forms, scraping sides, if necessary.
Store puree in airtight container in fridge up to 4 weeks.
To make brownies: Preheat oven to 350 F. Line 9-by-9-inch baking pan with parchment paper then lightly grease with nonstick cooking spray.
Using double boiler, melt chocolate and olive oil. Whisk in sugar and prune puree; mix until dissolved.
Into large bowl, sift flour, baking powder and cocoa powder. Gently fold in chocolate and prune mixture then add vanilla.
Spread batter in prepared pan, sprinkle with flaky sea salt and bake 20-25 minutes, or until top starts to look dry and brownies are just beginning to pull away from sides of pan.
Cool in pan. Remove then cut brownies into 3-inch squares.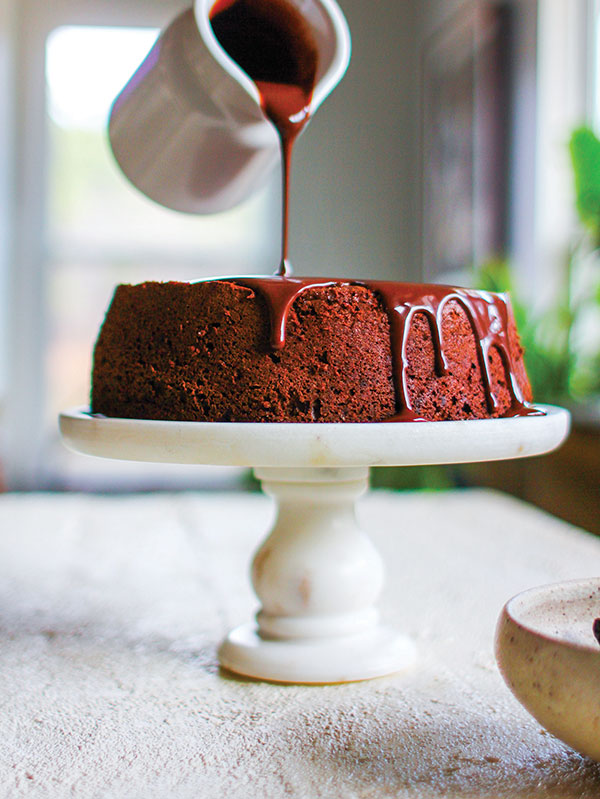 Chocolate Covered Prune Fudge Cake
Prep time: 15 minutes
Cook time: 55 minutes
Yield: 1 cake (8 inches)
Cake:
Coconut oil spray
14 tablespoons butter, chopped
2 teaspoons vanilla extract
3/4 cup cocoa powder
10 soft, pitted prunes, chopped small
1/3 cup maple syrup
6 eggs
1/2 cup coconut sugar
1 cup almond meal
Ganache:
1 cup full-fat coconut milk
1 1/3 cups dark chocolate morsels
To make cake: Preheat oven to 300 F. Lightly spray bottom and sides of 8-inch springform pan with coconut oil spray. Place round piece of parchment paper in bottom of pan and lightly spray with coconut oil spray.
In small saucepan over low heat, place butter and vanilla. Use sieve to sift cocoa into saucepan. Stir with spatula until completely smooth. Remove from heat and set aside.
In bowl of food processor fitted with "S" blade, place prunes and syrup. Top with cooled butter mixture then process until smooth. Transfer to large mixing bowl, scraping all chocolate mixture from food processor with spatula.
In bowl of stand mixer fitted with whisk attachment, whip eggs and coconut sugar on high speed 7 minutes, or until tripled in volume.
Add one-third of egg mixture to bowl with chocolate mixture. Using spatula, gently fold together until completely combined. Add almond meal and remaining egg mixture to bowl and gently fold to combine.
Pour batter into prepared pan and bake 55 minutes, or until set. Once cooked through, transfer cake to cooling rack and cool completely in pan.
To make ganache: In top of double boiler, melt coconut milk and dark chocolate until completely smooth. Pour prepared ganache over cake. Serve immediately for molten fudge effect or allow to completely set.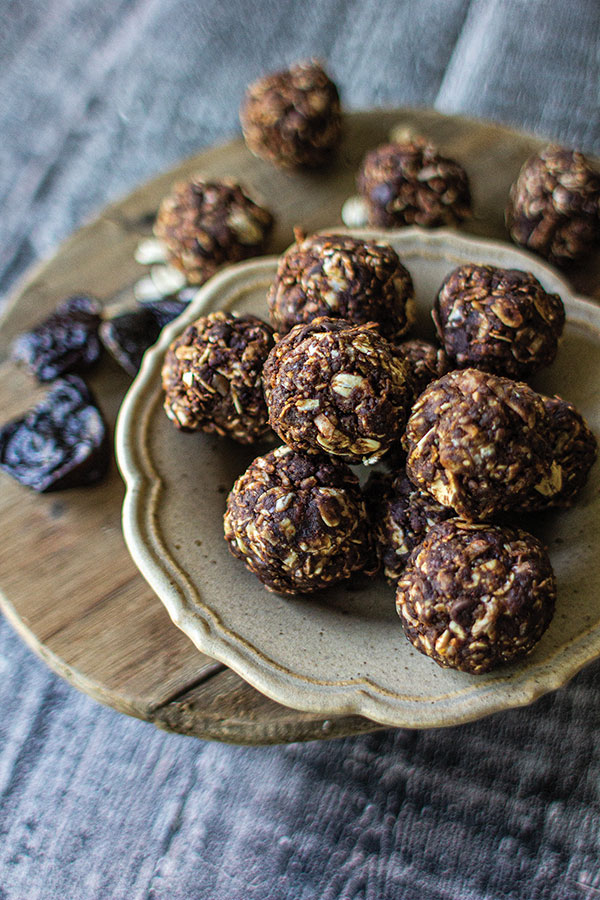 Chocolate Energy Balls
Recipe courtesy of Meg van der Kruik on behalf of California Prunes
Prep time: 10 minutes
Cook time: 30 minutes
Yield: 24 pieces
Prune Puree:
16 ounces pitted California prunes
1/2 cup hot water
Energy Balls:
1 cup old-fashioned or gluten-free oats
2/3 cup toasted, unsweetened shredded coconut
1/2 cup creamy natural nut butter (peanut or almond)
1/2 cup pecan meal
1/2 cup prune puree
1/4 cup unsweetened cocoa powder
1 teaspoon vanilla extract
To make prune puree: In blender, combine prunes and water. Pulse to combine then blend until smooth, pourable consistency forms, scraping sides, if necessary.
Store puree in airtight container in fridge up to 4 weeks.
To make energy balls: In mixing bowl, stir oats, coconut, nut butter, pecan meal, prune puree, cocoa powder and vanilla until completely combined.
Cover and chill in refrigerator 30 minutes. Once chilled, use small cookie scoop or measuring spoon to measure equal-sized amounts of mixture then form into balls by applying gentle pressure to dough using palms. Do not roll as balls will break apart.
Store covered in airtight container in refrigerator up to 1 week.
Source:
(Family Features) Mothers are incredible people. This year, make sure you properly thank her for all she has done for you by celebrating her with a day she'll cherish forever.
Here are a few ideas to make this Mother's Day her most memorable yet:
Plant a Garden Together
Before you shell out big bucks on chocolates and jewelry, consider a greener gift that mom can treasure from her window. Visit your local garden center or nursery and pick some vibrant beauties you know she'll swoon over. Supply the gloves, mom's favorite cocktails and snacks and make an event out of gardening with your favorite lady.

Create Your Own Card
No matter how old you are, nothing says it better than construction paper, glitter and a little creativity. If she's a grandmother, involve the kids and make it a family craft project. Take a trip to your local hobby store to make sure you have all the goods for this tried-and-true ticket to mom's heart.

Plan a Beautiful Brunch
Create a colorful, bountiful brunch for mom. Make a checklist of all the necessary ingredients, ensuring you serve all of her favorites! For a fresh twist on brunch, incorporate the sweet summertime goodness of watermelon and other fresh fruit. Impress her with Breakfast Six Layer Trifle, or make her smile with Watermelon Pancake Sandwiches. Design a homemade menu card, and throw in an arrangement of her favorite blooms for a finishing touch.
For additional recipes and brunch ideas, visit www.watermelon.org.
Watermelon's Many Benefits
Just like mom, watermelon is a sweet and wonderful thing. Mom always told you to finish your fruits and vegetables, but did you know that watermelon boasts immunity benefits? Here are some of the perks for eating this juicy treat:
Vitamin A - This vitamin is known to promote eye health, while boosting immunity through the enhancement of white blood cells.
Vitamin B6 - Boosts the immune system by maintaining normal nerve function and forming red blood cells.
Vitamin C - Protects immune system against infections, viruses and harmful free radicals that accelerate aging and other conditions.
Potassium - A two-cup serving of watermelon also contains potassium, an essential mineral that maintains water balance in every cell.
Mother's Day brunch wouldn't be complete without a fabulous serving of fresh fruit. These recipes include the summertime goodness of watermelon for a sweet addition sure to make mom smile.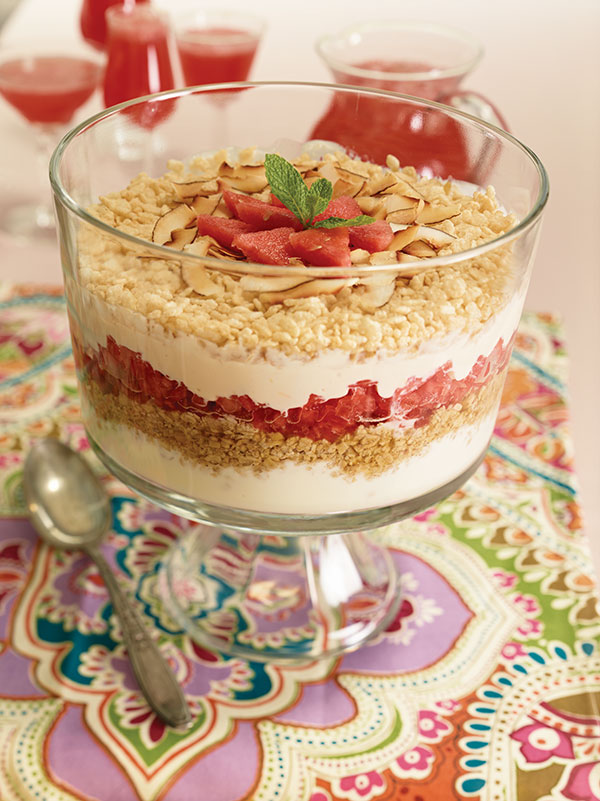 Breakfast Six Layer Trifle
Serves: 8 to 12
3 cups organic fat free vanilla yogurt
2 cups low fat natural granola
4 cups watermelon, minced
3 cups organic fat free peach yogurt
2 cups organic crisp rice cereal
2 cups shredded coconut
Spread the vanilla yogurt over bottom of deep glass casserole or trifle dish. Layer remaining ingredients in order listed above in even layers over vanilla yogurt.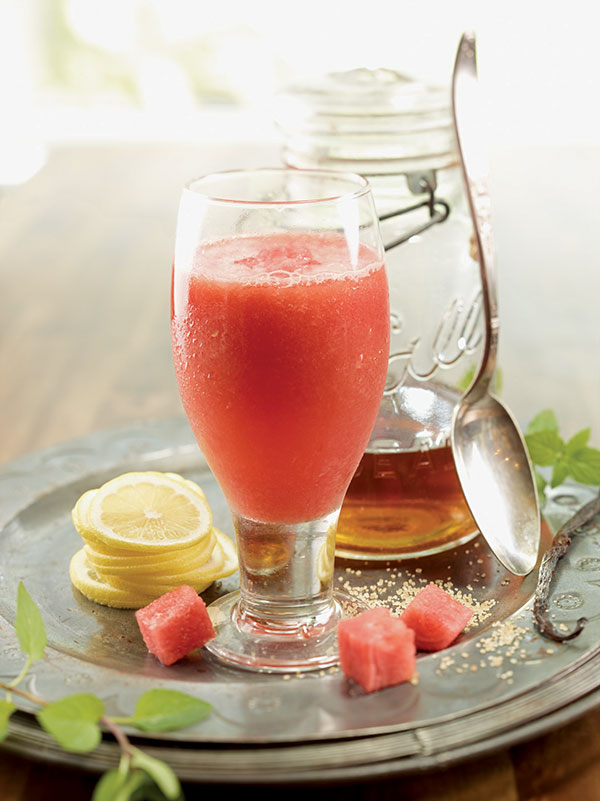 Chunky Watermelon Lemonade
Serves: 2 to 3
2 cups water
1/3 cup raw sugar (or to taste)
2 cups seedless watermelon puree
1 fresh lemon, sliced thinly
1/4 cup lemon juice
1 teaspoon vanilla extract
2 cups chopped seedless watermelon flesh
In half-gallon pitcher with lid, mix 1 cup of water with sugar until completely dissolved. Stir in rest of water, watermelon puree, sliced lemon, lemon juice and vanilla extract. Stir to mix well and chill thoroughly. Stir in 2 cups of chopped watermelon before serving.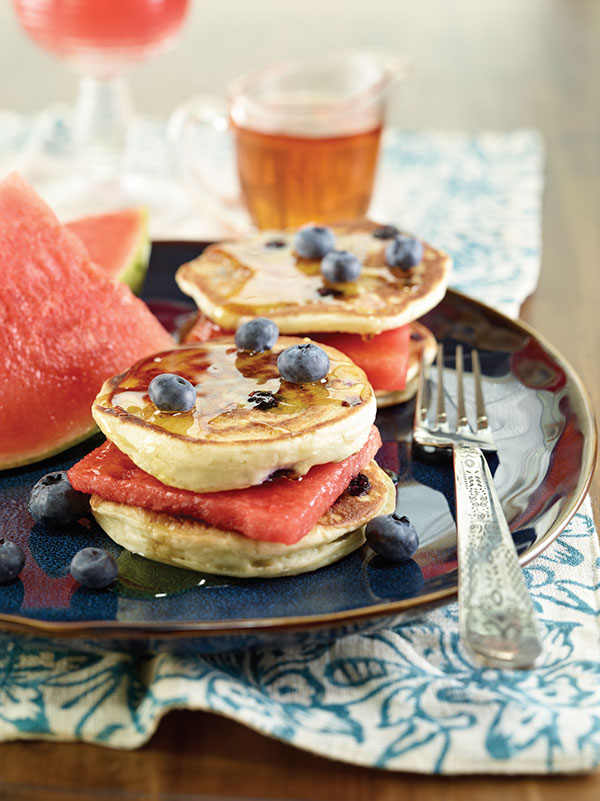 Watermelon Pancake Sandwiches
Serves: 4
2 tablespoons maple syrup
8 silver dollar size (3 to 4-inch) natural blueberry pancakes homemade or prepared, warm
4 slices seedless watermelon, same size as pancakes
Spread syrup over one side of each pancake. Place slice of watermelon on the syrup brushed side of 4 of the pancakes. Top the watermelon with other 4 pancakes, syrup side down. Serve immediately.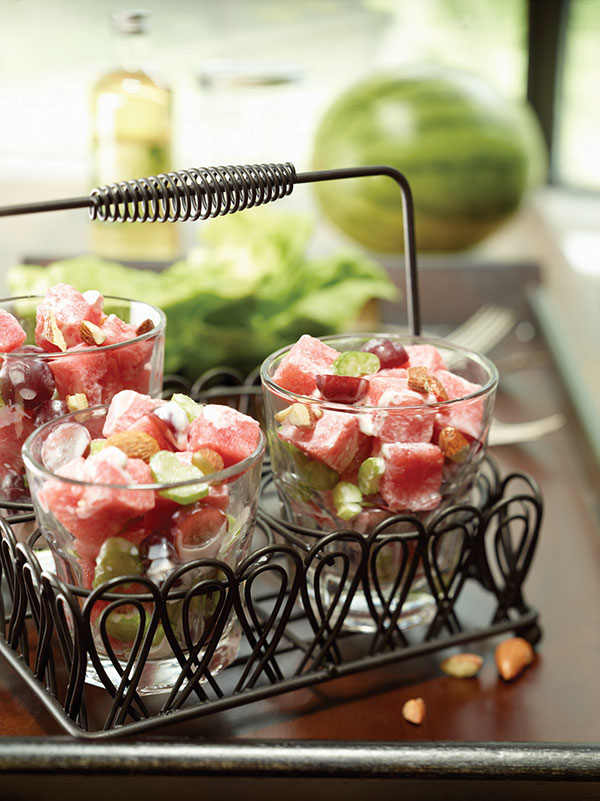 Watermelon Waldorf Salad
Serves: 4 to 6
2 cups cubed watermelon (1/2-inch cubes)
1/2 cup celery, sliced
1/2 cup seedless red grape halves
Dash of salt
1/4 cup Greek yogurt
2 tablespoons sliced almonds, toasted
Stir together watermelon, celery, and grapes in bowl. Just before serving, stir salt into yogurt for dressing. (Add water to thin, if necessary.) Pour dressing over fruit; stir until coated. Sprinkle with almonds.