(Family Features) Cinco de Mayo is, officially, a holiday celebrating Mexico's victory over France in the 1862 Battle of Puebla. In the U.S., where it is actually celebrated with more gusto than in its native country, the holiday has become a celebration of Mexican heritage and culture.
The holiday also provides a great excuse to make irresistible Mexican-inspired recipes for entertaining and, of course, a big batch of margaritas to wash it all down. Fresh sweet corn is an essential component of many Mexican dishes and a cultural staple.
Luckily, Cinco de Mayo falls right in the middle of Florida's Sunshine Sweet Corn season, meaning that the sweetest corn, available all year, arrives just in time to be a part of your Cinco de Mayo celebration. These naturally-bred varieties are grown by a group of family farmers who are committed to producing the finest sweet corn.
Get the fiesta started with this Fire Roasted Corn and Chorizo Dip and a big bowl of tortilla chips. Crunchy, spicy, sweet and creamy, this addictive dip will have your guests asking for more.
Next, be sure to serve Mexican Style Corn, a truly authentic and delicious Mexican street food. Crunchy ears of fresh sweet corn are charred to perfection then slathered with a mixture of cheese and mayo, sprinkled with chili powder and squirted with lime for simple flavor perfection.
Finally, no Cinco de Mayo celebration is complete without tacos. For a healthful twist on your typical taco, try this recipe for Charred Corn Tacos with Radish Zucchini Slaw that will have both vegetarians and meat eaters clamoring for seconds.
Incorporating more healthful whole foods and veggies into your Cinco de Mayo celebration this year makes it easier to justify one more margarita. No matter what you serve at your Cinco de Mayo celebration, make sure to incorporate the sweet and wholesome flavor of fresh spring sweet corn.
Discover more mouth-watering recipes for Cinco de Mayo and every time of year at www.sunshinesweetcorn.com.
Six Global Spreads for Sweet Corn
North America: Maple Bourbon Butter - Combine one stick butter, 4 teaspoons bourbon, 2 teaspoons maple syrup and pinch of salt.
South America: Lime-Avocado Crema - In a blender, combine one avocado, 1/4 cup lime juice, one garlic clove, 1/2 bunch cilantro, 1/2 cup sour cream and pinch of salt. Blend until smooth. Add water if necessary.
Europe: Combine 2 ounces goat cheese, 2 tablespoons butter, 1 tablespoon fresh thyme, and pinch of salt and pepper. Stir until smooth.
Asia: Sriracha Butter - Combine 1/3 cup butter with 3 tablespoons Sriracha.
Africa: Harissa-Yogurt Spread - Whisk together 1 cup Greek yogurt, 1 tablespoon extra virgin olive oil, 1/2 teaspoon lemon juice, 2 tablespoons Harissa sauce, one crushed garlic clove and pinch of salt.
Australia: Honey-Ginger BBQ Sauce - In saucepan combine 1 1/2 cup apple cider vinegar, 1/2 cup honey, 1/2 cup ketchup, 1 1/2 tablespoons hot sauce, 4 minced garlic cloves, 2 tablespoons minced ginger and 1 teaspoon salt. Simmer, stirring occasionally until thickened and reduced to about 1 1/4 cup, 20 to 25 minutes.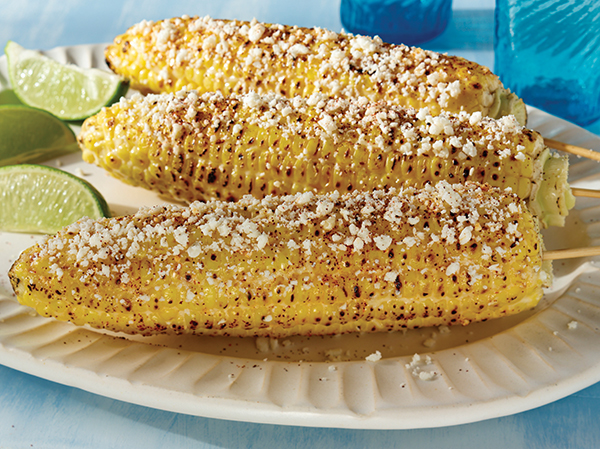 Mexican Style Corn
Serves: 4
4 ears fresh Sunshine Sweet Corn, husked
1/4 cup mayonnaise
4 ounces Cotija or feta cheese
1 teaspoon chili powder
4 lime slices
Preheat grill or broiler. Grill or broil corn, turning occasionally until hot and some kernels turn golden brown, about 5 minutes. Using knife, coat each ear of corn with about 1 tablespoon of mayonnaise. Crumble cheese on one side of each corn ear.
Sprinkle with chili powder, dividing evenly. Broil until cheese starts to melt, approximately 1 to 2 minutes. Serve with lime.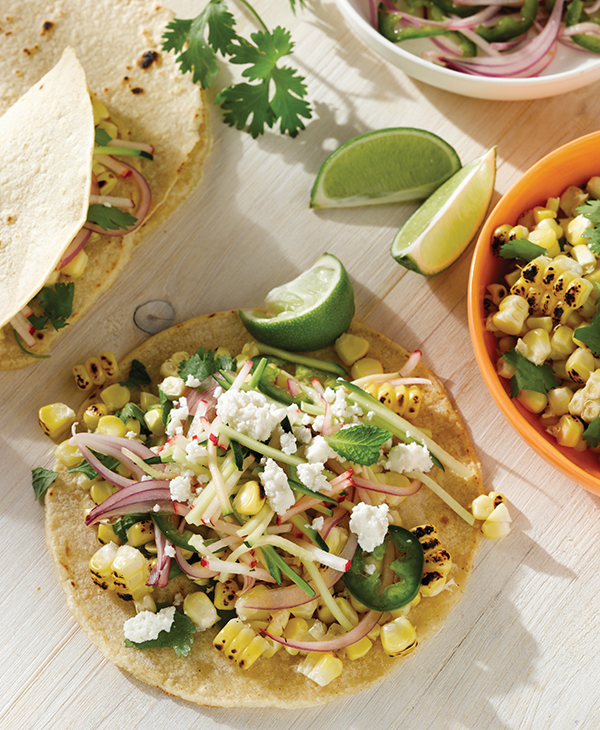 Charred Corn Tacos with Radish Zucchini Slaw
Serves: 4
4 ears Sunshine Sweet Corn
Extra virgin olive oil, as needed
Salt and freshly ground pepper, as needed
1/2 cup torn cilantro, parsley and mint leaves
1/2 small red onion, thinly sliced
2 1/2 tablespoons fresh lime juice
1 teaspoon maple syrup
1 cup radishes, cut into matchsticks
1 small zucchini, cut into matchsticks
1 jalapeno, seeded and thinly sliced
1/2 cup (2 1/2 ounces) crumbled Cotija or feta cheese
10 to 12 small (6-inch) soft corn tortillas
Brush corn with olive oil and season with salt and pepper. Over hot grill or open gas stove flame, char ears of corn until well blackened but not completely burnt. Remove from heat; cool. With large knife, shave off kernels into bowl. Add cilantro, parsley and mint; reserve.
In small bowl, combine onion and lime juice; let stand 10 minutes. Stir in maple syrup, radishes, zucchini, jalapeno and 2 tablespoons of oil. Season with salt and pepper; set aside.
Heat your tortillas one of two ways: Wrap whole stack in foil and place in warm 250°F oven for 15 minutes, or coat cast-iron skillet with thin layer of oil and heat over high heat; warm each tortilla 30 seconds to 1 minute each side, until lightly blistered.
To make tacos, fill each tortilla with 1/4 cup corn. Top with cheese and radish-zucchini slaw. Serve with lime wedges, if desired.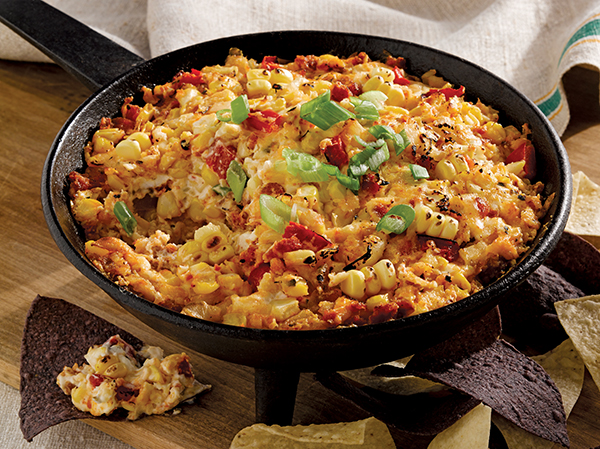 Fire Roasted Corn and Chorizo Dip
Serves: 8 to 12
3 to 4 ears Sunshine Sweet Corn
1 small onion, peeled and sliced into rings
1 small red bell pepper
1 cup cooked chorizo
3 cloves garlic, minced
1(8-ounce) package cream cheese, softened
1/2 pound spicy pepper cheese, like pepper-jack or habanero cheddar
1/4 cup chopped green onions
Preheat oven to 400°F and preheat grill to high heat.
Remove cornhusks and corn silk, and place fresh Florida Sweet Corn, onion slices and red bell pepper on grill.
Grill corn and bell pepper for 8 to 10 minutes, turning every 2 minutes until all sides are slightly charred.
Grill onion slices for approximately 3 minutes per side. When veggies are cool enough to handle, cut corn off cob. Then chop onions and pepper, removing pepper seeds. In 8-by-8-inch baking dish or one-quart souffle dish, mix all ingredients together until well combined.
Bake for 10 to 15 minutes until edges are bubbly. Serve warm with tortilla chips.
Source: Sunshine Sweet Corn
(Family Features) As the fall season begins, kids go back to school and schedules once again book up with activities.
Between work, the carpool line and shuttling kids to extracurriculars, the increase in family commitments often leaves little time in the kitchen or at the dining table. Although the drive-thru is an easy solution, healthier options can be scarce and the cost of takeout piles up. Instead, add some quick family meals to your arsenal.
Southwestern Bean Mexican Pizza made with READ Southwestern Bean Salad is a fun twist on the Italian favorite that pairs perfectly with fruit, carrot sticks or a salad for a complete, family-friendly meal.
For an easy make-ahead option, grab a jar of Aunt Nellie's Beets and make Beef, Beet and Horseradish Wraps. Both recipes can help you have dinner on the table in 30 minutes or less.
For more quick and easy dinner ideas, visit READSalads.com and AuntNellies.com.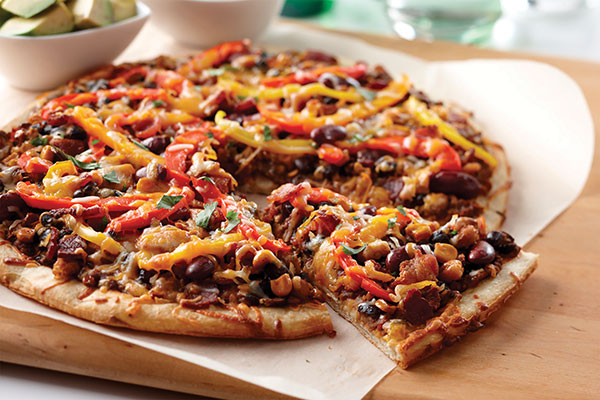 Southwestern Bean Mexican Pizza
Prep time: 15 minutes
Cook time: 10 minutes
Servings: 8-10
2 cans (15 ounces each) READ Southwestern Bean Salad
1 pre-baked pizza crust (10-12-inch diameter)
4 slices bacon, cooked crisp and crumbled (about 1/4 cup crumbled)
1/2-3/4 cup thin bell pepper strips (1/4-inch thick), any color or combination
3/4 cup shredded Mexican cheese blend
1/4 cup chopped fresh cilantro
chopped avocado (optional)
sour cream (optional)
Drain bean salads. Place half of beans in bowl of food processor; process until pureed but chunky.
Spread puree evenly over pizza crust. Spoon remaining drained beans over puree. Sprinkle with bacon, bell pepper and cheese.
Bake as directed on pizza crust package until heated through and cheese is melted, about 10-12 minutes.
Sprinkle with chopped cilantro. Serve with avocado and sour cream, if desired.
Nutritional information per serving: 276 calories; 11 g protein; 35 g carbohydrates; 10 g fat; 648 mg sodium; 14 mg cholesterol; 5 g dietary fiber; 11 mg iron; .02 mg thiamin; 575 IU vitamin A; 7 mg vitamin C.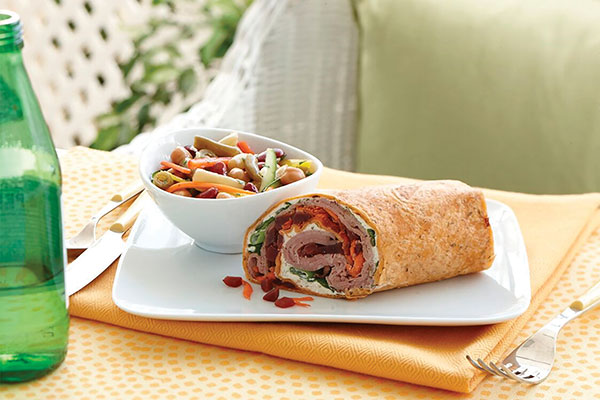 Beef, Beet and Horseradish Wraps
Prep time: 30 minutes
Servings: 4
1 jar (16 ounces) Aunt Nellie's Sliced Pickled Beets
1/2 cup shredded carrots
1 tablespoon prepared horseradish
1/2 cup spreadable cheese (such as goat cheese or herb soft cheese)
2 large soft flour tortillas (about 10-12-inch diameter)
10 green onions (green parts only)
10 thin slices deli roast beef
Drain beets; chop. Discard beet liquid. In medium bowl, combine beets, carrots and horseradish.
Spread 1/4 cup cheese evenly over each tortilla, leaving 1-inch border. Arrange five green onions (do not chop) on each; press lightly into cheese. Place five slices roast beef on each tortilla to cover green onions then sprinkle beet mixture evenly over beef.
Roll up tortillas in parallel direction of green onions. Wrap each roll tightly in plastic wrap. Refrigerate up to 4 hours.
To serve, remove plastic wrap; cut each tortilla into two pieces.
Substitution: If horseradish is too pungent, omit or replace with diced jarred roasted red peppers or Dijon mustard.
Nutrition information per serving: 300 calories; 17 g protein; 34 g carbohydrates; 10 g fat; 520 mg sodium; 35 mg cholesterol; 2 g fiber; 3.18 mg iron; .26 mg thiamin; 2963.87 IU vitamin A; 8.79 mg vitamin C.
Source:</>