(Family Features) Whether your festivities include immediate family or bring together relatives from around the country, the holidays are about making memories with loved ones. From the first days of the season to the last, many families spend their precious time together with favorite activities and the best foods the holidays have to offer.
This year, you can change things up and start new traditions with a fresh ingredient like Envy apples, which provide an easy way to update classics due to their sweet taste and availability. The sweet, sophisticated flavor; uplifting, fresh aroma; delightfully satisfying crunch; beautiful appearance; and naturally white flesh that doesn't brown as quickly as other apples all lend themselves to shareable recipes like this Apple Wreath Salad or Roasted Apple Macaroni and Cheese, both perfect for holiday parties.
Because cherished memories are made with sweet ingredients, you can turn cozy movie nights into festive and memorable events year after year by pairing Hallmark Channel's popular "Countdown to Christmas" holiday movies with delicious desserts like Apple Custard Sponge Trifle and Brown Butter Apple Pie.
Find more memory-making recipes at EnvyApple.com.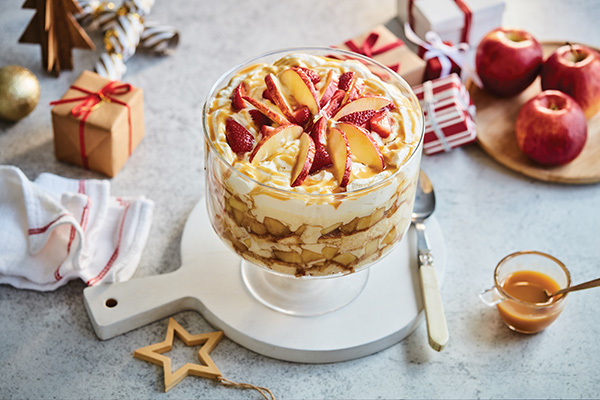 Apple Custard Sponge Trifle
Servings: 8-10
6 Envy apples
2 tablespoons golden caster sugar
1 teaspoon cinnamon
1/2 cup, plus 2 tablespoons, water
1 tablespoon corn flour
1 large plain sponge cake
2 cups vanilla bean custard
1/2 cup caramel or butterscotch sauce, plus additional for garnish, divided
1/2 cup creamfresh apple slices
fresh strawberry slices
Peel, core and dice apples; place in large saucepan. Add caster sugar, cinnamon and 1/2 cup water. Simmer apples 5-8 minutes until tender.
Combine corn flour and remaining water. Stir corn flour mixture into apples until apples are syrupy.
Cut sponge cake into 2-centimeter diced pieces. Arrange 1/3 of sponge pieces in base of serving bowl. Add half of cinnamon apple pieces, including syrupy juices. Add 1 cup custard and drizzle with 1/4 cup caramel sauce. Repeat with remaining ingredients, finishing with sponge cake; chill.
Whip cream and spoon dollops over sponge cake to cover top. Garnish with apple slices, strawberry slices and caramel sauce.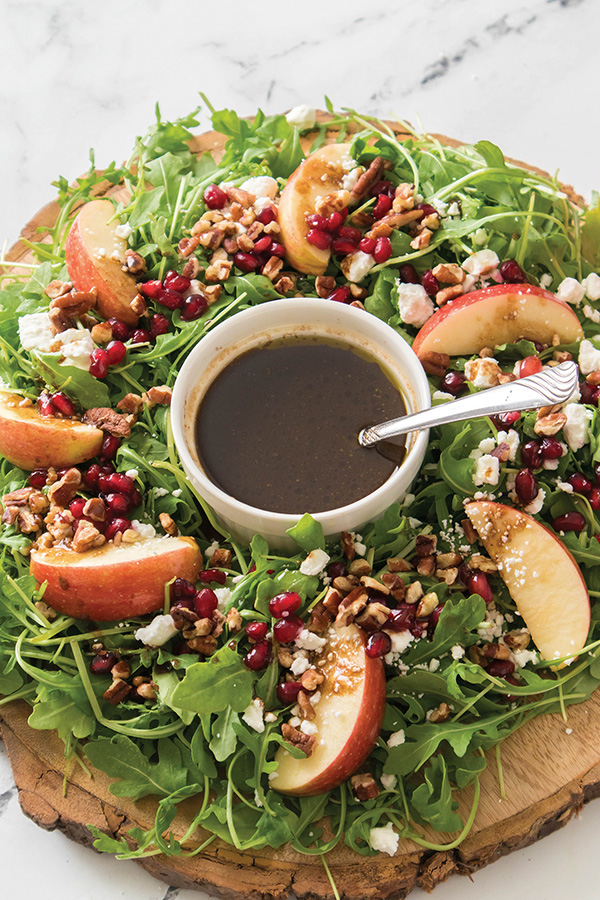 Apple Wreath Salad
Recipe courtesy of "The Produce Moms" (@theproducemoms)
Balsamic Dressing:
1 tablespoon honey
1 tablespoon Dijon mustard
1/2 teaspoon fine sea salt
1/2 teaspoon black pepper, finely ground
1 large garlic clove, minced
1/4 cup balsamic vinegar
3/4 cup extra-virgin olive oil
Salad:
10 ounces baby arugula
3 Envy apples, sliced
9 ounces goat cheese, crumbled
3 ounces pomegranate arils
3 ounces pecans, toasted
To make balsamic dressing: In small serving bowl, whisk honey, Dijon mustard, salt, pepper, garlic, balsamic vinegar and olive oil.
Place dressing bowl in center of large board or platter. Arrange arugula around dressing bowl in wreath shape.
Place apple slices on top of arugula. Sprinkle on goat cheese, pomegranate arils and pecans.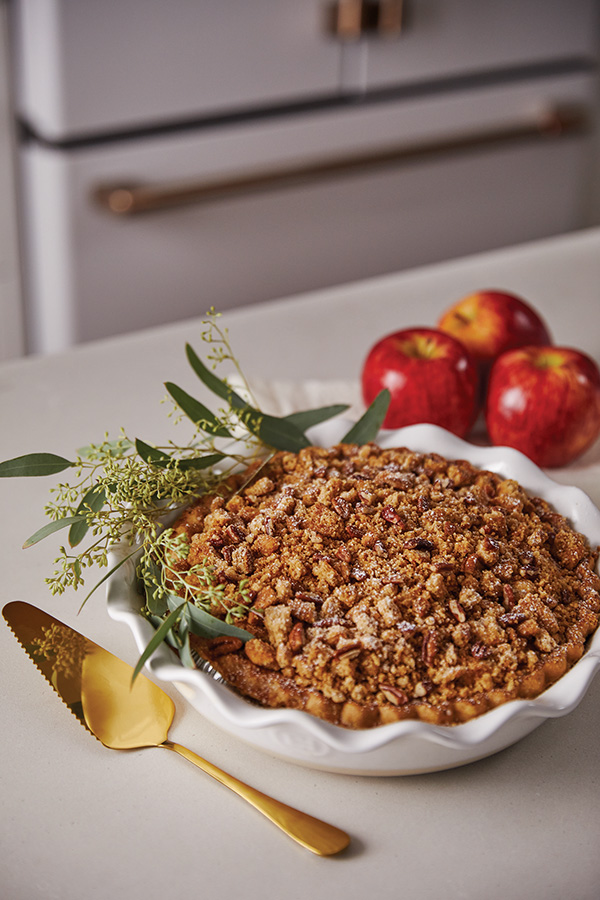 Brown Butter Apple Pie
Streusel Topping:
1/2 cup flour
1/4 cup chopped pecans
2 tablespoons light brown sugar
4 tablespoons butter, cut into 1/2-inch cubes
Filling:
4 tablespoons butter
2 pounds Envy apples, cut into 1/4-inch slices
1/2 cup light brown sugar
1/2 teaspoon cinnamon
1/8 teaspoon grated nutmeg
1/4 teaspoon salt
1 teaspoon vanilla
3 tablespoons flour
1 deep dish frozen pie shell
Preheat oven to 375 F.
To make streusel topping: Mix flour, chopped pecans and light brown sugar. Stir in butter using fingertips until incorporated with small lumps of butter visible. Refrigerate.
To make filling: In large skillet over medium heat, melt butter until amber, stirring often. Set aside to cool. In large bowl, stir sliced apples, brown sugar, cinnamon, nutmeg, salt, vanilla and flour using spatula. Pour brown butter over apples and mix, scraping skillet with rubber spatula to incorporate brown butter bits.
Place frozen pie shell on baking sheet. Add 2 cups apple mixture into shell, gently pressing apple slices for even base. Add remaining apple slices and gently press. Sprinkle streusel topping evenly over apples.
Bake 30 minutes then reduce oven temperature to 350 F and bake 35-45 minutes until topping is golden and apples feel tender when pierced with fork.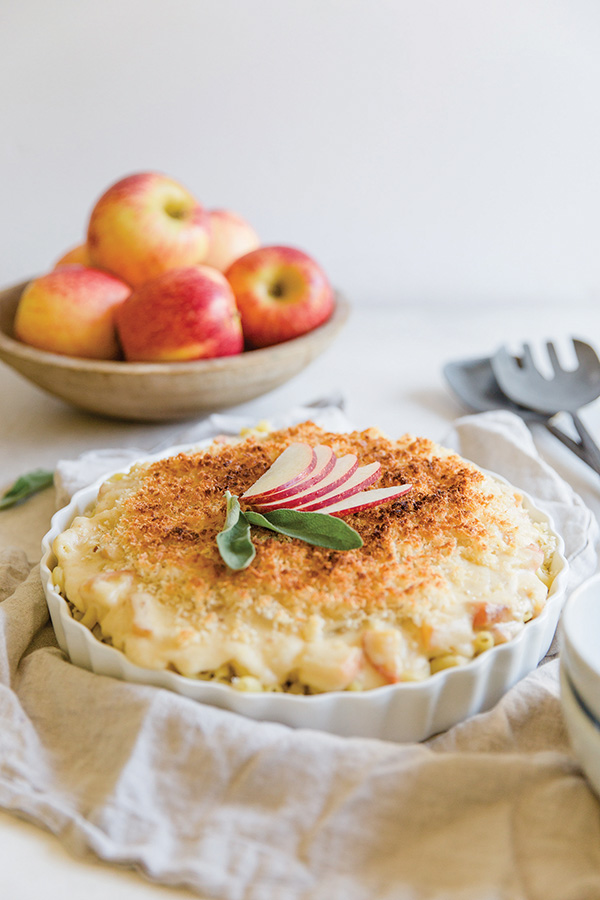 Roasted Apple Macaroni and Cheese
Salted water
1 pound macaroni noodles
4 tablespoons butter
1 Envy apple, peeled and diced
4 tablespoons flour
2 cups heavy cream
2 cups milk
3 cups sharp cheddar cheese, grated
1 cup Romano cheese, grated
1 cup gruyere cheese, grated
1 tablespoon kosher salt
1 teaspoon Worcestershire
Topping:
2 tablespoons butter
1 cup panko breadcrumbs
Bring large pot of salted water to boil. Add noodles and cook until just tender. Drain and set aside.
In large pot over high heat, melt butter then saute diced apple until caramelized and tender. Sprinkle in flour and stir. Cook 1 minute, stirring frequently.
Whisk in heavy cream and milk; bring to boil, whisking frequently so milk doesn't burn.
Once boiling, turn heat to low and whisk in cheddar cheese, Romano cheese, gruyere cheese, salt and Worcestershire. Continue whisking until cheese is melted thoroughly.
Carefully pour mixture into large blender and blend on high until smooth.
Pour cheese sauce over noodles and stir.
Pour macaroni and cheese into 9-by-13-inch pan and spread evenly.
Heat oven to broil.
To make topping: In medium bowl, melt butter and stir in panko breadcrumbs.
Sprinkle breadcrumbs over macaroni and cheese; broil until golden brown.
Source: Envy Apples
(Family Features) Flavorful foods and cold drinks are the focal points of just about any summer gathering. Create a party atmosphere that can stand out by adding a bit of island infusion to both bites and beverages so your warm-weather soiree can soar to new heights.
To help add that island spark, an ingredient like bitters provides a potent flavor made from botanicals like aromatic herbs, bark, roots and fruit. While known for their ability to balance countless cocktails, it may come as a surprise that bitters are regarded by some chefs as a pantry staple, adding real depth of flavor to a variety of dishes. Bitters can be added to classic and contemporary cocktails and a range of cuisines to create taste-tempting creations.
Much like vanilla extract, when cooked, the alcohol in bitters evaporates, so bitters-infused recipes can be enjoyed by the whole family at your next backyard barbecue or patio party.
Center your spread around a summer favorite like Pulled-Pork Sliders with Bitters, a tangy Caribbean twist on a classic dish featuring a spicy chili rub. Coupled with a vinegar-based sauce dashed with Angostura aromatic bitters, an unmistakable culinary and cocktail essential made with the same secret recipe since 1824, the flavorful sliders make for a crowd-pleasing main course.
Add to the island vibe with a unique take on a tried-and-true sweet treat like cake. Orange Butter Sponge Cake enhances every party's dessert course with the sweet and tangy combination of citrus and bitters.
These tasty foods paired with hot temperatures call for cooling off with inventive bitters-forward drink recipes like the Queen's Park Swizzle, Angostura's signature Trinidadian cocktail, and a summertime go-to, the Traditional Mojito. These drinks balance the art of the swizzle with the tastes of tiki to provide guests with refreshing beverage options.
Whether you're an aspiring home chef, an amateur bartender or anything in between, you can elevate summer entertaining with bitters to complement an array of ingredients for exceptional entertaining all summer long.
Find more summertime food and drink recipes to savor at AngosturaBitters.com.
Pulled-Pork Sliders with Bitters
Servings: approximately 14 small sandwiches
Chili Rub:
3-3 1/2 pounds boneless pork shoulder roast
1 tablespoon cooking oil
Bitters Sauce:
1 can (15 ounces) unseasoned tomato sauce
1/2 cup packed dark brown sugar
2 tablespoons Nature's Intent apple cider vinegar
1 tablespoon Angostura aromatic bitters
1 tablespoon chili powder
3 large cloves garlic, chopped
1-2 tablespoons cornstarch (optional)
To make Chili Rub: Stir together aromatic bitters, chili powder and salt; let stand 10 minutes.
Cut pork shoulder across grain into 1 1/2-2-inch thick slices; trim excess fat. If needed, cut into chunks to remove some fat.
Rub meat with chili mixture. In 8-quart pot or 9-10-inch wide, high-sided saute pan with lid, heat oil. Add meat and brown on both sides, about 15 minutes total. Remove meat and place on plate; keep warm.
To make Bitters Sauce: Combine tomato sauce, brown sugar, apple cider vinegar, aromatic bitters, chili powder and garlic cloves; stir well. Pour into hot, empty pan. Simmer 5 minutes, stirring and scraping bottom of pan.
Return meat to pan; spoon sauce over meat. Cover and cook 1 hour and 15 minutes on low, rearranging meat halfway through cooking. Transfer meat to plate; cover with foil to keep warm.
To thicken sauce, if desired: Let sauce cool in pan 5 minutes then whisk in cornstarch. Bring to boil; continue to cook and whisk until slightly thickened.
To serve: Pull meat apart with two forks or fingers. Serve warm on buns, drizzled with sauce.
Queen's Park Swizzle
Makes: 1 cocktail
12-14 mint leaves
1 ounce fresh lime juice
1 ounce Demerara simple syrup
crushed ice
2 ounces Caribbean rum
6-8 dashes Angostura aromatic bitters
1 mint sprig, for garnish
In highball glass, muddle mint leaves in lime juice and simple syrup, then fill glass with dry, crushed ice.
Pour rum over crushed ice and swizzle well until glass is ice cold and frosted.
Pack glass with more crushed ice and top with aromatic bitters. Garnish with mint sprig.
Traditional Mojito
Makes: 1 cocktail
1 cube brown sugar
1/2 ounce simple syrup
12-15 mint leaves
3/4 ounce fresh lime juice
2 ounces white rum
2 dashes Angostura aromatic bitters
crushed ice
1 bottle club soda
1 mint sprig, for garnish
In Collins glass, muddle brown sugar cube and simple syrup, then add mint and lightly press to extract flavor. Add lime juice, rum and aromatic bitters.
Fill glass with crushed ice and swizzle.
Repack with crushed ice and top with club soda. Garnish with mint sprig.
Orange Butter Sponge Cake
8 ounces butter, plus additional for buttering pan
2 cups cake flour, plus additional for flouring pan
1 tablespoon baking powder
1/2 teaspoon salt
2 cups granulated sugar
4 large eggs
1 teaspoon vanilla
1 tablespoon Angostura orange bitters
1 cup freshly squeezed orange juice
powdered or extra-fine sugar, for dusting
Heat oven to 350° F.
Butter and flour two 9-inch cake pans. Sift flour three times and add baking powder and salt. Set aside.
With electric mixer, cream butter and sugar until light and creamy, about 10 minutes. Add eggs one at a time, beating well between additions. Add vanilla and orange bitters.
Divide flour mixture into four portions. Set electric mixer on medium low and add flour alternately with orange juice, starting and ending with flour. Mix just until incorporated after each addition.
Divide batter evenly between cake pans and bake 35-40 minutes, or until cake pulls away from sides of pans. Remove from oven and cool 5 minutes in cake pans before turning out.
Photo courtesy of Getty Images (Pulled-Pork Sliders with Bitters, Orange Butter Sponge Cake)
Source: