(Culinary.net) Nearly nothing is better than a perfectly planned brunch. This delicious, sweet recipe could be the cherry on top of your brunch bash.
As you see your friends and family members take their first bites, you will see their faces light up with delight as they devour this Cranberry Strata. It's made with fluffy, baked French bread, smooth cream cheese, sweet and tangy maple syrup and, of course, dried cranberries.
This recipe is easy to make and even easier to eat. With only a handful of ingredients and just a few simple steps, this dish is one you can quickly whip up when you're in a pinch.
Plus, the end result will have you and brunch goers asking, "Why is this so good?" It's wholesome, rich and delicious. With two layers of bread sandwiched around layers of cranberries and cream cheese, this dish is almost certain to be a new brunch favorite.
Start by mixing eggs, maple syrup and milk together in a bowl. Then in a baking dish, add a layer of French bread and top it with chunks of cream cheese. Spread the cranberries on top.
Then layer on your second sheet of French bread. Next pour your egg mixture over top of everything, making sure the bread is absorbing the flavors. Top with a dash of cinnamon and bake.
Pull it out of the oven and serve warm. You will have a gooey, creamy, melt-in-your-mouth strata on your hands.
This dish is wonderful for brunch, however, it is versatile enough to be served as a family dessert, scrumptious breakfast or treat on a cold, winter day.
Between the dairy, grains and sprinkle of fruit, this dish is a star for any occasion throughout the year.
Find more recipes at www.culinary.net.
Watch video to learn how to make this delicious recipe!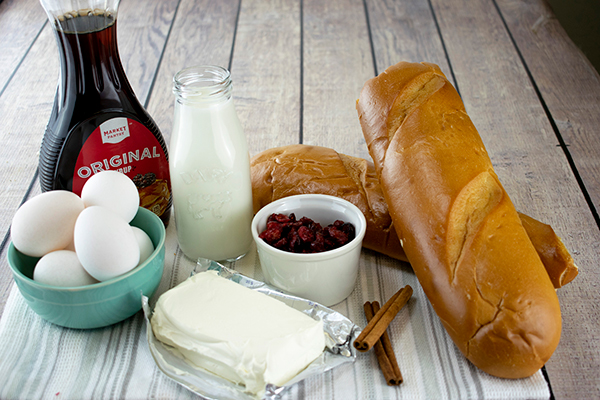 What you'll need:
French Bread
8 ounce cream cheese
Dried cranberries
Eggs
Maple Syrup
Ground cinnamon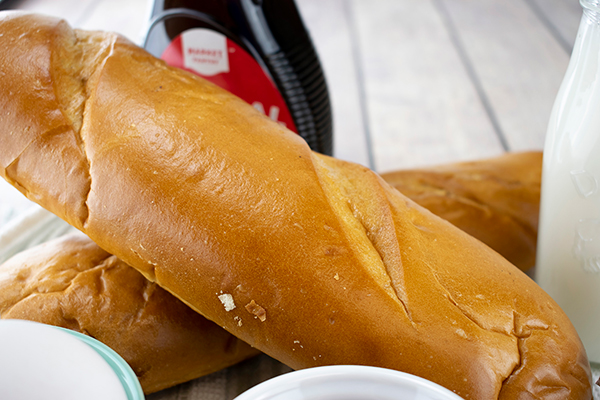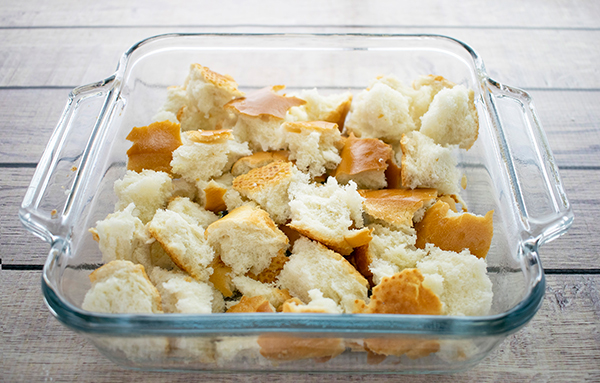 In a greased 2-quart baking dish, tear off pieces from 1/2 of the French bread and put into dish.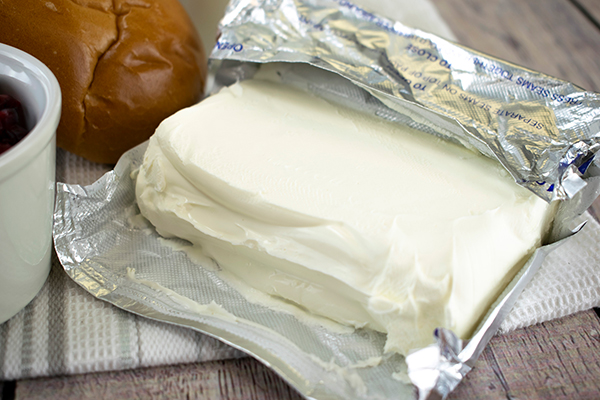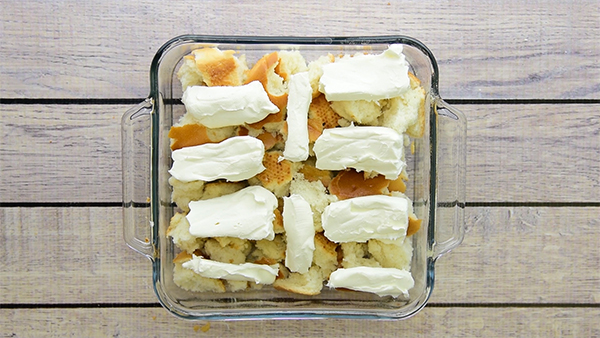 Cut the creamcheese into slices and place over the bread pieces.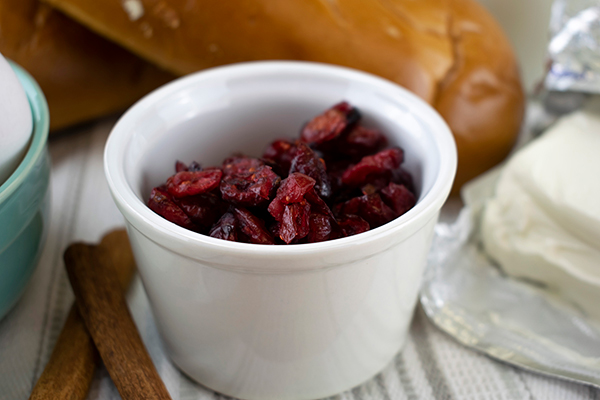 Sprinkle the dried cranberries over the creamcheese and bread pieces.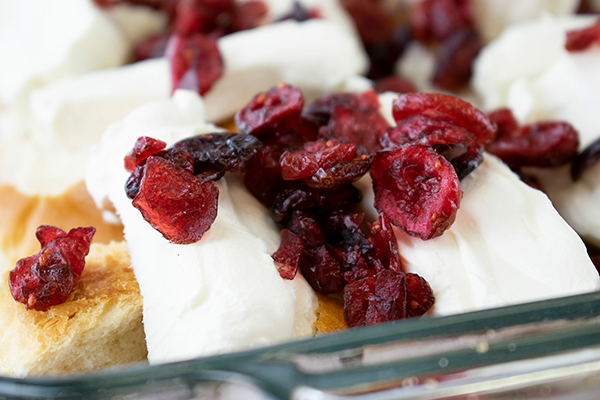 Top cranberries with remaining broken french bread pieces.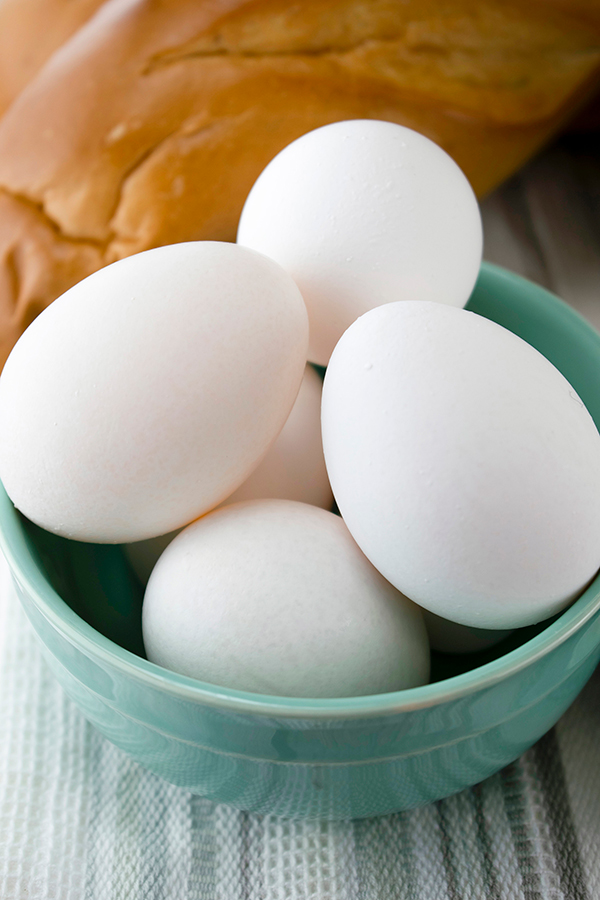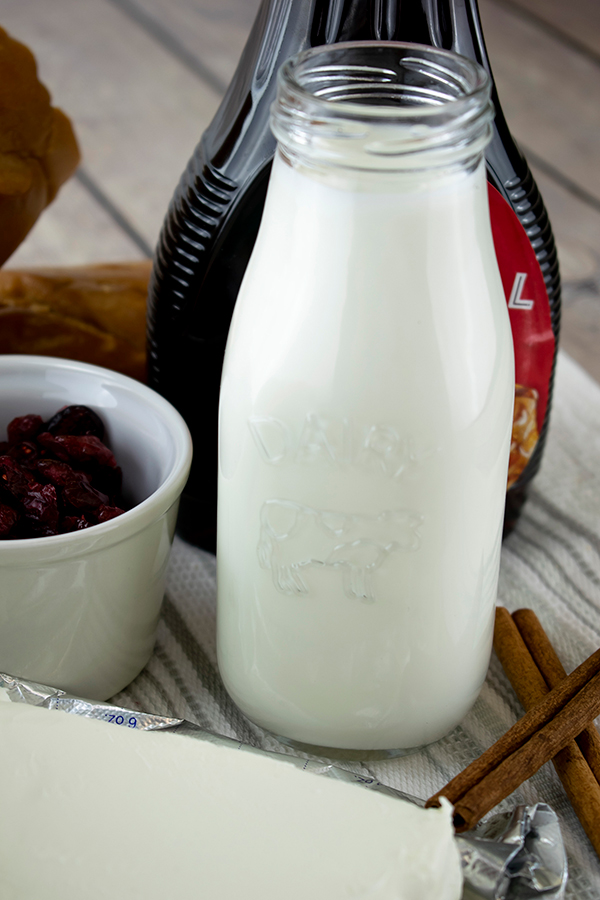 In a medium bowl, mix together eggs, milk and maple syrup.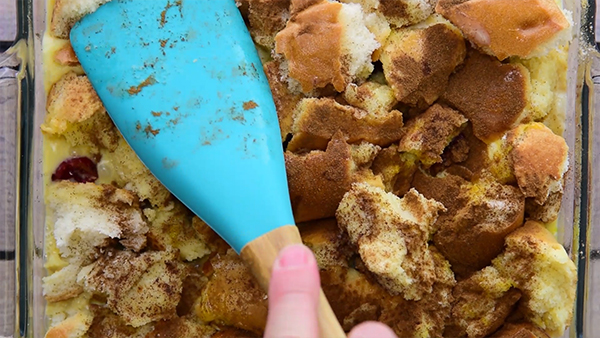 Pour egg and milk mixture over bread and lightly press down the bread to saturate in the liquid mixture. Sprinkle with ground cinnamon.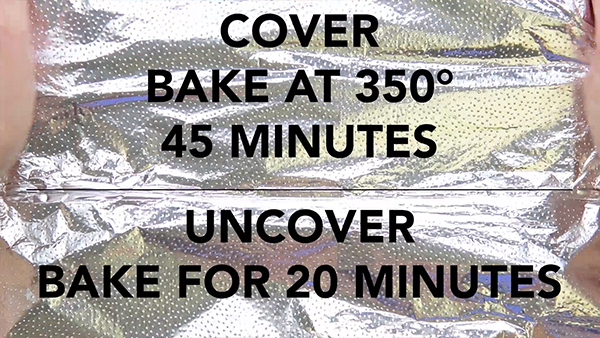 Cover with aluminum foil and bake for 45 minutes. Remove the foil and bake for another 20 minutes. Full recipe instructions below.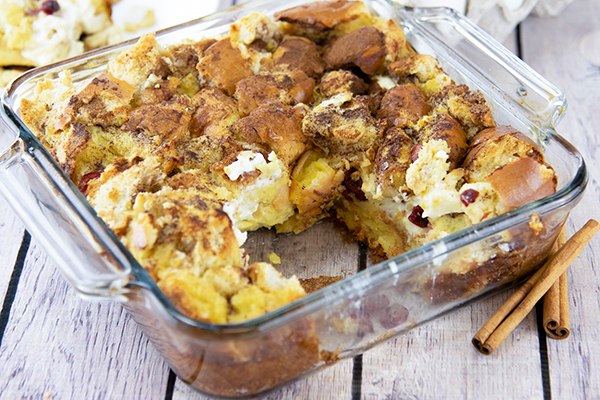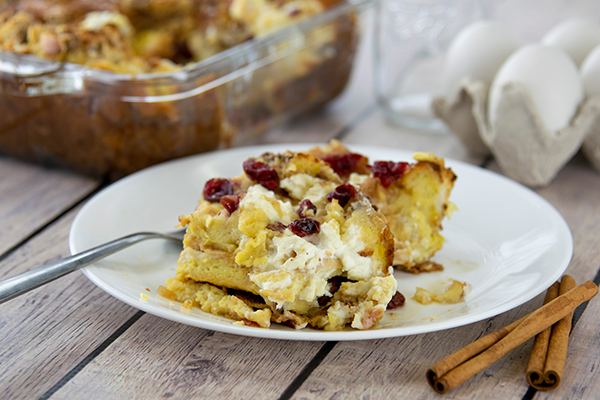 Cranberry Strata
8 cups French Bread (Crusty)
1 8 oz package of cream cheese
1/2 cup dried cranberries
6 eggs
2 ¼ cups milk
1/3 cup maple syrup
½ tsp ground cinnamon or nutmeg
In a greased 2-quart rectangular baking dish, arrange half of the bread pieces, about 4 cups.
Cut cream cheese into 8-10 slices and arrange over the bread chunks.
Sprinkle cranberries over bread chunks.
Top with remaining bread pieces (4 cups).
In a medium bowl beat together eggs, milk and maple syrup.
Pour over bread in dish.
Sprinkle with ground cinnamon.
Lightly press down with back of spoon or spatula to saturate bread with egg mixture.
Cover and chill for up to 24 hours.
Preheat oven to 350°F.
Bake covered for 45 minutes.
Uncover then bake for 20 minutes more.
Let stand for 10 minutes before serving.
Serve warm and topped with maple syrup, if desired.
Source: Culinary.net
Easy ideas for feeding unexpected holiday guests
(Family Features) The holiday season brings friends and family from far and wide, and that often means you'll be rolling out the welcome mat to guests who drop by unexpectedly. Whether you encounter a surprise visit or well-intentioned plans get shifted in the hustle and bustle of the season, make-ahead dishes will let you go with the flow and have fuss-free snacks and meals on hand, ready to serve your loved ones no matter when they arrive.
Ease your mind one step further and ensure each recipe comes out perfectly by using the right equipment during preparation. For example, Anolon Gourmet Cookware is designed for superior performance, lasting durability that stands up to rigorous kitchen use and easy maintenance. With sturdy ergonomic handles for lifting and leverage, the equipment is both comfortable to hold and aesthetically pleasing.
Explore more pots, pans and cookware options from Anolon Gourmet Cookware at anolon.com to make it easy to welcome unexpected guests this holiday season.
Sausage, Cheddar and Sourdough Strata
Recipe courtesy of Anolon Gourmet Cookware
Large Anolon Advanced Umber Skillet
8 ounces sweet Italian sausage, removed from casing
1 tablespoon olive oil
1 large onion, thinly sliced
3 garlic cloves, minced
1 1/2 teaspoons fresh thyme
1/2 teaspoon dried basil
1 large red bell pepper, thinly sliced
butter
Anolon Vesta 9-by-13-inch Baking Dish
1 sourdough baguette (12 ounces), cut into 1/2-inch slices
4 ounces sharp cheddar cheese, shredded
8 large eggs
2 cups milk
1/2 teaspoon salt
1/4 teaspoon freshly ground black pepper
Heat skillet over medium heat. Add sausage and cook until no longer pink, 7-8 minutes, breaking into smaller pieces with wooden spoon. Transfer to bowl with slotted spoon. Add oil to skillet; stir in onion, garlic, thyme and basil: cook 2 minutes. Add bell pepper and cook, stirring occasionally, until softened, 5-6 minutes; remove from heat.
Butter baking dish. Place single layer of bread on bottom; top evenly with onion mixture and sprinkle with sausage and cheese. Top with remaining bread slices.
Whisk together eggs, milk, salt and pepper until well combined. Slowly pour mixture over top layer of bread. Cover with plastic wrap and place heavy objects (e.g., canned food) on top to weigh it down. Refrigerate at least 2 hours, or up to overnight.
Heat oven to 350° F.
Remove baking dish from refrigerator and uncover. Bake until strata is puffed and browned, and eggs are set, about 40-50 minutes. Remove from oven and let cool 5 minutes before cutting into serving pieces.
Pumpkin and Macadamia Soup
Recipe courtesy of Anolon Gourmet Cookware
3.5-Quart Anolon Advanced Umber Saucepan
2 tablespoons olive oil
1/3 cup roughly chopped raw macadamia nuts
1 small white onion, chopped
1 tablespoon grated ginger
2 cups diced squash or pumpkin
1 apple, peeled and chopped
3 cups chicken stock
roasted macadamia nuts, for garnish
In heavy-based, large saucepan, heat oil; add raw macadamias, onion and ginger, and saute over medium heat 2-3 minutes, or until golden.
Add squash and apple, and cook 1-2 minutes longer then pour over stock. Cover and cook 15-20 minutes, or until squash is soft.
Tip off some liquid and reserve then puree remainder using immersion blender, or in blender until smooth and creamy. Add reserved liquid to bring to desired consistency.
Reheat and serve in bowls sprinkled with roasted macadamias.
Brown Butter Pecan Cinnamon Bars
Recipe courtesy of Anolon Gourmet Cookware
Anolon Vesta 9-by-13-inch Baking Dish
10 ounces unsalted butter, softened
1 1/2 cups firmly packed light brown sugar
1/2 cup sugar
2 large eggs
2 teaspoons pure vanilla extract
2 cups unbleached all-purpose flour
1 1/2 teaspoons baking powder
2 teaspoons ground cinnamon
1/4 teaspoon kosher salt
2 cups coarsely chopped pecans, toasted
Heat oven to 350° F.
Grease baking pan.
In medium pot over medium-low to medium heat, heat butter until golden brown, stirring frequently and making sure to scrape bottom of pan. Remove from heat and pour into bowl when golden brown to stop more coloring. Set aside.
Whisk together sugars, eggs and vanilla extract. Whisk in butter in steady stream. Add flour, baking powder, cinnamon, salt and pecans. Stir until evenly blended.
Spread batter evenly into prepared pan.
Bake until toothpick inserted into center comes out clean, about 20 minutes. Do not overcook or bars will be dry. Let cool to room temperature then cut into pieces.
Source: Anolon Gourmet Cookware
Save
Save