(Family Features) Sundaes are sweet, but maybe it's time for something sensational.
These recipes bring the simple sundae to a whole new level of goodness. From the kid-friendly Spaghetti and Meatballs Sundaes to the sophisticated Mini Coffee Ice Cream Sundaes, there's something to please everyone.
10 Tips for Sundae Making
1. Using store-bought ingredients makes sundae-making fast and easy. You can always doll things up, like dissolve some instant coffee in a little hot water and stir it into store-bought caramel sauce to make a coffee-caramel drizzle.
2. Using whole nuts and dried fruit for add-ins can give your sundae extra texture and a big crunch.
3. Roll scoops of ice cream in any kind of crumbs, crunched cereal or chocolate milk powder for an ice cream "truffle."
4. Use mini containers like egg cups, espresso cups and cordial glasses to make mini sundaes.
5. Make a quickie fresh-fruit topping by mashing your favorite berries with a little white or brown sugar.
6. To keep your ice cream from melting as fast, freeze your sundae bowls or dessert dishes overnight.
7. To make your scoops more perfect-looking, dip your ice cream scoop in hot water in between scoops.
8. Use two or more flavors of ice cream in a sundae to add extra flavor and flair.
9. Simply tucking a cookie next to a scoop of ice cream, standing up, can really dress it up.
10. Create an exotic-looking sundae by using a wooden skewer to thread fruit onto, and then stick it into a scoop of ice cream. Use things like berries, ripe peach wedges and banana slices.
For more tips and recipes, visit www.breyers.com or www.facebook.com/breyers.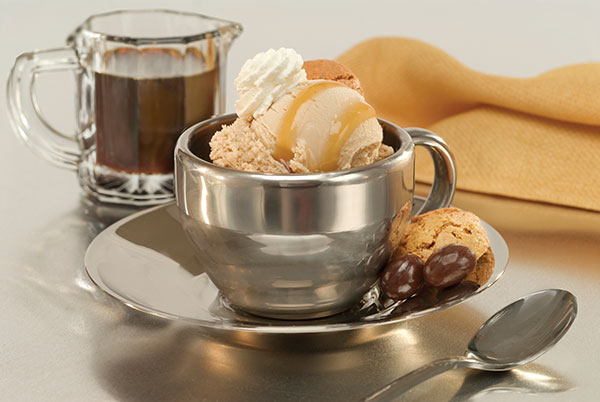 Mini Coffee Ice Cream Sundaes
4 servings
Prep Time: 25 minutes
2 cups Breyers Coffee ice cream
salted caramel sauce*
almond whipped cream**
1 shot espresso coffee
4 amaretti cookies
chocolate-covered coffee beans
Arrange 2 (1/4-cup) scoops ice cream in 4 demitasse coffee cups. Drizzle with salted caramel sauce, then top with almond whipped cream.
Pour a little espresso into each cup, then garnish with cookies and coffee beans.
*For salted caramel sauce, bring 3/4 cup sugar and 1/4 cup water to a boil over high heat in heavy-duty saucepan until caramel-colored. Remove from heat, then slowly stir in 1/2 cup whipping or heavy cream. Let cool, then stir in 1/4 teaspoon kosher salt. Let stand at room temperature until ready to use.
**For almond whipped cream, whip 1/2 cup whipping or heavy cream, 1 teaspoon sugar and 2 drops almond extract in mixing bowl with electric mixer until soft peaks form. Chill until ready to serve.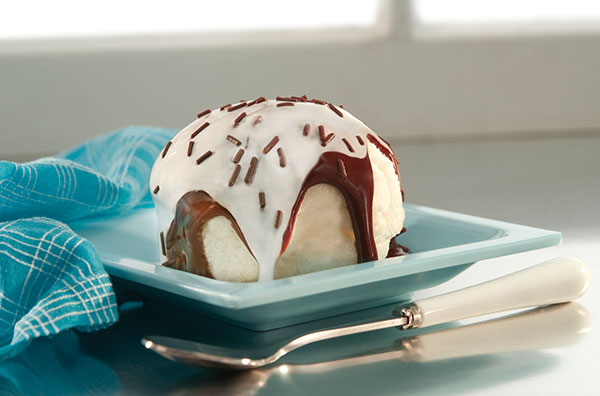 Snow Ball Sundaes
4 servings
Prep Time: 15 minutes
Freeze Time: 30 minutes
2 cups Breyers Mint Chocolate Chip ice cream
8 slices (1-1/2 inches thick) store-bought angel food cake
1/4 cup hot fudge topping, warmed
1/2 cup marshmallow creme, melted*
chocolate sprinkles
Freeze plate 30 minutes. Make 4 (1/2-cup) scoops ice cream and arrange on chilled plate.
Place 1 ice cream ball on 1 cake slice, then top with second cake slice. Shape cake around ice cream to encase it, using your hands to completely cover ice cream. Return to freezer until ready to serve. Repeat with remaining ice cream and cake.
To serve, arrange snow balls in 4 dessert bowls. Top with hot fudge topping, then marshmallow creme and sprinkles.
*TIP: Easily melt marshmallow creme in a glass measuring cup in the microwave.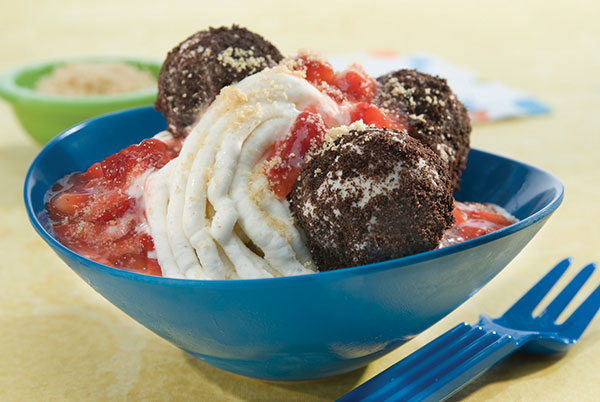 Spaghetti and Meatball Sundaes
4 servings
Prep Time: 30 minutes
Freeze Time: 30 minutes
12 small scoops Breyers Rocky Road ice cream
1 cup chocolate sandwich cookie crumbs
2 cups strawberries, trimmed
2 tablespoons sugar
1 cup Breyers Natural Vanilla ice cream, divided
2 store-bought shortbread cookies, crushed
Freeze plate 30 minutes. For meatballs, arrange Rocky Road ice cream scoops on chilled plate. Place chocolate cookie crumbs on another plate. Roll scoops, one at a time, in cookie crumbs, then return to chilled plate until ready to serve.
For sauce, mash strawberries with sugar in medium bowl using potato masher or fork to make chunky sauce. Stir in additional sugar if desired.
To build sundaes, press vanilla ice cream through potato ricer* into 4 dessert bowls for spaghetti. Top each with 3 meatballs, then sauce. Top with crushed shortbread cookie cheese. Serve with a fork!
*If a potato ricer is not available, simply scoop ice cream into bowls.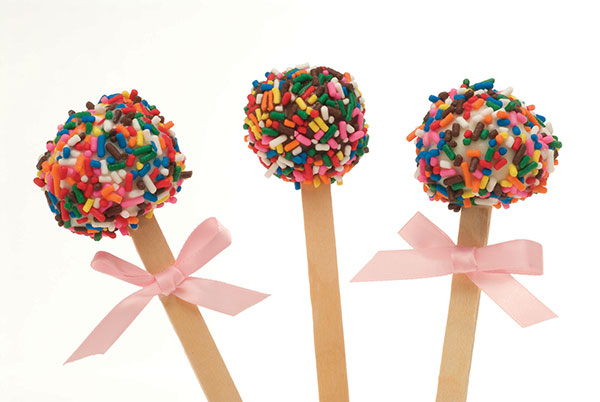 Ice Cream Lollipops
8 lollipops
Prep Time: 15 minutes
Freeze Time: 30 minutes
2 cups Breyers Chocolate Chip Cookie Dough ice cream
chocolate-fudge flavor ice cream topping that freezes
pink or rainbow sprinkles
Freeze plate 30 minutes. Scoop 8 balls ice cream and place on chilled plate. Insert a wooden stick into each ball and freeze at least 30 minutes.
Meanwhile, pour ice cream topping into bowl. Dip frozen balls into ice cream topping, twirling to coat. Quickly decorate with sprinkles. Keep frozen until ready to serve.
Source: Breyers