(Family Features) The hustle and bustle of back-to-school season can cause chaos in households. Class time, field trips and homework typically rule each day, which can make sitting down for a meal seem like a far-off dream. One easy way to save time is simplifying family recipes and prioritizing meal-planning.
Consider these meal-planning tips from the experts at Healthy Family Project, whose partners are donating $16,000 to the Foundation for Fresh Produce to support children's accessibility to fresh fruits and vegetables.
Choose the meals you plan to make for the week. Cut down on prep time by planning dishes with overlapping ingredients then write out a grocery list to keep from overbuying. Recipes like this Southwest Quiche Muffins Bento Box that include a brief list of widely used ingredients can help you avoid buying items you may only use once.
Stock the kitchen with ingredients your family often uses. Ensure you have the spices, seasonings, condiments, sauces and canned foods to prepare favorite meals at a moment's notice.
Save time by washing and prepping produce once each week. For example, if you're using sweet peppers in these Mini Sweet Pepper Sheet Pan Nachos and again in another meal that week, prep all at once so they're ready when it's time to cook – just be sure to store in an airtight container.
Serve quick snacks that won't spoil dinner. Kids often need a little fuel for homework, but complicated snacks can cut into already busy schedules. Keep ingredients on hand for simple options like trail mix, fruit parfaits and meat and cheese wraps.
Use kitchen tools that speed up the process. Pressure cookers and air fryers can help you put nutritious meals on the table faster while slow cookers let you prep in the morning and come home to a hot, delicious dinner.
Visit HealthyFamilyProject.com to find more back-to-school recipes.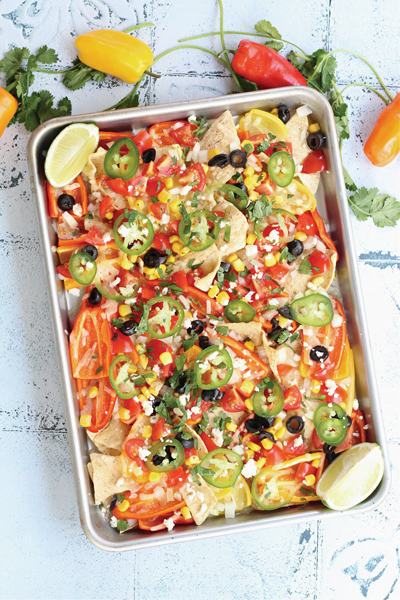 Mini Sweet Pepper Sheet Pan Nachos
Recipe courtesy of Healthy Family Project
Prep time: 10 minutes
Cook time: 5 minutes
Servings: 4
8 ounces Pero Family Farms Mini Sweet Peppers, cut into chip shapes
7 ounces tortilla chips
1/2 cup sweet or red onion, diced.
1/2 cup canned or fresh corn
1/2 cup queso fresco cheese
1/4 cup black olives
1/4 cup jalapeno peppers, fresh sliced
1/4 cup cilantro leaves, for garnish
1 lime, cut into thin wedges, for garnish
Preheat oven to 350 F.
Place peppers and tortilla chips on sheet pan. Layer onion, corn, cheese, black olives and jalapeno peppers. Bake 3-5 minutes.
Garnish with cilantro and lime wedges.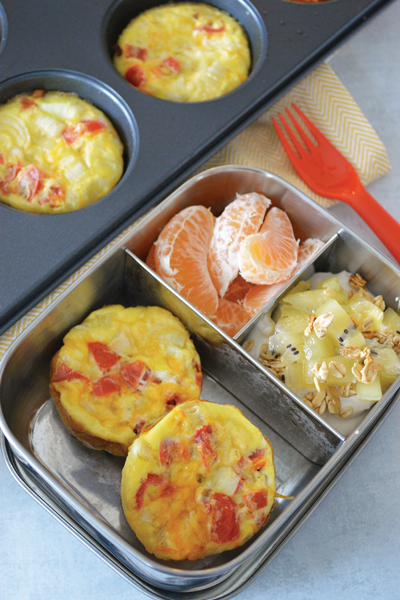 Southwest Quiche Muffins Bento Box
Recipe courtesy of Healthy Family Project
Prep time: 10 minutes
Cook time: 25 minutes
Servings: 12
8 large eggs
1/2 cup milk
nonstick cooking spray
3/4 cup black beans, drained and rinsed
1/2 cup chopped Nature Fresh Farms Tomz tomatoes
1/3 cup shredded cheddar cheese
1/4 small RealSweet sweet onion, chopped
1/2 cup vanilla Greek yogurt
1/4 cup granola
1/2 Zespri SunGold kiwi, chopped
1 Bee Sweet Citrus mandarin, peeled and segmented
Preheat oven to 325 F.
In large bowl, whisk eggs and milk.
Coat 12-cup muffin pan with nonstick cooking spray or use silicone muffin liners. Evenly divide beans, tomatoes, cheese and onion among cups. Pour eggs over top.
Bake 20-25 minutes, or until eggs are set and lightly browned.
Remove from oven and cool in pan 2-3 minutes. Use knife to loosen edges and remove.
In cup or bowl, mix yogurt, granola and kiwi.
Assemble bento box with two quiche muffins, kiwi parfait and mandarin slices.
Source: Healthy Family Project
(Family Features) When your family is transitioning back into a regular routine in the new year, it's the perfect time to recommit to healthy eating habits throughout the day. Getting the whole family on board may be easier than you think – just keep the focus on flavor and fun.
If you're short on ideas to jumpstart better family eating, try these tips:
Keep it simple. Busy families often rely on the convenience of boxed meals, but you can get the same easy, delicious meal in a much healthier way. Everything cooks in one pot for easy clean-up, and this Cheeseburger Mac recipe swaps ground beef for leaner ground turkey. Not only is this an easy weeknight dinner, but leftovers can be packed in a thermos for lunch on chilly days.
Have fun. Try using creative shapes, textures and colors to make mealtime and lunchboxes more fun. Use cookies cutters to easily create butterflies, flowers, dinosaurs and more. Allow your kids to get involved in packing their own lunchboxes or helping with a meal. If your kids have a love of space or are learning about it in school, this bento box is definitely out of this world. Grapes create the dark backdrop while Swiss cheese is the perfect place for a moon landing. Clementine crescent moons and mini sweet pepper planet rings round out the meal.
Make a family promise. To keep the momentum going, rely on a resource like the Power Your Lunchbox Promise website, which offers everything from healthy lunchbox ideas to after-school snacks and dinners. All meal ideas have been approved by a registered dietitian, meet USDA guidelines and are kid-friendly. What's more, for every Power Your Lunchbox Promise made on the website, health-conscious companies supporting the initiative will make a $1 donation to Feeding America's programs that support families and children. Learn more at poweryourlunchbox.com.
Cheeseburger Mac
Recipe courtesy of Produce for Kids
1 tablespoon olive oil
1 pound lean ground turkey
1 small onion, finely chopped
1 cup mini sweet peppers, chopped
1 1/2 teaspoons paprika
1 teaspoon sugar
1/2 teaspoon salt
1/2 teaspoon chili powder
1 1/2 cups water
1 cup milk
3 tablespoons tomato paste
1 1/2 cups whole-grain dry macaroni
1 cup shredded low-fat cheddar cheese
In large skillet over medium high heat, heat oil. Add turkey, onion and peppers. Cook 7-10 minutes, or until turkey is cooked through.
In small bowl, mix paprika, sugar, salt and chili powder. Add to turkey and stir. Add water, milk, tomato paste and pasta. Mix well. Bring to boil, reduce heat and simmer 10 minutes, or until pasta is cooked and liquid is absorbed. Remove from heat and top with cheese.
Space Exploration Bento Box
Recipe courtesy of Produce for Kids
1/2 cup red seedless grapes
1 whole-wheat sandwich round
2 slices low-sodium deli-sliced turkey
1 slice Swiss cheese
1/2 slice low-fat cheddar cheese
1 clementine, peeled and segmented
3 mini sweet peppers, sliced into rings
1 package freeze-dried fruit
Add grapes to bottom of large section of bento box to create space background. Place bottom of sandwich round on top, add turkey and sandwich round top.
Lay Swiss cheese on cutting board. Using small bowl or other round object, cut into circle. Place on top of sandwich to create moon.
Lay cheddar cheese on cutting board. Using small star cookie cutter, cut out stars. Add to space around moon.
Pair with clementine "crescent moons," pepper "planet rings" and freeze-dried fruit.
Source: Produce for Kids