Easy ways to grill up something surprisingly good
(Family Features) Bananas aren't just for breakfast or lunch anymore. By grilling this popular fruit, you can add a whole new flavor dimension to a dinnertime recipe and turn a basic dessert into something wow.
Adding bananas to your summer grilling routine is a fun way to eat fruit. You can grill them in their peels while the BBQ coals are still hot or add peeled slices to a tasty kabob - it's that simple. From kid-friendly desserts to grown-up dishes with a tropical twist, make it easy on yourself and go bananas on the grill.
For more Dole Banana recipes and serving suggestions, go to www.dole.com/en/products/bananas. To share banana recipes anytime, go to www.facebook.com/DOLEbananas.
Did You Know?
With no fat, cholesterol or sodium, vitamin-packed bananas are a guilt-free summertime treat.
Banana peels are great for polishing shoes. Use (the inside of) an empty peel on your leather shoes as you would shoe polish and then buff off with a soft cloth. The banana's oils soak into the leather and, like most commercial shoe polishes, contains potassium.
As bananas ripen, the starch in the fruit turns to sugar. Therefore, the riper the banana, the sweeter it will taste.
Ten or more bananas growing together are called "hands" and a single banana is called a "finger." Four to six bananas sold in the store are called a "cluster."
How to Store Bananas
Remove bananas from plastic produce bag and store at room temperature. The warmer it is, the faster the bananas will ripen.
To slow ripening, refrigerate (peel will turn black but the fruit inside will be fresh and ripe). Bananas can be frozen once the banana is peeled and stored in a freezer bag until ready to use (use a bit of fresh lemon juice to reduce browning).
If bananas are too green, place them in a brown paper bag, in a warm dry area (but not in direct sunlight) for a day or two to encourage ripening. If there is still not enough yellow appearing on the peel, place a ripe apple in the bag with the bananas.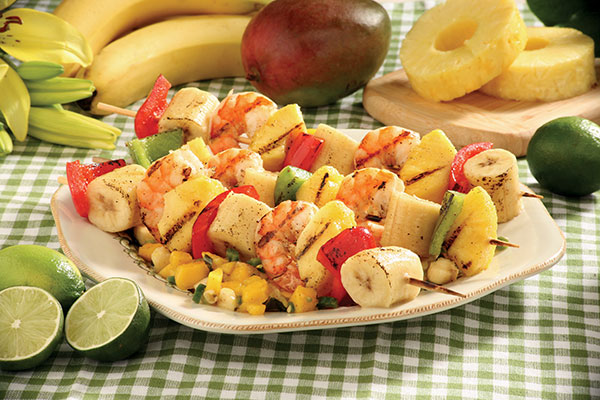 Island Kabobs with Tropical Fruit Salsa
Preparation : 10 minutes
Grill Time: 10 minutes
Makes: 4 servings
2 ripe, firm Dole® Bananas, peeled, each cut into 6 pieces, plus 1 ripe Dole Banana, peeled and diced
12 chunks Dole Tropical Gold Pineapple
16 extra large or jumbo shrimp, shelled and deveined
1 green or red bell pepper, cut into 8 pieces
2 tablespoons lime juice
2 tablespoons olive oil
1/2 teaspoon ground allspice
1 mango, peeled and diced
1 tablespoon chopped mint
1 Dole Green Onion, minced
2 to 3 teaspoons minced jalapeño pepper
Thread banana pieces, pineapple, shrimp and bell pepper pieces equally onto skewers.
Whisk together lime juice, oil and allspice in small bowl. Brush 2 tablespoons over kabobs.
Combine remaining marinade with diced banana, mango, mint, green onion and jalapeño pepper; place in a serving dish.
Grill kabobs over medium high heat 8 to 10 minutes, turning once or until the shrimp are opaque. Arrange the kabobs on top of the salsa.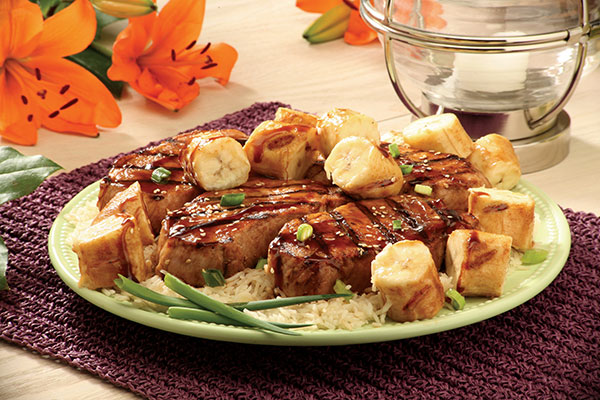 Teriyaki Pork Chops with Grilled Bananas
Preparation : 20 minutes
Grill Time: 20 minutes
Makes: 3 to 4 servings
1/4 cup dry sherry
2 tablespoons soy sauce
1 tablespoon packed brown sugar
1 tablespoon vegetable oil
1 pound boneless pork chops (3 to 4)
2 large firm Dole Bananas, peeled
1/2 teaspoon cornstarch
2 cups hot cooked rice
2 tablespoons sliced Dole Green Onion
1 tablespoon toasted sesame seed
Combine sherry, soy sauce, brown sugar and oil in small bowl. Remove 2 tablespoons sherry mixture and brush on pork chops and bananas.
Grill pork 8 to 10 minutes on each side until cooked through. Grill bananas 2 to 3 minutes on each side until heated through. Cut each into 1-inch pieces.
Combine remaining sherry mixture and cornstarch in small saucepan; cook, stirring until thickened.
Arrange pork and bananas over rice on serving plate; drizzle with sauce. Sprinkle with green onion and sesame seed.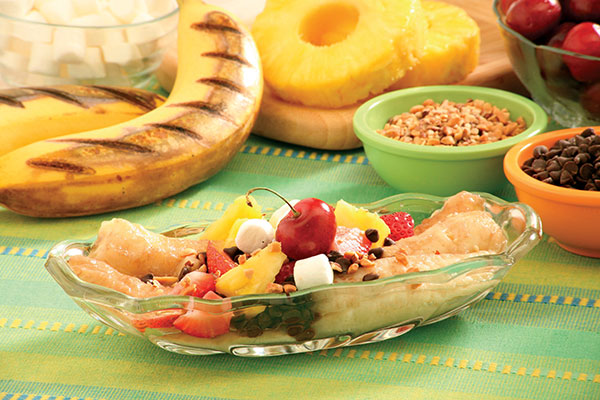 Grilled Bananas
No prep needed.
Grill Time: 10 minutes
Makes: 4 servings
4 Dole Bananas, unpeeled
Assorted favorite dessert toppings
Place unpeeled bananas on grill over medium high heat.
Grill 4 to 5 minutes on each side until peels blacken and soften. Insides will be custard-like.
Serve warm or chilled with your favorite toppings such as fresh fruit, chopped nuts, miniature marshmallows, chocolate bits, caramel or frozen yogurt.
Grilled Caribbean Fruit Salsa
Preparation: 10 minutes
Grill Time: 8 minutes
Makes: 4 servings
1/2 fresh Dole Tropical Gold Pineapple, peeled and sliced vertically
1 large, ripe firm Dole Banana, slice in half vertically
1 mango, skinned, peeled and sliced in half vertically
1/4 cup olive oil
1 tablespoon fresh lime juice
1/4 cup red onion, minced
1/4 to 1/2 teaspoon crushed red pepper flakes
2 kiwi, diced
Combine pineapple, banana and mango slices with the olive oil and lime juice.
Brush to coat the fruit. Place fruit on grill.
Grill fruit 4 to 5 minutes each side, remove and cool slightly.
Roughly chop the grilled fruit, reserving juices.
Combine fruit and reserved juices with the red onion, red pepper flakes and kiwi.
Serve warm or room temperature. Great with grilled chicken or fish.
Source: Dole
(Family Features) Summertime entertaining should be easy and fun. And it can be - with some simple solutions and fresh recipes.
Start with Simple Recipes
For this tropical dessert pizza, make the cookie crust the day before. Mix the filling and store it in an airtight plastic container, then cut up fruit and store in individual resealable plastic bags. Be creative and substitute your family's favorite fruits. Kids will have fun arranging the sliced fruit on this yummy dessert pizza!
Three ingredients plus three minutes equals one tasty marinade. Let the kids help pour the ingredients into a resealable plastic bag to flavor juicy pork tenderloins with a subtly sweet, spicy marinade.
The combination of crisp watermelon, juicy tomatoes and fresh basil with balsamic vinegar creates a fantastic and refreshing light salad. Just cut up ingredients and store in separate plastic containers, then toss together right before the party to keep the flavors fresh.
Simply Entertaining
For picnics on damp ground, placing an inexpensive plastic tablecloth under a blanket helps keep dampness from reaching picnickers - and keeps your blanket cleaner, too.
Wash, chop, measure and prepare your ingredients 1 to 2 days before an event or party. They can be stored in resealable plastic bags or airtight containers in the refrigerator to make putting together recipes much easier the day of the party.
Save plastic grocery bags to send guests home with leftovers. Placing an empty plastic grocery bag in a picnic basket is also a great solution for collecting trash after a picnic in the park - it doesn't take up much room and will act as a waterproof barrier to prevent spills.
Create a dipping station for barbeque and grill sauces using reusable plastic storage containers with lids. Guests can spoon sauces onto their plates; when the party is over, simply place the lids back on the sauces and store in the refrigerator. They come in all different shapes and sizes and even fun colors.
Use resealable plastic bags for marinades. Put meat in the bags with marinade and refrigerate overnight. It helps save space in the refrigerator and clean up is easy. This also works for coating and breading.
For more tips on ways to make summer entertaining a breeze, visit www.PlasticsMakeitPossible.com.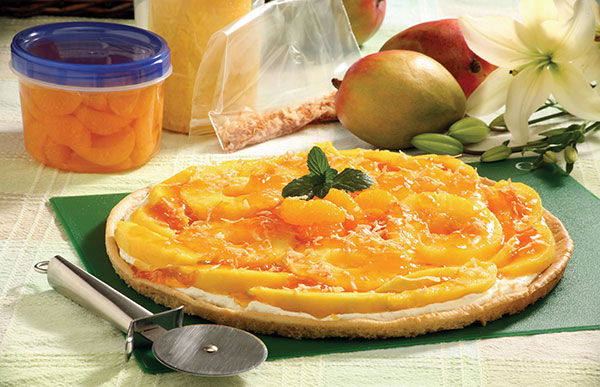 Tropical Fruit Dessert Pizza
Makes 12 servings
1 18-ounce roll refrigerated ready-to-slice sugar cookie dough
1/3 cup sugar
1 8-ounce package fat-free cream cheese
1 teaspoon coconut extract
1 1/2 teaspoons grated orange rind
1 cup fat-free frozen whipped topping, thawed
1 26-ounce jar mango slices, drained, or 2 fresh mangoes, sliced
1 16-ounce can pineapple slices, drained, or 1 fresh pineapple, sliced
1 11-ounce can mandarin orange segments, drained
1/2 cup apricot preserves
2 tablespoons orange liqueur or orange juice
2 tablespoons coconut, toasted, optional
Preheat oven 350°F.
Press cookie dough into a 12 to 14-inch pizza pan coated with nonstick cooking spray. Bake 12 minutes, cool completely.
In medium mixing bowl, blend together sugar, cream cheese, coconut extract until well mixed. Stir in orange rind and whipped topping, mixing until smooth. Spread cream cheese mixture on top of cooled crust.
Arrange mango slices around edge of iced pizza. Then, arrange pineapple slices around edge. Next, arrange mandarin orange slices in another ring to fill center of pizza.
In small saucepan or in microwave, heat apricot preserves and orange liqueur just until melted. Spoon glaze over fruit. Sprinkle with toasted coconut, if desired. Refrigerate until serving.
Terrific Tidbit: Go ahead and grate more orange rind than you'll need for the recipe - you can grate a whole orange or lemon and freeze the rind in a plastic freezer bag until needed.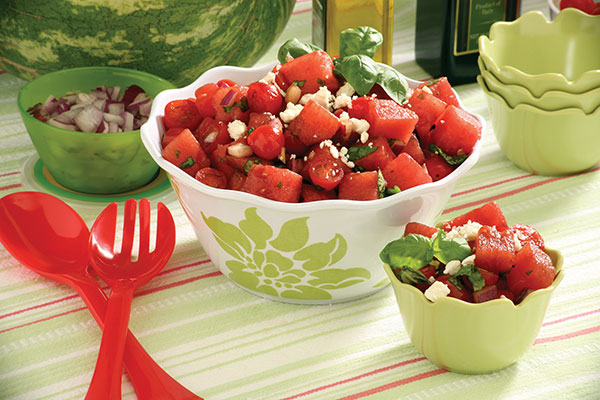 Watermelon and Tomato Salad
Makes 10 (1/2-cup) servings
4 cups scooped out watermelon balls or chunks
1/2 cup chopped red onion
1 pint cherry tomatoes, halved
2 tablespoons fresh chopped basil
1 tablespoon olive oil
2 tablespoons balsamic vinegar
Salt to taste
1/3 cup crumbled reduced fat feta cheese, optional
In bowl, combine watermelon, onion, tomatoes and basil. Whisk together oil and vinegar and toss with salad. Season to taste. Refrigerate until serving.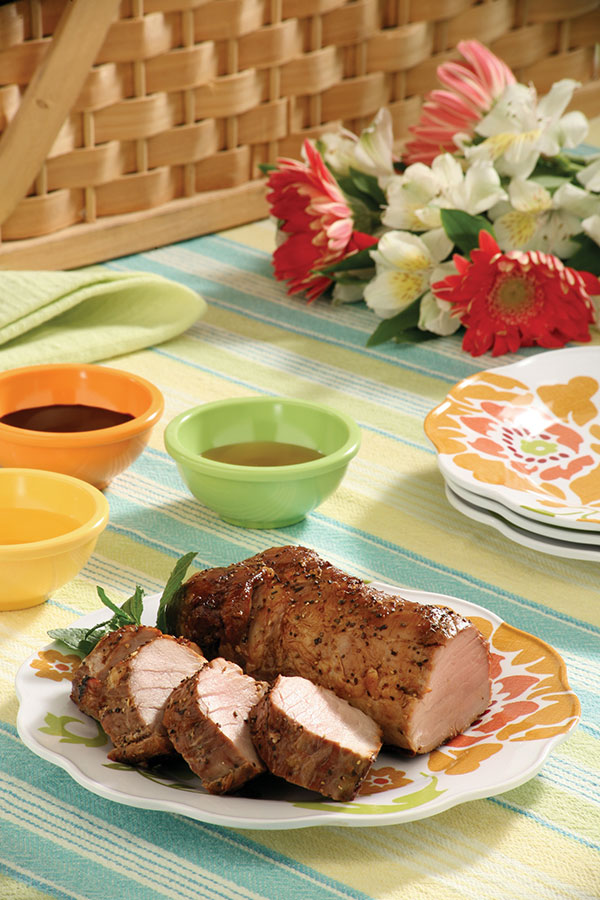 3-Ingredient Marinade for Pork Tenderloin
Makes 6 to 8 servings
2 1-pound pork tenderloins, trimmed of excess fat
1/4 cup reduced sodium soy sauce
1/4 cup roasted garlic seasoned rice vinegar
2 tablespoons honey
Preheat oven 350°F.
In bowl, combine all ingredients except tenderloins. Place meat in dish or large resealable plastic bag, pour marinade over meat. If time permits, refrigerate overnight, turning meat several times.
Bake 40 to 45 minutes or until meat thermometer inserted into the thickest portion of the tenderloin registers 160°F. Slice tenderloin, serve.
Quick Tip: Tenderloins come two to a package. If one will be enough for you to serve, halve recipe, freeze other tenderloin in freezable plastic bag.
Source: American Chemistry Council