(Family Features) Whether seafood night at your house means sauteed shrimp, baked fish or anything in between, it's an exciting excuse to bring the family together for favorite meals. Delicious recipes abound when seafood is on the menu.
However, this is no longer your grandparents' seafood. Today, more than half of all seafood consumed in the U.S. is farm-raised – a practice known as aquaculture. While the industry has made strides throughout the last few decades, from increasingly sustainable farming practices to technological advancements that can help feed a growing population, not all farmed seafood is equal and neither are the certifications you see on its packaging.
For more than a decade, the global nonprofit Aquaculture Stewardship Council (ASC) has created and enforced the world's strictest standards for farmed seafood. Its sea green ASC certification label is only found on farmed seafood that meets these high standards – helping seafood shoppers make informed purchasing decisions.
It's a movement some of the nation's leading seafood grocers and chefs are getting behind.
"About 2/3 of our seafood offerings are raised on farms, which reflects both growing supply and demand," said Abe Ng, CEO of the Sushi Maki restaurant chain and market stations. "There's a much broader customer understanding and appreciation of aquaculture than, say, 10 years ago. However, not all farmed seafood is equal in terms of quality, environmental sustainability and social responsibility."
A unique combination of standards help ensure supply chain integrity from the farm to the store while protecting the environment, workers and communities. ASC's sea green label only appears on seafood from farms that have been independently assessed and certified as environmentally and socially responsible.
"Whether your seafood is wild-caught or farmed, what matters to today's shoppers is that it's high-quality, flavorful and was fished or farmed in a responsible way that's good for you and the planet," said Roger O'Brien, president and CEO of the Santa Monica Seafood market and cafe. "Farm-raised seafood that's been responsibly certified by the ASC delivers on the assurance that the seafood you're buying is what it claims to be, which is a key commitment we make to our customers."
With a trusted certification like the ASC, you can confidently enjoy make-at-home recipes like Honey Mustard Crunch Salmon, Blackened Shrimp Tacos with Creole Remoulade Slaw and Almond Stuffed Rainbow Trout without sacrificing taste or sustainability.
To find more certification information and discover family-friendly seafood recipes, visit SeaGreenBeGreen.org.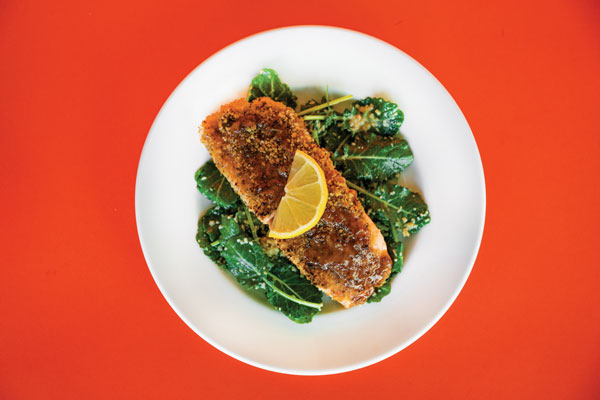 Recipe courtesy of North Coast Seafoods
1 bag (1 pound, three 6-ounce portions) North Coast Seafoods ASC-certified Naked Norwegian Salmon
salt, to taste
pepper, to taste
Honey Mustard Glaze:
1/3 cup honey
1/4 cup whole-grain mustard
2 tablespoons smooth Dijon mustard
2 tablespoons mayonnaise
2 teaspoons horseradish
1 teaspoon smoked paprika
Crunch:
3/4 cup panko breadcrumbs
2 tablespoons dried parsley
2 tablespoons olive oil
Thaw salmon and pat dry. Arrange on oiled baking tray. Season with salt and pepper, to taste.
To make glaze: In small bowl, combine honey, mustard, Dijon mustard, mayonnaise, horseradish and paprika; mix until well combined. Chill glaze until ready to use.
To make crunch: In bowl, combine breadcrumbs, parsley and oil; mix well. Reserve.
Preheat oven to 400 F.
Top each salmon portion with 1 tablespoon glaze and spread evenly over fish. Press crunch evenly onto glaze.
Bake 15-17 minutes until fish is cooked through.
Serve with drizzle of remaining glaze.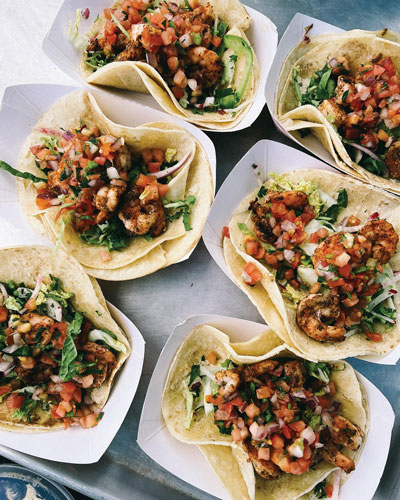 Recipe courtesy of Coastal Seafoods and Fortune Fish & Gourmet
Prep time: 30 minutes
Cook time: 10 minutes
Coleslaw:
1/3 cup mayonnaise
1 tablespoon capers, chopped
1 teaspoon stone ground mustard
1/3 cup parsley, chopped
1/2 teaspoon horseradish
1/3 cup red onion, diced
1 tablespoon Cajun seasoning
1/2 bag coleslaw mix
Tacos:
6 small corn tortillas
1 tablespoon Cajun seasoning
1/2 pound peeled and deveined ASC-certified shrimp, thawed
3 green onions, sliced
fresh salsa or pico de gallo (optional)
1 lime, sliced (optional)
To make coleslaw: In bowl, mix mayonnaise, capers, mustard, parsley, horseradish, red onion and Cajun seasoning. Mix coleslaw and about 3/4 of dressing. Stir until coated then add more dressing, if desired. Refrigerate coleslaw until ready to serve.
To make tacos: Heat grill to medium heat. Once hot, toast tortillas on each side until browned on edges. Stack toasted tortillas on plate and cover with towel until ready to serve.
Pour Cajun seasoning over shrimp and stir until shrimp are coated.
Cook shrimp 3-5 minutes per side, or until shrimp are firm and Cajun seasoning is blackened. Remove shrimp from grill to prevent overcooking.
To serve, place about 1/4 cup coleslaw in each tortilla then top with 3-5 shrimp and green onions. Top with salsa or pico de gallo, if desired. Squeeze wedge of fresh lime over top, if desired.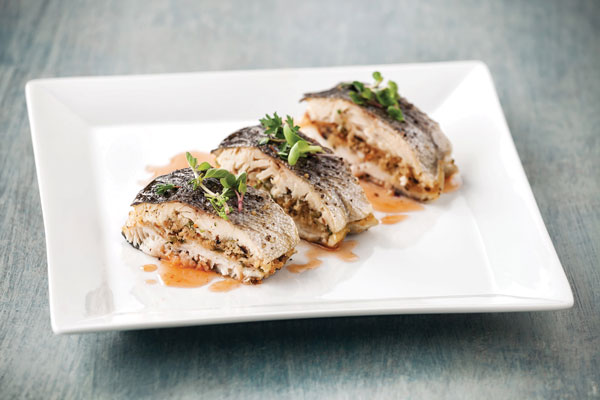 Recipe courtesy of Riverence Provisions
2 ASC-certified Riverence Steelhead Trout fillets (8 ounces each)
nonstick cooking spray
1/2 cup sliced almonds, toasted and coarsely chopped
2 tablespoons lemon zest
2 tablespoons lemon juice
1/4 cup chives, chopped
1 1/2 cups breadcrumbs
1/4 cup Italian parsley
salt, to taste
pepper, to taste
1 egg, beaten
kitchen twine (6-inch lengths)
1 tablespoon olive oil
Preheat oven to 350 F.
Rinse steelhead trout fillets and pat dry with paper towel. Line baking pan with parchment paper and spray with nonstick cooking spray.
Mix almonds, lemon zest, lemon juice, chives, breadcrumbs and parsley. Season with salt and pepper, to taste.
Add beaten egg to breadcrumb mixture and stir until well incorporated.
Lay first trout fillet skin side down on baking pan. Place twine pieces underneath fish, spacing 1 1/2 inches apart; leave untied.
Place breading mixture over trout fillet and remaining trout fillet on top of breadcrumb mixture, skin side up.
Secure trout fillets together using kitchen twine. Brush olive oil on trout and sprinkle with salt and pepper, to taste.
Bake 15-20 minutes, or until fish is cooked through. Slice into portions to serve.
Source: Aquaculture Stewardship Council
(Family Features) Establishing a regular pattern of healthy snacks and meals made from fresh, whole foods is essential to promoting good health. Fresh grapes always make a great snack because they are tasty, healthy and portable. Yet grapes can also be used as an ingredient to make good-for-you dishes that are just as satisfying as they are healthy.
According to an IFIC Food and Health survey, consumers are looking more and more to foods for health benefits, with cardiovascular health topping the list as the leading benefit sought. Grapes of all colors – red, green and black – are a natural source of beneficial antioxidants and other polyphenols. Plus, they are naturally fat-free, cholesterol-free and low in sodium. Pairing heart-healthy grapes with other healthy ingredients – including fish, legumes, whole grains and vegetables – offers a vast array of options for nutritious make-at-home dishes.
In these recipes for Chicken Larb with Grapes, Trout with Grape and Lentil Salad, and Smashed Cucumber and Grape Salad, grapes add a juicy burst of flavor, vibrant color and crunch to deliver wholesome meals with bold flavors and fresh textures.
Go for a Grape Snack
Snacking, for many people, is a significant part of daily food consumption, thus making smart snack choices a vital part of promoting good health. According to a study conducted by Mintel, 94 percent of adults snack daily, and 55 percent of people said they snack 2-3 times per day. Grapes are a healthy and hydrating choice without the added fat, salt and sugar found in many processed snacks.
For more meal inspiration for healthy eating, visit GrapesfromCalifornia.com.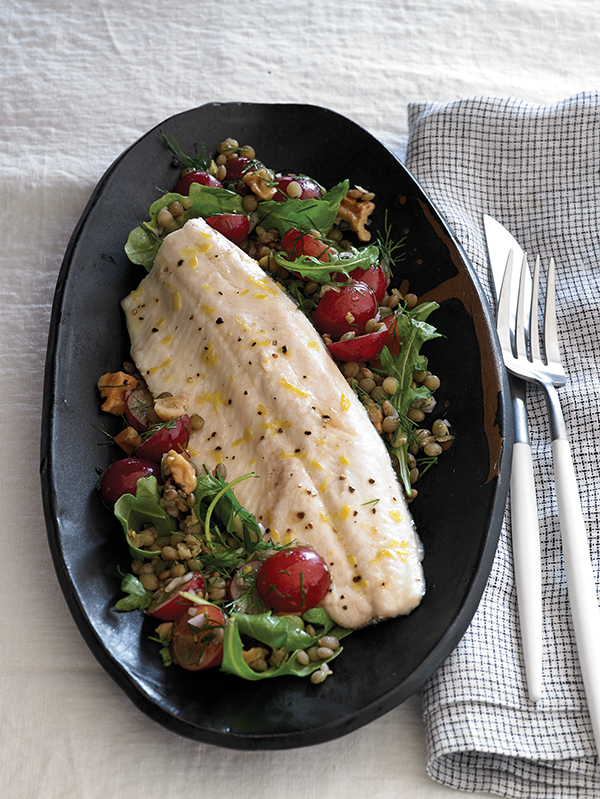 Trout with Grape and Lentil Salad
Servings: 4
3/4 cup green lentils, uncooked
2 1/2 cups water
2 tablespoons minced shallot
1 1/2 cups halved red California grapes
1/4 cup fresh chopped dill
1/4 cup chopped walnuts
2 tablespoons lemon juice
1 teaspoon lemon zest
1 tablespoon white balsamic vinegar
1 tablespoon, plus 2 teaspoons, olive oil, divided
1 cup arugula
1/2 teaspoon sea salt, divided
1/4 teaspoon pepper, plus additional, to taste, divided
4 trout fillets (4-6 ounces each), skin on
1/2 teaspoon lemon zest
In medium saucepan, combine lentils with water. Bring to boil then reduce heat to simmer; cover and cook 15 minutes. Turn off heat and allow lentils to steam 5 minutes; drain and let cool.
In medium bowl, combine lentils, shallot, grapes, dill, walnuts, lemon juice, lemon zest, vinegar, 1 tablespoon olive oil, arugula, 1/4 teaspoon salt, and pepper, to taste; set aside.
Heat oven to broil. Move rack to highest position.
Sprinkle trout fillets with lemon zest, remaining salt and 1/4 teaspoon pepper; brush with remaining olive oil. Broil trout 4-5 minutes. Serve with lentil salad.
Nutritional information per serving: 480 calories; 40 g protein; 36 g carbohydrates; 20 g fat (38% calories from fat); 3 g saturated fat (4% calories from saturated fat); 80 mg cholesterol; 380 mg sodium; 10 g fiber.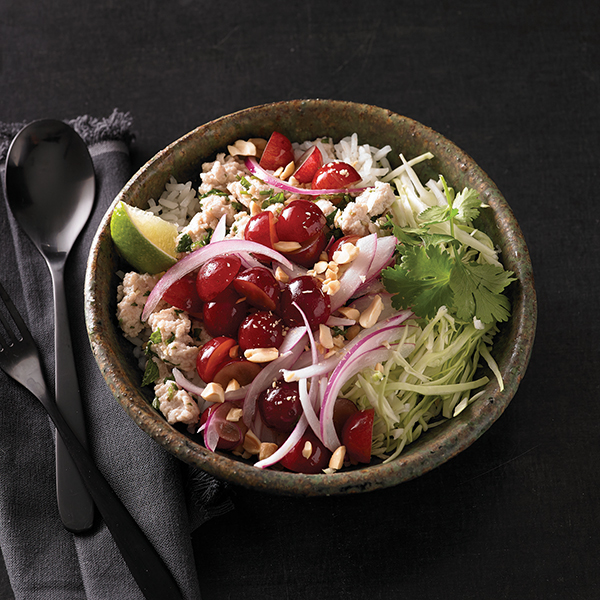 Chicken Larb with Grapes
Prep time: 20 minutes
Cook time: 10 minutes
Servings: 4
1/2 red onion, thinly sliced
2 cups halved red California grapes
2 tablespoons rice vinegar
2 tablespoons vegetable oil
1 pound ground chicken
1/4 teaspoon salt
1/4 teaspoon freshly ground black pepper
1-2 Thai chilies, thinly sliced
2 teaspoons fish sauce
3 tablespoons lime juice
1/4 cup coarsely chopped cilantro
3 tablespoons coarsely chopped mint leaves
4 cups steamed jasmine rice
2 cups shredded green cabbage
2 tablespoons chopped roasted and salted peanuts
In medium bowl, combine onion, grapes and rice vinegar; set aside.
In large skillet, heat oil over medium-high heat. Add chicken and cook, stirring frequently until just cooked through, about 6-7 minutes. Season chicken with salt and pepper. Stir in chilies, fish sauce, lime juice, cilantro and mint.
Divide rice between four serving dishes and top with chicken, cabbage, marinated onions and grapes; sprinkle with peanuts.
Nutritional information per serving: 540 calories; 26 g protein; 65 g carbohydrates; 19 g fat (32% calories from fat); 3.5 g saturated fat (6% calories from saturated fat); 100 mg cholesterol; 480 mg sodium; 3 g fiber.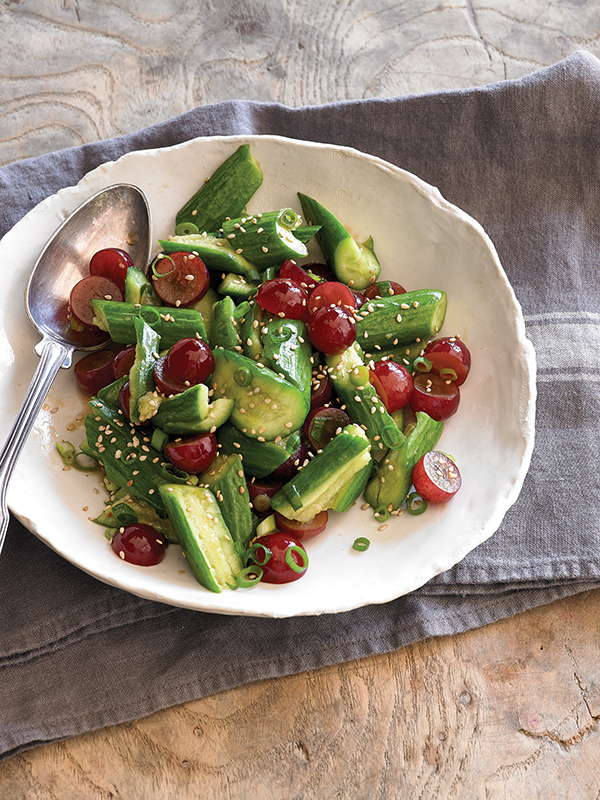 Smashed Cucumber and Grape Salad
Prep time: 20 minutes
Servings: 6
1 1/4 pounds English or Persian cucumbers, ends trimmed
1 teaspoon kosher salt
2 tablespoons rice vinegar
1 tablespoon reduced-sodium soy sauce
2 teaspoons granulated sugar
1-2 teaspoons chili oil
1 teaspoon toasted sesame oil
1 cup halved California grapes
2 scallions, thinly sliced
2 teaspoons toasted sesame seeds
Using rolling pin, smash whole cucumbers lightly, just enough to break open. Tear or cut into 1 1/2-inch pieces and season with salt. Transfer to sieve and let drain 10 minutes.
In large bowl, whisk vinegar, soy sauce, sugar, chili oil and sesame oil; stir in grapes and scallions. When cucumbers finish draining, add to bowl with grape mixture and stir to combine.
Sprinkle with sesame seeds and serve.
Nutritional information per serving: 70 calories; 1 g protein; 11 g carbohydrates; 2.5 g fat (32% calories from fat); 0 g saturated fat; 0 mg cholesterol; 170 mg sodium; 1 g fiber.