(Family Features) Focusing your menus on health-conscious recipes that look as good as they make you feel is key to making positive lifestyle changes. Adding big flavors that satisfy cravings to easy, go-to recipes can be a big step toward reaching health goals throughout the year.
"Eating the rainbow" refers to adding fruits and veggies of varying colors to your diet, such as red tomatoes and beets, green cucumbers and avocados, orange carrots and pumpkins and beyond. Complementing fresh produce with the nutritional benefits of tuna and salmon – like heart-healthy omega-3 fatty acids, protein, vitamin D and potassium – can take your meal planning one step further.
Whether you're commemorating a special occasion, hosting a gathering of friends and family or simply enjoying a night in, good food shouldn't mean ditching good eating habits. With new packaging but a continued focus on flavor, wild-caught Low-Sodium Pink Salmon from Chicken of the Sea is a perfect complement to vibrant, rainbow-inspired recipes.
Try these Salmon Chili Bites for a quick and delicious snack option. They can easily be doubled, tripled or more for a party appetizer. Feature the recipe with a "rainbow" of veggies, crackers, meats and cheeses on a charcuterie board for a crowd favorite that can satisfy guests with big, bold flavor.
Ditch boring salads and find joy in food while maintaining healthy eating goals by upping your salad game. Say goodbye to bland, boring greens and enjoy salads with your favorite toppings, like a colorful combination of protein-packed tuna and fiber-rich veggies in this Mediterranean Tuna Salad, which is completed with a bright dressing and topped with feta cheese and parsley.
For more than 100 years, Chicken of the Sea has provided fresh, tasty seafood straight from the ocean, so whether you're reaching for wild-caught tuna for this homemade salad or another option like salmon or sardines, you can enjoy a high-quality product that's delicious on its own or used to elevate favorite recipes.
To find more health-focused snacks, appetizers, meals and more, visit chickenofthesea.com.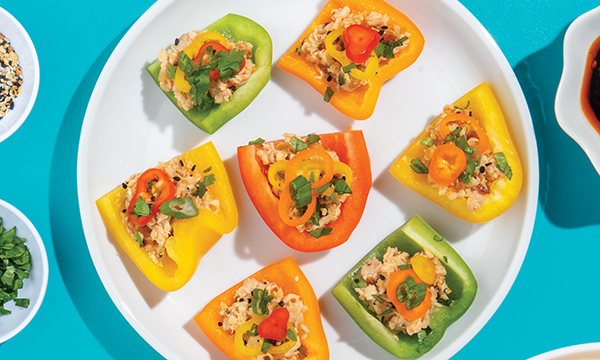 Salmon Chili Bites
Prep time: 15 minutes
Servings: 2
In bowl, combine salmon, chili crisp, vinegar and sesame oil.
To serve, top each bell pepper square with some salmon, green onion, cilantro and sesame seeds. If leftover pieces of bell pepper remain, chop and add as additional garnish.
Note: If serving with cheese plate, place salmon mixture in small bowl and garnish with green onion and sesame seeds.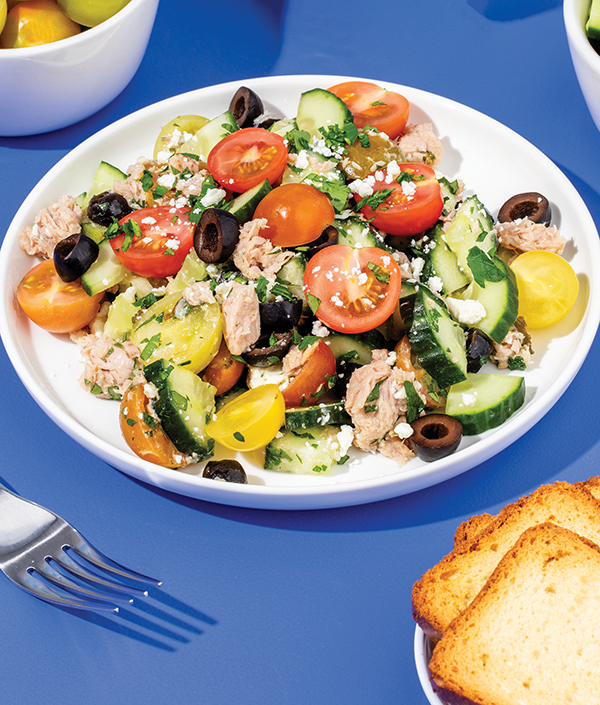 Mediterranean Tuna Salad
Prep time: 20 minutes
Servings: 1-2
Dressing:
2 tablespoons lemon juice
1 tablespoon extra-virgin olive oil
1/4 teaspoon dried oregano
Salad:
1 can (5 ounces) Chicken of the Sea Chunk Light Tuna, drained
1 cup halved cherry tomatoes
1/3 cup sliced Kalamata olives
1 cup chopped English cucumber (about 1/2 cucumber)
1/4 cup feta
1 tablespoon minced parsley
pita chips (optional)
crackers (optional)
To make dressing: In large bowl, whisk lemon juice, olive oil and oregano.
To make salad: In dressing bowl, add tuna, tomatoes, olives and cucumber. Gently toss to cover salad with dressing then top with feta and parsley.
Serve with pita chips or crackers, if desired.
Source: Chicken of the Sea
(Family Features) Pamper mom on her special day with a wonderful brunch that all the kids can help make.
Spiced Granola Pancakes include applesauce as a healthy substitution for fat in this recipe.
Burrito Bites make a simple appetizer that is easy for kids to assemble. No cooking is required!
Using a store-bought angel food cake makes preparation of this luscious Angel Sherbet Cake simple. It's low in calories and fat and is as pretty as it is delicious.
Wheat Berry Tuna Salad is a tasty way to enjoy wheat berries. Wheat berries provide the nutritional benefits of the whole grain and are an excellent source of dietary fiber.
Round out the brunch with favorite salads, side dishes and some fresh fruit. Follow that with lots of love, hugs and kisses!
Please visit the Wheat Foods Council's Web site at www.wheatfoods.org to order this cookbook or to find additional recipes.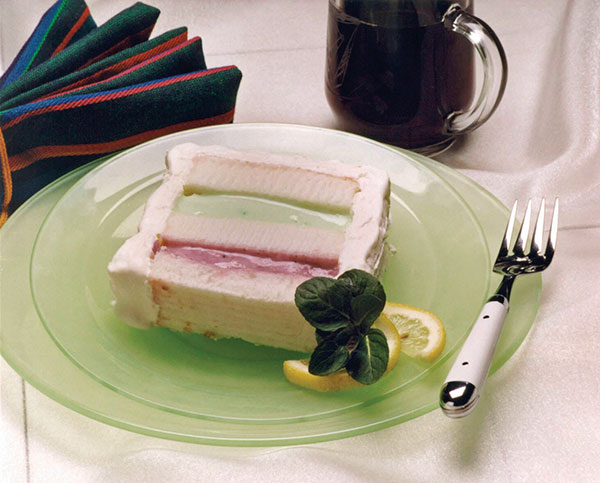 Angel Sherbet Cake
Prep time: 30 minutes
Freeze time: at least 1 hour or until hard
Yields: 10 servings
1 pint raspberry sherbet
1 pint lime sherbet
1 Angel Food Cake loaf (store bought, approximately 7 x 3 inches)
Topping:
2 cups heavy whipping cream or 12-ounce container frozen whipped topping, thawed
3 teaspoons sugar
1 teaspoon lemon juice
Line two bread pans, approximately the same size as the angel food cake, with plastic wrap. Soften sherbet. Scoop lime sherbet into one pan and raspberry sherbet in the other. Spread sherbet with a metal spatula dipped in hot water. Sherbet should be approximately 1/2 inch deep. Refreeze sherbet in pans for at least 1 hour or until hard.
Trim edges of angel food cake with a serrated knife to even them; cut cake into three lengthwise slices.
Remove frozen lime and raspberry sherbet from freezer. Alternate layers, cake, sherbet, cake, sherbet and cake. Cut off any oversized sherbet or cake to ensure that cake and sherbet are even on all sides of the cake. Refreeze until solid; can be frozen up to 3 days if wrapped well in plastic wrap.
Before serving, prepare cake topping by whipping the cream until very thick. Add sugar and lemon juice and whip mixture until soft peaks form. Spread whipped cream on cake. Refreeze cake until ready to serve.
Remove cake from freezer and let soften 5 to 10 minutes. Slice with an electric knife. If desired, place cake slices on pools of strawberry or raspberry sauce and top with a lemon twist and mint leaves.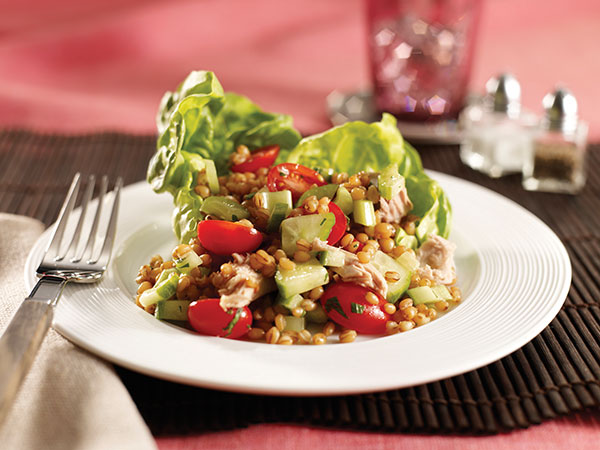 Wheat Berry Tuna Salad
Prep time: 15 minutes
Cook time: 60 to 90 minutes
Yields: 4 to 6 servings
Serving size: 1 1/2 cups
1 cup wheat berries
4 cups water
1/2 teaspoon salt
1 cup cherry tomatoes, diced
1/2 cup celery, diced
1/2 cup cucumber, diced
2 cans Albacore tuna packed in water, drained
2 eggs, hard boiled, chopped (optional)
2 tablespoons flat leaf parsley, coarsely chopped
1/2 cup Italian dressing
1/8 teaspoon salt
1/8 teaspoon fresh ground pepper
Place wheat berries, water and salt in a sauce pan and simmer for 60 to 90 minutes until tender when you bite down on them.
Drain well and allow to cool.
In a large bowl, toss together with the remaining ingredients. Serve chilled.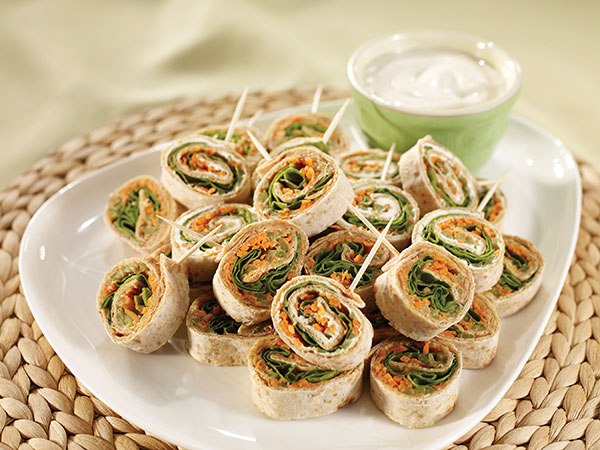 Burrito Bites
Prep time: 10 minutes
Chill time: 30 minutes
Yields: 4 servings
Serving size: 1 tortilla roll-up
4 (9-inch) whole wheat tortillas
6 tablespoons smooth peanut butter or reduced-fat cream cheese
1 cup fresh spinach or torn romaine leaves
1 large stalk celery, cut into thin 3- to 4-inch sticks (12 sticks total)
1/2 cup carrots, shredded or matchstick
1/2 cup fat-free plain yogurt or low-fat ranch dressing (optional)
Spread 1 1/2 tablespoons peanut butter or reduced-fat cream cheese on each tortilla, leaving 1 inch of clean space at the top edge of each tortilla. Layer spinach leaves on top of peanut butter. Place three celery sticks across the middle on top of the spinach; sprinkle with shredded carrot.
Keeping the clean edge at the top, roll tortillas up tightly from the bottom, folding in the sides after the first roll. Wrap each burrito tightly in plastic wrap and refrigerate for at least 30 minutes. Remove plastic wrap. Cut each roll into 1/2-inch slices, inserting a toothpick into the burrito before each cut is made.
Serve with yogurt or ranch dressing.
Spiced Granola Pancakes
Prep time: 10 minutes
Cook time: 15 minutes
Yields: 12 servings
Serving size: 1 pancake
1 cup fat-free milk
1/2 cup applesauce
1 tablespoon fat-free vanilla yogurt
2 eggs
2 teaspoons grated orange peel
1 cup all-purpose flour
1 cup low-fat granola
1/2 cup whole wheat flour
2 tablespoons sugar
1 teaspoon baking powder
1/2 teaspoon baking soda
1 teaspoon ground ginger
1 teaspoon ground cinnamon
1 teaspoon salt
In large bowl, combine milk, applesauce, yogurt, eggs and orange peel. In medium bowl, combine remaining ingredients. Stir the dry ingredients into the wet ingredients and mix just until dry ingredients are moistened. Do not over mix.
Heat nonstick griddle to 350°F. For each pancake, pour 1/4 cup of pancake batter onto hot griddle. Cook each side until puffed and dry around edges. Turn and cook 1 to 2 minutes longer or just until golden brown.