A Sweet School Day Treat
A long day of learning and activities calls for a well-deserved snack, and cookies are just the solution for many families.
Soft, chewy oatmeal cookies sandwiched together with a fluffy vanilla bean buttercream create the perfect treat with these Homemade Oatmeal Creme Cookies. Because they take just an hour to create using flavor-boosting ingredients like Domino sugars, you're left with plenty of time for helping with homework or simply enjoying moments together with loved ones.
Find more dessert inspiration at DominoSugar.com.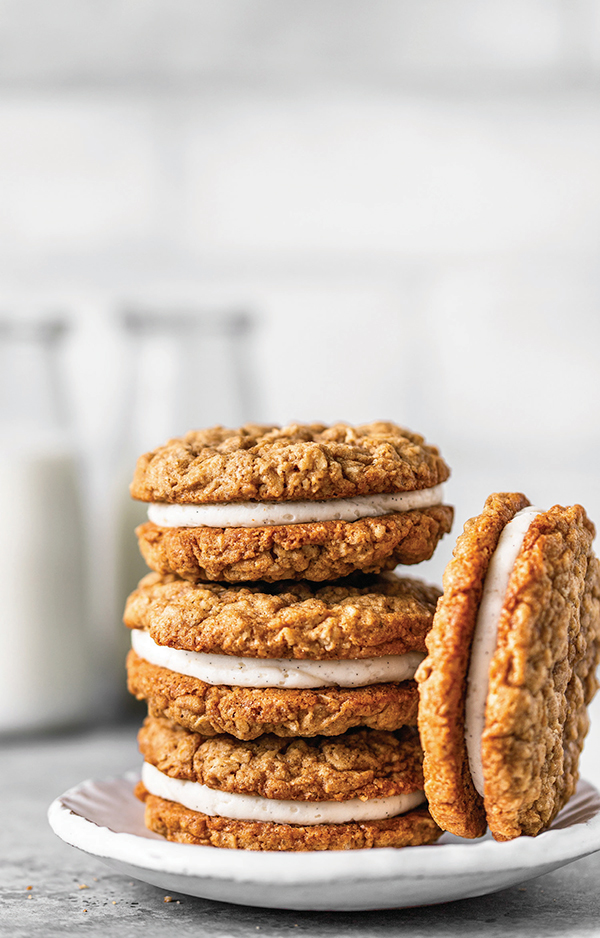 Homemade Oatmeal Creme Cookies
Recipe courtesy of Michael Johnson on behalf of Domino Sugar
Prep time: 45 minutes
Cook time: 15 minutes
Servings: 10-12
Oatmeal Cookies:
1 cup unsalted butter, room temperature
1 cup Domino Dark Brown Sugar
1/2 cup Domino Golden Sugar
2 large eggs
2 teaspoons vanilla extract
1 1/2 cups all-purpose flour
1 teaspoon baking soda
1/2 teaspoon coarse sea salt
3/4 teaspoon ground cinnamon
1/4 teaspoon ground cloves
3 cups rolled old-fashioned oats
Vanilla Bean Creme Filling:
3/4 cup unsalted butter, room temperature
2 1/2 cups Domino Confectioners' Sugar
1 teaspoon vanilla bean paste or vanilla extract
1 tablespoon heavy cream
To make Oatmeal Cookies: Preheat oven to 350 F. Line baking sheet with parchment paper and set aside.
In bowl of stand mixer fitted with paddle attachment or in large bowl with electric mixer, cream butter, brown sugar and golden sugar on medium-high speed until light and creamy, about 2 minutes. Add eggs and vanilla; mix until combined, scraping down sides of bowl as needed. Set aside.
In medium bowl, whisk flour, baking soda, salt, cinnamon, cloves and oats. With mixer on low, slowly add oat mixture to wet ingredients, mixing until just combined.
Using large cookie scoop, scoop dough onto prepared baking sheet, leaving about 2 1/2 inches between each cookie. Bake 12-14 minutes, or until lightly golden brown around edges. Allow cookies to sit on pan about 3 minutes before removing to wire rack to cool completely.
To make Vanilla Bean Creme Filling: In bowl of stand mixer fitted with paddle attachment or in large bowl with electric mixer, beat butter on medium-high speed until light and fluffy, about 5 minutes.
Turn speed to low and gradually add confectioners' sugar, mixing until completely incorporated. Add vanilla bean paste and heavy cream; mix until combined.
Turn mixer to medium-high speed and beat 3-5 minutes until buttercream is fluffy. If necessary, add cream 1 teaspoon at a time until desired consistency.
To fill and assemble, pipe or spread about 1 1/2 tablespoons Vanilla Bean Creme Filling on bottom halves of Oatmeal Cookies; top with remaining halves.
Source: Domino Sugar
Ingredients
5 tablespoons Organic Valley Cultured Unsalted Butter, divided
1/2 cup homemade bread crumbs
1/4 cup Organic Valley Shredded Parmesan Cheese
1 pound organic dry pasta in elbow or other small tubular shape
4 tablespoons organic flour
4 cups Organic Valley Whole Milk
1 teaspoon dry mustard
6 cups (24 ounces) grated Organic Valley Sharp and/or Mild Cheddar Cheese
Salt and pepper to taste
Preparation
Preheat oven to 400° F. Melt 1 tablespoon butter and combine with breadcrumbs and Parmesan cheese in a small bowl. Set aside.
Cook pasta per package directions, drain, and return to pot.
In large heavy saucepan, melt remaining butter over low to medium heat. Add flour and whisk until golden. Add milk; continue whisking and cooking until sauce thickens slightly. Add dry mustard and grated cheese, whisking until cheese melts into sauce. Taste and add salt and pepper as desired.
Pour sauce over pasta and stir to combine well. Transfer macaroni to a 4-quart baking dish. Sprinkle with breadcrumb mixture.
Bake 25 to 30 minutes until lightly golden and bubbling.
Serves
6 to 8
Source Organic Valley