(Family Features) The trend of farm-to-table foods is becoming increasingly popular, leading many to ask: Where is my food really coming from? With so many available options in the grocery store, it is important to serve your family nutritious, high-quality foods to ensure healthy eating habits.
Milk is one of the original local, farm-to-table foods. It's a product from farm families who care about their cows. In fact, 97 percent of dairy farms are still family owned and operated - passed down from generation to generation.
For dairy farmers, "farm to table" is more than just a buzzword - it's a part of their livelihood. They value the trust consumers have in them to produce a high-quality product that is farm fresh and locally sourced. In fact, most milk is produced from cows within 300 miles of where it's sold.
Not only is milk farm fresh, it's naturally nutrient-rich. The ingredient list is short: milk and vitamins A and D. These simple ingredients, plus minimal processing for safety, make milk and milk products a wholesome part of a nutritious, balanced diet. Add milk at mealtime to ensure your family is getting high-quality protein and other essential nutrients, including 8 grams of protein per every 8-ounce serving.
For a trendy twist on the original farm-to-table food, and a tasty way to start your morning right, try this Lavender Honey Flavored Milk recipe. It's a delicious way to serve wholesome and natural flavors with milk. For more recipe ideas and milk facts, visit milklife.com.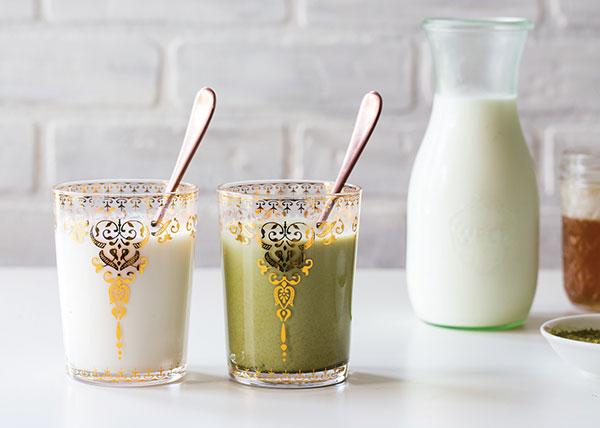 Lavender Honey Flavored Milk
Recipe courtesy of Emily Caruso of Jelly Toast
Servings: 1
Lavender Honey Milk:
8 ounces fat free milk
1 ounce Lavender Honey Syrup (Recipe below)
Lavender Honey Syrup:
1/2 cup honey
1/2 cup water
2 tablespoons culinary lavender blossoms, dried
To make syrup: In small sauce pan, combine honey, water and lavender. Set saucepan over medium-low heat and stir constantly until mixture is hot, but not boiling, and honey is melted.
Remove from heat and allow syrup to cool completely. Strain syrup through fine mesh sieve and discard lavender. Refrigerate syrup in lidded jar until ready to use. Note: Makes about 6 ounces of syrup.
Pour 8 ounces milk into glass. Stir in 1 ounce Lavender Honey Syrup until well combined.
Variation: Stir in 1 teaspoon matcha green tea powder into Lavender Honey Milk for added flavor and color.
Nutritional information per serving: 170 calories; 5 mg cholesterol; 8 g protein; 35 g carbohydrates; 105 mg sodium; 302 mg calcium (30% of daily value).
Source: MilkPEP