(Family Features) As summer grilling season sets in, Americans grab their tongs to take advantage of backyard barbecue opportunities.
In addition to classic cookout fare like ribs, steak, chicken, burgers and hot dogs, the experts at Dole recommend giving fruits and vegetables a shot on the grill to bring out new tastes and ways to enjoy everyday favorites. For example, many barbecue enthusiasts know about grilling corn, asparagus, Brussels sprouts, onions, zucchini and artichokes, but consider trying cauliflower, portobello mushrooms, yellow-black plantains and even pineapple on the grill this summer.
In fact, this recipe for Smoked Hasselback Pineapple with Spiced Turkey Chorizo and Onion provides an easy way to make grilled fruit a fun addition to your backyard barbecue.
For other flavorful ideas, try grilled Romaine lettuce for a delightfully smoky salad or side dish, or skewer peeled and sliced bananas, chicken, shrimp and veggies for a tropical kebab. You can even throw an unpeeled banana on the grill for a uniquely caramelized dessert.
Visit dole.com for more summer grilling recipes featuring fresh fruits and vegetables.
Watch video to see how to make this recipe!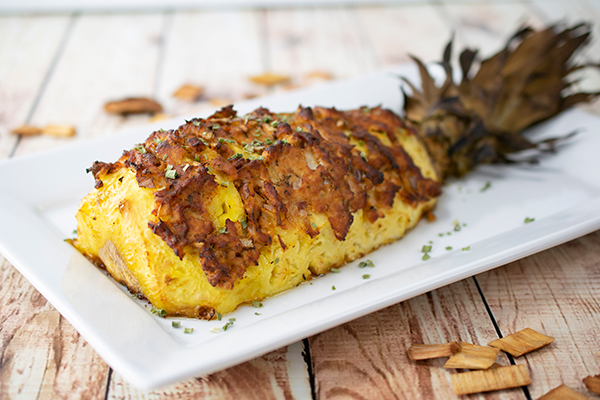 Smoked Hasselback Pineapple with Spiced Turkey Chorizo and Onion
Total time: 2 hours
Servings: 4
4 cups favorite wood chips
water
1 pound 93% lean ground turkey breast
1 small DOLE® Red Onion, diced
2 tablespoons olive oil
2 teaspoons fresh thyme leaves
2 teaspoons smoked paprika
1 teaspoon ancho chile powder
1 teaspoon ground cumin
1/2 teaspoon kosher salt
1 large Dole Pineapple, top on, peeled and halved lengthwise
chopped fresh cilantro, for garnish (optional)
In large bowl, cover wood chips with water; soak as label directs. Prepare outdoor grill for indirect grilling over medium heat.
In medium bowl, stir turkey, onion, oil, thyme, paprika, chile powder, cumin and salt.
Drain wood chips; place 2 cups in foil boat or pie tin and place on hot grill rack over lit side of grill (place chips directly on coals for charcoal grill). Place pineapple halves, flat side down, on cutting board; cut crosswise slices into pineapple halves, about 1/2 inch apart, cutting only 3/4 of the way through. Place medium bowl upside down; one at a time, place pineapple halves, flat side down, over bowl to separate slits. Fill slits with turkey mixture.
Place pineapple halves, flat side down, on hot grill rack over unlit side of grill; cover and cook 1 hour, 45 minutes, or until turkey mixture is golden brown and internal temperature reaches 170 F, rotating once and adding remaining chips halfway through cooking.
Transfer pineapple halves to cutting board; cut crosswise in half. Serve pineapple garnished with cilantro, if desired.
6 flavor pairings to amp up summer grilling
(Family Features) The grill is often the star of summer gatherings, from weeknight meals to backyard barbecues and family reunions. Impress your guests and add an extra layer of smoky flavor to backyard favorites with the help of rich and aromatic woodchips. Add to your gas or charcoal grill and create big flavor.
Adding woodchips to your favorite recipes can help highlight distinct flavors for your mains and sides in one simple step. For rich dishes like steak and beef, pair with an intense hickory flavored woodchip. For lighter meats like pork and chicken, pair with subtle, fruit flavored chips like cherry and apple. When it comes to seafood, try pairing with a mild, nutty chip like pecan.
Take these classic McCormick recipes, with simple prep and bold marinades, and add a smoky twist with flavor-forward woodchips.
For more summer grilling recipes, visit McCormick.com, and find McCormick on Facebook and Pinterest.

For a tangy twist, try grilling over apple woodchips to get a mix of sweet and spicy flavors from the honey mustard and a brown sugar bourbon marinade.
Add cherry woodchips to put a smoky, sweet note on top on your crispy chicken wings. Coat in a sweet and spicy teriyaki marinade for a perfect backyard barbecue appetizer straight off the grill.
Prepare your fire with intense, hickory woodchips to complement the Memphis style, zesty rub, and let the flavors build slowly over indirect heat.
Grill your steak over mesquite woodchips to layer on a smoky finish. Marinate with a hot, smoky chipotle pepper marinade and top it with a layer of sweet and smoky rub to give the meat a bold, tasty crust.
Add oak woodchips to lend a subtle, savory and smoky flavor. A rub of dry seasoning, lemon peel and dill weed can enhance the natural flavor of salmon on the grill.
Try pecan woodchips for a unique flavor boost to your platter of grilled shrimp and vegetable skewers, which are ideal for entertaining. They're easy to assemble and look just as appealing.
Source: McCormick