(Family Features) Turn up the heat this summer and spice your way to delicious warm-weather recipes by using subtle ingredients that bring out bold flavors in your favorite foods. Adding a taste-enhancing option to your repertoire – Tajín Fruity Chamoy Sauce – can make your summer get-togethers the talk of the neighborhood.
Cool off while enjoying mildly spicy dishes. Made with 100% natural chiles, lime juice, sea salt and a hint of apricot, Tajín Fruity Chamoy Sauce offers a unique sweet-and-spicy flavor without too much heat. Perfect for drizzling over fresh fruits and veggies like mango, pineapple, watermelon and more, it's also commonly used to bring fruity, subtle spice to a wide variety of recipes including beverages and snacks, like smoothies, mangonadas, ice pops and cold drinks.
For example, in this Savory Mango Chamoy Daiquiri, the apricots create a fruity, tangy flavor that's a nice, refreshing twist on a traditional drink.
Bringing a touch of heat to summer cookouts can be a breeze with mild hot sauces added to dishes like these Spiced Pork Ribs, which can be created start-to-finish in the oven or taken outside to sear on the grill. Just a handful of ingredients are required to season the ribs to spicy perfection before wrapping them in foil and letting your oven do the work.
The key ingredient for the right touch of subtle heat without being overwhelming is Tajín Mild Hot Sauce, a unique, flavorful addition to your cabinet that pairs well with savory snacks like tortilla chips, chicken wings, pizza and even micheladas. The lime is what makes it different from other hot sauces.
Made with 100% natural mild chiles, lime juice and sea salt without added sugars or coloring, it can be enjoyed by the whole family as a versatile way to enhance favorite foods with a mild but wild flavor.
Both recipes can be easily enhanced with a simple concept: just pair Tajín Clásico seasoning with either or both of the sauces to create unique flavor combinations, a tasty "mix it" tactic to add to your warm-weather menu and make it uniquely yours.
Find more recipes that crank up the heat this summer by visiting Tajín.com/us.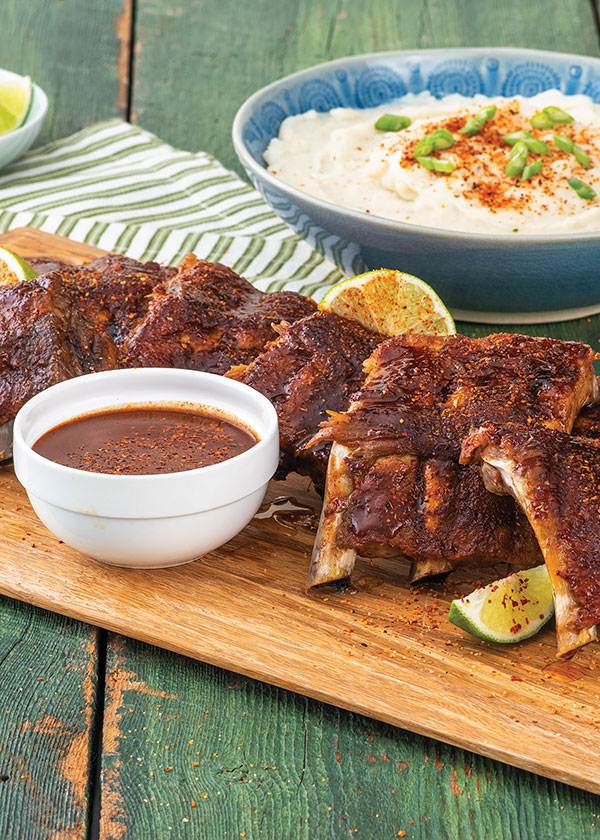 Spiced Pork Ribs
Total time: 3 hours, 10 minutes
Servings: 6
2 racks (about 4 pounds) baby back ribs
1/4 cup Tajín Clásíco Seasoning
1/4 cup Tajín Mild Hot Sauce, plus additional for serving, divided
2 tablespoons olive oil
2 tablespoons brown sugar
lime wedges, for serving
mashed potatoes or steamed rice, for serving (optional)
Rub ribs with seasoning. Marinate at least 4 hours or overnight in refrigerator.
Preheat oven to 300 F. Combine hot sauce, oil and brown sugar; brush over both rib racks.
Line baking sheet with double layer of aluminum foil with enough overhang to wrap foil around ribs.
Lay ribs, bone side down, on foil-lined baking sheet. Wrap foil around ribs and seal. Place on baking sheet.
Fill large baking dish or roasting pan with 2 inches of boiling water. Place on lower oven rack to keep ribs moist as they bake. Place ribs on middle oven rack.
Bake 2 1/2-3 hours, or until meat is tender and just starting to fall off bone.
Preheat broiler. Unwrap ribs and place on foil-lined baking sheet. Broil 4-6 minutes on middle oven rack, or until lightly charred and caramelized.
Serve with lime wedges and additional hot sauce.
Serve with mashed potatoes or steamed white rice, if desired.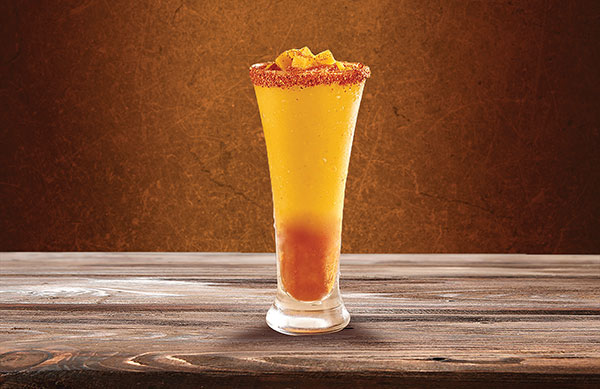 Savory Mango Chamoy Daquiri
Total time: 15 minutes
Servings: 2
Rim Glass:
2 tablespoons Tajín Fruity Chamoy Hot Sauce
2 tablespoons Tajín Clásico Seasoning
Drink:
4 tablespoons Tajín Fruity Chamoy Hot Sauce, divided
1 cup frozen mango cubes, plus additional for garnish, divided
1/3 cup natural syrup
3 ice cubes
1/3 cup orange juice
1 tablespoon Tajín Clásico Seasoning, for garnish
To rim glass: Rim glass in chamoy hot sauce then seasoning.
To make drink: Blend 3 tablespoons chamoy hot sauce, mango cubes, syrup, ice cubes and orange juice.
In glass, pour remaining chamoy hot sauce.
To serve, garnish with additional mango cubes and sprinkle with seasoning.
Source: Tajín