(Family Features) Whether it's pumpkin spice everything, sweater weather or the anticipation of the holidays, there are many reasons to be excited about this time of year. Autumn is the perfect time to extend the warm-weather fun and celebrate with some fall-focused outdoor entertaining.
Just as the weather is changing, so can your approach to cooler weather celebrations. Try these tips to help you make the most of your fall festivities:
There's no need to say farewell to the outdoors just yet. Make the focal point of your party a cozy outdoor setting, such as a patio with heaters or a fire pit. Add some warm blankets and comfy pillows, and you'll hardly notice the lower temps.
Remember days get shorter as they grow colder, so a fall get-together may require special lighting to keep things going after the sun goes down. Fall-inspired string lights, lanterns or candles can add the perfect ambiance for a party that lasts well into the late-night hours. You can find great, affordable options online.
While it may seem like time to swap the tiki drinks and frozen cocktails for hot toddies and spiked ciders, fall doesn't mean you must say goodbye to warm-weather favorites. Put an autumn twist on go-to drinks by adding in fall spices. This easy mulled sangria recipe is perfect for sharing with friends at outdoor celebrations.
Find more ideas for fall entertaining at WineFix.com.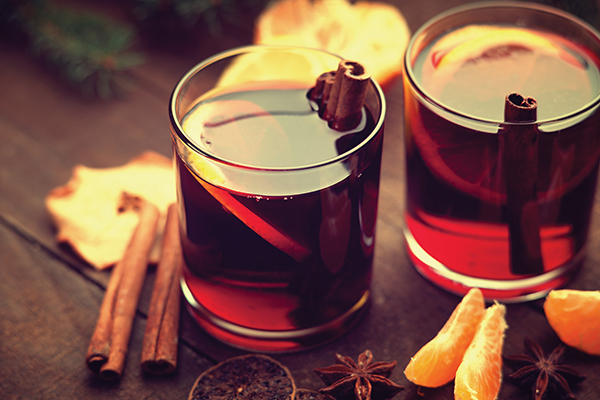 Cinnamon Mulled Sangria
Recipe courtesy of the World Wine Guys, authors of "Red Wine"
1 bottle Eppa Sangria
1 cup apple cider
1/2 cup Licor 43 liqueur
2 cinnamon sticks
1/2 cup packed light brown sugar
3 whole cloves
1 strip orange peel
2 green apples, sliced
In large saucepan, mix sangria, apple cider, liqueur, cinnamon sticks, brown sugar, cloves and orange peel. Bring to simmer over medium heat and cook, stirring, 5 minutes, or until sugar dissolves. Stir in apples and simmer additional 5 minutes. Serve warm with desired garnishes.
Photo courtesy of Getty Images
Source: Deutsch Family Wine and Spirits