Use on-hand ingredients for a quick-fix meal
(Family Features) Between juggling the ever-shifting to-do list and busy weeknights, there's not always time left in the day to comb through cookbooks to find the perfect recipe. Even with a potential meal plan in mind, life can get in the way, and running to the grocery store might not be a top priority.
For a quick meal without a lot of hassle, an option such as Eckrich Smoked Sausage can be paired with whatever you have in the refrigerator or pantry for a fast, foolproof meal the whole family can enjoy. Since it is pre-cooked, all you have to do is heat and eat, taking the guesswork out of cook time while offering a rich and savory protein option for a balanced and delicious meal.
With flavors and forms ranging from the Original Skinless Smoked Sausage Rope to spicy Jalapeno & Cheddar Smoked Sausage Links, a home-cooked breakfast, lunch or dinner is just moments away – no instructions or plans needed. You can be a rebel without a cookbook and deliver diverse and delightful meals for your loved ones, such as this Veggie Smoked Sausage Stir-Fry.
For more mealtime inspiration, visit Eckrich.com.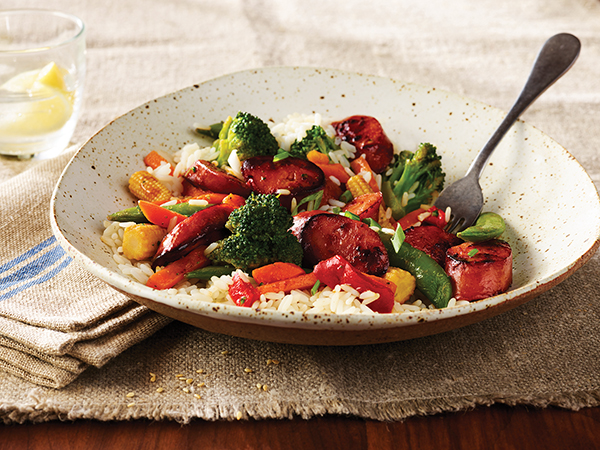 Veggie Smoked Sausage Stir-Fry
Cook time: 20 minutes
Servings: 4
1 package Eckrich smoked sausage, sliced into 1/2-inch pieces
4 servings premade white or brown rice
1 tablespoon peanut oil
1 bag (16 ounces) frozen stir-fry vegetable mix
1 package stir-fry dry seasoning mix
2 tablespoons honey
1 teaspoon vinegar
2 tablespoons sesame oil
toasted sesame seeds (optional)
sliced green onions (optional)
In pan over medium-high heat, brown sausage; set aside.
Heat white or brown rice according to package instructions.
In same pan over medium-high heat, heat peanut oil and stir-fry vegetable mix. Add stir-fry dry seasoning mix, honey, vinegar and sesame oil.
Divide rice, sausage and stir-fry mixture among four bowls.
Sprinkle each with toasted sesame seeds and sliced green onions, if desired.
Source: Eckrich