(Family Features) Make it all about dad and celebrate Father's Day with a table full of food to enjoy with family. Serving up something mouthwatering and delicious will have him coming back for another plate.
Try this Cheesy Pepperoni Dip to start dinner off with an appetizing kick. With creamy cheese, peppers and savory pepperoni, it's a perfect way to hold everyone over before a stellar meal.
With a funny card, a bear hug and an appetizer like this, you can be on your way to a loving Father's Day celebration.
Find more appetizer recipes at Culinary.net.
Watch video to see how to make this recipe!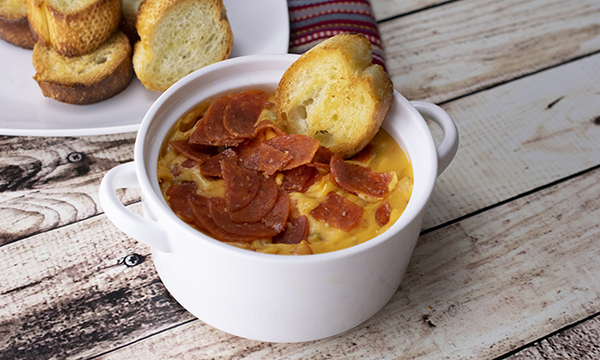 Cheesy Pepperoni Dip
Recipe adapted from thepioneerwoman.com
Servings: 6-8
1 tablespoon vegetable oil
1 white onion, diced
1 can green chiles, diced
3/4 can diced tomatoes with green chiles
1 block (16 ounces) cheese, cubed
8 ounces cheddar cheese, shredded
4 ounces mozzarella cheese, finely shredded
1 jalapeno, diced
3/4 cup pepperoni, chopped
1 baguette
butter
Heat oven to 375 F.
In skillet over medium heat, heat oil. Add onion and cook, stirring until softened, about 5 minutes. Add chiles and tomatoes; simmer.
Reduce heat and stir in cubed cheese until smooth. Turn off heat; stir in cheddar and mozzarella until melted. Stir in jalapeno and half the pepperoni.
Garnish with remaining pepperoni.
Slice baguette into 1/2-inch slices. Place on baking sheet. Add butter to tops of slices. Toast in oven until tops are golden brown. Serve with dip.