(Family Features) This cake delivers a mild sweetness and crunchy topping that can delight nearly any guest. Serve it warm with a side of ice cream or a light dusting of powdered sugar.
Find more dessert recipes at culinary.net.
Watch video to see how to make this delicious recipe!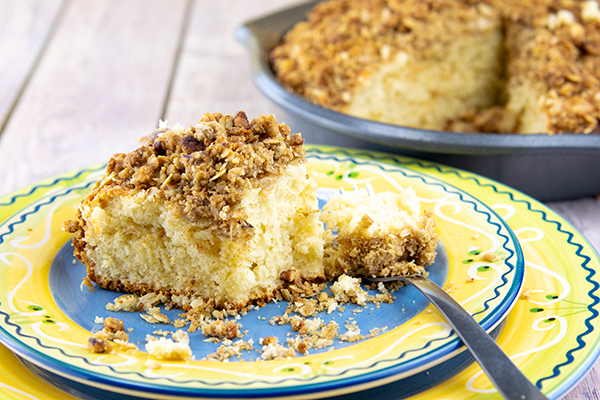 Cinnamon-Pecan Streusel Coffee Cake
Nonstick cooking spray
Topping:
3/4 cup old fashioned rolled oats
1/3 cup flour
1/3 cup light brown sugar, firmly packed
1/4 cup pecans, chopped
1/2 teaspoon ground cinnamon
1/4 teaspoon salt
5 tablespoons butter, softened
Cake:
1-1/2 cups flour
3/4 teaspoon baking powder
1/2 teaspoon salt
1/4 teaspoon baking soda
8 ounces cream cheese
3 tablespoons butter, softened
1/2 cup sugar
1 whole egg
1 egg yolk
5 tablespoons milk
2 teaspoons vanilla extract
Heat oven 350°F.
Spray 9-inch round baking pan with nonstick cooking spray.
To make topping: In medium bowl, combine oats, flour, brown sugar, pecans, cinnamon and salt.
Using pastry blender, cut butter into mixture until blended.
To make cake: In small bowl, combine flour, baking powder, salt and baking soda.
In large bowl, mix cream cheese, butter and sugar. Beat mixture until smooth.
Add egg and egg yolk, milk and vanilla extract. Beat mixture until smooth.
Combine flour mixture with cream cheese mixture. Spread mixture in pan. Sprinkle topping over batter.
Bake 35-40 minutes. Serve warm with ice cream or dust with powdered sugar.
Recipe adapted from Wilton.
Source: Culinary.net