(Family Features) Creating a nutritious family dinner doesn't have to mean sacrificing favorite dishes. For a healthier take on a traditional ethnic meal, these Blended Tacos involve blending ground beef with mushrooms before adding your desired toppings. Find more recipes at Culinary.net.
Watch video to see how to make this recipe!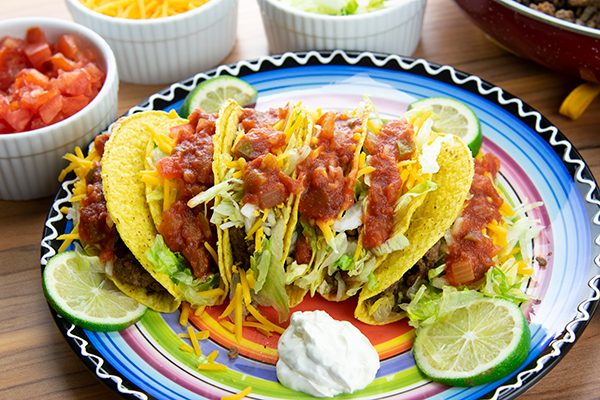 Blended Tacos
Recipe courtesy of the Mushroom Council
Yield: 12 tacos
1 teaspoon chili powder
1/4 teaspoon garlic powder
1/4 teaspoon onion powder
1 teaspoon ground cumin
1 teaspoon salt
1/2 cup water
1 teaspoon vegetable oil
1 pound button mushrooms, finely chopped
1 pound 80 percent lean ground beef
12 crunchy taco shells, warmed
2 cups grated cheddar cheese (optional)
1 large tomatoes, diced (optional)
1 head iceberg lettuce, shredded (optional)
In small bowl, mix chili powder, garlic powder, onion powder, cumin and salt. Stir in water and set aside.
In large skillet over medium-high heat, heat oil. Add chopped mushrooms and ground beef and cook thoroughly, about 7-10 minutes. Carefully drain excess grease, if necessary.
Add seasoning mixture to mushroom-meat mixture and stir to combine. Bring to simmer and cook 3-5 minutes.
To assemble, add about 1/4 cup mushroom-meat mixture to bottom of each taco shell. Layer shells with cheese, tomatoes and lettuce, if desired.
Source: Culinary.net