(Family Features) When meals at home get stale and boring, adding some excitement back to family dinners can be as simple as a protein swap. Despite fish being a no-go for picky eaters in some families, there's a flavorful solution for adding it to the menu in your home.
If you're hoping to introduce kids (or a picky spouse) to fish for an at-home shakeup, try wrapping it with a flavorful favorite. This Bacon-Wrapped Halibut recipe calls for lightly seasoned fillets wrapped with all-natural bacon served alongside your favorite grains and vegetables – an easy yet tasty way to put seafood on the table.
Sourced from American Humane Certified family farmers that raise animals 100% crate-free with no antibiotics or added hormones, the Coleman Natural bacon in this 20-minute dish contains no artificial ingredients or preservatives so you can feel good about feeding your family better. Plus, with no sugar, it's paleo-friendly and perfect for those looking to reduce sugar intake.
To find more family-friendly recipes, visit ColemanNatural.com/Recipes.
Watch video to see how to make this recipe!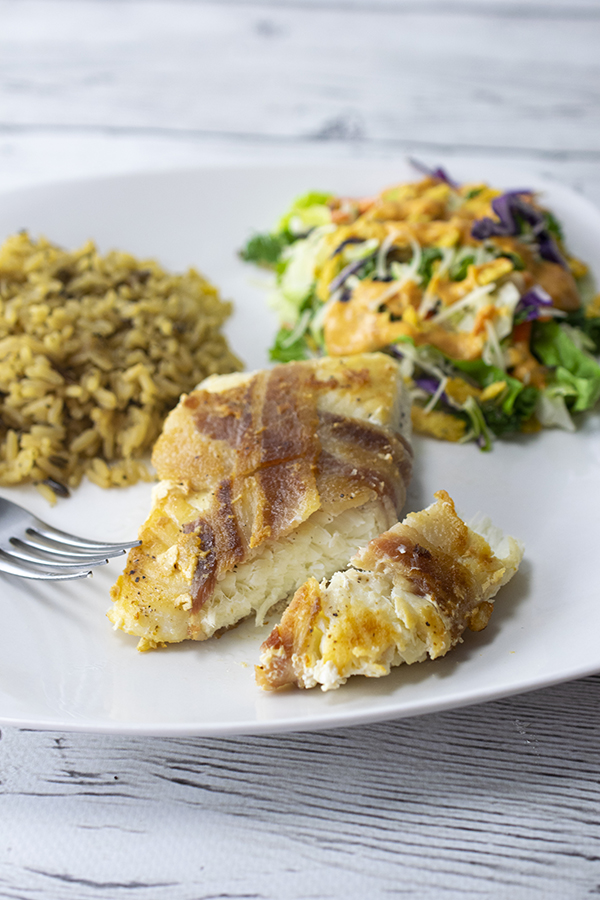 Bacon-Wrapped Halibut
Prep time: 10 minutes
Cook time: 10 minutes
Servings: 4
4 halibut fillets (6 ounces each), skin removed
salt, to taste
pepper, to taste
8 slices Coleman Natural Bacon
1 tablespoon canola oil
cooked rice or other grain (optional)
salad or other vegetable (optional)
Season halibut with salt and pepper, to taste, then wrap each fillet along shorter side with two bacon slices, tucking ends underneath to hold in place.
In large, nonstick skillet, heat oil over medium-high heat. Add fish and cook, turning once, until bacon is crisp, about 5 minutes on each side.
Serve fish with rice or salad.
Source: Coleman Natural Foods
Add fresh produce to your diet and community
(Family Features) Dedicating more of your plate to fresh-from-the-garden produce as well as rice and grains can lead to a healthier lifestyle, according to Cheryl Forberg, registered dietitian and award-winning chef and nutritionist for "The Biggest Loser."
"Most of my adult clients who are not veggie lovers usually had little exposure to them growing up, or they just weren't cooked properly," Forberg said. "It's important for parents to get their children involved in cooking, shopping and even gardening so kids can understand the journey from seed to plate."
Forberg furthers her personal dedication to the seed-to-plate journey through her involvement with Seeds of Change, which invests in healthier and greener communities by offering both organic seeds and foods, and delivers an annual grant program that benefits school and community gardening as well as farming programs. This year, the grant program will award $310,000 to participants who plan to help their communities and teach people about sustainability and where fresh food comes from.
To start living healthier and greener lives, Forberg offers four simple tips:
Start in the garden. This hands-on approach is a fun way to learn about nutrition and where food comes from. Following produce from seed to plate can compel you to eat more healthfully. Plant a garden at home or become involved in a local project nearby.
Opt for veggies with big impact. Richly colored veggies contain the richest supplies of nutrients. Opt for spinach or romaine instead of iceberg lettuce in your salads. Skip the celery or carrots and go for red bell pepper slices to deliver a healthy serving of antioxidants and vitamin C.
Make smart swaps. Replace the dense calories of pasta noodles with a flavorful cup of cooked spaghetti squash. The squash is a satisfying and tasty alternative with a mere 40 calories, 2 grams of fiber and loads of vitamins.
Pair with whole grains. Mashed potatoes may be a favorite dinner side, but there are more nutritious options to complement your garden produce, such as this grain bowl with wild salmon from Chef Seamus Mullen.
Learn more about starting a community garden and living a greener, healthier life at seedsofchangegrant.com.
Warm Grain Bowl with Wild Salmon, Almonds and Salsa Verde
Total time: 20-25 minutes
Servings: 8
8 wild salmon fillets (3 ounces each)
sea salt, to taste
fresh pepper, to taste
2 tablespoons extra-virgin olive oil, divided
1 cup asparagus, cut into 2-inch pieces
1/2 cup shitake mushroom caps, sliced
1 package Seeds of Change Quinoa, Brown & Red Rice with Flaxseeds
1/4 cup slivered almonds
Salsa Verde (optional):
1 bunch scallions
1 clove garlic
1/2 cup packed cilantro leaves
1/2 cup packed mint leaves
1/2 cup packed basil leaves
1/2 cup lemon juice
1/3 cup extra-virgin olive oil
Heat oven to 400° F.
In oven-proof pan, season salmon with salt and pepper, and drizzle each fillet with olive oil. Bake 12-15 minutes, until cooked through.
In blender or food processor, combine all Salsa Verde ingredients and pulse until fully incorporated but still rustic and chunky. Set aside.
In medium saute pan over medium-high heat, heat remaining olive oil. Add mushrooms and asparagus and saute vigorously 3-5 minutes. Add grains and slivered almonds, and continue to saute until heated through, about 5 minutes. Adjust seasoning with salt and pepper, to taste.
Divide grains among eight plates, place a piece of salmon on each plate then finish with dollop of Salsa Verde, if desired, and serve.
Substitution: Shitake mushroom caps may be substituted with button mushrooms or other wild mushrooms.
Photo courtesy of Getty Images
Source: Seeds of Change