(Family Features) While everyone knows that breakfast is the most important meal, eating the same dishes over and over again can turn the meal that fuels the rest of your day into a lackluster one at best. From pancakes and waffles to eggs on toast, even these tried-and-true classics can wear out their welcome on your kitchen table.
Mixing up your meals – and adding in breakfast favorites such as bacon – is the perfect way to make any dish better, no matter what time of day you choose to put breakfast on the table.
Full of flavor, Farmland Hickory Smoked Bacon is hand-trimmed, slow smoked and available in several varieties, so any meal from brunch to dinner can delight your taste buds.
Switch things up with a quick and easy breakfast pizza, or put a new twist on a traditional breakfast sandwich by replacing the standard biscuit or muffin that holds it all together with a doughnut – both recipes are sure to be a hit for breakfast, lunch, brunch or dinner.
For more ideas to put breakfast-inspired meals on the table all day long, bacon lovers can visit farmlandbaconclub.com to find original videos, contests, giveaways and extreme bacon recipes.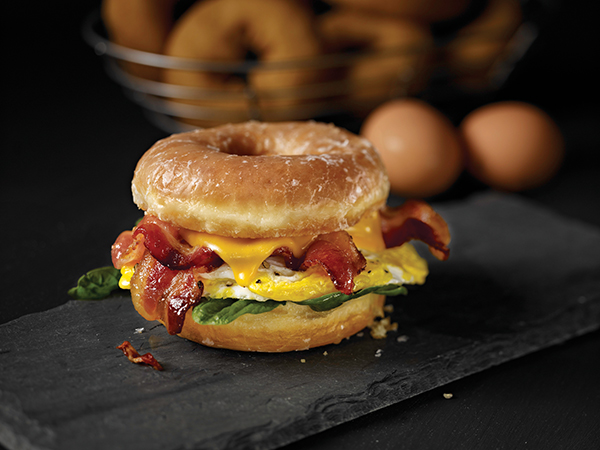 Bacon Doughnut Breakfast Sandwich
4 sandwiches
4 slices Farmland Hickory Smoked Thick Cut Bacon
1 teaspoon olive oil
4 cups baby spinach (optional)
1 tablespoon butter
4 eggs
4 glazed doughnuts
4 slices real cheddar cheese
Fry bacon for 10 minutes, until outside is crispy and brown.
In large, deep skillet over medium-high heat, heat olive oil and saute spinach until wilted. Set aside.
In another large skillet, melt butter over medium-high heat until melted. Carefully crack eggs into skillet and fry until yolk is done.
Assemble sandwiches as follows: doughnut bottom, spinach, egg, slice of cheese, bacon, doughnut top.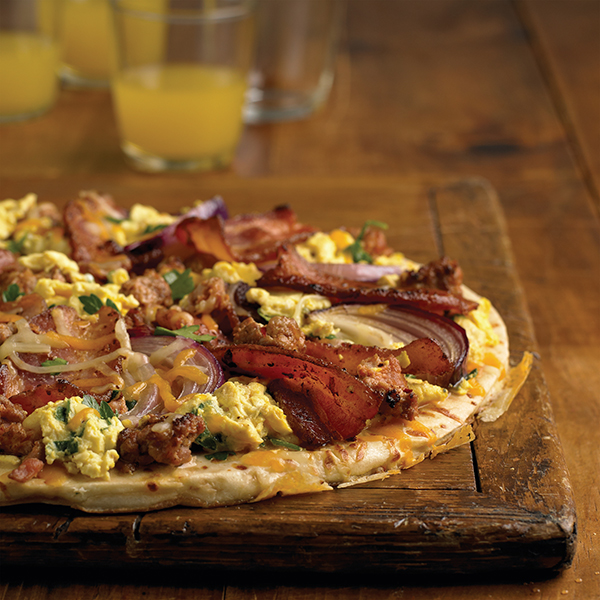 Bacon and Egg Breakfast Pizza
Makes 1 pizza
1 package (16 ounces) Farmland Hickory Smoked Bacon
1 can (10 ounces) refrigerated pizza crust dough
2 cups frozen hash brown potatoes with onions and peppers, partially thawed
1/4 cup chopped green bell pepper
4 eggs
1/4 cup milk
1/2 teaspoon salt
1/2 teaspoon pepper
1 cup (4 ounces) shredded cheddar cheese
Heat oven to 425° F.
Cook bacon according to package directions; drain.
Press crust into lightly greased 14-inch pizza pan, forming 1/2-inch rim. Bake 5 minutes.
Arrange potatoes, bacon and green pepper over crust. Whisk together eggs, milk, salt and pepper; pour over pizza.
Sprinkle with cheese. Bake for 11-13 minutes or until golden brown and eggs are set.
Source: Farmland Foods
(Family Features) From office potlucks and cocktail parties to family dinners and beyond, the mealtime celebrations during the holidays are endless. Whether you're serving as a host or bringing your signature dish to a get-together, these tips can help you own the holiday season without breaking a sweat:
Stick with fewer, easy-to-find, high-quality ingredients.
Look for products that help you cut down on time but don't skimp on flavor, like Smithfield Marinated Fresh Pork, which is pre-seasoned and comes in a variety of cuts and flavors.
Sprinkle and decorate finished dishes with fresh, seasonal herbs for a festive touch.
To help get you inspired in the kitchen, try this recipe for Fresh Pork and Kalamata Flatbreads for a savory appetizer made with less than 10 ingredients, or Fresh Pork with Sweet Balsamic-Red Wine Reduction for a decadent main course you can have ready in just 30 minutes.
For more quick and easy holiday recipe ideas, visit SmithfieldRealFlavorRealFast.com.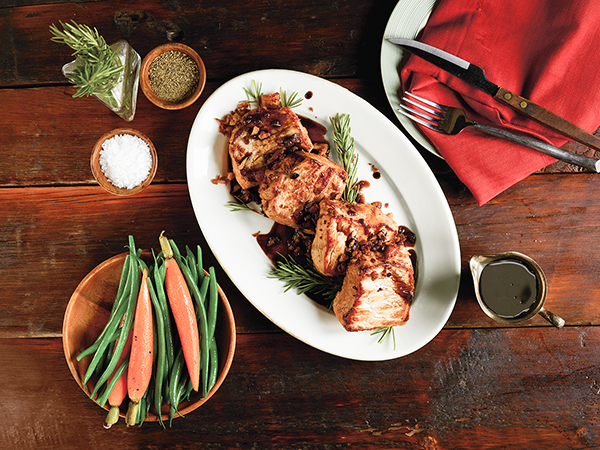 Fresh Pork with Sweet Balsamic-Red Wine Reduction
Prep time: 5 minutes
Cook time: 25 minutes
Servings: 4
1 Smithfield Applewood Smoked Bacon Marinated Fresh Pork Loin Filet
1 tablespoon olive oil, divided
1/3 cup dry red wine
3 tablespoons balsamic vinegar
2 tablespoons sugar
1 teaspoon chopped fresh rosemary
Cut pork loin filet into 3/4-to-1-inch thick chops.
In large, nonstick skillet over medium heat, heat 1/2 tablespoon olive oil.
Cook half the pork chops 4-5 minutes on each side until internal temperature reaches 150° F. Remove pork chops from skillet and place on rimmed serving platter; cover to keep warm. Repeat with remaining olive oil and pork chops.
In same skillet, combine wine, vinegar and sugar. Bring to boil over medium-high heat; cook 3-5 minutes until slightly thickened, or until liquid is reduced to 1/4 cup.
Serve pork chops drizzled with wine reduction and sprinkled with rosemary.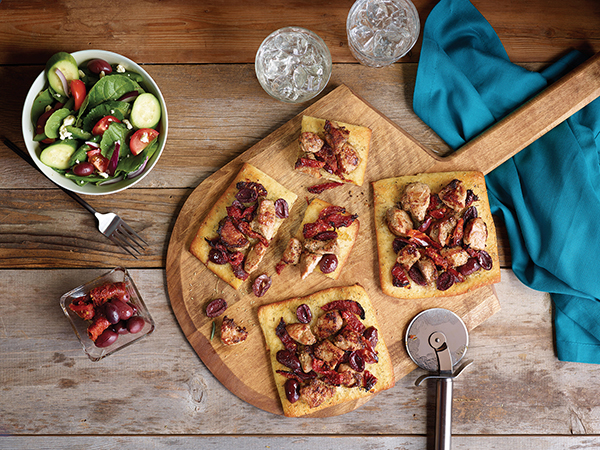 Fresh Pork and Kalamata Flatbreads
Prep time: 5 minutes
Cook time: 35 minutes
Servings: 6
1 Smithfield Roasted Garlic & Cracked Black Pepper Marinated Fresh Pork Tenderloin
1 tablespoon extra-virgin olive oil
1 can (13.8 ounces) refrigerated pizza crust dough
3/4 cup sliced sun-dried tomatoes in olive oil
1/2 cup sliced Kalamata olives, drained
1 teaspoon crushed dried rosemary
Cut pork tenderloin into 3/4-inch cubes.
Heat oven to 400° F. In large skillet over medium-high heat, heat olive oil. Stir-fry pork 8-10 minutes, or until well browned.
Unroll pizza dough and press onto greased sheet pan, about 18-by-13 inches; cut into six rectangles.
Drain tomatoes, reserving oil. Brush tops of flatbreads with sun-dried tomato oil, reserving about 1 tablespoon. Top with pork, drained tomatoes, olives and rosemary, pressing into dough lightly with fingertips.
Bake 18-21 minutes until edges are golden brown.
Remove from oven. Drizzle remaining sun-dried tomato olive oil evenly over flatbreads; let stand on baking sheet 2 minutes before serving.
Source: Smithfield