(Family Features) Plant-forward eating should be easy and delicious – and it can be. Rather than follow strict rules, simply add plant foods like fruits, vegetables, nuts, beans and grains to more meals throughout the day.
Walnuts, for example, are a kitchen multi-tasker with uses well beyond baked goods. In fact, walnuts can be used as a simple, whole-food meat alternative. One ounce of walnuts contains important nutrients including 4 grams of protein, 2 grams of fiber, 2.5 grams of monounsaturated fat, 13 grams of polyunsaturated fat and 2.5 grams of essential omega-3 alpha-linolenic acid.
Try walnuts as an alternative to meat in recipes like Walnut Meatless Meatballs or Pizza with Plant-Based Walnut Crumble, and find more plant-forward recipes at walnuts.org/plantrecipes.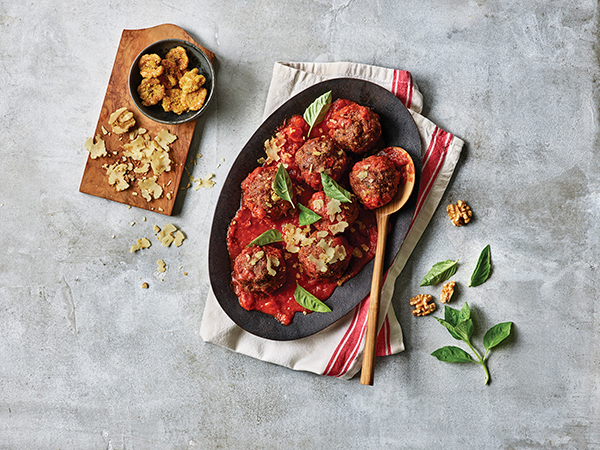 Walnut Meatless Meatballs
Total time: 42 minutes
Servings: 4
1 tablespoon olive oil
1/4 cup minced onion
1 teaspoon minced garlic
1 tablespoon tomato paste
1/2 cup California Walnuts, chopped
1/4 cup cooked brown rice
1/4 cup chopped roasted red peppers
1/4 cup panko breadcrumbs
1/4 cup Parmesan cheese
1 tablespoon Italian seasoning
2 tablespoons chopped Italian parsley
1 egg, beaten
Preheat oven to 375 F and line baking sheet with parchment paper.
In small skillet over medium heat, heat oil. Add onion and garlic; saute 1 minute. Add tomato paste and cook 1 minute. Transfer to food processor with walnuts, rice, roasted red peppers, breadcrumbs, Parmesan, Italian seasoning, parsley and egg. Pulse until combined but not mushy.
Form into eight equal balls and place on prepared baking sheet. Cook 12 minutes, or until firm to touch. Serve with sauce of choice.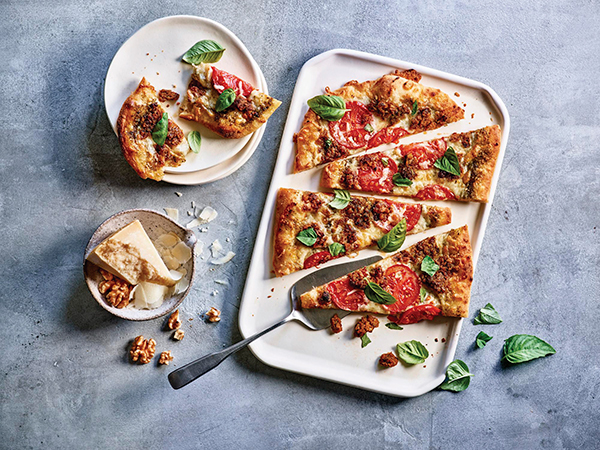 Pizza with Plant-Based Walnut Crumble
Total time: 38 minutes
Servings: 4
Walnut Sausage Crumble:
1 cup California Walnuts
1/2 cup cannellini beans, rinsed and drained
1 tablespoon coconut aminos
1 tablespoon olive oil
2 teaspoons fennel seeds
2 teaspoons Italian seasoning
1 teaspoon onion powder
1 teaspoon garlic powder
1 teaspoon smoked paprika
1/4 teaspoon celery salt
Walnut Sausage Pizza:
1 pound pizza dough
6 tablespoons pizza sauce
2/3 cup mozzarella cheese, divided
Walnut Sausage Crumble, divided
6 tablespoons pesto
1/4 cup sliced small tomatoes
fresh basil leaves
shaved Parmesan cheese
To make Walnut Sausage Crumble: In food processor, pulse walnuts, cannellini beans, coconut aminos, olive oil, fennel seeds, seasoning, onion powder, garlic powder, paprika and salt to sausage like consistency.
To make Walnut Sausage Pizza: Preheat oven to 500 F and line two large baking sheets with parchment paper. Divide dough into four pieces and roll out into thin ovals; place on baking sheets.
Spread two dough pieces with equal amounts pizza sauce, 1/3 cup mozzarella cheese and half of Walnut Sausage Crumble.
Spread remaining dough pieces with pesto, remaining cheese, remaining Walnut Sausage Crumble and tomatoes.
Bake 8 minutes, or until pizza edges are golden brown. Garnish with basil leaves and shaved Parmesan.
Source: California Walnuts
(Family Features) During a school year that's sure to be a new experience for students and parents alike, many of the everyday necessities, like eating breakfast and lunch, remain. However, this year, many little learners will be enjoying their lunches from the comfort and safety of home rather than at school, meaning moms and dads are back in charge of keeping the kitchen running throughout the day.
According to a survey conducted by OnePoll in conjunction with Sabra, 74% of caregivers expect this school year to be more chaotic than ever and 64% of moms and dads complain they are dreading becoming the "lunch lady" at home.
You can improve those school day blues with quick, kid-friendly recipes that refuel children for their educational explorations. By providing a steady stream of balanced meals and snacks made with wholesome ingredients, you can feel good about boosting your at-home students' learning capabilities even during these tricky times.
In the morning, try starting with this Chocolate Banana Cinnamon Toast recipe from Tabitha Brown, the actress and vegan foodie known as "America's Mom." Sliced banana powers this breakfast with the rich, decadent taste of Sabra Dark Chocolate Dessert Dip & Spread to thrill chocolate lovers for a combination of flavors kids love.
For a lunchtime solution with easy prep and quick cleanup, a Hummus Flatbread Pizza takes just 10-15 minutes to make. Made with easy-to-find ingredients you can keep on-hand like pizza sauce and hummus, simply top with sweet favorites like pineapple for a fun boost for long days of learning.
To find more at-home recipe inspiration, visit sabra.com.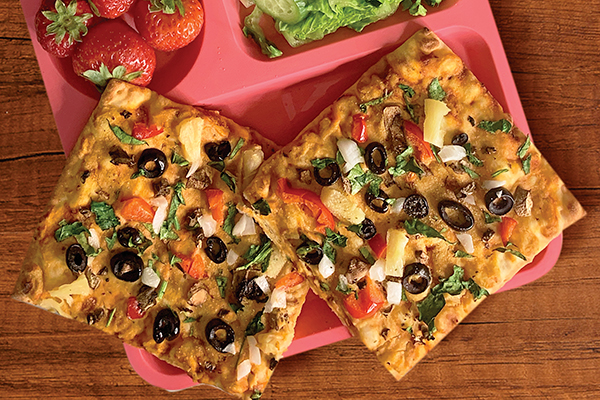 Hummus Flatbread Pizza
Recipe courtesy of Tabitha Brown
Prep time: 10-15 minutes
Yield: 1 flatbread
4 teaspoons pizza sauce
1 rectangular flatbread
3 tablespoons Sabra Classic Hummus
1/2 teaspoon garlic powder, divided
1/3 cup pineapple tidbits or fresh pineapple pieces
strawberries
chopped romaine lettuce
English cucumber slices
Preheat oven to 500 F.
Brush pizza sauce to edges of flatbread. Swirl to spread hummus to edges of flatbread. Sprinkle 1/4 teaspoon garlic powder over flatbread. If using canned pineapple tidbits, drain and pat dry with paper towel. Add pineapple tidbits to flatbread and sprinkle with remaining garlic powder.
Bake 5-10 minutes, or until flatbread is light golden brown.
Cool and cut flatbread. Serve with strawberries and mix chopped romaine lettuce and English cucumber slices for simple salad.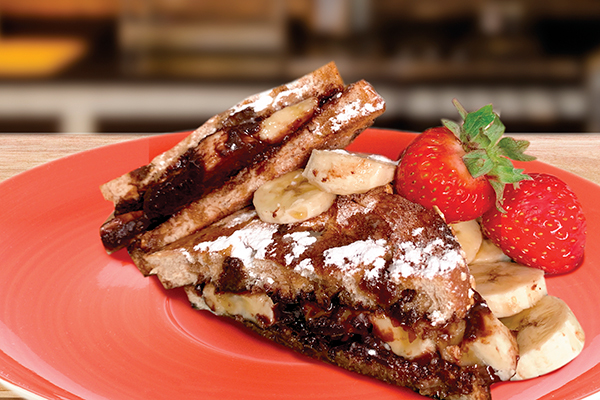 Chocolate Banana Cinnamon Toast
Recipe courtesy of Tabitha Brown
Prep time: 10-15 minutes
Yield: 2 pieces toast
2 slices cinnamon raisin bread
3 tablespoons Sabra Dark Chocolate Dessert Dip & Spread
6 banana slices, plus additional for serving (optional)
1/8 teaspoon cinnamon powder
1 tablespoon maple syrup
fresh strawberries (optional)
powdered sugar
Toast bread to desired doneness.
Using spoon, swirl to spread 1 1/2 tablespoons chocolate spread on each slice of toast.
Add banana slices to one slice of toast and sprinkle with cinnamon.
Top with second slice of toast.
Slice in half diagonally. Add to plate with extra sliced banana and fresh strawberries, if desired. Drizzle toast with maple syrup and sprinkle with powdered sugar.
Source: Sabra