(Family Features) Do you think that beautiful and delicious desserts must all be made from scratch? Think again. With a cake mix and a new cookbook, you can be on your way to making spectacular sweets in no time.
The "Betty Crocker Fix-With-a-Mix Desserts" cookbook, (Wiley Publishing, 2010), features 100 mix masterpieces from bite-size delights to full-size show-stoppers. The book includes:
* Delectable desserts from cakes and cupcakes to cookies and bars, fruit cobblers, tarts, cheesecake and more.
* Luscious full-color photos of every recipe.
* Flavors that take mixes beyond the basics, like Chocolate-Marshmallow Pillows, Citrus Mini Cheesecakes and Banana Turtle Torte.
* A handy index by mix so you can pick recipes based on the mixes you already have in your pantry.
All recipes start with Betty Crocker's trusted mixes, including SuperMoist® Cake Mix, angel food cake mix, brownie mix, cookie mix, Bisquick®, and all-new gluten-free mixes for cookies, brownies, and cakes.
See how easy it is to turn a mix into a mouthwatering dessert with this Ooey-Gooey Caramel Cake recipe featured in the cookbook.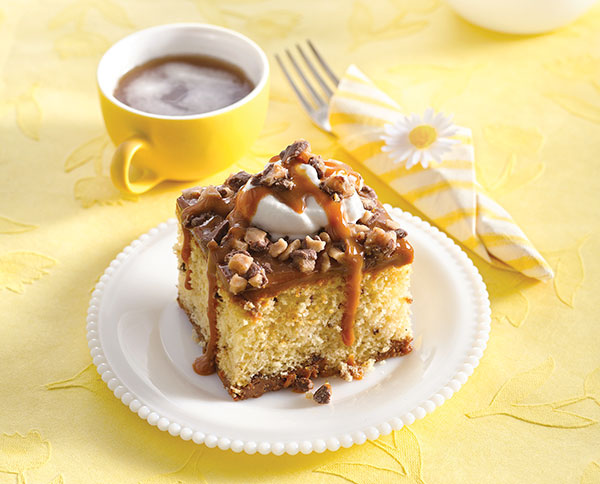 Ooey-Gooey Caramel Cake
Prep time: 20 minutes
Start to finish: 2 hours 5 minutes
15 servings
1 box (1 lb 2.25 ounces) Betty Crocker SuperMoist® yellow cake mix
1/4 cup all-purpose flour
1 cup water
1/3 cup vegetable oil
3 eggs
1 bag (8 ounces) milk chocolate-coated toffee bits
1 can (13.4 ounces) dulce de leche (caramelized sweetened condensed milk)
Sweetened whipped cream, if desired
Caramel topping, if desired
Heat oven to 350°F (325°F for dark or nonstick pan). Spray bottom and sides of 13 x 9-inch pan with baking spray with flour.
In large bowl, beat cake mix, flour, water, oil and eggs with electric mixer on low speed 30 seconds. Beat on medium speed 2 minutes, scraping bowl occasionally. Stir in 1/2 cup of the toffee bits. Pour into pan.
Reserve 1/2 cup dulce de leche. Spoon remaining dulce de leche by teaspoonfuls onto batter.
Bake 30 to 40 minutes or until toothpick inserted in center comes out clean. Cool 5 minutes. Drop reserved dulce de leche by spoonfuls over top of cake and spread evenly. Sprinkle with remaining toffee bits. Cool about 1 hour before serving. Top each serving with whipped cream and caramel topping.
Sweet Note: Crushed, chocolate-covered English toffee candy bars can be used instead of the toffee bits.
Source: Wiley Publishing