(Family Features) Make Father's Day special by combining two of Dad's favorite things - sweet treats and the grill. Hot dogs have gone gourmet and a big, juicy hamburger or steak is a tried-and-true classic. But, this year, show Dad how much you love him with a healthy twist on two American favorites - the chicken wing and watermelon.
If Dad is usually the one manning the grill, review these simple tips for cooking chicken outdoors before you begin:
Preheat the grill on high.
Make sure the grate is well oiled to prevent sticking.
Transport the chicken to the grill on one plate and use a clean plate to take the prepared food back to the kitchen.
Use tongs to turn the chicken instead of a fork, which may tear the meat.
Keep the grill covered as much as possible for quicker, more even cooking.
Have a spray bottle filled with water handy in case of a flare up.
Once you remove the chicken from the grill, allow it to "rest" for five minutes so it will retain its juices when cut.
Get the kids involved in the meal preparation by creating a fun dessert. They can use a small ice cream scoop or melon baller to scoop out watermelon, cantaloupe or honeydew. Serve the cool, refreshing treat in a pretty bowl or thread the melon balls onto skewers. Slices of watermelon can also be cut into fun shapes with cookie cutters. Add the shapes to the plate for a fun garnish or place one or two on the rim of a glass to add a festive flair.
Grilling out is a time-honored tradition so fire up the charcoal and let the celebration begin.
Look for more fun ways to enjoy watermelon and sign up for a free newsletter, at www.watermelon.org.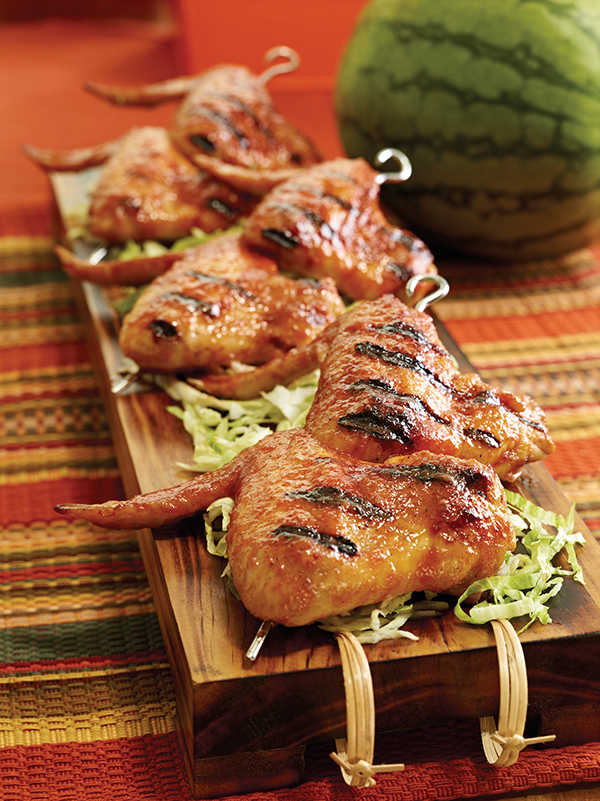 Chipotle Maple Citrus Watermelon Wings
Watermelon Glaze:
2 cups watermelon puree
Juice from 3 fresh lemons
1 tablespoon lemon zest
1/2 cup maple syrup (can use light version)
1/2 teaspoon cinnamon
1/2 teaspoon ground chipotle pepper, or to taste
Chicken:
Chicken wings or drumettes
2 cups pineapple juice
1/2 cup soy sauce
1 tablespoon minced fresh ginger
3 cloves minced fresh garlic
To prepare the watermelon glaze, simmer ingredients together in a heavy saucepan for 20 minutes or until sauce is thick. Makes 2 cups. Keep warm.
To prepare the chicken, place the chicken in a large zipper lock bag with rest of the ingredients and seal tightly. Allow to marinate at least 2 hours or up to 12. Grill until cooked and arrange on a warm platter. Pour the glaze over the chicken and serve immediately.