(Family Features) You may be spending too much time in the kitchen and not enough time enjoying meals with loved ones. However, simple solutions like Perdue Fresh Cuts can make it easier to prep and clean up meals using chicken, saving you up to 30 minutes. For more information, visit perdue.com/freshcuts.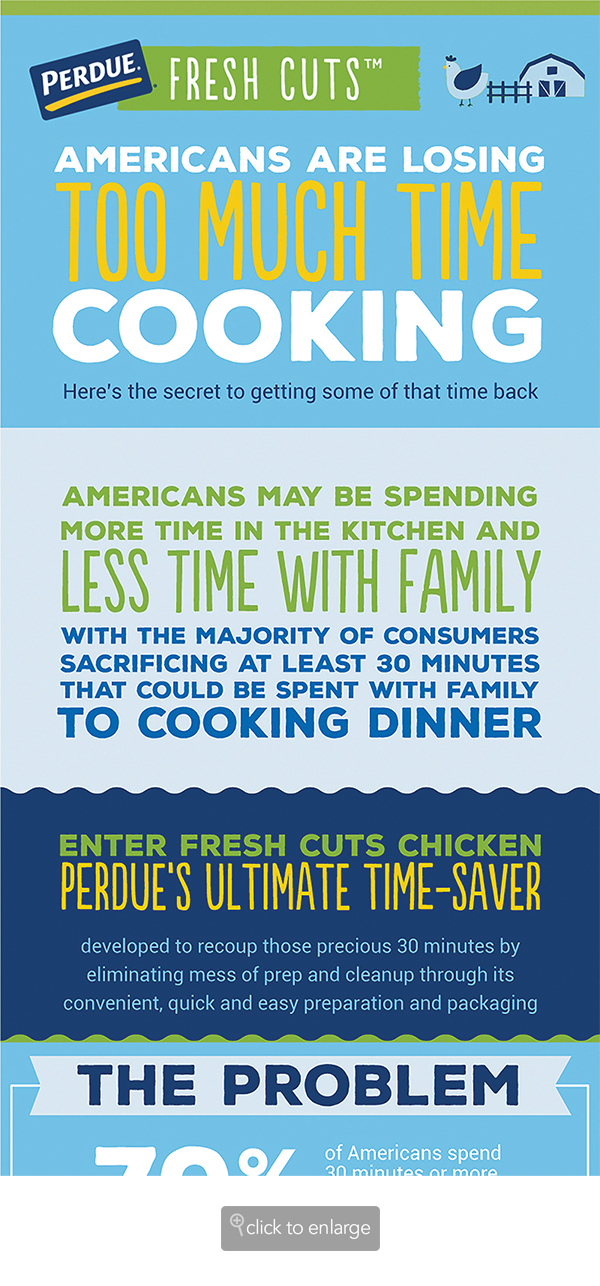 Source: Perdue
(Family Features) According to a recent survey conducted by Infogroup/Opinion Research Corporation on behalf of Perdue Farms, 91 percent of Americans believe in the importance of a sit-down, home-cooked meal.
While families today are busier than ever, they are still willing to go to great lengths to get a meal on the table the entire family will enjoy - including:
Customizing a recipe to their family's liking - 88 percent
Preparing the best side-dishes to accompany the meal - 85 percent
Purchasing higher-quality products - 74 percent
While the survey revealed roast chicken as Americans' best chicken dish, Chicken Cordon Bleu is the dish people most want to learn to cook.
Perdue's Executive Chef, Chris Moyer, created an easy recipe and how-to video for Chicken Cordon Bleu. Plus, he incorporates some tips to help both cooking novices and enthusiasts get this great meal on the table:
Start with high quality ingredients. Selecting all-natural chicken from a brand you can trust is a good place to start. Look for chicken with the USDA Processed Verified Seal. Perdue is the first poultry company to receive the seal, which verifies that PERDUE® Fresh, All-Natural Chicken products have been fed an all-vegetarian diet with no animal by-products and/or raised cage free. Chef Chris recommends PERDUE® FIT & EASY® boneless, skinless chicken breasts for this recipe.
Want to dress it up? Use prosciutto ham, gruyere cheese and thyme for your filling.
Side dishes matter, too. The survey also revealed that 95 percent of Americans feel that getting a nutritious and delicious meal on the dinner table is important to them - so make sure your side dishes consist of a healthy grain and a green vegetable high in nutrients and fiber.
Visit Perdue on Facebook to learn more about their commitment to providing better chicken and to find tips, tools and recipes for families to help get a great meal on the dinner table.
For a more advanced recipe for Chicken Cordon Bleu visit Perdue on Facebook.
What's your best chicken dish? Go to www.facebook.com/perduechicken, share a picture and describe what you do to make your dish the best for the chance to win a year's supply of PERDUE® chicken.
Chicken Cordon Bleu
Description
Chicken Cordon Bleu is a popular chicken dish that many want to learn to cook.
VIDEO: How to Cook Chicken Cordon Bleu
Ingredients
1 package PERDUE® FIT & EASY® Boneless, Skinless Chicken Breasts
6 thin slices of salt-cured Virginia-smoked ham
3 slices domestic Swiss cheese
1 whole egg
1/4 cup water
1/4 cup flour
1 cup breadcrumbs
1/2 teaspoon kosher salt
1/2 tablespoon table ground black pepper
1 tablespoon olive oil
Preparation
Slice chicken horizontally without cutting all the way through to create butterfly breast.
Place chicken on cutting board with sheet of plastic wrap over top. With meat mallet, gently pound chicken to even thickness of breast. Place two slices ham and cheese on one side of breast and fold back over.
In bowl, whip together egg and water to create egg-wash.
On two separate plates, put flour and breadcrumbs. Season flour with salt and black pepper.
Carefully dredge chicken first into seasoned flour, then into egg-wash, followed by breadcrumbs.
Heat olive oil in ovenproof sauté pan. Place chicken in pan to brown. Cook for 2 minutes on one side, then flip each breast over. Place pan into oven at 350°F and cook until each chicken breast reaches 170°F internal temperature, about 20-25 minutes.
Preparation Time
10-15 minutes
Serves
3
SOURCE: Perdue