(Family Features) Between balancing work with family and friends, squeezing in a healthy meal can be hard, and finding time for a workout can be even harder. A busy lifestyle demands quick, portable and convenient foods that let you refuel your body with better health in mind.
When time is tight, it may be tempting to reach for pre-packaged snacks or fast food, but you can make your own grab-and-go snack packs and meals at home in less time than it takes to get through the drive-thru lane.
A cool and refreshing superfood smoothie can give you a much-needed boost when your energy is dragging. Another smart snacking tip: fill sandwich bags with servings of fresh fruits and veggies that you can carry in your purse or gym bag to nibble on when hunger strikes. Options such as watermelon cubes or sticks are a great choice because they are high in fiber and water to help fill you up with nutrients instead of calories.
Also be mindful of how you answer sweet tooth cravings. A naturally sweet treat such as a slice of watermelon is a satisfying alternative to cookies or candy. In fact, working sweet flavors into your regular meals is a way to keep cravings at bay. This salad combines an ancient grain high in protein and nutrients with the sweet crunch of fresh watermelon for a rich taste and texture.
Find more tips and recipes to fuel your day at watermelon.org.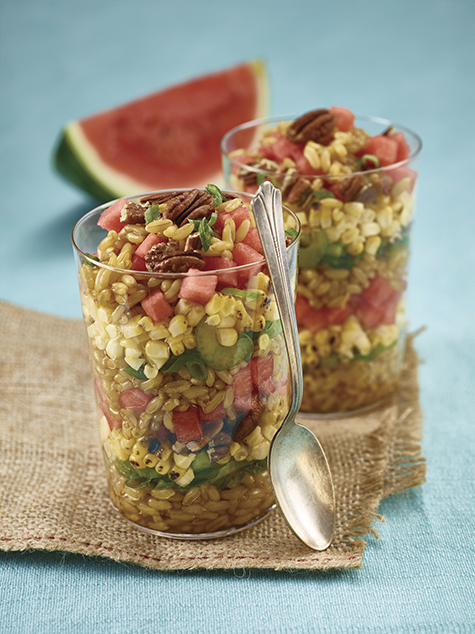 Ancient Grain Salad with Watermelon
Servings: 6
3 tablespoons extra-virgin olive oil
4 tablespoons maple syrup
3 tablespoons lemon juice
2 teaspoons lemon zest
salt, to taste
3 cups warm, cooked kamut grain (about 1 1/2 cups dry)
1/2 cup coarsely chopped pecans
1/3 cup diced green onions, plus 1 tablespoon
1/3 cup thin-sliced celery
1 cup corn
2 cups chopped watermelon
In small bowl, blend oil, maple syrup, lemon juice, lemon zest and salt. Add kamut and pecans. Stir thoroughly and let sit until cooled.
In tall glass bowl, assemble salad by placing one-third of the kamut mixture on bottom, topped by half each of the onions and celery, corn and watermelon. Repeat. Add remaining kamut on top and sprinkle with remaining diced green onion. Present as layered salad and toss just before serving.
Nutritional information per serving: 247 calories; 13.2 g fat; 1.6 g saturated fat; 3.7 g protein; 28.4 g carbohydrates; 15 g sugar; 30 mg calcium; 1.2 mg iron; 291 mg potassium; 13 mg sodium; 3.7 g fiber.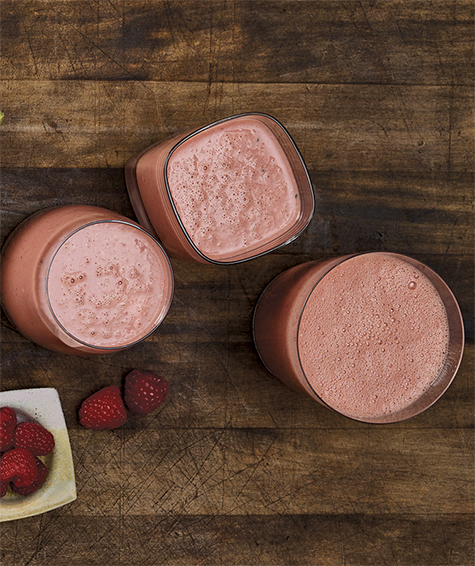 Rosy Red Superfood Smoothie
Servings: 3 (1 cup each)
2 cups cubed watermelon
1 cup fresh or frozen raspberries
1 cup raspberry kefir
2 tablespoons orange juice concentrate
2 tablespoons hemp seeds
2 tablespoons agave syrup
ice (optional)
Place all ingredients in blender and blend until smooth.
Nutritional information per serving: 201 calories; 4.4 g fat; 2 g saturated fat; 6 g protein; 34 g carbohydrates; 29 g sugar; 3 mg cholesterol; 189 mg calcium; 1.6 mg iron; 438 mg potassium; 23.5 mg sodium; 4.8 g fiber.
(Family Features) Warmer weather may mean finding ways to cool off, but that doesn't mean you can't bring bold flavors to the gathering you're hosting with family and friends. Whether it's a barbecue bash or a casual pool party, there is a flavorful blend perfect for nearly every occasion.
When the sun is shining, it's time to fire up the grill, which means you can get creative and show off your skills. Add a little flavor to your world – Dale Sabor A Tu Mundo – with a versatile ingredient like Tabasco Sauce, which has helped personalize the flavors of food across the globe for nearly 150 years. Whether used as an ingredient or condiment, it can add flavor to virtually any type of cuisine, including Mexican favorites like this Parrillada Mixta with Garlic and Sweet Chipotle Marinades.
Throw some steak, shrimp and chicken on the grill and combine with sweet and spicy marinades to create a grilled spread that's nearly irresistible. Take it up a notch and serve it with sides such as fresh limes, sizzling onions, creamy guacamole, pico de gallo and soft corn tortillas to complete your meal. It's a tasty way to add an extra kick of flavor to summer entertaining.
Find more recipes and ways to flavor your world at Tabasco.com.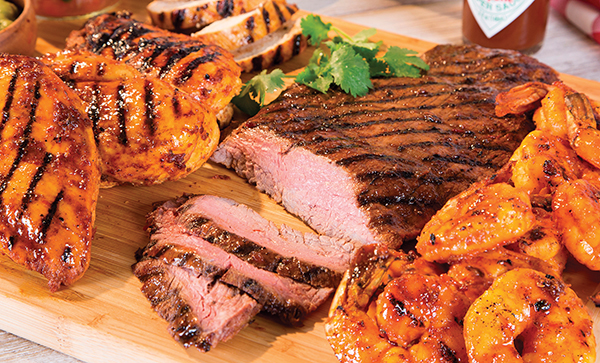 Parrillada Mixta with Garlic and Sweet Chipotle Marinades
Servings: 6-8
Garlic Chipotle Marinade:
14 garlic cloves, peeled
1 medium white onion, quartered
1 1/2 cups light Mexican beer
3/4 cup olive oil
1 tablespoon coarse black pepper
4 tablespoons Tabasco Chipotle Pepper Sauce
1 teaspoon salt
2 flank steaks (1 pound each)
Sweet Chipotle Marinade:
8 garlic cloves, peeled
1 red bell pepper, de-seeded and stemmed
1 small white onion
1 teaspoon ground cinnamon
1 teaspoon smoked paprika
8 tablespoons olive oil
8 tablespoons agave syrup
4 tablespoons fresh lime juice
1 1/4 cups orange juice
1 1/4 cups cold water
4 tablespoons Tabasco Chipotle Pepper Sauce
salt, to taste
2 pounds extra-large shrimp, peeled, deveined and tails on
4-6 boneless, skinless chicken breasts
To make Garlic Chipotle Marinade: In blender, puree garlic, onion, beer, olive oil and pepper. Transfer puree to large mixing bowl; add chipotle sauce and salt.
Place steaks in re-sealable plastic bag and pour in marinade.
Note: Marinating time depends on the cut of beef selected. For fajitas or skirt steak, marinate at least 6 hours.
To make Sweet Chipotle Marinade: In blender, puree garlic, bell pepper, onion, cinnamon, paprika, olive oil, agave, lime juice, orange juice, water and chipotle pepper sauce.
In separate re-sealable plastic bags, divide marinade over chicken and shrimp. Allow shrimp to marinate 8 hours and chicken 24 hours.
To prepare meat: Remove steak, shrimp and chicken from marinade and set aside. Heat grill to medium-high heat. Brush off excess marinade and grill chicken first, to desired doneness, then steak and shrimp.
Note: Cooking times will vary depending on cuts of meat and desired doneness. For best results, use a meat thermometer.
Serving suggestion: Place steak, shrimp and chicken on large platter and serve with side items such as fresh guacamole, pico de gallo, grilled onions, fresh limes and fresh corn tortillas.
Source: Tabasco