(Family Features) Over the last few years, self-care has taken on heightened importance for moms across the country.
That is why Mrs. T's Pierogies is partnering with actress, entrepreneur and mom JoAnna Garcia Swisher for its "All-Star Moms" campaign to spotlight the importance of finding ways to recharge and help these real-life superheroes prioritize me-time.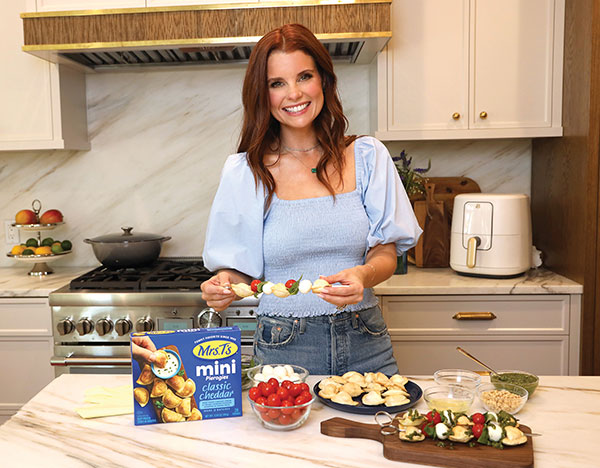 Simplifying self-care for All-Star Moms everywhere can be as easy as designating a "recharging room" in the home, which offers a personal space to reset and relax. When creating your recharging room, keep these tips from Garcia Swisher in mind:
Balance Beautiful with Functional: Find hosting staples like cutting boards, utensils and napkins that match the vibe of your personal space so the area can double as an entertaining space.
Keep it Easy to Clean: Choose furniture and decor that can handle a little mess from snacks, like Mrs. T's Mini Pierogies and your favorite dip, which are perfect for enjoying while binge-watching favorite shows.
Add a Personal Touch: Showcase a piece that tells a story, like a favorite embroidered pillow, piece of meaningful jewelry or framed photo of an amazing memory.
Bring In Something Cozy: Add cozy touches like a blanket, fluffy pillow or favorite slippers for something comfortable.
Make a Statement: Let your inner designer shine by taking a chance on something bold that represents a part of your personality you don't normally indulge.
Plan an Anchor Piece: This item is the foundation for everything, such as a vintage armchair, comfy couch or storage piece that tells a story. Choose this item first then build around it.
Moms can also prioritize self-care by whipping up an easy-to-make recipe, like these Margherita Pizza Pierogy Skewers, for themselves, a gathering of friends or an afternoon family snack. Pasta pockets filled with creamy mashed potatoes, cheesy goodness and other big, bold flavors, Mrs. T's Pierogies are simple to prepare. This means more time for moms to do the stuff they love like unwinding from the day with favorite foods in their recharging spaces.
Visit MrsTsPierogies.com for more recipe inspiration.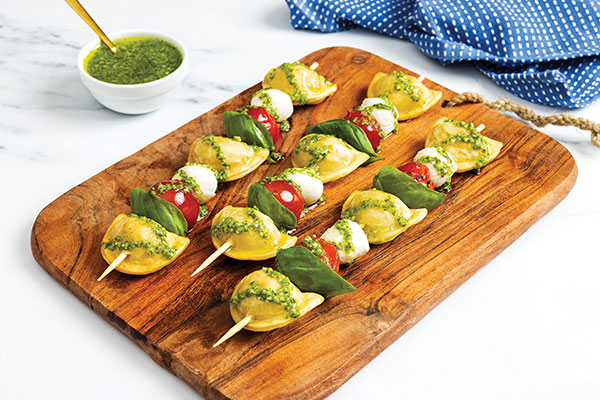 Margherita Pizza Pierogy Skewers
Prep time: 10 minutes
Total time: 35 minutes
Servings: 9
Pizza Skewers:
1 box (12.8 ounces) Mrs. T's Mini Classic Cheddar Pierogies
3 cups cherry tomatoes
2 tablespoons olive oil, plus additional for brushing pierogies, divided
1 teaspoon salt
1/2 teaspoon ground black pepper
1/2 teaspoon oregano
1-2 cups mozzarella balls (18 total)
fresh basil leaves
bamboo skewers (10 inches)
Fresh Pesto:
2 cups fresh basil
2 garlic cloves, peeled
1/2 cup olive oil
1/4 cup pine nuts
1/4 grated Parmesan cheese
salt, to taste
ground black pepper, to taste
Preheat air fryer to 400 F.
To make pizza skewers: In small bowl, combine cherry tomatoes, olive oil, salt, ground black pepper and oregano; toss to coat. Transfer tomatoes to air fryer tray or basket. Cook in air fryer 10 minutes, or until tomatoes are slightly charred; remove and set aside.
Lay pierogies on same tray or basket. Make sure not to overlap. Lightly brush each side with olive oil. Cook about 12 minutes, or until golden brown and crispy. Flip halfway through cooking.
To make pesto: In food processor, process basil; garlic; olive oil; pine nuts; Parmesan cheese; salt, to taste; and pepper, to taste, until smooth. (If preferred, use store-bought pesto.)
Add one pierogy to bamboo skewer followed by one tomato, one mozzarella ball and one basil leaf. Repeat with ingredients until each skewer is filled. Drizzle with pesto.
Source: Mrs. T's Pierogies
(Family Features) Back-to-school season can be cluttered between after-school activities, week­end sports and evening homework – as well as making dinner each night. Creating a master meal plan with quick, simple and nutritious meals is an easy way to take control of your family's hectic schedule. Start by stocking the pantry with staple ingredients that amp up the nutrition and flavor of your family favorites.
For example, American Pecans are a nutri­tious ingredient to have on-hand – among the highest in "good" monounsaturated fats and packed with plant protein, fiber and essential minerals – and "The Original Supernut" is versatile enough for breakfast, lunchboxes, dinners and on-the-go snacking. Adding one bag to your weekly grocery list provides a canvas for exploring new dishes that are both nutritious and delicious.
In fact, according to the Food and Drug Administration, scientific evidence suggests but does not prove that eating 1 1/2 ounces per day of most nuts, such as pecans, as part of a diet low in saturated fat and cholesterol may reduce the risk of heart disease. One serving (28 grams) of pecans contains 18 grams of unsaturated fat and only 2 grams of saturated fat.
Updating your dinner repertoire doesn't have to be complicated. Fuss-free recipes such as Pizza with Pecan-Herb Topping, Baked Pecan-Crusted Chicken Tenders and Pecan-Crusted Air Fryer Pork Chops can be ready in less than an hour and put a fresh twist on classic favorites to please parents and kids alike.
Find more back-to-school recipe ideas at AmericanPecan.com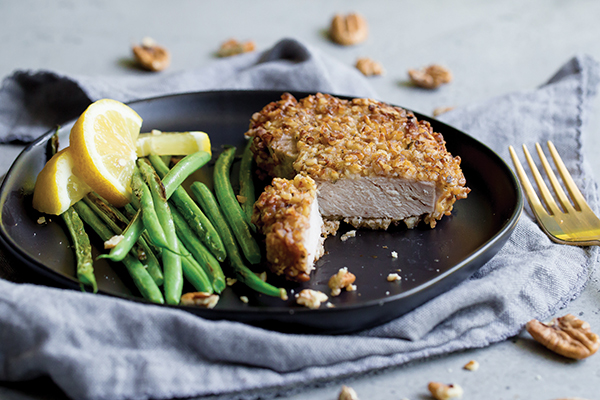 Pecan-Crusted Air Fryer Pork Chops
Cook time: 22 minutes
1 cup pecan pieces
1/3 cup arrowroot starch
2 teaspoons Italian seasoning
1 teaspoon onion powder
1 teaspoon garlic powder
1/4 teaspoon sea salt, plus additional, to taste
1 large egg
1 teaspoon Dijon mustard, plus additional for serving
1 tablespoon water
2 garlic cloves, crushed
6 medium boneless pork chops, trimmed of fat
Heat air fryer to 400° F.
In medium bowl, mix pecans, arrow­root starch, Italian seasoning, onion powder, garlic powder and 1/4 teaspoon sea salt.
In separate bowl, whisk egg, 1 tea­spoon Dijon mustard, water and garlic.
Cover pork chops in egg mixture then transfer to bowl with pecan mixture to coat all sides. Repeat with remaining pork chops. Place three pork chops in air fryer basket.
Cook pork chops 6 minutes, flip, then cook additional 6 minutes. Set aside on plate.
Repeat with remaining pork chops.
Serve hot with Dijon mustard, if desired.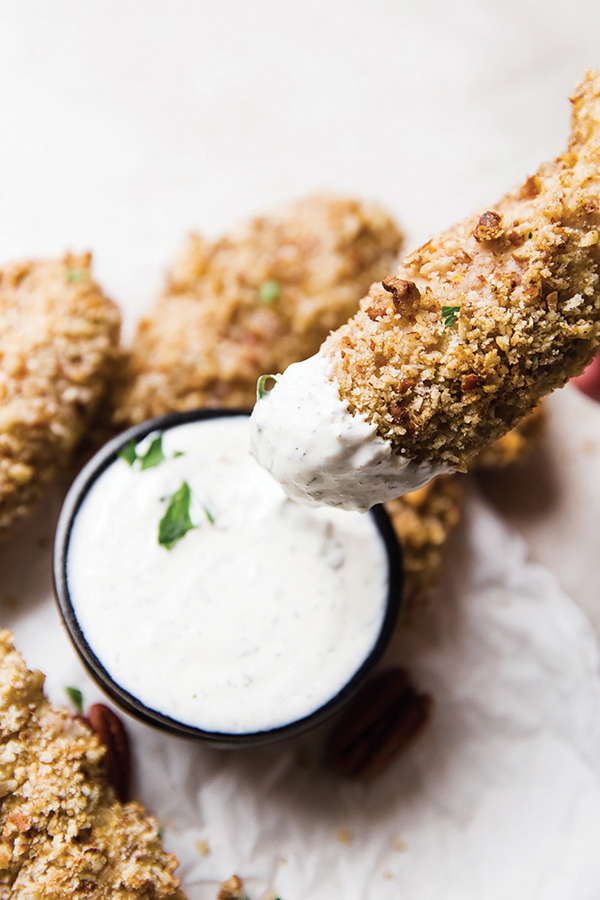 Baked Pecan-Crusted Chicken Tenders
Cook time: 35 minutes
2 cups raw pecan halves or pieces
1 cup panko or gluten-free bread crumbs
1 teaspoon garlic powder
1/4 teaspoon cayenne pepper
1 teaspoon salt, plus additional, to taste
1 1/2-2 pounds chicken breast tenders or chicken strips
3 large eggs
1 cup all-purpose flour or gluten-free flour blend
pepper, to taste
Buttermilk Ranch Dip:
1/4 cup buttermilk
1/2 cup mayonnaise
1/2 cup sour cream
1 teaspoon parsley
1 teaspoon onion powder
1 teaspoon garlic powder
1 teaspoon dried dill
1/2 teaspoon salt
Heat oven to 425° F.
In food processor, pulse pecans until fine as breadcrumbs. In shallow bowl, mix pecans with panko, garlic powder, cayenne pepper and 1 teaspoon salt.
In separate shallow bowl, whisk eggs until smooth. In third shallow bowl, add flour.
Lightly season chicken tenders with salt and pepper, to taste. Working with one chicken tender at a time, dip in eggs, flour then pecan mixture. Be sure to press pecan mixture into chicken to be sure it is completely coated. Set chicken on baking sheet lined with cooling rack or parchment paper. Repeat with remaining chicken.
Place chicken on center rack and bake 20 minutes until golden brown and cooked through.
To make Buttermilk Ranch Dip: In small bowl, whisk buttermilk, mayonnaise, sour cream, parsley, onion powder, garlic powder, dried dill and salt until smooth.
Serve pecan-crusted chicken tenders warm paired with Buttermilk Ranch Dip.
Pizza with Pecan-Herb Topping
Cook time: 40 minutes
1 store-bought pizza dough
1 cup raw pecan halves or pieces
1/2 cup fresh parsley
1/2 teaspoon garlic powder
1/3 cup grated Parmesan cheese
1 teaspoon red pepper flakes (optional)
1 pinch salt
1 pinch pepper
1/2 cup jarred pizza sauce
2 cups shredded mozzarella cheese
1/2 cup thinly sliced red pepper
1/2 cup thinly sliced Vidalia onion
Heat oven to 400° F. Line baking sheet with parchment paper.
Lightly flour clean surface. Using rolling pin, roll out pizza dough to 1/8-inch thick and transfer to prepared baking sheet. Gently pierce dough with fork to prevent air pockets. Bake crust 10-15 minutes, or until lightly golden in color.
In food processor, pulse pecans, parsley and garlic powder until mixture becomes coarse crumbs. Transfer to bowl and stir in Parmesan cheese, red pepper flakes (if desired), salt and pepper. Set aside.
Using spoon, evenly spread pizza sauce over crust. Top with mozzarella cheese, red pepper slices and onion slices. Sprinkle 1/3 cup pecan mixture evenly over pizza.
Transfer pizza to oven and bake 10-15 minutes, or until crust is crispy and cheese is melted. Serve with remaining pecan-herb mixture.
Notes: If dough instructions differ from recipe, use package instructions. Additional topping options include: pepperoni, olives, ham, bacon and roasted veggies. Leftover pecan-herb topping can be used for pasta and salads.
Source: American Pecan Council