(Family Features) Warmer spring weather makes the season a perfect time for families to enjoy brunch together. From classic combinations like bacon and eggs to more extravagant offerings, a brunch spread offers a blank canvas for creativity and opportunities to enjoy your loved ones' favorite morning noshes.
For your next brunch celebration, whether it's a special occasion or just an excuse to spend time together, consider adding what may become a new family favorite to the menu. This Bacon Banana Bread combines two morning meal classics in one easy-to-enjoy bite.
Plus, it's made using Coleman Natural Bacon so you can feel confident you're feeding your family all-natural pork sourced from American Humane Certified family farmers who raise their animals the way nature intended – 100% crate-free without antibiotics or added hormones. The preparation is simple (just 10 minutes in the kitchen) so you can put this dish together and catch up with loved ones while baking a sweet and savory snack.
For more brunch recipe ideas, visit ColemanNatural.com.
Watch video to see how to make this recipe!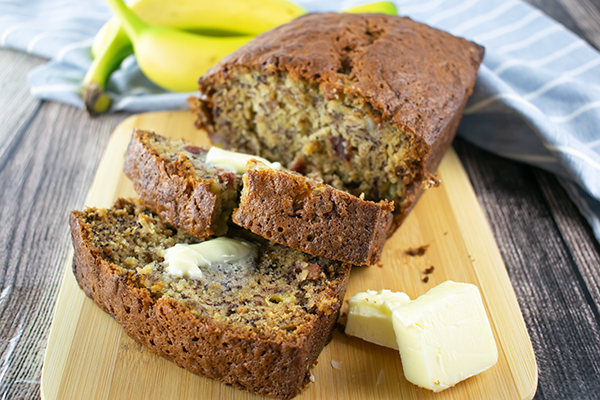 Bacon Banana Bread
Prep time: 10 minutes
Cook time: 70-80 minutes
Servings: 6-8
Nonstick cooking spray
1 1/4 cups all-purpose flour, divided
1 teaspoon baking soda
1 teaspoon baking powder
1 cup sugar
3 medium bananas, mashed
1/2 cup canola oil
2 eggs
1 teaspoon vanilla extract
8 slices Coleman Natural Bacon, cooked and cut into 1/4-1/2-inch pieces
Preheat oven to 325 F. Lightly grease 9-by-5-inch loaf pan with nonstick cooking spray.
In large bowl, combine 1 cup flour, baking soda, baking powder and sugar. In separate bowl, combine mashed bananas, canola oil, eggs and vanilla extract.
Add banana mixture to dry ingredients, stirring until just combined.
In small bowl, toss bacon and remaining flour until bacon is lightly coated.
Fold flour-coated bacon into batter. Pour batter into prepared loaf pan.
Bake 70-80 minutes, or until toothpick inserted near center comes out clean.
Cool in pan on wire rack 20 minutes before inverting bread onto wire rack to cool completely.
Cut and serve.
Source: Coleman Natural Foods
(Family Features) Eating for heart health is actually easier — and more delicious — than you might think. When you have a good plan and plenty of mouthwatering recipes, you'll enjoy taking care of your heart.
According to the FDA, diets rich in whole grain foods and other plant foods, and low in saturated fat and cholesterol, may help reduce the risk of heart disease. Here are some tips to help you make these kinds of heart-smart choices:
Choose leaner cuts of meat. You can find plenty of delicious options such as skinless chicken, lean pork and beef. And you can make smart substitutions, too — use ground turkey instead of ground beef to make meatloaf or burgers even leaner.
Add fruits and veggies to every meal. Strawberries in yogurt, blueberries on a salad, carrots and hummus as a snack, roasted sweet potatoes with dinner — it's easier than you think to add nutrient-dense produce to your diet. Eat plenty of different colored produce for variety and a wider range of health benefits.
Enjoy more whole grains. Whole grains add carbohydrates for energy, fiber to fill you up, and nutrients important for good health. And, according to a recent national survey, 4 out of 5 doctors recommend Post Shredded Wheat as part of a healthy, low-sodium diet, to maintain a healthy heart, reduce the risk of heart disease, and support healthy blood pressure levels.
These recipes are a great start to adding more whole grains — and they're so good, you might forget they are heart smart. Get more tips and heart-smart recipes at www.PostShreddedWheat.com.
Apple Crisp
Total Time: 65 minutes
Makes: 6 servings
5 cups peeled apple slices
1/2 cup firmly packed light brown sugar, divided
1 tablespoon lemon juice
1 tablespoon tapioca
1/4 teaspoon ground cinnamon
1 1/2 cups Post Original Shredded Wheat Spoon Size Cereal, finely crushed
1/4 cup (1/2 stick) margarine, melted
Preheat oven to 350°F.
Mix apples, 1/4 cup sugar, lemon juice, tapioca and cinnamon in large bowl. Let stand 10 minutes.
To make topping: stir crushed cereal, remaining 1/4 cup sugar and margarine in medium bowl until well blended.
Spread apple mixture in ungreased 1 1/2-quart baking dish. Sprinkle evenly with cereal topping.
Bake for 45 minutes or until topping is browned and apples are tender when pierced with fork.
Savory Meatloaf
Total Time: 75 minutes
Makes: 12 servings
2 eggs
1 cup milk
2 pounds lean ground beef
3 biscuits Post Original Shredded Wheat Cereal, crushed
1 can (8 ounces) stewed tomatoes, undrained
1 medium onion, chopped
1/4 cup chopped green pepper
2 teaspoons Worcestershire sauce
2 teaspoons salt
1/4 teaspoon ground black pepper
Preheat oven to 375°F.
Beat eggs and milk in large bowl with wire whisk until well blended. Add remaining ingredients; mix well.
Shape meat mixture into oval loaf in shallow baking pan.
Bake 1 hour or until cooked through (160°F).
Variation: Prepare as directed, using fat-free milk and substituting 1/2 cup cholesterol-free egg product for the eggs and 2 pounds thawed frozen ground turkey for the ground beef.
Grab 'n Go Peanut Butter Bars
Total Time: 10 minutes
Makes: 16 servings (1 bar per serving)
1/2 cup firmly packed brown sugar
1/2 cup honey
1/2 cup reduced fat peanut butter
3 cups Post Original Shredded Wheat Spoon Size Cereal, coarsely crushed
3/4 cup raisins
Mix sugar, honey and peanut butter in large microwavable bowl. Microwave on high 1 1/2 to 2 minutes or until bubbly at edge; stir until well blended.
Stir in cereal and raisins.
Press firmly into 8-inch square pan sprayed with cooking spray. Cool. Cut into bars.
Store in airtight container.
Take Along Tip: After completely cooled, wrap bars individually in plastic wrap. Leave in bowl on kitchen counter for a great grab-and-go snack.
Banana Bread
Total Time: 65 minutes
Makes: 16 servings (1 slice per serving)
1 3/4 cups flour
1 cup Post Original Shredded Wheat Spoon Size Cereal, finely crushed
1 teaspoon pumpkin pie spice
1/2 teaspoon baking powder
1/2 teaspoon baking soda
1 cup sugar
1/2 cup (1 stick) margarine
2 eggs
1/4 cup fat-free milk
1 cup mashed ripe bananas (about 2 large bananas)
Preheat oven to 350°F. Mix flour, cereal, spice, baking powder and baking soda in medium bowl; set aside.
Beat sugar and margarine in large bowl with electric mixer on medium speed until light and fluffy. Add eggs; mix well. Add flour mixture alternately with milk, beating well after each addition. Blend in bananas.
Pour into greased 9x5-inch loaf pan. Bake 1 hour to 1 hour 5 minutes or until toothpick inserted in center comes out clean. Cool in pan 10 minutes on wire rack; remove from pan.
Cool completely.
Special Extra: Toast the bread slices and top each with a scoop of vanilla or chocolate sorbet and a drizzle of strawberry sauce for a different kind of banana split.
Source: Post Foods, LLC