(Family Features) During a holiday season that may not quite feel the same for many families, you can add a magic touch to at-home festivities with activities and treats that get everyone involved. Creating decorative holiday sweets allows little ones and grown-ups alike to take part in the fun, and the end result is delicious desserts for all to enjoy.
Start with a main ingredient like whole-grain, freshly popped popcorn. At 30 calories a cup, it's naturally low in fat, non-GMO and gluten-free for a nutritious alternative to traditional holiday indulgences. It's a clever way to create artsy representations of the season at hand that celebrate festive flavors like peppermint, coconut, chocolate and other sweet eats.
For example, Coconut Popcorn Snowballs add fun and flavor to wintertime with a coat of sweetened coconut "snow" and candy cane handle while easy-to-construct Holiday Popcorn Snowmen are sure to be a hit with your children. Add to the holiday spirit throughout your home with wintery Jingle Balls that call for colored sugars to create a magical sparkling effect then take the creativity to the next level by encouraging kids to make their own red-nosed, sleigh-pulling team of Chocolate Popcorn Reindeer.
Discover more decorative dessert recipes at popcorn.org.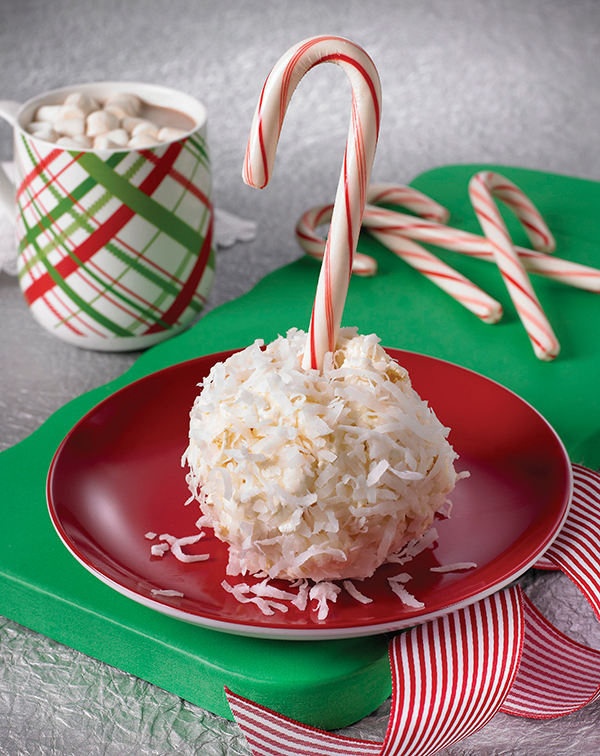 Coconut Popcorn Snowballs
Yield: 8 balls (4 inches)
2 cups shredded or flaked sweetened coconut
nonstick cooking spray
3 quarts popped popcorn
4 tablespoons (1/2 stick) butter or margarine
3 cups miniature marshmallows
1 teaspoon coconut or vanilla extract
8 candy canes or candy cane sticks (about 3-4 inches)
Place large sheet wax or parchment paper over work surface. Spread coconut on paper.
Spray large mixing bowl lightly with nonstick cooking spray and place popcorn inside.
In medium saucepan, melt butter over low heat. Stir in marshmallows until melted and mixture is smooth. Pour over popcorn and mix well until coated.
Spray hands with cooking spray and press mixture firmly to form into balls. Place balls on coconut; roll and press coconut to coat. While holding popcorn balls, gently press candy cane into each ball.
Serve immediately or wrap individually in plastic wrap for storage.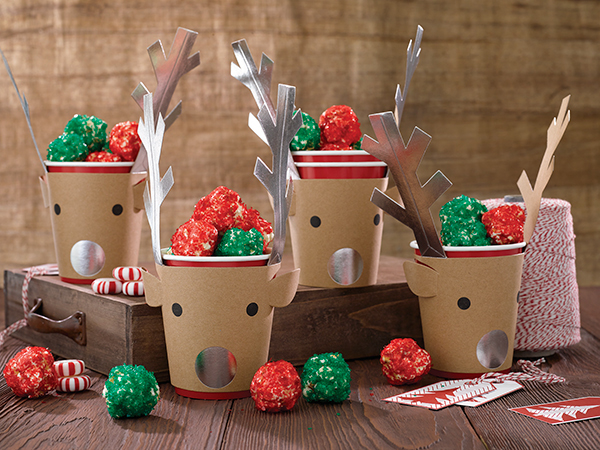 Jingle Balls
Yield: 12 cups
Nonstick cooking spray
12 cups popped popcorn
6 tablespoons butter or margarine
3 cups mini marshmallows
1/2 teaspoon peppermint extract
assorted colored sugars
Spray large mixing bowl lightly with nonstick cooking spray. Add popcorn.
Spread plastic wrap on cookie sheet; set aside.
In medium saucepan, melt butter and marshmallows; stir until mixture is smooth. Stir in peppermint extract. Pour over popcorn, mixing until well coated. Let cool 2 minutes.
Spray hands with nonstick cooking spray and form popcorn mixture into 3-inch balls. Gently press colored sugar onto balls. Let sit on prepared cookie sheet until cool and set.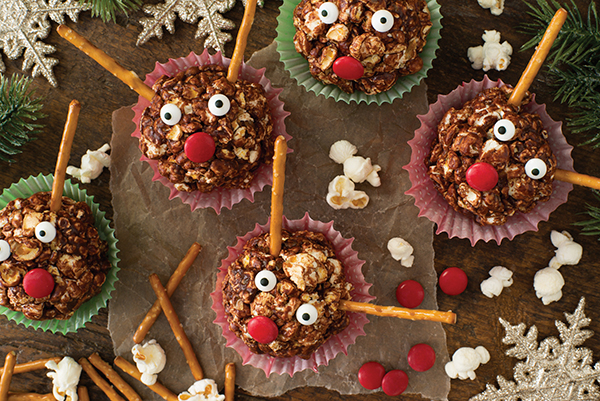 Chocolate Popcorn Reindeer
Servings: 8
8 cups unsalted, unbuttered, popped popcorn
2 1/2 cups mini marshmallows
1/2 cup chopped dark chocolate or dark chocolate chips
2 tablespoons butter or light olive oil
1/4 teaspoon salt
16 pretzel sticks
16 eyeball candies
8 red candy-coated
chocolate candies
Place popcorn in large mixing bowl.
In saucepan over medium heat, heat marshmallows, chocolate, butter and salt, stirring often, until smooth. Toss marshmallow mixture with popcorn until well combined.
Scoop 3/4 cup popcorn mixture into ball. Repeat with remaining mixture to make eight balls. Place each ball in paper muffin cup liner.
Insert one pretzel stick on each side of ball to resemble antlers, attach two eyeball candies for "eyes" and one red chocolate candy for "nose." Repeat with remaining balls. Let cool completely.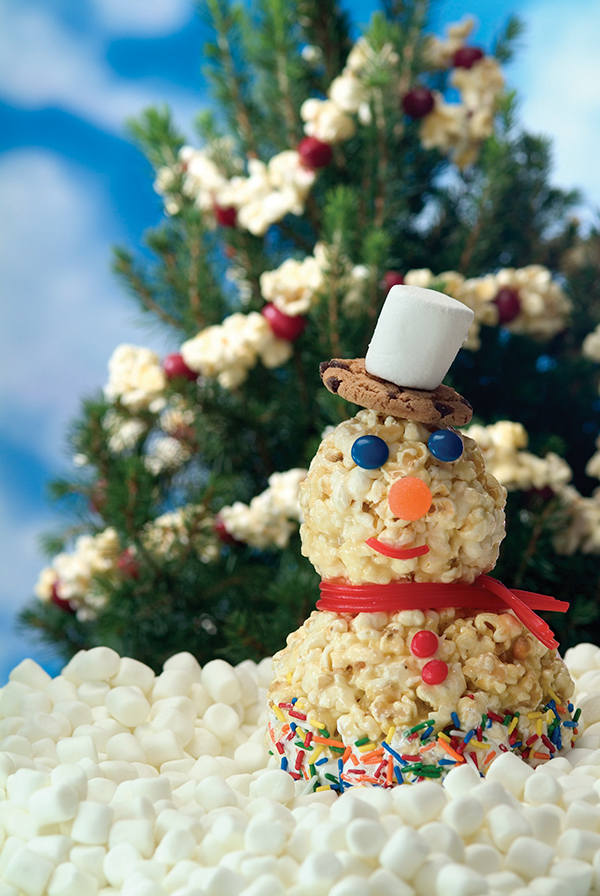 Holiday Popcorn Snowmen
Yield: 5 snowmen
1 package (1 pound) large marshmallows
1/4 cup (1/2 stick) butter or margarine, plus additional for greasing hands
1 teaspoon vanilla
10 cups popped popcorn
sprinkles (optional)
licorice (optional)
gum drops (optional)
cinnamon candies (optional)
In large saucepan, melt marshmallows and 1/4 cup butter. Remove from heat and stir in vanilla. Let stand 5 minutes.
Pour marshmallow mixture over popcorn and stir. Butter hands well and form into balls.
Decorate with sprinkles, licorice, gum drops and cinnamon candies, if desired.
Popcorn Board
(Family Features) If the kitchen is the heart of the home, a gift from your kitchen is truly a gift from the heart. For the holidays, treat everyone on your list to a heartfelt food gift.
Gather for a casual holiday open house and give one of your hand-made or hand-picked creations as party favors. Offer hot cider, cocoa or flavored coffee and serve a spectacular cupcake cake — the latest in show-stopping desserts. Order a holiday-themed cupcake creation from your neighborhood Wal-Mart for easy pickup that morning.
White Chocolate Macadamia Nut Bark and Chocolate Thumbprint Cookie are just two easy-to-make treats, perfect for satisfying a sweet tooth. They're a few favorite recipes from best-selling author of "Semi-Homemade Cooking," Sandra Lee for holiday gifting. Not only is her complete collection of 200 recipes in the new Sandra Lee Semi-Homemade recipe card collection a great resource for holiday gift treats but it's also the perfect gift. Packaged in a holiday red tin, the collection is available exclusively at Wal-Mart and Sam's Club locations this holiday season.
There's something for everyone on your list — friends, family, co-workers, neighbors, postal carrier, hairdresser, even the kids' teachers. These gifts from your heart are sure to be appreciated.
Create Personalized Goodie Gifts
Gather the contents by collecting goods from the grocery aisles and housewares department of your favorite superstore:
Holiday sweets: Pre-wrapped and packaged cookies and candies in fun Snowman and Santa Towers are great to have on hand; simply hang a decorative homemade card or gift tag around the neck.
Help with happy hour: Line a pretty basket with a festive towel and fill with a bottle of sparkling juice or wine, two elegant wine glasses, a fragrant candle, a tin of fancy nuts and some stylish cocktail napkins.
Love you a latte: Give a bag of gourmet coffee and include a beautiful coffee mug — or pick up an already-packaged gift set.
Bring brunch for a bunch: Load up a festive gift box or basket with brunch favorites — try fresh oranges and pears, pancake mix, maple syrup, a loaf of cinnamon or banana nut bread, plus an assortment of jams and spreader knives with holiday handles.
Time for some reel fun: For the film buff, include microwave movie popcorn, king-sized candy bars, a few cans of soda and the latest DVD releases, in a large plastic snack bowl.
Fuel-up power pack: Fill a draw-string knapsack with energy bars, bottled sports drinks, banana chips, a box of whole wheat pasta and wrist weights for the avid athlete.
Make a list for one-stop shopping for gift ideas by visiting www.walmart.com. Additional recipes are also available by clicking on In Stores Now/Ideas Center.
Chocolate Thumbprint Cookies
These pretty-as-a-picture cookies are amazingly easy to make. Let the kids help make these by rolling cookie balls and unwrapping the chocolate morsels.
Makes about 4 dozen cookies
1 16-ounce container dark chocolate frosting
4 tablespoons (1/2 stick) butter, softened
2 1/2 cups graham cracker crumbs
1/2 teaspoon almond extract
1 cup very finely ground almonds
48 large chocolate morsels, unwrapped
Beat chocolate frosting and butter in large bowl until well blended.
Mix in graham cracker crumbs and almond extract. Place almonds in pie plate or other shallow bowl.
Shape chocolate mixture into 1-inch balls (about 48). Roll each ball in almonds to coat.
Place balls on cookie sheet. Using finger, make deep indentation in center of each ball.
Fill each indentation with chocolate morsel. Refrigerate 30 minutes or until cold.
White Chocolate Macadamia Nut Bark
Easy and irresistible — be sure to make a batch for yourself as well. Package in a pretty cellophane bag or in a holiday candy dish tied with a festive ribbon.
Makes 1 1/2 pounds
2 cups semisweet chocolate morsels
2 cups white vanilla milk chips
2/3 cup macadamia nuts or almonds, toasted and coarsely chopped
Line 13- by 9-inch cookie sheet with waxed paper, allowing 2 inches of paper to hang over sides.
Melt 1 3/4 cups semisweet chocolate morsels in microwave on medium power for 2 minutes, stirring every 30 seconds, or until smooth.
Pour melted semisweet chocolate onto prepared sheet and spread to cover entire surface and form one even layer.
Melt 1 3/4 cups white chips in microwave on medium power 2 minutes, stirring every 30 seconds, until smooth.
Drizzle melted white chips over semisweet chocolate layer. Using toothpick or skewer, swirl melted chocolates together, creating marbled effect.
Sprinkle with nuts and remaining 1/4 cup semisweet chocolate morsels and 1/4 cup white chips. Gently press toppings into melted chocolates.
Refrigerate 30 minutes or until chocolate is firm.
Remove waxed paper from chocolate. Cut or break chocolate into bite-size pieces.
Morning Coffee Cake
What better way to wake up the holidays than with a delicious cinnamon swirl coffee cake? Give this breakfast treat on a red or green platter with a ribbon-wrapped serving knife.
Makes 12 to 16 slices
7 sweet dinner rolls
1 box (1 pound, 14 ounces) cinnamon swirl coffee cake mix
3/4 cup water
1/4 cup vegetable oil
3 eggs
1 cup whole milk
1 tablespoon granulated sugar
Preheat oven to 350°F. Butter and flour 10-cup Bundt pan. Slice 1 inch off tops of rolls and tear tops into 1-inch pieces; set aside. Place bottoms of rolls, cut sides up, in prepared pan.
In large bowl, combine coffee cake batter mix, water, oil and 2 eggs. Beat until well blended.
Pour half of batter over rolls. Sprinkle with cinnamon swirl packet from coffee cake mix. Pour remaining batter over rolls.
Whisk remaining egg, milk and sugar in another bowl to blend. Add reserved roll tops to milk mixture; set aside until milk mixture is absorbed.
Pour roll top mixture over cake batter in pan. Swirl batters together with a skewer.
Bake 45 minutes or until toothpick inserted near center of cake comes out clean. Cool cake in pan 25 minutes. Invert cake onto cooling rack; remove pan.
Place cake, right side up, on platter. Slice cake and serve.
Candy Cane Cocktail
Perfect for an evening of holiday entertaining. Or for gift-giving, bundle the ingredients in a candy cane themed basket complete with martini glasses and a cocktail shaker.
Makes: 1 drink
1 shot vanilla rum
1 shot white chocolate liqueur
1 shot peppermint schnapps
Candy cane, garnish
Add all liquid ingredients to cocktail shaker filled with ice. Shake well and strain into martini glass. Garnish with candy cane.
Source: Wal-Mart