(Family Features) Dancing leprechauns, pots of gold, corned beef and cabbage, green beer, parades, and the wearing of the green are all synonymous with St. Patrick's Day. But perhaps the most iconic symbol of all is the shamrock, the ubiquitous three-leafed plant that makes an appearance in a myriad of ways - it's said to bring good luck.
In honor of the day and to start a new tradition to be enjoyed after the corned beef and green beer, the Wilton Test Kitchen created a Lucky Giant Shamrock Cookie that's easy to bake and decorate. It's the perfect way to add fun, color and sweetness to a St. Paddy's party; there's plenty to serve a crowd. Plus, kids and adults alike will enjoy this colorful cookie.
The delicious butter cookie dough with a hint of almond is baked in a shamrock-shaped pan. To decorate, start with white ready-to-use decorator icing in a can (no special skills required). Use part of it to ice the background and sides of the shamrock. Tint a portion green and ice the shamrock shape on top of the cookie, then add green candy-coated chocolates to outline the edges. The message is written with the remaining white icing.
Visit www.wilton.com for additional ideas for St. Patrick's Day, and for celebrations of all kinds.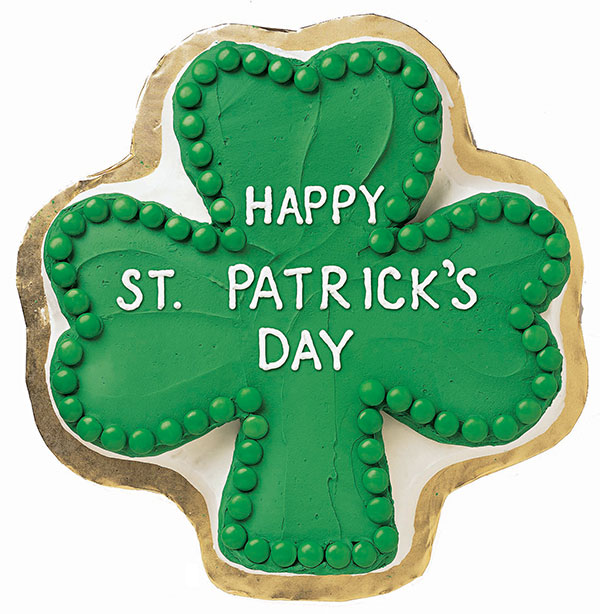 Lucky Giant Shamrock Cookie
Makes about 15 servings
2 3/4 cups all-purpose flour
1 teaspoon baking powder
1 teaspoon salt
1 cup (2 sticks) butter, softened
1 1/2 cups granulated sugar
1 egg
1 1/2 teaspoons vanilla extract
1/2 teaspoon almond extract
2 cans (16 ounces each) White Ready-To-Use Decorator Icing
Kelly Green Icing Color
Light corn syrup
Green candy-coated chocolates
Preheat oven to 375°F.
In medium bowl, combine flour, baking powder and salt. In large bowl, beat butter and sugar with electric mixer until light and fluffy; beat in egg and extracts. Add flour mixture to butter mixture 1 cup at a time, mixing after each addition. Do not chill dough. Press into bottom of ungreased Shamrock Pan.
Bake 20-25 minutes or until edges of cookie are lightly browned. Cool in pan 10 minutes. Remove from pan and cool completely. Place cooled cookie on foil-wrapped cake board or large serving platter.
Tint 2 cups icing green; thin with corn syrup. Reserve 1/4 cup white icing; thin remaining white icing with corn syrup. Use spatula to ice sides and background areas with thinned white icing. Spatula ice shamrock on top of cookie with green icing. Position candy on edges of shamrock. Using Tip 4, print message with reserved 1/4 cup white icing.
Convenience Tip: Substitute 2 packages (18 ounces each) refrigerated cookie dough for cookie recipe above.
Source: Wilton Enterprises
Impress guests with elegant appetizers
(Family Features) Bringing an element of elegance to your holiday celebration is easy when you start with party-pleasing ingredients, and great tasting food often starts with dairy. Foods like milk, cheese and yogurt not only enhance the flavor and texture of dishes everyone loves, but they also add high-quality nutrients to support the health and wellbeing of your guests.
Each of these recipes features a different variety of cheese as the essential ingredient for success. These decadent, elegant apps, which can be prepared in minutes, are sure to be party favorites. Find more ideas for serving up an elegant, yet simple menu your guests will love at MilkMeansMore.org.
Holiday Baked Brie
Recipe created by Foxes Love Lemons on behalf of United Dairy Industry of Michigan
Prep time: 10 minutes
Cook time: 14 minutes
Servings: 8
2 tablespoons unsalted butter
8 ounces button mushrooms, sliced
kosher salt
ground black pepper
1 Brie round (8 ounces)
3 tablespoons honey
1/4 cup pomegranate arils
1/4 cup shelled pistachios
crackers or toasted bread
Heat oven to 350° F.
In large skillet, heat butter over medium-high heat. Add mushrooms; cook 8-10 minutes, or until deep golden brown, stirring frequently. Season with salt and pepper; remove from heat.
Place Brie on parchment paper-lined rimmed baking pan; drizzle with honey. Transfer to oven and bake 5-7 minutes, or until inside of cheese is softened, but outside remains intact.
Transfer Brie to serving platter; top with pomegranate arils, pistachios and mushrooms. Serve immediately with crackers or bread.
Butternut Squash Queso Dip
Recipe created by Rachel Cooks on behalf of Milk Means More
Prep time: 5 minutes
Cook time: 15 minutes
Servings: 10
12 ounces butternut squash puree, frozen
1 teaspoon extra-virgin olive oil
1/2 finely diced red onion
1 clove garlic, minced
1 can (10 ounces) petite diced tomatoes and green chiles
1/2 teaspoon ground cumin
1/2 teaspoon chili powder
8 ounces Monterey Jack cheese, shredded
Place unwrapped squash in microwave safe bowl and heat in microwave 5 minutes at 50 percent power, or until thawed.
In large saucepan, heat oil over medium heat. Add onion and cook 4-5 minutes, or until translucent. Add garlic and cook 1 minute, or until fragrant.
Add squash, tomatoes, cumin and chili powder, and bring to boil over medium-high heat.
Reduce heat to low and add cheese. Stir until melted and serve immediately.
Parmesan Crisps with Basil and Sun-Dried Tomato
Recipe created by Art From My Table on behalf of Milk Means More
Prep time: 10 minutes
Cook time: 15 minutes
Servings: 8
6 ounces shredded Parmesan cheese
1/2 cup balsamic vinegar
2 tablespoons sugar
8 basil leaves
8 sun-dried tomatoes, jarred
Heat oven to 375° F.
On baking sheet, make eight flat circles out of 1 1/2 tablespoons cheese each. Bake cheese 5 minutes, or until just beginning to turn golden.
Using metal spatula, remove crisps from pan immediately, placing on rack or plate to cool.
Place vinegar and sugar in small saucepan and boil until mixture is reduced to about 1/4 cup and is thickened.
Top each crisp with 1 fresh basil leaf and 1 sun-dried tomato. Drizzle balsamic reduction over top.
Spinach and Artichoke Stuffed Mushroom Caps
Recipe created by The Lemon Bowl on behalf of Milk Means More
Prep time: 20 minutes
Cook time: 25 minutes
Servings: 24
24 large mushrooms, stemmed and reserved
1 tablespoon olive oil
1 clove garlic, grated
1 teaspoon salt
1/2 teaspoon black pepper
2 cups chopped frozen spinach, thawed and drained
1 can artichoke hearts, roughly chopped
2 cups crumbled feta cheese
1/2 cup minced onion
1 pinch chili flakes
1 pinch minced scallions
Heat oven to 350° F and place mushroom caps in single layer on baking sheet lined with foil.
Mince reserved mushroom stems and heat olive oil in large saute pan over medium-high heat. Add garlic and mushroom stems to pan along with salt and pepper. Saute 2-3 minutes, or until mushrooms are softened. Add spinach and artichoke hearts to pan and cook until heated through, about 3-4 minutes. Remove from heat and place mixture in large mixing bowl. Stir in feta cheese and onion. Adjust seasoning, to taste.
Using small cookie scoop, add 2 tablespoons filling to each mushroom cap. Bake mushrooms 20-25 minutes, or until mushroom caps are softened. Sprinkle with chili flakes and minced scallions to serve.
Source: United Dairy Industry of Michigan
Save
Save