(Family Features) Before the end zone dances and sideline celebrations, settling in for a winning game day experience starts with delicious foods. Whether your football parties take place at home, in the backyard or right outside the stadium, kicking it off with savory appetizers can get the crowd on its feet.
Keep your game plan simple this season and light up the scoreboard with fan favorites like dips and wings. These versions are both easy to prepare and can be enjoyed fresh or made in advance and kept warm or reheated to energize your fellow diehards.
Visit Culinary.net to find more touchdown-worthy tailgate recipes.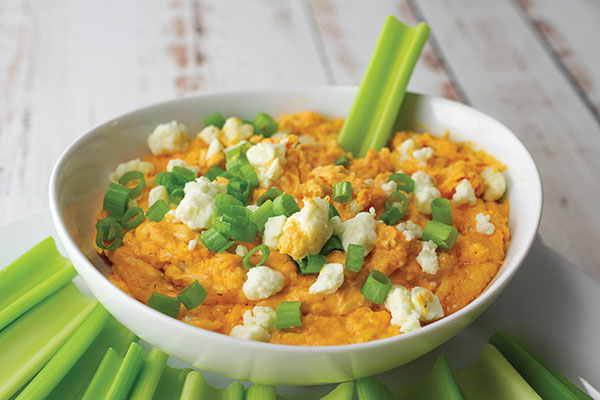 Add Savory Spice to Game Day Celebrations
Powering up for a successful game day starts with a pregame spread, and no tailgate or homegate is complete without a spicy dip that brings the heat.
This Game Day Buffalo Chicken Dip is a perfect solution for firing up your crowd as it requires little preparation so you save precious time before kickoff. Whether you bake shortly before the game begins or make it ahead of time for a parking lot party, simply keep it warm and serve with chips or veggie sticks for a quick, shareable appetizer.
Game Day Buffalo Chicken Dip
Servings: 3-4
2 cups shredded chicken
8 ounces cream cheese
1/2 cup sour cream
1 1/2 cups sharp cheddar cheese, plus additional for topping, divided
1/2 teaspoon onion powder
1/2 teaspoon garlic powder
1 heavy pinch dried dill
1/2 cup hot sauce
2 green onions, chopped
blue cheese crumbles
chips
vegetable sticks
Heat oven to 400 F.
In bowl, mix shredded chicken, cream cheese, sour cream, 1 1/2 cups shredded cheese, onion powder, garlic powder and dried dill until combined. Add hot sauce; mix until combined.
Transfer mixture from bowl to oven-safe dish. Top with additional shredded cheese, to taste.
Bake until cheese is melted, approximately 15 minutes.
Top with blue cheese crumbles and chopped green onion.
Serve warm with chips and vegetable sticks.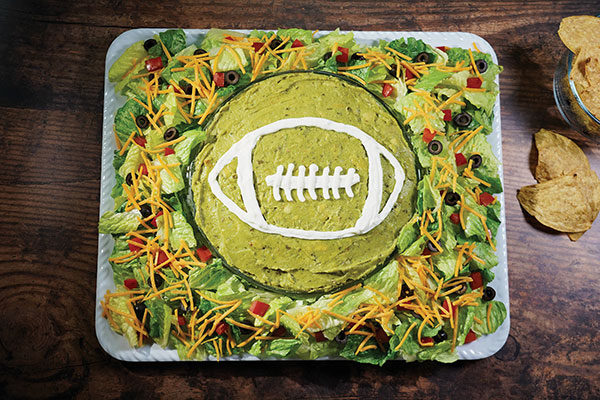 Score a Touchdown with a Game Day Dip
One of the best ways to take tailgating to the next level this season is by making healthier versions of classic game day fare. For example, you can be the MVP of your game day gathering with a delicious, hall-of-fame-worthy appetizer. Call an audible by using fresh, easy and healthy ingredients to make it better for you and score extra points with family and friends.
This Game Day Taco Dip takes fan-favorite flavors – beef, refried beans, salsa, guacamole, sour cream, cheese, tomatoes and black olives – and adds a twist with the Fresh Express Butter Supreme Salad kit. This tasty, colorful blend of green butter lettuce, red butter lettuce, radicchio and baby chard is available in the refrigerated produce department and is perfect for creating healthier versions of beloved tailgating dips, snacks, finger foods and more.
Visit FreshExpress.com to discover more winning game day recipe ideas and find a retailer near you.
Game Day Taco Dip
Prep time: 25 minutes
Cook time: 5 minutes
Servings: 12
1 pound ground beef
1 package (1 ounce) taco seasoning
1/4 cup water
2 tablespoons minced cilantro
1 can (16 ounces) refried beans, zesty salsa flavor
1 jar (16 ounces) thick and chunky salsa, medium or hot
2 cups guacamole
1/2 cup sour cream
3 packages (5 ounces each) Fresh Express Butter Supreme
1 1/2 cups shredded sharp cheddar cheese
1 cup tomatoes, chopped
1 can (2 1/4 ounces) sliced black olives, drained
1 package (14 ounces) tortilla chips
In skillet over medium-high heat, cook beef 5 minutes, or until no longer pink. Sprinkle with taco seasoning; mix well. Add water; cook 2 minutes, or until water is absorbed. Transfer to bowl; cool to room temperature. Add cilantro; mix well.
In 9-inch pie plate, evenly spread refried beans; top with seasoned ground beef and salsa. Add spoonfuls of guacamole across top of salsa then carefully spread to smooth.
Place sour cream in small resealable bag; cut off corner. Pipe sour cream to create football shape on guacamole.
Put pie plate in center of 15-by-18-inch tray. Arrange salad blend around pie plate. Top with cheddar cheese, tomatoes and olives. Serve with tortilla chips.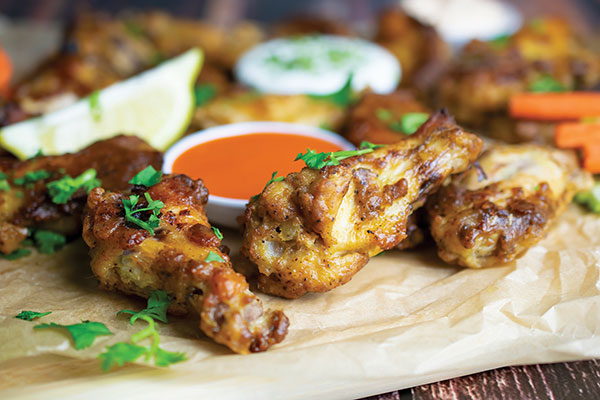 Just Wing It
Skip the silverware at your next homegate and dive right in with a fan favorite that requires just your hands and a heap of napkins: wings.
Whether you pick through your pieces or clean each wing to the bone, these Game Day Chicken Wings are perfect for eaters of all types. A simple flour-based coating keeps the recipe easy to make and baking in the oven means you can skip the messy fryer or firing up the grill.
Cook until crispy then corral your party's favorite dipping sauces from ranch and blue cheese to barbecue and more. Once your spread is served, it's time to sit back and enjoy the game.
Game Day Chicken Wings
Total time: 50 minutes
Servings: 4
1/2 cup butter, cubed
1/3 cup flour
2 teaspoons paprika
1 teaspoon garlic powder
1 teaspoon salt
1 teaspoon black pepper
10 chicken wingettes, thawed
dipping sauces (optional)
fresh parsley (optional)
Preheat oven to 425 F.
Line baking sheet with foil. Arrange butter cubes on foil.
In medium bowl, combine flour, paprika, garlic powder, salt and pepper.
Coat both sides of wings in flour mixture then evenly space among butter cubes on baking sheet.
Bake wings 30 minutes.
Turn wings over and bake 15 minutes, or until crispy and fully cooked.
Serve with dipping sauces and sprinkle with fresh parsley, if desired.
Source: Fresh Express
Fried, grilled, baked or slow-cooked, game day dishes come in all flavors and textures so everyone comes out a winner. Try these classic ideas and new spins to take your home-gate to the next level.
Chicken Wings – Bone-in or boneless, skin on or skin off, buffalo or barbecue-glazed, chicken wings are chef's choice for a handheld party pleaser. With nearly endless ways to prepare them, they're a game day staple for parties of all sizes.
Pizzas – While delivery (or carryout) from a local restaurant is likely to be more common, creating a homemade pizza is as simple as rolling out dough, layering sauce and cheese then finishing with personalized toppings. If you're in charge of a smaller, more manageable group, you can even try personal-sized pies for maximum customization.
Barbecue – Ribs, pulled pork, brisket and slow-smoked barbecue of all varieties may take more preparation but almost always ends with a happy fan base. Keep in mind that you'll need to plan further in advance for longer cook times, but larger cuts of meat like pork shoulder help feed larger groups.
Veggie Trays – Not every game day dish has to include heavy foods or sticky fingers. An assortment of carrots, broccoli, cauliflower, peppers and more paired with ranch or blue cheese dressings makes for a more nutritious appetizer ahead of the main course.
Dips – If you're looking for help from attendees, look no further than chips and dips for ways guests can lend a hand. Because they're usually simple to make and easily portable, your fellow fans can bring along any combination of their choosing from buffalo chicken dip and tortilla chips to crackers and hummus.
Sliders and Sandwiches – The combinations are just about endless for sliders with many variations of meats, cheeses, spreads and more. Keep your menu simple by choosing one type of bread, 1-2 meats and 1-2 cheeses to avoid going overboard. Guests can always add their own touches when it's time to dig in.
Walking Tacos or Nachos – Another personalized snack, walking tacos are an easy crowd-pleaser – all they take are taco shells and tortillas along with an assortment of your usual toppings: meat, cheese, sour cream, beans, guacamole, black olives, jalapenos and anything else your guests desire. Just line up the ingredients in separate bowls for DIY dining, and for a secondary option, provide tortilla chips to create nachos instead.
Find more game day recipes and ideas at Culinary.net.
Photo courtesy of Getty Images