(Family Features) Losing weight and focusing on a healthful diet may lead you back to the same tried-and-true tricks, however, conventional wisdom doesn't always pay dividends. Some eating plans may offer up new twists to help you and your family eat meals you enjoy without forgoing your health goals.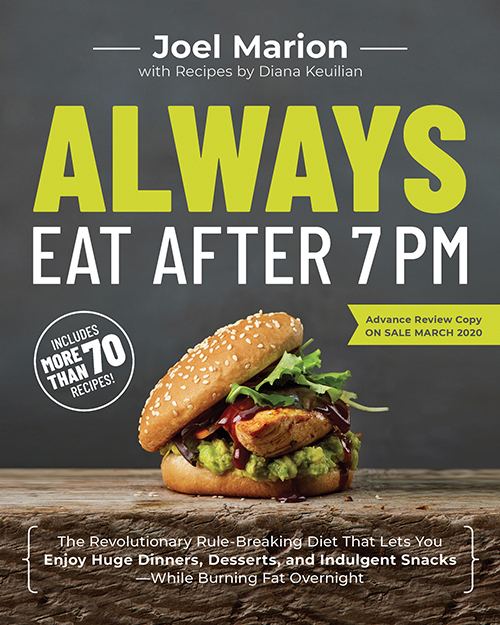 For example, "Always Eat After 7 PM," written by Joel Marion, CISSN, NSCA-CPT, five-time best-selling e-book author and co-founder of the e-commerce supplement company BioTrust Nutrition, debunks popular diet myths and offers an easy-to-follow diet that accelerates fat-burning and allows you to indulge in your most intense cravings by eating the majority of your calories at night. The outlined plan features a 14-day "acceleration phase" designed for rapid results, a "main phase" when you'll learn which fat-burning foods to eat to achieve your weight loss goals and a "lifestyle phase" to keep the weight off for good.
Conventional wisdom dictates that it's best to avoid carbs, eat an early dinner and never eat immediately before bed. However, Marion debunks the myths underlying traditional dieting with a simple, highly effective weight loss program allowing readers to enjoy social dinners without restriction, satisfy nighttime hunger with fat-burning sweet and salty pre-bedtime snacks and indulge cravings with strategically timed cheat meals.
With straightforward food lists, easy-to-follow meal plans and recipes for each phase, this can be a simpler, more enjoyable way to lose weight without feeling restricted. Taken directly from the book, these recipes for Pot Roast Tacos with Chimichurri, Cheesy Ground Beef Skillet and Chili Loaded Baked Potato can help you take part in the program while enjoying time with loved ones at the family table.
Learn more about the diet and book at joelmarion.com.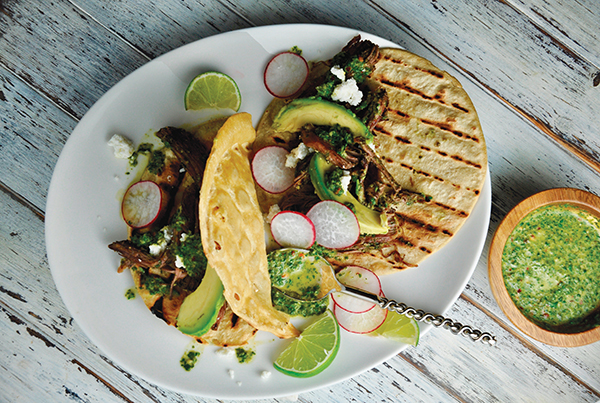 Pot Roast Tacos with Chimichurri
Recipe courtesy of "Always Eat After 7 PM"
Prep time: 10 minutes
Cook time: 5 minutes
Servings: 8

Chimichurri:
1 1/2 cups fresh Italian parsley
1 cup fresh cilantro
2 tablespoons green onion, chopped
1 tablespoon garlic, chopped
1/4 cup olive oil
2 tablespoons fresh lemon juice
1 tablespoon water
1 teaspoon sea salt
1 teaspoon crushed red pepper
Tacos:
3 cups chuck roast, slow cooked and chopped
8 yellow corn tortillas (6 inches)
1 ripe avocado, pitted and sliced
4 radishes, sliced
1/4 cup queso fresco, crumbled
To make chimichurri: In food processor, combine parsley, cilantro, onion and garlic until chopped. Add olive oil, lemon juice, water, salt and red pepper; process until fully combined.
To assemble tacos: In medium skillet over medium-high heat, cook chopped chuck roast 5 minutes. Remove from heat and mix in 1/2 cup chimichurri. In grill pan, char tortillas then fill evenly with meat, avocado, radishes and queso fresco. Serve with remaining chimichurri.
Nutritional information per serving: 410 calories; 24 g fat; 12 g carbohydrates; 366 mg sodium; 2 g fiber; 41 g protein; 1 g sugar.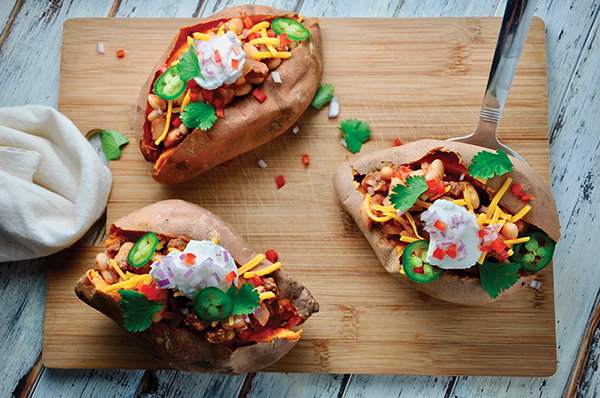 Chili Loaded Baked Potato
Recipe courtesy of "Always Eat After 7 PM"
Prep time: 15 minutes
Cook time: 1 hour, 35 minutes
Servings: 6
6 sweet potatoes (8 ounces each)
nonstick cooking spray
salt, to taste
pepper, to taste
1 tablespoon olive oil
2 pounds ground chuck
2 yellow onions, diced
2 tablespoons garlic, minced
3 tablespoons chili powder
2 tablespoons ground cumin
1 tablespoon dried oregano
2 teaspoons smoked paprika
1/4 teaspoon cayenne pepper
3 cups low-sodium beef broth
1 can (28 ounces) crushed tomatoes
1 tablespoon apple cider vinegar
1 can (15 ounces) butter beans, drained and rinsed
1/2 cup fresh cilantro, chopped
1 Anaheim chile, minced
1 teaspoon sea salt
1/2 cup plain Greek yogurt
1/4 cup fresh cilantro leaves
1/4 cup red onion, minced
Heat oven to 400° F. Line baking sheet or pan with parchment paper. Rinse and scrub sweet potatoes; pat dry with paper towel and pierce several times with fork or knife. Place in prepared pan. Lightly spray sweet potatoes with nonstick cooking spray and season with salt and pepper, to taste. Bake 45 minutes- 1 hour until tender when poked.
In pot, heat olive oil. Saute chuck until fully cooked. Drain fat and return to pot; add onion, garlic, chili powder, cumin, oregano, paprika and cayenne pepper. Reduce heat to medium-low and saute until onions are soft, about 10 minutes, stirring often.
Add broth, crushed tomatoes and vinegar to pot. Increase heat to high and bring to boil. Reduce to medium-low and simmer 10 minutes. Add butter beans, cilantro and chile; cook 5 minutes. Season with sea salt.
Split potatoes lengthwise; fluff flesh with fork. Top evenly with chili, yogurt, cilantro leaves and red onion.
Nutritional information per serving: 573 calories; 10 g fat; 58 g carbohydrates; 588 mg sodium; 11 g fiber; 25 g protein; 12 g sugar.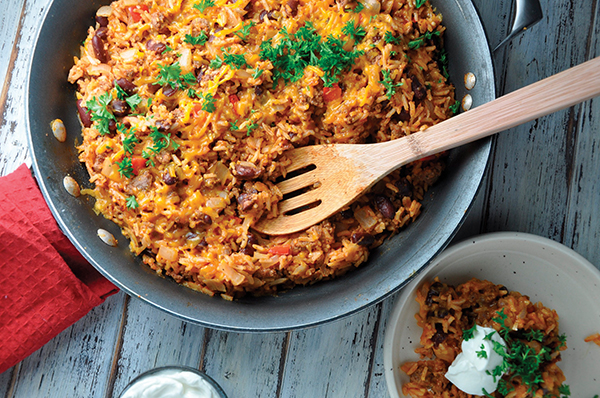 Cheesy Ground Beef Skillet
Recipe courtesy of "Always Eat After 7 PM"
Prep time: 20 minutes
Cook time: 38 minutes
Servings: 6
1 3/4 cups water
1 teaspoon sea salt
1 cup white rice
1 tablespoon olive oil
1 pound extra-lean ground beef
1 yellow onion, chopped
1 tablespoon garlic, chopped
1 red bell pepper, seeded and chopped
1 teaspoon dried oregano
1 teaspoon dried basil
1/2 teaspoon crushed red pepper
1/2 teaspoon sea salt
1/4 teaspoon ground black pepper
1/2 cup tomato sauce
1 can (15 ounces) kidney beans, rinsed and drained
1 cup shredded cheddar cheese
1/3 cup fresh parsley, minced
In saucepan over high heat, bring water to boil. Add salt and rice; stir once then cover pot and reduce to low heat 18 minutes.
In large skillet, heat olive oil. Stir in ground beef. Cook and stir until beef is crumbly and no longer pink. Drain and discard excess grease. Mix in onion and garlic; cook until tender, about 5 minutes. Add bell pepper, oregano, basil, red pepper, sea salt and black pepper; cook and stir until bell pepper is tender, about 5 minutes.
Stir in cooked rice, tomato sauce and kidney beans. Reduce heat and cover until vegetables are tender, about 8 minutes. Remove pan from heat, sprinkle cheese over top and garnish with parsley.
Nutritional information per serving: 399 calories: 14 g fat; 36 g carbohydrates; 816 mg sodium; 4 g fiber; 30 g protein; 3 g sugar.
Source: Promote A Book
(Family Features) Cinco de Mayo is a fun and festive holiday that's celebrated with music, dancing, family and delicious food. To bring great Mexican flavors to your fiesta, take a lesson from Maria Conception Jacinta Dominguez Ortega - also known as Mama Ortega.
In the 1800s, Mama Ortega created a loving home for her 13 children, and it centered around a tiny kitchen. From her small charcoal-burning stove, Mama created memorable meals her family loved. Everything for each meal was homegrown, handpicked and homemade.
You may not be able to grow your own ingredients, but you can take advantage of the way Mama did things - through authentic ingredients such as the line of Ortega Mexican Foods products. Fire-roasted chiles, authentic taco seasonings, crisp taco shells made with whole kernel corn and America's number one taco sauce are just a few of the ways that Ortega brings authentic Mexican flavor and fun to your family's dinner table.
For more delicious Mexican recipes to enjoy on Cinco de Mayo - or any day - visit www.ortega.com.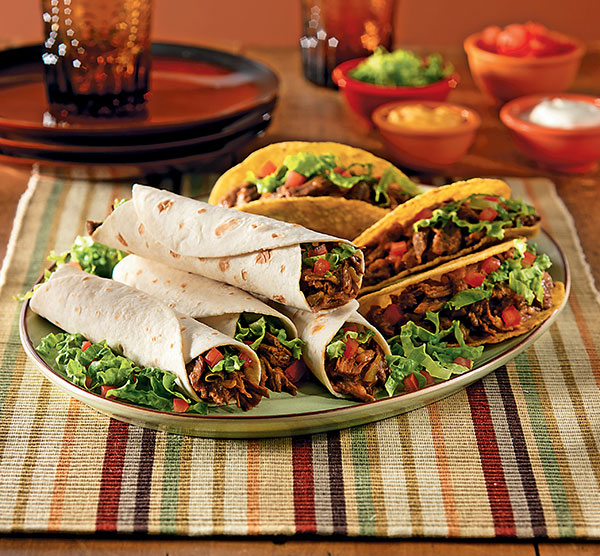 Slow-Cooked Shredded Beef Tacos
Prep Time: 12 minutes
Start to Finish: 6 hours
Makes: 6 to 8 servings
1 1/2 pounds beef chuck roast
1 medium onion, sliced
1 cup water
1 Ortega Grande Taco Dinner Kit
1 can (4 ounces) Ortega Diced Green Chiles
Optional toppings: shredded lettuce, chopped tomato, shredded mild cheddar cheese, sour cream
Place beef and onion in 4-quart slow cooker. Combine water and seasoning mix from kit in small bowl. Pour over beef and onion. Cover and cook on LOW 6 to 8 hours or until fork tender.
Transfer beef to cutting board; shred beef with two forks. Place in large bowl. Stir in taco sauce from kit and chilies.
Fill warmed taco shells and tortillas from kit with beef mixture. Top with cheese sauce from kit. Garnish with desired toppings.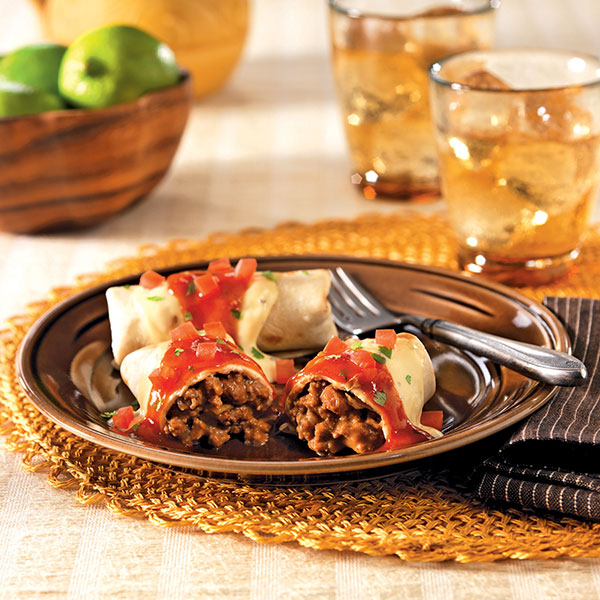 Smothered Beef and Bean Burritos
Prep Time: 10 minutes
Start to Finish: 40 minutes
Makes: 10 burritos
1 can (10.75 ounces) condensed cream of mushroom soup
1 can (10 ounces) condensed cheddar cheese soup
1/2 cup sour cream
1 tablespoon olive oil
1 pound lean ground beef
1 onion, diced
3/4 cup water
1 Ortega Soft Taco Kit
1 cup Ortega Refried Beans
2 tablespoons chopped fresh cilantro
1/4 cup diced tomato
Preheat oven to 350°F. Lightly coat 13 x 9-inch baking dish with nonstick cooking spray. Combine soups and sour cream in small bowl; set aside.
Heat oil in skillet over medium-high heat. Add beef and onion. Cook and stir 5 minutes or until beef is no longer pink. Drain and discard fat. Add water and seasoning mix from kit. Cook and stir 3 minutes. Stir in refried beans.
Wrap tortillas from kit with clean, lightly moistened cloth or paper towels. Microwave on HIGH (100% power) 1 minute, until hot and pliable.
Divide beef mixture evenly among tortillas. Fold ends of tortilla to middle, then roll tightly around mixture. Place in baking dish, seam side down. Repeat with remaining tortillas.
Spread soup mixture evenly over tortillas. Bake 22 to 25 minutes or until heated through. Garnish with taco sauce from kit, cilantro and tomatoes.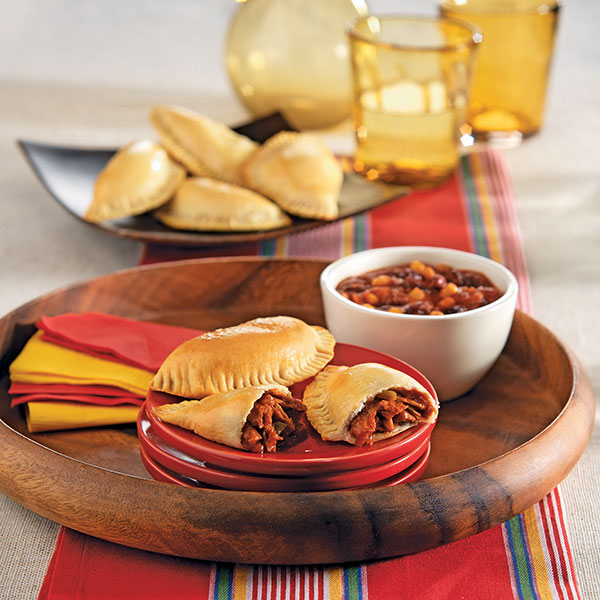 Easy Empanadas
Prep Time: 10 minutes
Start to Finish: 25 minutes
Makes: 12 empanadas
1 cup prepared refrigerated barbecue shredded pork
2 tablespoons Ortega Taco Sauce, any variety
1 tablespoon Ortega Fire-Roasted Diced Green Chilies
1 can (12-count) refrigerated biscuits
1 egg, well beaten
1 cup black bean and corn salsa
Preheat oven to 375°F. Mix pork, taco sauce and chilies in small bowl.
Separate biscuits into 12 pieces. Flatten each biscuit into 6-inch round, using rolling pin. Divide filling evenly among biscuits, spreading over half of each round to within 1/4 inch of edge. Fold dough over filling; press edges with fork to seal well. Place on ungreased cookie sheet. Brush tops with beaten egg.
Bake 12 to 15 minutes or until edges are golden brown. Immediately remove from cookie sheet. Serve warm with salsa for dipping.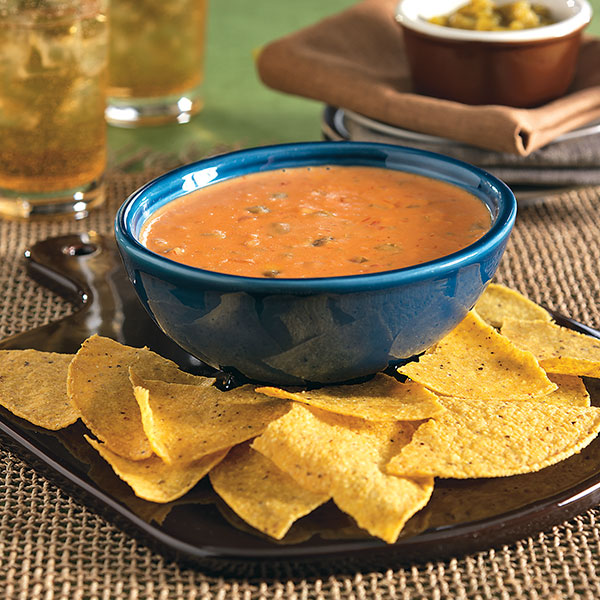 Chili Con Queso Dip
Prep Time: 3 minutes
Start to Finish: 15 minutes
Makes about 3 cups
1 package (16 ounces) pasteurized processed cheese spread, cut into chunks
1 cup Ortega Thick and Chunky Mild Salsa
1 can (4 ounces) Ortega Fire-Roasted Diced Green Chiles
1 package (10 count) Ortega Tostada Shells or 1 package (12-count)
Ortega Taco Shells, broken into pieces
Additional Ortega Fire-Roasted Diced Green Chiles (optional)
Chopped tomatoes (optional)
Combine cheese, salsa and chilies in small saucepan. Cook and stir over low heat until fully melted and blended.
Serve warm with tostada or taco shells. Garnish with additional chilies and tomatoes, if desired.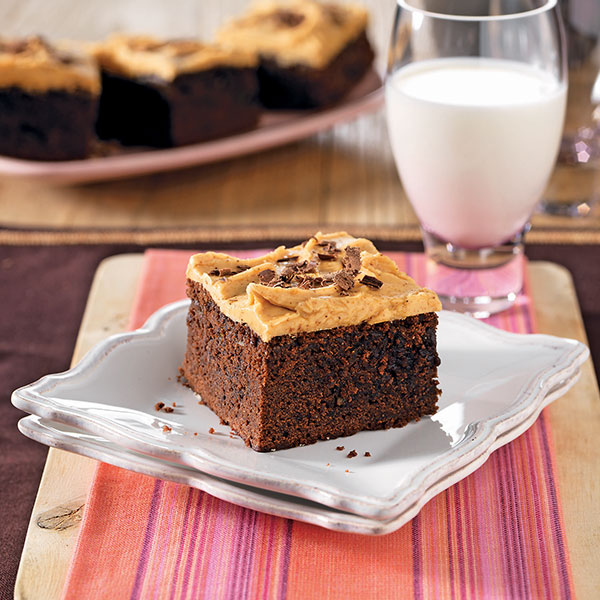 Chocolate Chile Brownies With Spiced Frosting
Prep Time: 10 minutes
Start to Finish: 1 hour
Makes: 9 servings
Brownies
1 package (18 to 19 ounces) brownie mix, plus ingredients to prepare mix
1 can (4 ounces) Ortega Diced Green Chiles, undrained
Frosting
1 cup powered sugar
1 tablespoon Ortega Chili Seasoning Mix
1 1/2 to 2 tablespoons milk
Preheat oven to 350°F. Line 8-inch square baking pan with aluminum foil, extending foil over sides of pan; lightly coat with nonstick cooking spray.
Prepare brownies according to package directions. Stir in chilies; mix until well blended. Pour into prepared baking pan. Bake 25 to 30 minutes, or use time recommended on package. Cool on wire rack. Using foil "handles," remove from pan.
Blend powdered sugar and seasoning mix in small bowl. Stir in milk, adding more if necessary, until desired consistency. Spread on brownies. Slice and serve.
Source: Ortega