(Family Features) Cooking delicious family meals is surely the focus of many home chefs, from quick dishes on busy weeknights to homestyle favorites on the weekend. Equally important, however, is dishing up foods and ingredients you can feel good about serving to your loved ones.
The next time seafood is on the menu, consider the source of your main course. Available fresh, frozen, smoked and canned year-round and nationwide, seafood from Alaska is sustainably harvested, and you can trust it comes from a responsibly managed fishery. Utilizing a science-based approach, the state sustains the long-term vitality of species and their natural habitats, as well as the fishing communities that rely on them.
Fishermen and scientists work together to ensure they only harvest what science tells them the ecosystem can support, so that fish stocks, communities and the marine environment can thrive for generations to come.
Wild, sustainable and harvested in the USA, Alaska seafood is full of flavor and high-quality protein, vitamins, minerals and oils essential to good health, including omega-3s and vitamin D. You can feel good serving your loved ones these Blackened Alaska Cod Tacos as a classic way to spice up your dinner table, or give a sweet heat kick to Spicy Alaska Sablefish in Lettuce Cups with Korean chili paste, miso and honey.
Visit alaskaseafood.org to find more information and family-friendly recipes.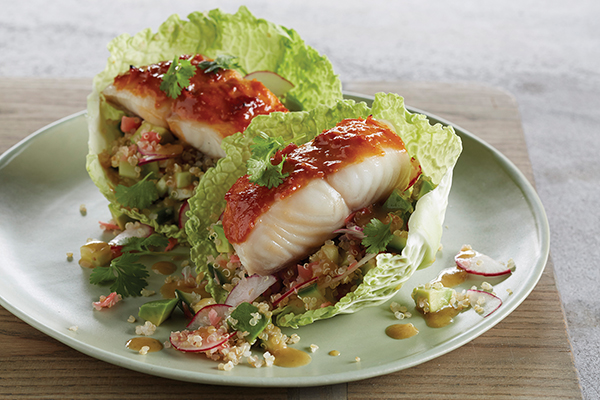 Spicy Alaska Sablefish in Lettuce Cups
Recipe courtesy of the Alaska Seafood Marketing Institute
Prep time: 20 minutes
Cook time: 10 minutes
Servings: 4 (2 lettuce cups each)
1/4 cup yellow or white miso
1 tablespoon Korean chili paste
1 tablespoon honey
1 pound Alaska sablefish (black cod), cut into 2-ounce portions
nonstick cooking spray
1 small avocado, pitted, peeled and chopped
1-1 1/4 cups cooked sushi rice or quinoa
1/2 cup chopped English cucumber
1/4 cup thinly sliced halved radish
1/2 cup pickled ginger, chopped
1/2 cup bottled Asian-style salad dressing with wasabi and ginger
8 medium-large butter lettuce leaves
1/2 cup cilantro leaves
Blend miso, chili paste and honey; spread onto Alaska sablefish portions. Place portions on nonstick cooking spray-coated, foil-lined baking sheet. Roast 5-7 minutes, or until fish is opaque throughout and deep golden brown; cool slightly.
In mixing bowl, combine avocado, rice or quinoa, cucumber, radishes and ginger; pour in dressing. Toss to coat.
To serve, place about 1/3 cup vegetable-rice mixture in each lettuce leaf. Top with one sablefish portion. Sprinkle each lettuce cup with 1 tablespoon cilantro leaves.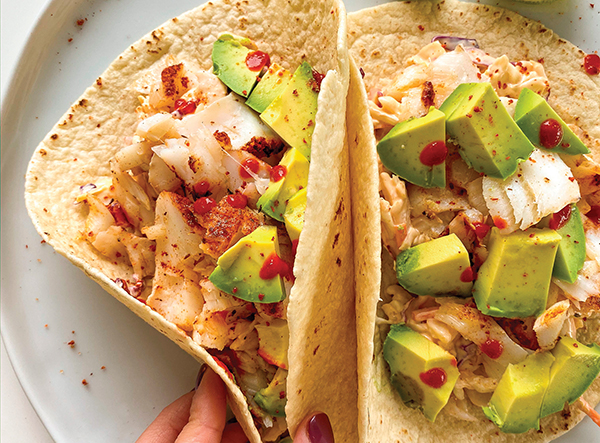 Blackened Alaska Cod Tacos
Recipe courtesy of the Alaska Seafood Marketing Institute and Sari Diskin
Prep time: 10 minutes
Cook time: 10 minutes
Servings: 2-3
2 cups slaw mix
2 tablespoons mayonnaise
1 teaspoon hot sauce, plus additional for serving
1 lime, divided
salt, to taste
pepper, to taste
nonstick cooking spray
1/2 pound Alaska cod
olive oil
blackening seasoning, to taste, plus additional, divided
sea salt, to taste
4 small flour tortillas
1 avocado, sliced
Preheat oven to 400 F.
In bowl, mix slaw with mayonnaise, hot sauce, juice from 1/2 lime and salt and pepper, to taste; set aside.
Line baking dish with parchment paper and spray with nonstick cooking spray. Place Alaska cod on top and coat lightly with olive oil. Generously season with blackening seasoning and sea salt, to taste.
Bake 5 minutes, set oven to broil and broil 3-5 minutes. When fish is done (when it flakes easily with fork and is opaque throughout), remove from oven and break into small chunks with fork.
In flour tortillas, add avocado and slaw. Top with chunks of cod and drizzle with additional hot sauce, squeeze of lime juice from remaining 1/2 lime and additional blackening seasoning.
Photo courtesy of Sari Diskin (Blackened Alaska Cod Tacos)
(Family Features) Summer is the perfect time to bring out the grill and enjoy creating a flavorful meal when entertaining your family and friends. While some choose to whip up classic recipes, you can heat things up by taking advantage of all the seasonal ingredients and popular culinary trends, such as opting for authentic, Asian-inspired recipes.
With many Americans opting to eat more ethnic foods, it's evident that global flavors continue to be on the rise. While Asian flavors are not new, they continue to pique consumers' curiosity. Incorporating on-trend, plant-based products and ingredients that bring out Asian flavors aid in creating bright and balanced dishes for all your eating occasions both indoors and in the backyard this summer.
Consider these tips to ensure your summer gatherings are ones to remember.
Take Advantage of Seasonal Ingredients
Summer provides a variety of fresh flavors to incorporate into meals, whether you're stirring up a classic family recipe or something new. Seasonal tastes like tomatoes, peaches, corn, blueberries, avocados and other sun-ripened fruits and vegetables can help showcase the variety of the summer harvest.
Opt for Simple, Flavorful Swaps
From sides to salads and sandwiches, many summer dishes are served with creamy condiments. However, simple, accessible swaps can provide the same robust flavors using fewer, cleaner ingredients. One time-tested example is rice vinegar, which can be an alternative to mayonnaise and creamy dressings. To help elevate the flavors of your summertime dishes with minimal calories, consider an option like the NAKANO lineup of eight delicious rice vinegars, which are made with real rice and the finest ingredients, creating a clean flavor that is smoother and mellow compared to other vinegars. Featuring easy-to-read labels with no more than seven ingredients, it has no added preservatives, no artificial flavors and no high-fructose corn syrup or MSG. These rice vinegars are available in eight delicious varieties, including the new Toasted Sesame Rice Vinegar.
Serve Up On-Trend Asian Dishes
Asian flavors and ingredients continue to be increasingly popular due to delicious flavor profiles combined with vibrant colors and presentation on the plate. When warmer weather calls for lighter meals, go for an option that blends popular culinary trends and adventurous tastes like those typically found in Asian cooking to wow your crowd. Even the most inexperienced of cooks can whip up this Asian Buddha Bowl with Lemon-Tahini Dressing, featuring tofu, nourishing veggies and a sweet-yet-tangy dressing – a combination to leave your guests eager for your next get-together.
For more recipe inspiration and tips for creating fresh summer flavors, visit NAKANOFlavors.com.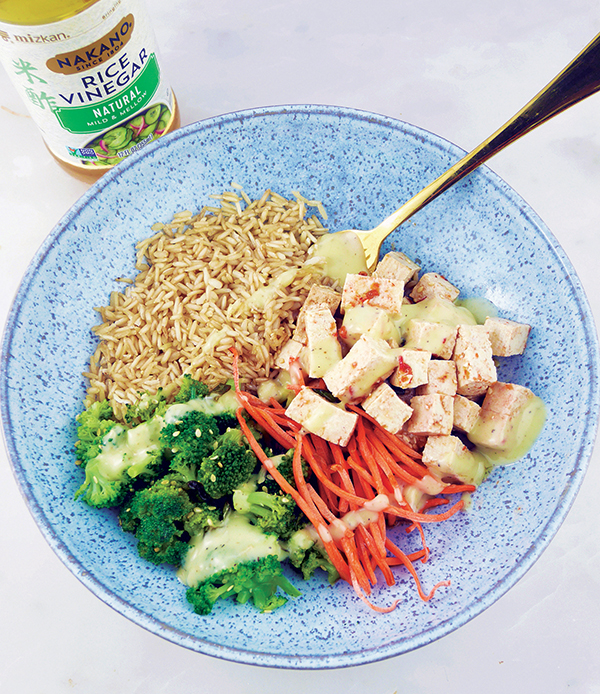 Asian Buddha Bowl with Lemon-Tahini Dressing
Prep time: 20 minutes
Cook time: 10 minutes
Servings: 6
Tofu Marinade:
2 tablespoons NAKANO Seasoned Rice Vinegar or NAKANO Roasted Garlic Rice Vinegar
1/4 cup tamari (Japanese soy sauce)
1 tablespoon sesame oil
2 teaspoons chili paste
2 garlic cloves, diced
2 blocks extra-firm tofu, pressed and cut into 1-inch cubes
nonstick cooking spray
wooden skewers, soaked in water
Buddha Bowl:
2 cups fresh, shredded carrot
2 cups broccoli, cooked and cut into small florets
3 cups brown rice, cooked
2 teaspoons sesame seeds, toasted
Lemon-Tahini Dressing:
1 tablespoon NAKANO Natural Rice Vinegar or NAKANO Organic Natural Rice Vinegar
2 tablespoons tahini (sesame seed paste)
3 tablespoons sesame oil
1 tablespoon tamari (Japanese soy sauce)
1 tablespoon maple syrup
1 garlic clove, grated
1 teaspoon grated ginger
2 tablespoons lemon juice
To make Tofu Marinade: In small bowl, whisk rice vinegar, tamari, sesame oil, chili paste and diced garlic. Add tofu to bowl and place in refrigerator 10-20 minutes to allow tofu to marinate.
Before lighting grill, spray with nonstick cooking spray then heat grill to medium-high heat. Remove tofu from marinade and thread on skewers. Grill each skewer 10 minutes, turning midway, or to desired doneness.
To make Buddha Bowl: In six bowls, evenly combine carrots, broccoli, baked tofu, brown rice and sesame seeds.
To make Lemon-Tahini Dressing: In medium bowl, whisk rice vinegar, tahini, sesame oil, tamari, maple syrup, garlic, ginger and lemon juice until combined. Top each bowl with dressing, as desired.
Substitutions: Tofu can be substituted with 1 1/2 pounds boneless, skinless chicken or top sirloin steak.
Source: NAKANO