Real California Milk helps impress guests with the California Cheese Centerpiece and Cookie Exchange Board
(Family Features) This holiday season, entertaining is back on the table and that means endless opportunities to showcase Instagram-worthy ideas. For those looking to impress friends and family, Real California Milk has two unique culinary ideas to take holiday traditions to the next level: The Cheese Centerpiece and Cookie Exchange Board. From fresh food as bountiful décor to camera-ready cookie presentations, incorporating California dairy into your entertaining is a winning holiday strategy.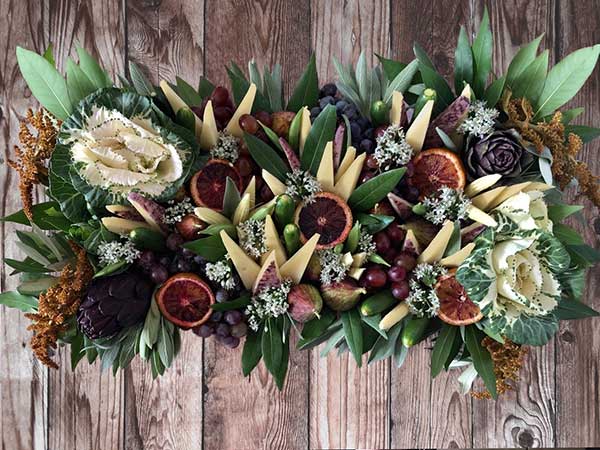 California Cheese Centerpiece
The mission? Create a holiday centerpiece but make it delicious. Real California Milk partner Jessica Lawrenz, Founder of Monger, Mold and Milk, took the challenge with the California Cheese Centerpiece, the ultimate in edible entertaining with a beautiful display of Real California Cheeses, salami, fruits and vegetables arranged with fragrant herbal garnishes in a display sure to impress family and friends. As a bonus, it creates less waste than a stand-alone floral bouquet (and you'll have less to clean up!).
Find additional cheese displays and holiday recipes at realcaliforniamilk.com.
INGREDIENTS:
Variety of firm to medium (semi-firm) Real California Cheeses (find them here: https://www.realcaliforniamilk.com/cheese-makers)
Shown in arrangement:
Real California Dry Jack cheese wedges
Real California Wine-soaked Cheddar wedges
Real California Triple Cream cheese wedges
Salumi or salami, made into roses
Fresh fruits and vegetables:
Mini clementines or kumquats
Grapes or currants (both shown)
Fresh figs
Gooseberries
Cucamelons or mini cucumbers
Cherry tomatoes (tiger stripe tomatoes shown but any small tomato works)
Garnishes:
Bay leaf stems
Olive leaf stems
Rosemary branches
Lavender stems
Sage bunches
Chive or garlic flowers or any edible flower with a stem
Tools and Materials:
Circular tray or plate
Craft or flora foam (half sphere shape that is at least 1-inch smaller in diameter than your tray)
Double-sided tape
Plastic wrap
Toothpicks, U-shape bamboo toothpicks (optional)
Cookie cutter shapes (optional)
DIRECTIONS:
Cover foam in plastic wrap to protect food from making contact with the foam.
Use double-sided tape to secure the foam to the tray.
Now you can start assembling the centerpiece. Start from the bottom and work your way up to the top of the sphere.
Use the bulk of your leafy garnishment (bay leaf stems, olive leaf stems, sage bunches) on the bottom layer to create a base and coverage by poking the stems into the foam. If needed you can trim the bottom of the stem in a diagonal direction to create a more pokey end OR use a toothpick to pierce a hole in the place where you want to insert stems.
For best visual appeal, fruits like grapes and currants should be arranged to kind of flow over the edge of the tray near the bottom as well. PRO TIP: Use "U" shaped bamboo toothpicks to secure the stems of the hanging fruits into the foam.
From here use toothpicks to secure cheese wedges, salumi roses, fruits and vegetables into the foam. Cut shorter, triangular pieces of cheese (as opposed to longer triangular pieces used for a long/rectangular centerpiece). Use any tall wedges near the bottom where they will be easy to grab but not sticking out too far if placed near the top. You can use cookie cutter shapes as well for the cheeses, if desired.
Finally, take any of the smaller garnish pieces you have (lavender, chive flowers, rosemary ends, loose leaves) to fill in the spaces between all the items.
Holiday Cookie Exchange Board
If a cookie exchange is on the docket for this year's holiday or you're simply looking to upgrade your dessert table, take some tips from this stunning cookie exchange presentation. Mix and match Real California Milk cookie recipes to create a mouthwatering arrangement and decorate with mini candy canes, holiday lollipops, various holiday décor and lights. Add napkins, cookie bags for take-away, and recipe cards for sharing, and let your guests go to town.
Hot cocoa or coffee
Milk shooters
Dipped in melted dark chocolate and rolled in crushed peppermint candies or Holiday sprinkles
Leave out ice cream, exchange holiday sprinkles for rainbow sprinkles, and dip in melted white chocolate with color for extra festivity

California is the nation's leading milk producer and is responsible for producing more butter, ice cream and nonfat dry milk than any other state. The state is the second-largest producer of cheese and yogurt. California milk and dairy foods can be identified by the Real California Milk seal, which certifies they are made exclusively with milk from the state's dairy farm families.
About Real California Milk/California Milk Advisory Board
The California Milk Advisory Board (CMAB), an instrumentality of the California Department of Food and Agriculture, is funded by the state's dairy farm families who lead the nation in sustainable dairy farming practices. With a vision to nourish the world with the wholesome goodness of Real California Milk, the CMAB's programs focus on increasing demand for California's sustainable dairy products in the state, across the U.S. and around the world through advertising, public relations, research, and retail and foodservice promotional programs. For more information and to connect with the CMAB, visit RealCaliforniaMilk.com, Facebook, YouTube, Twitter, Instagram and Pinterest.
Source: Real California Milk
(Family Features) When it comes to eating, it can be difficult to find foods that kids can enjoy while also introducing them to valuable nourishment and health principles.
Instead of giving in to ice cream for every meal or forcing children to eat something their taste buds don't agree with, there are tasty recipes like Chicken Noodle Soup, Cinnamon-Sprinkled French Toast and Flower Salad that can quench their appetites without giving up nutritional value. These fun recipes can give kids a chance to help in the kitchen, learning important life skills while spending quality time with family.
To find more fun, kid-friendly recipes that include both taste and nourishment, visit culinary.net.
The Classic Kid-Favorite
When mealtime hits and bellies start growling, turn to a classic to keep your kids full and satisfied. Chicken Noodle Soup has always been a favorite among children, so keep tradition alive in your family with this scrumptious recipe. For more delicious chicken recipes, visit eatchicken.com.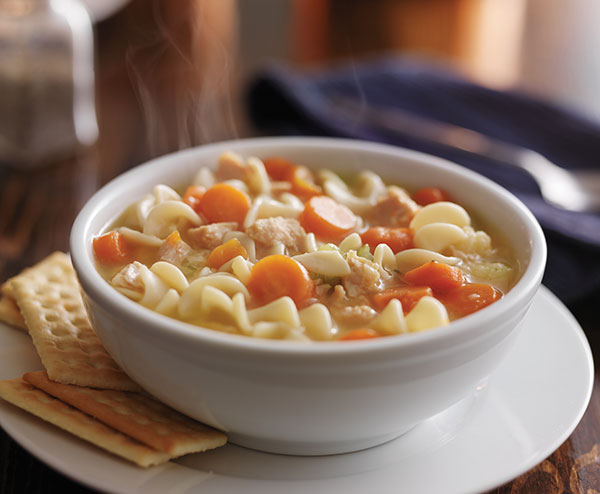 Chicken Noodle Soup
Recipe courtesy of National Chicken Council
1 chicken (3 pounds), liver discarded
2 1/2 quarts cold water
4 carrots, peeled and cut into bite-size pieces
2 onions, peeled
2 celery stalks with leaves, cut into 4 pieces
6 cloves garlic, peeled
2 fresh thyme sprigs or 1/2 teaspoon dried thyme
1 1/2 teaspoons kosher salt
1 teaspoon whole black peppercorns
Soup:
1 cup small pasta, cooked
1 cup frozen peas, thawed
1/8 teaspoon salt
1/8 teaspoon pepper
2 tablespoons fresh dill, chopped
2 tablespoons fresh parsley, chopped
To prepare broth: In large pot over high heat, bring chicken and all remaining broth ingredients to boil. Reduce heat to low; skim surface of broth to remove foam. Let simmer 1 1/2 hours, skimming occasionally, and turning chicken. Add more water if necessary to keep chicken submerged.
Remove chicken with tongs and cool. Strain broth through fine sieve. Discard celery, herbs and spices. Reserve onions and carrots. Remove any excess fat from top of broth with spoon.
Pull chicken meat from bones and discard skin and bones. Dice chicken and reserve. Quarter cooked onions, if desired.
To prepare soup: In large pot over high heat, return strained chicken broth and bring to rolling boil. Add reserved onions and carrots. Reduce heat to low; stir in reserved chicken meat, pasta and frozen peas, cooking until warm. Season with salt and pepper. Ladle soup into bowls and top with dill and parsley.
Connect Kids with Food for Healthy Habits
More than nine in 10 millennial moms think it's important for their kids to learn about where their food comes from, and more than three-quarters of those moms actively do things with their kids to help learn just that, according to recent findings.
Building healthy habits is the top reason moms cite for encouraging more learning when it comes to food, according to research conducted by IPSOS on behalf of Cuties – the sweet little clementines. Even when the weather is colder outside, recipes like this Flower Salad can help encourage kids to eat healthy for a lifetime.
For more kid-friendly recipe ideas and content exploring where food comes from, visit cutiescitrus.com/our-story.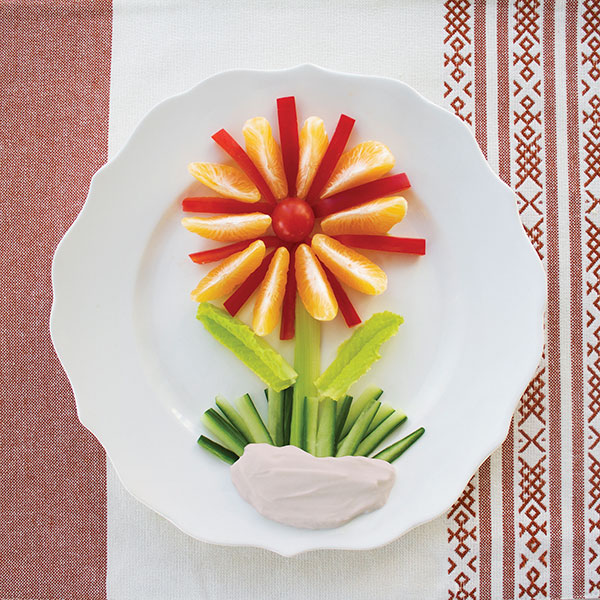 Flower Salad
Recipe courtesy of Ellie Krieger
Servings: 1
Flower:
1 Cuties clementine
9-10 thinly sliced strips red bell pepper, cut in 1-inch pieces
1/2 grape tomato
1 celery stick, cut to 3 inches
2 small leaves romaine lettuce
1 piece English cucumber, unpeeled, seeded and cut to 1 1/2 inches then thinly sliced
Dip:
2 tablespoons plain Greek yogurt
1/2 teaspoon honey
1/4 teaspoon fresh lemon juice
Peel clementine and separate sections almost all the way, leaving attached at the base. Place on plate with base down. Place piece of red bell pepper between each citrus section, and half tomato in center to form flower.
Place celery and lettuce leaves underneath as stem and leaves. Arrange cucumber slices below to represent grass.
In small bowl, stir together yogurt, honey and lemon juice.
Serve dip in dish alongside flower, or in a mound underneath cucumber slices.
Nutritional information per serving: 76 calories; 0.5 g total fat; (0.3 g saturated fat, 0.2 g poly fat); 4 g protein; 15 g carbohydrates; 2 g fiber; 2 mg cholesterol; 21 mg sodium.
A Memorable Morning Meal
Whether it's before school or after sleeping in on a Saturday morning, breakfast is a popular meal for children of all ages. Next time you and your family rise and shine, go with this recipe for Cinnamon-Sprinkled French Toast to keep the whole gang happy. Find more kid-friendly recipes for every meal at nutrition.gov.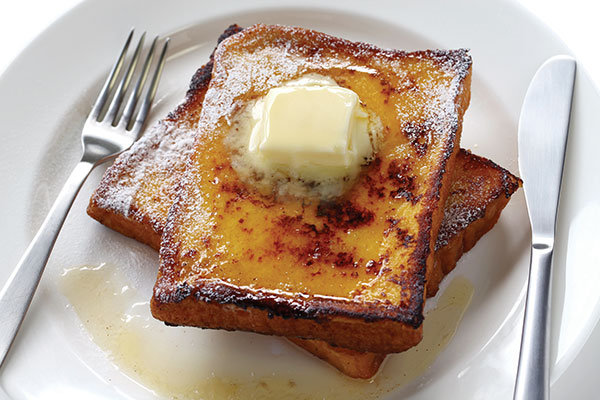 Cinnamon-Sprinkled French Toast
Recipe courtesy of the USDA
2 large eggs
2 tablespoons fat-free milk
1/2 teaspoon ground cinnamon
2 slices whole-wheat bread
1 teaspoon soft margarine
4 teaspoons light pancake syrup
In flat-bottomed bowl, crack eggs. Thoroughly whisk in milk and cinnamon. Dip bread slices, one at a time, into egg mixture, wetting both sides. Re-dip, if necessary, until all egg mixture is absorbed into bread.
Meanwhile, heat large, nonstick skillet over medium heat. Add butter. Place dipped bread slices in skillet. Cook 2 1/2-3 minutes per side, or until both sides are golden brown.
Drizzle with syrup. Serve when warm.
Nutritional information per serving: 190 calories; 8 g total fat; (3 g saturated fat); 10 g protein; 19 g carbohydrates; 2 g fiber; 215 mg cholesterol; 250 mg sodium.
Photo courtesy of Getty Images (Chicken soup photo and French toast photo)
Source: Culinary.net