(Family Features) Rally the family together to make and eat these bite-sized versions of corn dogs for an enjoyable, kid-friendly activity and snack. Parents will enjoy them, too, because they're easy to make, easy to eat and clean up is a snap.
Find more family-friendly recipes at culinary.net.
Watch video to see how to make this delicious recipe!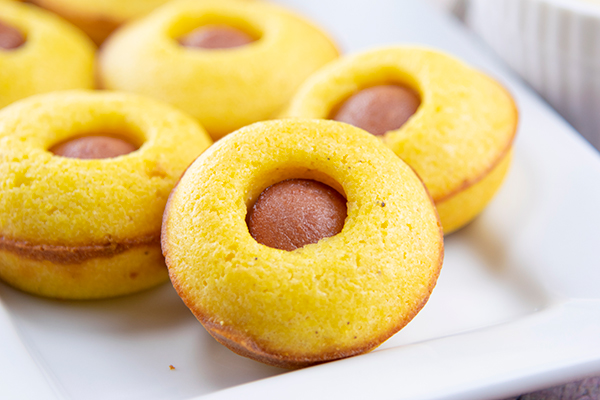 Mini Corn Dog Bites
Nonstick cooking spray
1 package all-beef bun-length hot dogs
1 cup flour
1 cup yellow cornmeal
2 tablespoons sugar
1 teaspoon salt
1/2 teaspoon baking powder
1 stick butter, melted
1 cup milk
1/4 cup sour cream
2 eggs
Dipping Sauce:
2/3 cup sour cream
3 tablespoons Dijon Mustard
2 tablespoons honey
Heat oven 375°F.
Prepare muffin pan with nonstick cooking spray.
Cut each hot dog into six pieces.
In large bowl, whisk flour, cornmeal, sugar, salt and baking powder.
In medium bowl, whisk melted butter, milk, sour cream and eggs. Combine butter mixture with flour mixture.
Fill each muffin cavity halfway with batter. Place one hot dog piece in center of each cavity.
Bake 14-16 minutes. Cool completely.
To make dipping sauce: In small bowl, stir sour cream, mustard and honey. Serve with corn dogs.
Recipe adapted from Wilton.
Source: Culinary.net