(Family Features) If you're hosting a backyard barbecue, game night or TV show marathon with friends this summer, it's helpful to have a plan in mind before diving in.
Consider these tips and recipes featuring Mrs. T's Pierogies that can help make planning a breeze and allow you to kick back and enjoy the fun alongside your guests.
Master the Music. Set the mood as soon as your guests walk in with an upbeat playlist.
Add a Creative Twist to Your Menu. When you're craving something real and satisfying – but want to keep things simple – reach for an option like Mrs. T's Pierogies. Available in 16 varieties, including mini-size, these pasta shells, filled with creamy whipped potatoes, are loaded with flavor and perfect served alone or as part of creative recipes like a Farmers Market Mini Pierogy Salad. You can also grill them up like in this Mini Pierogy Slider Kebab recipe.
Create Self-Serve Stations. Arrange a buffet-style table to allow your guests to help themselves to food. It's a simple way to ensure you get to enjoy yourself. Just remember to provide the necessary fixings at each station.
Bust Out Some Games. Whether it's a game night or just a get-together with friends, keep games like cornhole or bocce ball on-hand to keep your soiree lively.
For more recipes perfect for entertaining, visit MrsTsPierogies.com.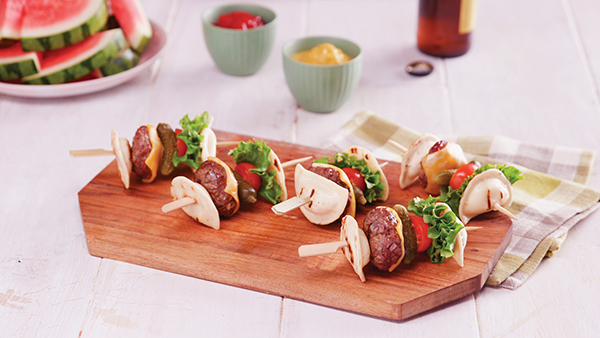 Mini Pierogy Slider Kebabs
Prep time: 15 minutes
Total time: 20 minutes
Servings: 4-6
1 box Mrs. T's Mini Classic Cheddar Pierogies
2 tablespoons olive oil
kosher salt
freshly ground black pepper
1 pound ground beef
1 1/2 teaspoons Worcestershire sauce
1 tablespoon minced red onion
4 deli slices Colby Jack cheese, quartered
4-6 skewers
14 pieces curly leaf lettuce
7 cherry tomatoes, halved
14 cornichon pickles
Heat grill or indoor grill pan to medium heat. Toss pierogies with oil and season with salt and pepper. Grill 8-10 minutes, flipping halfway through. Remove.
In medium bowl, combine ground beef, Worcestershire sauce, onion, salt and pepper. Form into 14 equal sized patties.
Add patties to grill and cook 3-4 minutes per side. Add one slice of cheese to each during last minute of cooking to melt. Remove and cool slightly to handle.
To assemble: skewer one pierogy, flat-side down, then one piece of lettuce, tomato, pickle, burger and another pierogy, flat-side down, to sandwich it all together. Repeat with remaining ingredients.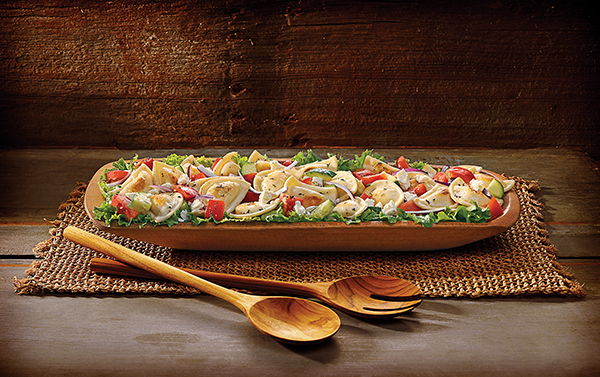 Farmers Market Mini Pierogy Salad
Prep time: 12 minutes
Total time: 18 minutes
Servings: 4
1 box Mrs. T's Mini Classic Cheddar Pierogies
1/2 cup white balsamic or cider vinegar
1 small garlic clove, crushed
1/4 teaspoon salt
1/4 teaspoon dried oregano
1/3 cup extra-virgin olive oil
1 large tomato, coarsely chopped
1 medium cucumber, seeded, if necessary, and coarsely chopped
1/4 cup red onion, thinly sliced
4 ounces feta cheese, crumbled
Saute pierogies according to box directions; place in large bowl.
In small bowl, combine vinegar, garlic, salt and oregano; whisk in olive oil until well-blended.
Add tomato, cucumber, red onion, feta and vinaigrette to bowl with pierogies; toss to mix well.
Source: Mrs. T's Pierogies