(Family Features) When the sun is shining and you need to beat the heat, cool down with a little shade and a nutty, frozen treat. This kid-favorite is a childhood classic you can customize with favorite toppings, too.
Made with the protein power of peanuts, these Peanut Butter Ice Cream Sandwiches are easy to prepare on hot days that call for a cold dessert. Just bake chocolate chip cookies, spread them with peanut butter, add a scoop of ice cream and roll in chopped peanuts, chocolate chips or toasted coconut for a sweet bite of perfection.
With approximately 4,000 active peanut farmers, it's likely your peanuts – often referred to as "nutrition in a nutshell" – came from Georgia, which produces 52% of the country's supply.
Visit GAPeanuts.com for more delicious dessert ideas.
Watch video to see how to make this recipe!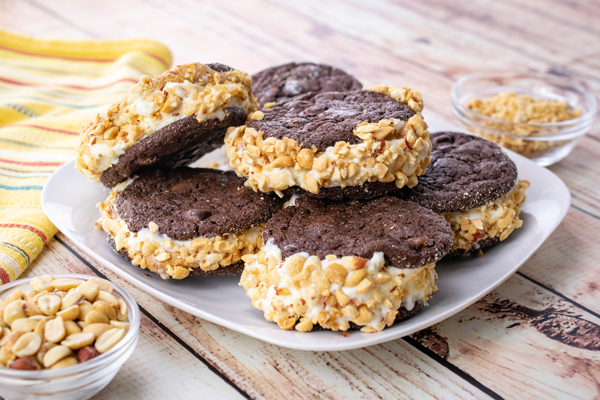 Peanut Butter Ice Cream Sandwiches
Recipe courtesy of Peanut Butter Lovers and the Georgia Peanut Commission
Yield: 12
24 fresh baked chocolate chip cookies (about 3 inches in diameter), cooled
1 1/2 cups creamy or crunchy peanut butter
1 1/2 quarts vanilla ice cream, slightly softened
chopped peanuts, for topping (optional)
mini chocolate chips, for topping (optional)
toasted coconut, for topping (optional)
On 12 cookies, top sides down, spread layer of peanut butter. Add one scoop of ice cream to each. Create sandwiches by topping with remaining cookies.
Roll edges of ice cream in chopped peanuts, mini chocolate chips or toasted coconut, if desired. Place on baking sheet in freezer and freeze until firm.
Serve slightly frozen.
Source: Georgia Peanut Commission
(Family Features) Named for the earthy, exotic fungi they resemble, chocolate truffles require no hunting, digging or specially trained dogs and they won't break the budget either. Real white truffles from Italy can set back the pocketbook more than $1000 for just one pound. Of course, chocolate truffles are a visual imitation only; they are sweet, addictive, and a great way to turn some organic chocolate, cream and butter into a decadent treat.
These ultra creamy truffles are made in the tradition of the Swiss style of chocolate truffle using heavy cream and butter to create what is called a ganache – a lovely French word for a mixture of chocolate and cream. According to Monique Hooker, Organic Valley's French-born Chef, "using the best quality, organic cream and butter makes a difference."
This recipe is so easy that kids can help and it is open to many variations. One option is to infuse the cream with some rich, floral Organic Madagascar vanilla extract, or split a whole vanilla bean and scrape the seeds into the cream as it simmers. Or, try using white chocolate, and roll the balls in finely minced sweetened coconut. For decoration, top each truffle with a small piece of roasted nut such as pistachio or pecan, a tiny candy, or if serving immediately, add one perfect raspberry to each truffle. Serve for parties, birthdays, or any occasion that needs a little chocolate.
For more dessert recipes using organic cream and butter, visit www.organicvalley.coop.
Easy Decadent Chocolate Truffles
Makes 25 truffles
1/2 cup Organic Valley heavy whipping cream
12 oz best quality semisweet chocolate (preferably Fair Trade and Organic) chopped into small pieces, or 2 cups semisweet chocolate chips
6 tablespoons Organic Valley unsalted butter, cut into small pieces
3 tablespoons cocoa powder
In a small heavy saucepan, bring the cream gently to a simmer over medium low heat. Remove from heat and stir in the chocolate and butter. Stir mixture just until the chocolate has completely melted, using very low heat if necessary. Remove from heat. Pour the chocolate mixture into a shallow bowl, and allow to cool. Cover tightly and refrigerate until firm, at least two hours or overnight.
Line a cookie sheet or platter with baking parchment or waxed paper. Dip a teaspoon or small scoop such as a melon baller into warm water and scrape across the surface of the truffle mixture to form a 1-inch ball. Quickly roll balls in cocoa powder. Repeat with the remaining truffle mixture. Cover and refrigerate truffles. Serve in paper candy cups which are available in cookware shops or where cake decorating items are sold.
Variations: For a variety of truffles, roll balls in finely chopped nuts, finely minced sweetened coconut flakes, chocolate sprinkles, colored sugar or powdered sugar.
Tips: Truffles make a wonderful gift. Nothing says "I Love You" better than chocolate. Wrap a selection of truffles on a small red paper plate with cellophane and tie with a ribbon.
Source: Organic Valley