(Family Features) All aspects of health are important, but heart health is a crucial component of overall well-being. Heart disease is the leading cause of death among Americans but it doesn't need to be – lifestyle choices play a key role in heart health and it's never too soon to adopt healthful habits.
From exercising and getting proper sleep to healthy eating – including heart-friendly snacks like grapes – consider these simple steps.
Eat Right
Adopting a balanced and nutritious diet rich in fruits, vegetables, whole grains, lean proteins and healthy fats can impact heart health. One way you may lower your risk for heart disease is by
As an easy, convenient, heart-healthy food, grapes are a perfect ingredient for a heart-friendly eating plan that includes recipes like Grape, Broccoli and Avocado Salad with Toasty Oat Topping. Savory broccoli slaw pairs with the delicate sweetness of crisp, juicy Grapes from California while the toasted oat topping provides a crunchy finish.
Grapes are low in sodium and a good source of vitamin K, which promotes heart health, and contain 7% of the daily recommended intake of potassium, a nutrient critical to heart health. Grapes are a natural source of beneficial antioxidants and other polyphenols and help maintain healthy circulation by promoting the relaxation of blood vessels.
In fact, according to a study published in the "Journal of Nutrition," men with metabolic syndrome who consumed 1 1/2 cups of grapes every day showed reduced blood pressure, improved blood vessel function and a decrease in a key marker of inflammation.
Women who consumed 1 1/4 cups of grapes every day as part of a separate study published in the "Journal of Nutrition" benefited from reduced blood triglyceride levels, LDL cholesterol levels, inflammatory proteins and other markers of heart disease.
Get Quality Sleep
Sleep is also critical for a healthy heart. Most experts recommend 7-9 hours of sleep per night for adults. To help achieve that goal, create a bedtime routine by waking up and going to sleep at consistent times. Also ensure a comfortable sleep space by turning off electronics and setting the thermostat to a cozy temperature.
Exercise
A regular exercise routine can have a positive impact on many areas of health. It can be especially beneficial for heart health by lowering blood pressure, reducing inflammation and aiding in maintaining a healthy weight. At least 150 minutes per week of moderate-intensity aerobic activity or 75 minutes of vigorous aerobic activity is recommended by the American Heart Association. Fuel your workout and recovery with heart-healthy and hydrating foods such as grapes.
Find more heart-healthy recipes at GrapesFromCalifornia.com.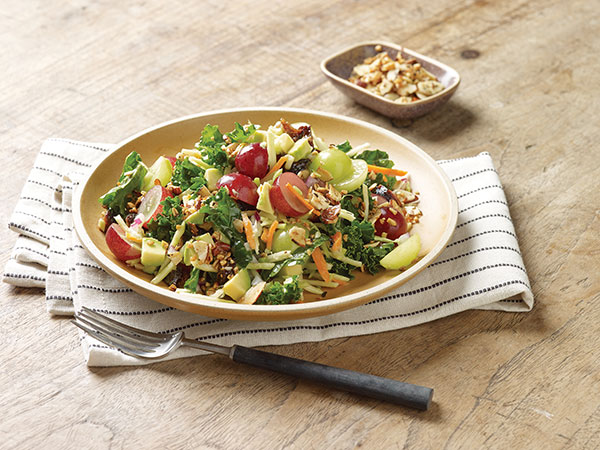 Grape, Broccoli and Avocado Salad with Toasty Oat Topping
Prep time: 30 minutes
Cook time: 5 minutes
Servings: 6
Toasted Oat Topping:
1/2 tablespoon butter
1/3 cup sliced almonds, coarsely chopped
3 tablespoons steel-cut oats
1/8 teaspoon seasoned salt
1/4 teaspoon Italian herb seasoning
Dressing:
6 tablespoons extra-virgin olive oil
1/3 cup quartered red or green Grapes from California
1/4 cup wine vinegar
1 tablespoon honey
1/4 teaspoon sea salt
freshly ground pepper, to taste
Salad:
1 bag (12 ounces) broccoli slaw
2 cups lightly packed torn curly kale
1 1/2 cups halved Grapes from California
1/2 cup minced red onion
1/3 cup chopped dried figs
freshly ground pepper, to taste
1 large, firm but ripe avocado, diced
To make toasted oat topping: In medium skillet over medium-low heat, cook butter, almonds, oats, salt and Italian herb seasoning about 5 minutes, or until lightly toasted and fragrant, stirring frequently.
To make dressing: In small blender, puree olive oil, grapes, wine vinegar, honey, sea salt and pepper, to taste, until smooth.
To make salad: In large bowl, mix broccoli slaw, kale, grapes, red onion and figs; season with pepper, to taste, and drizzle with dressing; toss well to coat. Add avocado and toss lightly. Transfer to six serving plates or bowls and sprinkle with toasted oat topping.
Nutritional information per serving: 320 calories; 5 g protein; 29 g carbohydrates; 22 g fat (62% calories from fat); 3.5 g saturated fat (10% calories from saturated fat); 5 mg cholesterol; 160 mg sodium; 7 g fiber.
Source: California Table Grape Commission
Add nutritious, natural ingredients for a healthier you
(Family Features) When it comes to making tasty meals for your family, you probably know that ingredients matter. From vitamins and nutrients to sugar and acidity, it's important to know what you're using in your recipes at every meal and how each ingredient can impact all parts of the body.
To help understand how ingredients matter and how quality ingredients can keep your body healthy, consider these tips from registered dietitian, celebrity nutritionist and healthy cooking expert Keri Glassman, MS, RDN.
Mind your veggies. Nearly everyone knows veggies are a vital part of any healthy diet. They are high in antioxidants, vitamins and minerals, and pack loads of fiber, but not everyone knows what health benefits you get from specific vegetables. For example, Brussels sprouts are packed with vitamin C to support your immune health and dried figs are known for lowering blood pressure and optimizing digestion.
Just add lemon. Water with lemon can aid in digestion and boost your immune system due to its high vitamin C content, so adding it to water is one way to reap these benefits. While including lemons in your diet has its perks, it's also important to know they are acidic in nature and eating highly acidic foods can impact your oral health.
Be mindful of acid attacks. Every day, everyone's mouths go through hundreds of "acid attacks," mainly due to eating and drinking. While a variety of foods can have positive health benefits, they also carry acids that can weaken tooth enamel. To help combat this, take advantage of the acid-neutralizing power of baking soda, an ingredient found in Arm & Hammer Toothpastes. Baking soda helps neutralize acids, while gently cleaning and removing plaque, so your teeth and gums stay healthy and strong. Find more information at ArmandHammer.com.
Say hello to healthy fats. Nuts carry healthy unsaturated fats and omega-3 fatty acids, which are good for cardiovascular health, mental health and cholesterol, so they can be a natural component for a healthy diet. Fat can be your friend, but stay mindful about not going overboard, as the calories can add up fast.
Avoid added sugar. Sugar can cause inflammation in people's bodies and is known to potentially impact cardiovascular health and weight, and can have a negative effect on our teeth. Sugar is often a sneaky ingredient that can be found in condiments and salad dressings. Avoid added sugar by making homemade dressings using lemon juice, oil and herbs, or checking labels to make sure you avoid added sugar whenever possible.
Shaved Brussels Sprout Salad with Pecorino and Hazelnuts
Recipe courtesy of Keri Glassman, MS, RDN
Lemon Dressing:
1/2 cup olive oil
1/4 cup fresh lemon juice
1/2 teaspoon salt
1/4 teaspoon freshly ground black pepper
Salad:
1/2 cup hazelnuts, lightly crushed
olive oil, to taste
rosemary, to taste
salt, to taste
pepper, to taste
4 cups shaved Brussels sprouts
1/2 cup dried figs, chopped
1/3 cup finely sliced red onion
4 tablespoons Lemon Dressing
1 grapefruit, segmented
1/3 cup shredded pecorino cheese
Heat oven to 375° F.
To make Lemon Dressing: mix olive oil, lemon juice, salt and pepper.
On lined baking sheet, toss hazelnuts with olive oil, rosemary, salt and pepper, to taste.
Roast 10-15 minutes, or until lightly brown; let cool.
In large mixing bowl, toss roasted hazelnuts, Brussels sprouts, figs, red onion and dressing until combined.
Plate about 1/4 of mixed salad, top with a few grapefruit segments and sprinkle with
cheese.
Source: Arm & Hammer Toothpaste