Family Features) If you're looking for tasty ways to improve your diet, you're in luck. You can get big taste and big benefits from a little fruit - Wild Blueberries.
The Color Connection
A diet rich in fruits and vegetables can help maintain a healthy weight and reduce the risk of chronic diseases like diabetes, heart disease and some cancers. Eating across the color spectrum is important so you get a variety of nutritional benefits.
Wild Blueberries get their color from naturally occurring phytochemicals, which are primarily responsible for antioxidant activity. Wild Blueberries are antioxidant rich, making them a great choice for their nutritional benefits and disease fighting potential. In fact,
USDA studies rank Wild Blueberries highest in antioxidant capacity per serving, compared with more than 20 other fruits including cranberries, strawberries, apples and even cultivated blueberries.
Health magazine has named Wild Blueberries high on its list of "America's Healthiest Superfoods for Women," singling out their variety of potential health benefits, including preventing memory loss, improving motor skills, lowering blood pressure, and fighting wrinkles.
Wild Blueberries are available year-round in supermarkets nationwide. Frozen at the peak of ripeness, all the farm-fresh taste and nutritional benefits are locked-in. Most studies show that frozen fruits and vegetables are higher in vitamins, minerals and phytonutrients because they are frozen near the time of harvest.
Great taste, good nutrition and really convenient - no wonder so many people are wild about blueberries. Learn more about this superfruit and get more great recipes at www.wildblueberries.com.
Did You Know?
Wild Blueberries are a different berry from cultivated blueberries. They grow naturally in the fields and barrens of Maine and Canada. They are smaller in size, have a unique sweet-tart taste, and are only available frozen.
Freezer Facts
Here are some of the reasons frozen produce is a perfect option for people looking to fill the pantry with healthy foods all year round.
Frozen offers great value when compared to in-season pricing.
No aging or spoiling means no waste, saving you money.
Frozen produce is ideal for smoothies, entrees, desserts, breakfast, and most recipes that call for blueberries.
Frozen Wild Blueberries are thoroughly washed and have no caloric syrups or additives.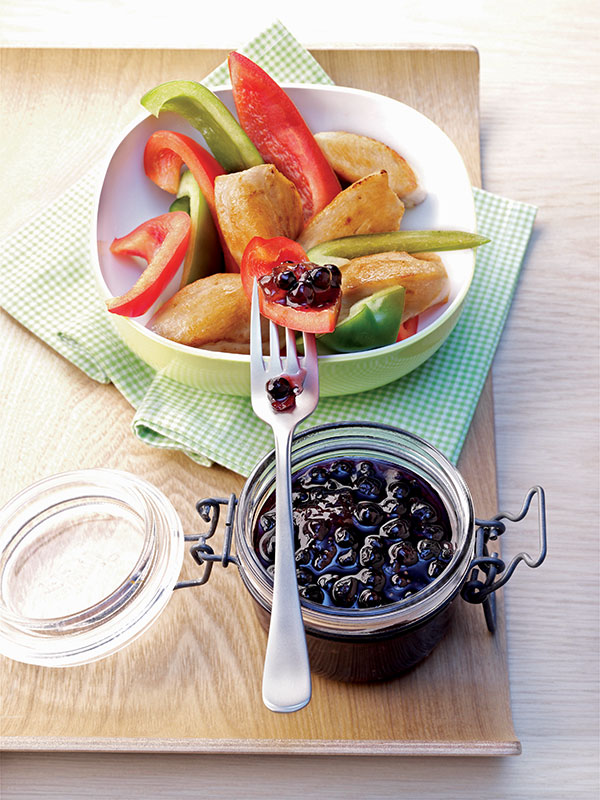 Chicken Breast with Sweet and Sour Wild Blueberry Sauce
Prep Time: Approximately 20 minutes
Serves 1
1 6-ounce skinless, boneless chicken breast
Salt and pepper to taste
1 teaspoon oil
1 small red pepper
1 small green pepper
2 tablespoons fig jam (or apricot jam)
4 teaspoons balsamic vinegar
1/4 teaspoon sugar
2 tablespoons sweet and sour chili sauce
2/3 cup frozen Wild Blueberries, thawed and drained
Season chicken breast with salt and pepper. Heat oil in small, non-stick frying pan. Fry chicken breast for 12 to 15 minutes. Remove from heat and let cool.
Wash, seed and cut peppers into bite-sized pieces. Cut cooked chicken breast into bite-sized pieces; combine with peppers. Mix jam with balsamic vinegar, sugar and chili sauce. Gently stir in Wild Blueberries.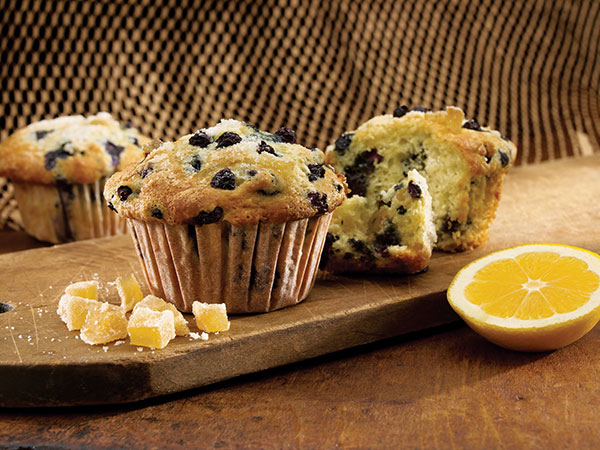 Wild Blueberry Gingered Lemon Muffins
Prep Time: 30 minutes
Yield: approximately 36 muffins
6 cups cake flour
2 tablespoons baking powder
2 teaspoons baking soda
1/2 teaspoon salt
2 cups low-fat buttermilk
1 1/2 cups (12 ounces) egg substitute
1 1/2 cups granulated sugar
1/2 cup canola oil
4 cups frozen Wild Blueberries
1/3 cup (3 ounces) crystallized ginger, chopped
1/3 cup granulated sugar, for topping
2 tablespoons lemon zest
In bowl combine flour, baking powder, baking soda and salt; reserve.
In another bowl beat together buttermilk, egg substitute, 1 1/2 cups sugar and oil; stir into flour mixture just to blend. Fold in Wild Blueberries, ginger and lemon zest.
Scoop 1/4 cup batter into each greased 1/3-cup muffin tin. Sprinkle each muffin with sugar. Bake in 400°F conventional oven or 375°F convection oven 18 to 22 minutes or until firm to the touch. Serve warm.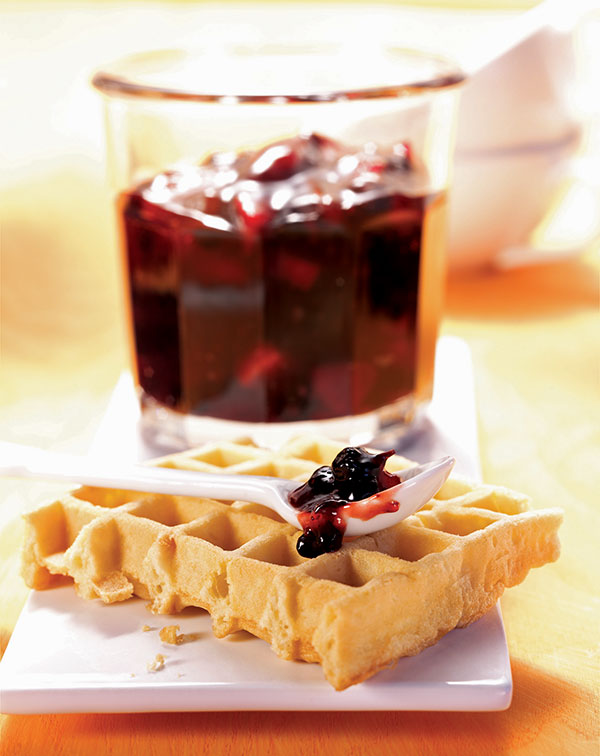 Wild Blueberry Lemon Jam
Prep Time: 25 to 30 minutes
Yield: about 8 half-pints
5 cups frozen Wild Blueberries
1 package dry pectin
5 cups sugar
1 tablespoon lemon zest
1/3 cup lemon juice
Crush thawed Wild Blueberries one layer at a time, or chop frozen in food processor.
Combine thawed, crushed Wild Blueberries and pectin in a large saucepot. Bring to a boil, stirring frequently. Add sugar, stirring until dissolved. Stir in grated lemon zest and lemon juice. Return to a rolling boil. Boil hard 1 minute, stirring constantly.
Remove from heat. Skim foam if necessary. Ladle hot jam into hot jars, leaving 1/4-inch headspace. Adjust two-piece caps. Process 15 minutes in a boiling water canner.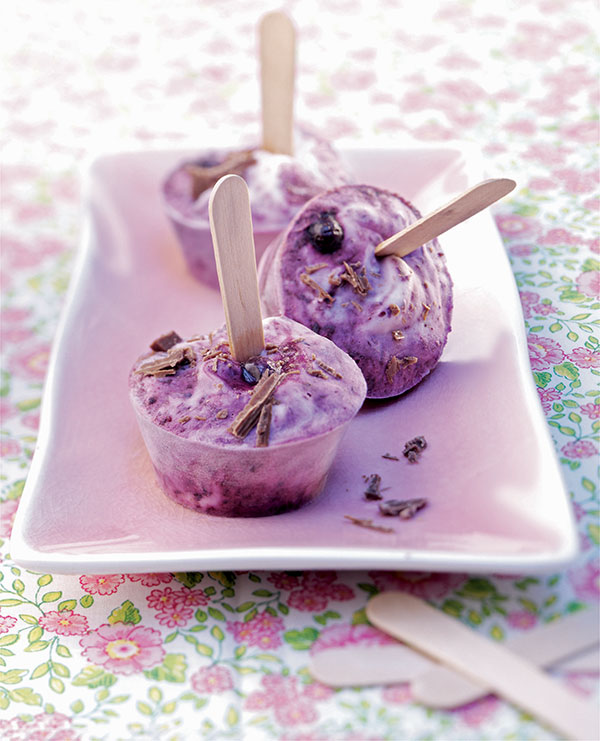 Wild Blueberry Ice Cream Pops
Prep Time: Approximately 15 minutes, plus thaw and freezing time
Yield: 6 Pops
1 cup frozen Wild Blueberries
1 ounce milk chocolate chips
2 cups fat-free vanilla frozen
yogurt, softened slightly
Materials: small wooden or plastic sticks
Thaw Wild Blueberries and purée. In a bowl, combine puréed Wild Blueberries, chocolate and frozen yogurt. Mix thoroughly.
Rinse 6 standard muffin cups with cold water and spoon in Wild Blueberry mixture, dividing it evenly between the cups (silicone muffin cups need not be rinsed first). Place a stick in the center of each "muffin" and freeze until firm, at least 2 hours.
Tip: Mixture can also be frozen with plastic sticks in small glasses or espresso cups.
Source:Wild Blueberry Association