(Family Features) One of the best parts of traveling is trying the local cuisine, and that's particularly true on an international scale. No matter where you go around the globe, however, there is one ingredient you'll likely find is an integral part of many cultures and cuisines: rice.
Grown on almost every continent, this staple ingredient is a large part of meals around the world, which means there are nearly endless varieties and recipes to try. However, you don't need to go on vacation to try authentic-tasting international food; easy-to-make versions of popular dishes from around the globe can be made right at home in mere minutes.
Mediterranean
Known for vibrant vegetables, savory sauces and incredible tastes, the Mediterranean is also home to a few classic rice dishes such as rich and creamy risotto from Italy. Other vibrant options include Spanish specialties like arroz con pollo (chicken and rice) and paella, which is made with an assortment of ingredients like seafood, spices and savory broth.
Asia
If you've ever been to an Asian restaurant, you'll notice a large portion of the menu likely includes recipes made with rice. While it might be difficult to pinpoint where certain recipes originate, fried rice is a Chinese specialty. Over time, this delicious dish has made its way to many different countries and been reinvented with local ingredients. For example, this Kale and Kimchi "Fried" Rice is based on Korean cuisine and can be made in less than 5 minutes using Minute Jasmine Rice & Red Quinoa Cups, which combine the buttery taste and aromatic scent of authentic Jasmine rice with crunchy, 100% whole-grain red quinoa in a convenient, pre-portioned cup.
Middle East
Much like other cuisines around the world, Middle Eastern cooking uses rice almost every day. A Turkish and Arab mixed dish, shawarma is now a global street food. Traditional Persian rice uses a variety of spices like turmeric, ginger and cardamom with dried fruits and nuts.
Latin America
Latin American recipes vary from country to country and region to region, but rice is essential on the side or as part of the main dish across the board. A quick and easy morning meal, this Mexican Breakfast Scramble is ready in 4 minutes. Aiding the short prep time, Minute Jalapeno Rice Cups are ready in just 1 minute and can help spice up dishes with a tasty blend of onion, green peppers and jalapenos.
North America
With bold flavors, few things say southern comfort quite like Louisiana cooking. Bring the taste of New Orleans to your kitchen with rice-based dishes like gumbo or jambalaya, or by pairing rice with another popular Cajun pastime – a classic shrimp boil.
Find more quick and easy international recipe ideas at MinuteRice.com.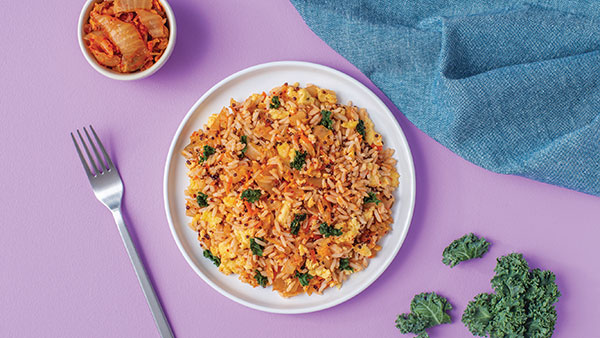 Prep time: 2 minutes
Cook time: 3 minutes
Servings: 1
1 Minute Jasmine Rice and Red Quinoa Cup
1 cup kale, chopped
1/4 cup kimchi, chopped
1 teaspoon soy sauce
1 egg, lightly beaten
Heat rice according to package directions.
In medium microwave-safe bowl, combine kale, kimchi and soy sauce. Cover and microwave 1 minute.
Add rice and egg; mix well to combine. Cover and microwave 30 seconds. Stir and serve.
Serving Suggestions: Drizzle with sesame oil. Add cooked shrimp.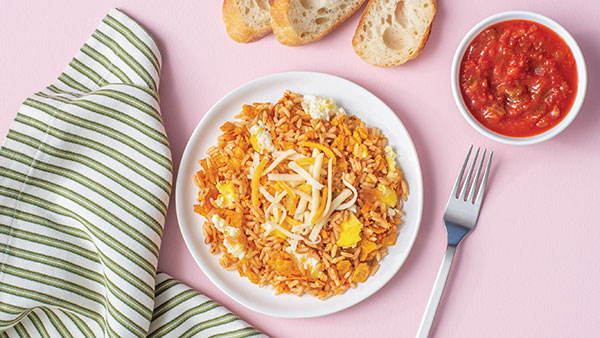 Prep time: 2 minutes
Cook time: 2 minutes
Servings: 1
1 Minute Jalapeno Rice Cup
1 egg, lightly beaten
2 tablespoons salsa
2 tablespoons queso fresco
Heat rice according to package directions.
In small microwave-safe dish, combine egg, salsa and rice.
Microwave 1 minute. Stir in cheese; microwave 30 seconds.
Serving Suggestion: For meal to go, wrap scramble in warm tortilla.
Source: Minute Rice
(Family Features) When your taste buds can't settle on just one flavor, a fusion dish may be just the answer. Fusion dishes combine some of the best ethnic culinary traditions from around the world, and Asian influences are among the most popular building blocks for fusion cuisine.
One secret to achieving great fusion dishes is the use of cooking wines. For many chefs and home cooks alike, cooking wine is a go-to cooking essential because it can be used in everyday meals. With its versatile array of uses, an option like Holland House®, a line of flavor-enhancing, premium cooking wines, can boost any dish with one of five flavors including Marsala, Sherry, White, Red and White with Lemon.
In addition to these featured dishes, you can find more quick tips for boosting the flavor of your everyday meals on the label of each bottle and explore more recipes at HollandHouseFlavors.com.
Sweet and Spicy Korean-Chinese Fusion Cauliflower Bites
Prep time: 10 minutes
Cook time: 20 minutes
Servings: 4, about 1 1/2 cups per portion
6 cups fresh cauliflower florets
2 tablespoons toasted sesame oil
1 teaspoon kosher salt
1/4 cup Holland House Sherry Cooking Wine
1/4 cup honey
2 tablespoons soy sauce
1 tablespoon white vinegar
2 teaspoons cornstarch
2 tablespoons vegetable oil
1 small fresh yellow onion, finely chopped
1 tablespoon minced fresh garlic
1 tablespoon Korean-style chili flakes
1/4 cup chopped fresh green onions
1 tablespoon toasted sesame seeds
Heat oven to 400° F.
In large bowl, toss cauliflower, sesame oil and salt until well coated. Arrange on nonstick baking sheet. Bake 10-12 minutes, or until golden brown and tender.
In small bowl, whisk cooking wine, honey, soy sauce, vinegar and cornstarch until well blended; set aside.
In large, nonstick skillet, heat vegetable oil over medium-high heat. Add yellow onions and garlic; cook 2-3 minutes, or until golden brown, stirring frequently. Remove from heat. Stir in chili flakes and wine mixture.
Return pan to stove and adjust to medium heat. Bring to simmer, stirring constantly. Continue cooking and stirring 1-2 minutes, or until thickened. Add cooked cauliflower; stir gently to coat.
Transfer cauliflower to serving dish. Top with green onions and sesame seeds.
Tips: The sauce mixture can also be used on chicken wings or grilled pork chops. In place of Korean-style chili flakes, use 1 teaspoon regular crushed red pepper flakes or 1 tablespoon Aleppo pepper.
Lettuce-Wrapped Korean Short Ribs
Prep time: 10 minutes, plus marinating
Cook time: 4 minutes
Servings: 4, about 6 ounces (pre-cooked) per portion
3 tablespoons packed dark brown sugar, divided
2 teaspoons kosher salt
1 teaspoon ground black pepper
1/2 teaspoon crushed red pepper flakes
1 1/2 pounds thinly sliced, boneless beef short ribs
1 cup Holland House Marsala Cooking Wine
6 tablespoons toasted sesame oil
1/4 cup roasted garlic paste
2 tablespoons soy sauce
1/2 cup chopped green onions, divided
1 teaspoon cornstarch
1 head fresh romaine lettuce, separated into large leaves
1/2 cup sliced fresh red radishes
1/2 cup shredded fresh carrots dipping sauce
In small bowl, combine 2 tablespoons brown sugar, salt, black pepper and red pepper flakes. Sprinkle evenly over short rib slices, gently rubbing into both sides. Place in re-sealable plastic bag.
In bowl, whisk cooking wine, sesame oil, garlic paste, soy sauce and remaining brown sugar. Pour half of mixture into bag with meat and add 1/4 cup green onions. To marinate, refrigerate at least 1 hour, or up to 12 hours.
In small saucepan, whisk remaining wine mixture and cornstarch until smooth. Bring to simmer over medium heat, whisking constantly. Cook 1 minute, or until thickened, stirring constantly. Set aside until cool. Stir in 2 tablespoons green onions.
Heat grill to medium-high.
Remove ribs from marinade, allowing excess to drip off. Discard marinade. Grill 1-2 minutes on each side, or until golden brown and cooked through.
Cut ribs into 1-inch pieces. Serve with remaining green onions, lettuce, radishes, carrots and warm dipping sauce.
Tips: For fusion tacos, substitute corn or flour tortillas for lettuce leaves. In place of garlic paste, 2 tablespoons minced garlic can be substituted.
Sizzling Asian Vegetable Fried Rice with Savory White Wine Glaze
Prep time: 10 minutes
Cook time: 8 minutes
Servings: 4-6, about 1 cup per portion
2 tablespoons vegetable oil
1 tablespoon minced fresh garlic
1/2 cup fresh chopped yellow onions
1 cup fresh small white mushrooms, quartered
1/2 cup chopped fresh carrots
1/2 cup chopped fresh zucchini
1/2 cup chopped fresh red bell peppers
1/2 cup chopped fresh yellow bell peppers
3 cups cold, cooked, long-grain white rice
1/2 cup Holland House White Cooking Wine
2 tablespoons oyster sauce
1/2 cup fresh green onions, sliced 1/4-inch thick
2 teaspoons toasted sesame oil
1/4 teaspoon ground black pepper
Heat heavy-bottomed, nonstick skillet over high heat. Add vegetable oil, garlic and onions. Stir-fry 1-2 minutes, or until lightly browned. Add mushrooms, carrots, zucchini, red bell peppers and yellow bell peppers; stir-fry 3 minutes. Add rice; stir-fry 3 minutes.
Add cooking wine; stir-fry 2 minutes, or until dry. Add oyster sauce; stir-fry 2 minutes. Remove from heat. Stir in green onions, sesame oil and black pepper. Transfer to dish or bowl and serve.
Tip: To turn into a main course, add cooked beef, chicken or pork and serve topped with a fried egg.
Source: Holland House