(Family Features) Bright, beautiful spring days often call for fresh, delicious meals that give you energy to enjoy the great outdoors. Whether you're hitting the pavement for a run, powering up for an afternoon at the office or picnicking with loved ones, nutrition and flavor can go hand in hand with an easy-to-make salad.
For your next springtime meal, lean on a versatile ingredient like sweetpotatoes as a key ingredient in this Sweetpotato Power Salad, a light yet filling solution that can feed the whole family. Easy to add to a variety of recipes to enhance flavor and nutrition content, sweetpotatoes can be used in sweet, savory, simple or elevated recipes. Plus, they can be prepared on the stove, baked, microwaved, grilled or slow cooked to fit your favorite dishes as a natural sweetener without added sugar.
According to the American Diabetes Association, sweetpotatoes are a "diabetes superfood" because they're rich in vitamins, minerals, antioxidants and fiber, all of which are good for overall health. Due to their high carbohydrate content, they're an ideal option for athletes before and after exercising with complex carbohydrates that provide sustained energy. Additionally, the antioxidants help reduce inflammation and aid in muscle repair, meaning sweetpotatoes can help both your endurance and recovery.
Another fun fact: the North Carolina Sweetpotato Commission deliberately spells "sweetpotato" as one word, a spelling officially adopted by the National Sweetpotato Collaborators in 1989 to avoid confusion with the white potato or yam among shippers, distributors, warehouse workers and consumers. However, this spelling isn't universal; you can help teach others and update dictionary entries by signing the change.org petition to give this superfood its due.
Find more information and springtime recipe inspiration at ncsweetpotatoes.com.
Watch video to see how to make this recipe!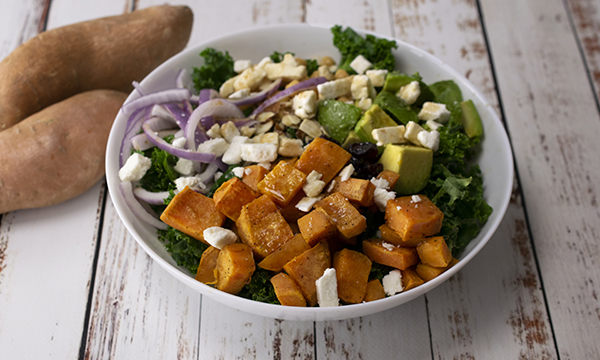 Sweetpotato Power Salad
Recipe courtesy of Carol Brown on behalf of the North Carolina Sweetpotato Commission
Servings: 6
4-6 North Carolina Sweetpotatoes, peeled and diced (6 cups)
2 teaspoons, plus 1 tablespoon, olive oil, divided
3/4 teaspoon salt, divided
1/4 teaspoon pepper
1 1/2 bunches curly kale, rinsed and chopped (7-8 cups)
1/2 large lemon, juice only
1 can (15 ounces) garbanzo beans, rinsed and drained
1 large avocado, pitted and diced
1/2 cup cranberries
1/2 cup coarsely chopped almonds
1/4 cup red onion, chopped
1/2-3/4 cup feta or goat cheese
Dressing:
2 tablespoons pure maple syrup
2 tablespoons olive oil
1/4 cup balsamic or white vinegar
Preheat oven to 375 F.
Place sweetpotatoes in large bowl. In small bowl, lightly whisk 2 teaspoons olive oil, 1/2 teaspoon salt and pepper. Toss on sweetpotatoes and place potatoes on large sheet pan. Bake 35-40 minutes until tender, flipping once during baking.
Place chopped kale in large bowl. In small bowl, lightly whisk remaining olive oil, remaining salt and lemon juice. Pour over kale and massage with hands until mixed, about 1 minute.
To make dressing: In bowl, whisk syrup, olive oil and vinegar.
In bowl with kale, add garbanzo beans, avocado, cranberries, almonds, red onion, sweetpotatoes and cheese. Toss with salad dressing and serve.
Note: Sweetpotatoes can be baked and refrigerated 1 day in advance.
(Family Features) One of the secrets to ordering less takeout and serving more nutritious homemade meals may be as simple as keeping a well-stocked pantry of canned foods. By cooking with canned foods, you can cut down prep time, meaning less time in the kitchen and more time with family.
Canned fruits, vegetables, proteins and soups can help you get through the week with creative meals you can feel good about serving your family like Panzanella Salad and Slow Cooker Coconut Curry Chili. In addition, according to a study published in "Nutrients," kids and adults who use six or more canned foods per week are more likely to have diets higher in 17 essential nutrients, including potassium, calcium and fiber.
Canned foods can also help reduce the amount of perishable fruits and vegetables purchased then thrown away. how many times you've opened the fridge only to find the fresh produce you purchased only days ago has already spoiled. Because fresh fruits and vegetables are harvested at the peak of ripeness and canned within four hours, sealing in their nutrition and flavor, your family can have access to seasonal, ready-to-use fruits and vegetables year-round. Simply reach in your pantry – or your "cantry" – and get cooking.
For more information about the benefits of cooking with canned foods and to find more flavorful recipes, visit CansGetYouCooking.com.

Prep time: 10 minutes
Servings: 4
Dressing:
1/2 cup olive oil
1/4 cup white wine vinegar
1/2 teaspoon kosher salt
1/2 teaspoon fresh black pepper
Salad:
1 pound day-old Italian bread, cut into 1/2-inch cubes
8 ounces romaine lettuce, chopped
2 cans (10 ounces each) tomato wedges
1 can (15 1/2 ounces) garbanzo beans
1 can (14 1/2 ounces) artichoke hearts
1 can (3.8 ounces) olives
1 can (1 1/2 ounces) sliced radishes
To make dressing: In small bowl, stir together olive oil, white wine vinegar, salt and pepper. Set aside.
To assemble salad: In large bowl, toss bread cubes, lettuce, tomato wedges, beans, artichoke hearts, olives and radishes; drizzle with dressing.
Prep time: 10 minutes
Cook time: 4-8 hours
Servings: 6-8
Nonstick cooking spray
1 small yellow onion, diced
2 cloves garlic, minced
2 cans (12 1/2 ounces each) white premium chunk chicken breast, drained
1 can (14 1/2 ounces) diced tomatoes with green chilies, drained
3 tablespoons red curry paste, plus additional, to taste
1/4 cup all-natural peanut butter
1 tablespoon brown sugar
1/2 teaspoon ground ginger
1 can (13 1/2 ounces) coconut milk
1 tablespoon fish sauce
3 tablespoons soy sauce
1 can (15 1/2 ounces) chickpeas, drained
1 can (14 1/2 ounces) whole potatoes, drained and cubed
1 can (14 1/2 ounces) sliced carrots, drained
3 tablespoons lime juice, plus additional, to taste
salt, to taste
brown rice, cooked according to package instructions (optional)
cilantro, for garnish
salted peanuts, for garnish
Grease slow cooker with nonstick cooking spray. Add onion, garlic, chicken, tomatoes, red curry paste, peanut butter, brown sugar, ginger, coconut milk, fish sauce and soy sauce to slow cooker. Stir to combine. Cover and cook on high 4 hours or low 8 hours.
Uncover and stir in chickpeas, potatoes, carrots and lime juice. Taste and add lime juice and salt, to taste, if necessary.
Serve on top of brown rice, if desired, and garnish with cilantro and peanuts.
Source: Can Manufacturers Institute