(Family Features) Liven up your mealtime routine with the fresh global flavors of an at-home fiesta for a memorable way to rethink your menu. With nearly countless ways to spice up the kitchen using inspiration from around the world, it's easy to find something new and exciting.
For example, these Sloppy Joe Mini Tacos from "The New York Times" bestselling cookbook author Stephanie Banyas offer a true flavor fusion. The lively blend of ground turkey or pork chorizo, cheeses, spices and veggies pop when combined with the high-quality ingredients of Fresh Cravings Salsa.
These boldly flavored salsas are made with vine-ripened tomatoes, crisp onions, zesty peppers and spices. Plus, they're never cooked or pasteurized, meaning you're enjoying a vibrant dip that's never soggy or dull. Available in a range of heat levels among restaurant style, chunky and pico de gallo, they complement any at-home fiesta.
"This is the ultimate mashup of two school lunch favorites: Sloppy Joes and Tacos," Banyas said. "It includes some serious attitude thanks to Fresh Cravings Salsa's hearty blend of diced tomatoes, onions, fragrant cilantro and Anaheim and Serrano chili peppers."
Visit freshcravings.com for more ways to spice up your at-home fiesta.
Watch video to see how to make this recipe!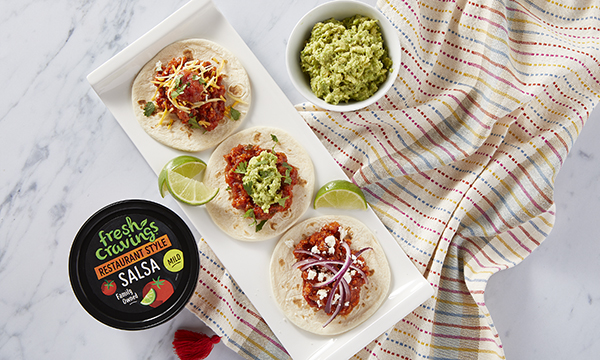 Sloppy Joe Mini Tacos
Recipe courtesy of Stephanie Banyas
Yield: 12-15 tacos
1 container (16 ounces) Fresh Cravings Restaurant Style Salsa (mild or medium)
3 tablespoons ketchup
2 tablespoons yellow, brown or Dijon mustard
2 teaspoons Worcestershire sauce
2 heaping tablespoons light brown sugar
2 tablespoons vegetable oil
8 ounces ground turkey or pork chorizo
8 ounces 90% lean ground chuck or turkey
salt, to taste
freshly ground black pepper, to taste
1/4 cup water
15 tortillas
1/4 cup finely chopped fresh cilantro leaves
1 cup crumbled cotija cheese
1 cup shredded Mexican blend cheese (optional)
1/2 red onion, thinly sliced, soaked in ice water 30 minutes and drained
Avocado Mash:
1 ripe Haas avocado, halved, pitted and removed from skin
2 tablespoons finely diced red onion
1/2 lime, juice only
salt, to taste
pepper, to taste
Preheat oven to 300 F.
In blender or food processor, process salsa until smooth. Remove 1/2 cup processed salsa and set aside for garnish.
In medium bowl, mix remaining salsa, ketchup, mustard, Worcestershire sauce and brown sugar until combined.
In large saute pan over high heat, heat oil until it begins to shimmer. Add chorizo and ground meat; season with salt and pepper, to taste. Cook, breaking up meat with wooden spoon, until golden brown and just cooked through, about 8 minutes.
Add salsa mixture and water; bring to boil, reduce heat to medium and cook, stirring occasionally, until mixture thickens, about 10 minutes. Taste for seasoning.
Wrap tortillas tightly in foil and heat in oven 10 minutes. Remove and keep wrapped tightly until ready to serve.
To make avocado mash: In medium bowl, coarsely smash avocado halves with fork. Add onion and lime juice then season with salt and pepper, to taste, and gently mix to combine.
Place tortillas on flat surface, top each with meat mixture and garnish as desired with reserved salsa, avocado mash, cotija, Mexican cheese and sliced red onion.
Source: Fresh Cravings
(Family Features) Dinner in many households means foolproof recipes that families can count on, but those can become bland and boring. Finding new ways to put a twist on meals throughout the week adds fun to time spent in the kitchen while bringing new flavor to the table.
To help reinvigorate traditional weeknight dinners, chef Bobby Flay and Hidden Valley Ranch created the three-part Hidden Valley Ranch Night! series to debut dishes that bring bold flavor to traditional meals, such as these recipes for Ranch Crusted Burgers with Avocado Ranch Sauce and Ranch Seasoned Chicken and Mushroom Quesadillas with Tomato Salsa and Sour Cream. The series will provide a spin on weeknight staples to showcase the simplicity, versatility and zesty flavor of ranch seasoning when used to create family-friendly dinners any night of the week.
Find more information, including series episodes and additional recipes, at hiddenvalley.com/ranch-night.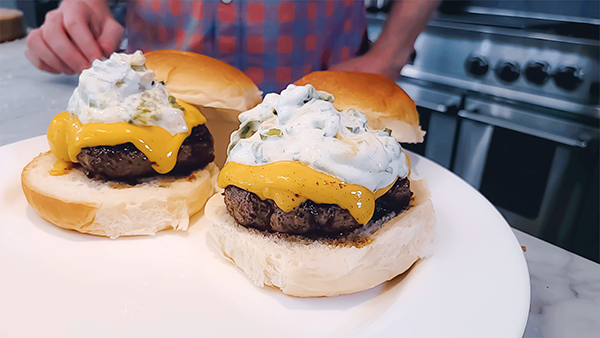 Ranch Crusted Burgers with Avocado Ranch Sauce
Servings: 4
Avocado Ranch Sauce:
1/4 cup mayonnaise
1/4 cup sour cream
1 tablespoon well-shaken buttermilk
1/2 teaspoon Hidden Valley Ranch Seasoning
kosher salt
freshly ground black pepper
3 green onions, thinly sliced
2 avocados, peeled, pitted and diced
Ranch Spice Crusted Burger:
1 1/2 teaspoons Hidden Valley Ranch Seasoning
1 teaspoon paprika
kosher salt
freshly ground pepper
1 1/2 pounds ground chuck (80% lean)
2 tablespoons canola oil
8 slices American cheese
1/4 cup water
4 brioche buns, split in half
Avocado Ranch Sauce
To make avocado ranch sauce: In bowl, whisk mayonnaise, sour cream, buttermilk, ranch seasoning, salt and pepper until smooth. Fold in green onions and diced avocados; set aside.
To make burgers: In small bowl, whisk ranch seasoning, paprika, salt and pepper.
Heat large cast-iron pan or griddle over high heat. Divide meat into four 6-ounce patties and make deep depression in centers with thumb. Season each with spice rub on one side.
Add canola oil to pan and heat until shimmering. Place on burgers in pan, spice side down, and cook until golden brown and lightly charred, 4 minutes. Turn burgers over and cook 4 minutes, or until they reach desired doneness.
Top each burger with two slices cheese. Add water to pan and cover tightly with lid 10 seconds, or until the cheese is melted.
Place burgers on bottom buns and top each with avocado ranch sauce and top buns.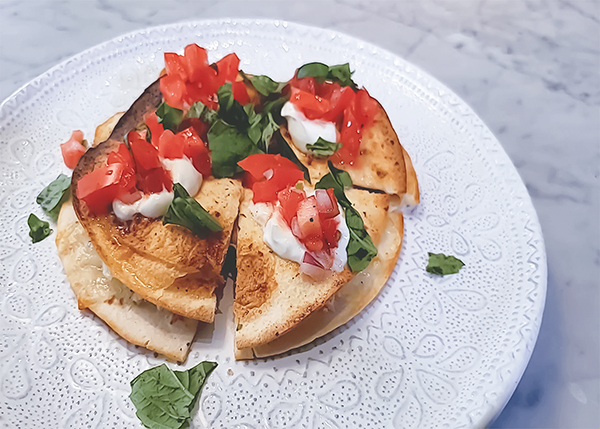 Ranch Seasoned Chicken and Mushroom Quesadillas with Tomato Salsa and Sour Cream
Servings: 4
Tomato Salsa:
4 plum tomatoes, seeded and finely diced
1/2 small red onion, finely diced
1/2 jalapeno, finely diced
1 lime, juice only
2 tablespoons olive oil
3 tablespoons fresh basil, finely chopped into ribbons
kosher salt
freshly ground black pepper
Quesadillas:
2 tablespoons canola oil
1 1/2 pounds cremini or button mushrooms, thinly sliced
2 teaspoons Hidden Valley Ranch Seasoning, divided
12 flour tortillas (6 inches)
2 cups shredded Monterey Jack cheese
16 ounces roasted or rotisserie chicken, shredded
kosher salt
freshly ground black pepper
canola oil
1/2 cup sour cream
tomato salsa
2 tablespoons fresh basil, chopped
To make tomato salsa: In medium bowl, combine tomatoes, red onion, jalapeno, lime juice, olive oil and basil; season with salt and pepper. Refrigerate until ready to use.
To make quesadillas: Preheat oven to 450 F.
In large saute pan over medium-high heat, heat oil. Add mushrooms and season with 1 1/2 teaspoons ranch seasoning. Cook until mushrooms are golden brown and liquid has evaporated. Set aside to cool.
Place tortillas next to each other on baking sheet. Sprinkle thin layer of cheese on eight tortillas. Add cooled mushrooms to four tortillas and shredded chicken to other four tortillas. Season each layer with salt and pepper. Stack tortillas to create four, two-layer quesadillas. Cover each with remaining tortillas; brush top tortillas lightly with canola oil and sprinkle with remaining ranch seasoning.
Bake 6-8 minutes until cheese is melted and tortillas turn lightly golden brown with crispy edges.
Cut each quesadilla into four pieces. Garnish each slice with dollop of sour cream. Add dollop of tomato salsa on top of sour cream and garnish with basil.
Source: Hidden Valley Ranch